North Korean leader Kim Jong-un committed to "complete denuclearisation* of the Korean Peninsula" at his historic meeting with US President Donald Trump today.
The document signed by the two leaders commits the US to protect North Korea in return for denuclearisation.
Mr Kim pledged to "leave the past behind" as he signed the document with Mr Trump in front of the world's media.
"We are about to sign an historic document. The world will see a major change," Mr Kim said in an extremely rare public comment.
Earlier, the leaders shook hands for 12 seconds to begin their historic meeting from 11am Australian Eastern Standard Time* in Singapore.
Mr Trump and Mr Kim walked out from opposite sides onto a red carpet in front of alternating* US and North Korean flags and after the handshake stood unsmiling in front of photographers, their arms at their sides.
As the two sat down in front of cameras before their private meeting, Mr Trump predicted that he and Mr Kim will have "a terrific relationship" and said he was feeling "really great."
"We're going to have a great discussion and a terrific relationship," he said.
An interpreter* translated for Mr Kim, who said: "Old practices and prejudices* worked against us but we overcame all of them and we are here today."
Mr Trump patted Mr Kim on the back as he led him away down a corridor for their one-on-one discussions.
The two men then met alone with interpreters for roughly 45 minutes while their assistants waited nearby.
Their conversation and the document signing could help make peace between the two countries.
It is the first-ever meeting of US and North Korean leaders.
After the first meeting they held a larger meeting and working lunch. Other staff from North Korea and the US joined the two leaders for these talks.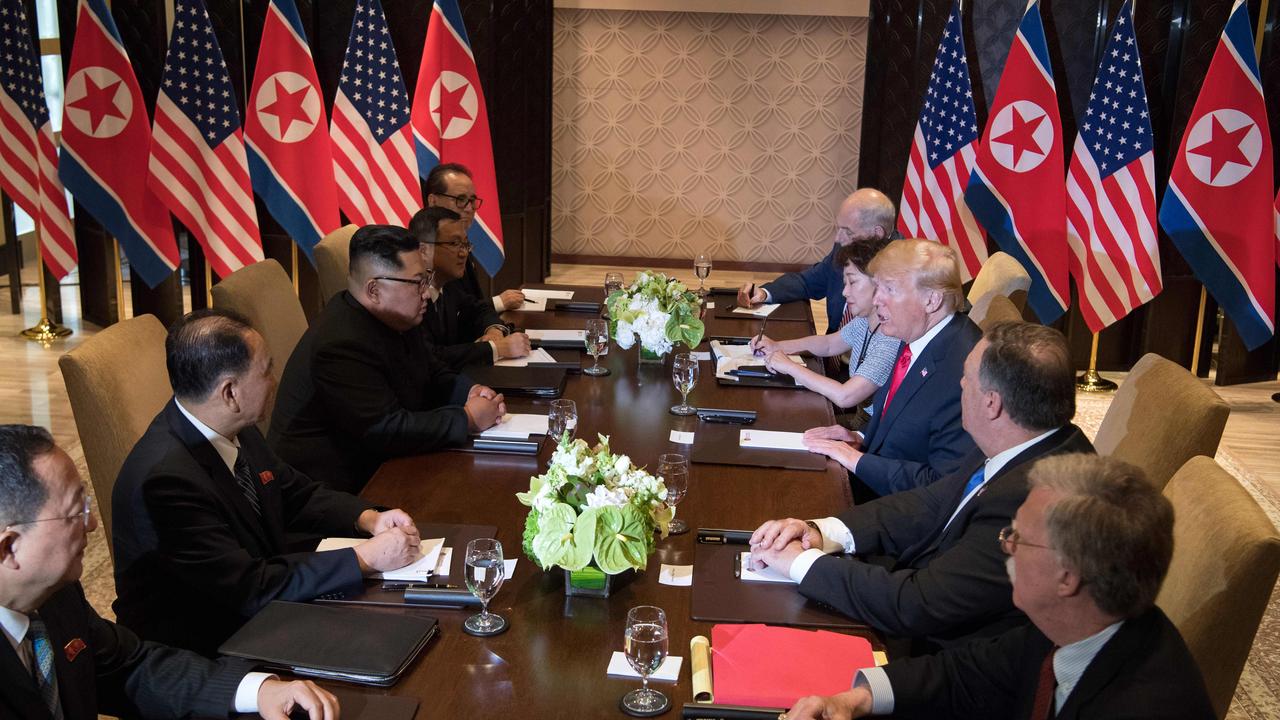 In April Mr Kim agreed to immediately stop nuclear weapons* tests and said his country would end the war and give up nuclear weapons if the United States promises never to invade North Korea and if the US agrees to officially end the Korean War. The US was part of the war because they helped South Korea.
The Korean War between North and South Korea started in 1950 and was fought for three years. Australia and the US supported South Korea and Australian and US soldiers fought in the war alongside South Korean soldiers.
Though there hasn't been actual fighting in this battle for many years, the two countries never officially agreed to finish the war.
Although media around the world has been reporting on the leaders' meeting for months, yesterday was the first time North Koreans heard their leader had travelled to Singapore for the meeting.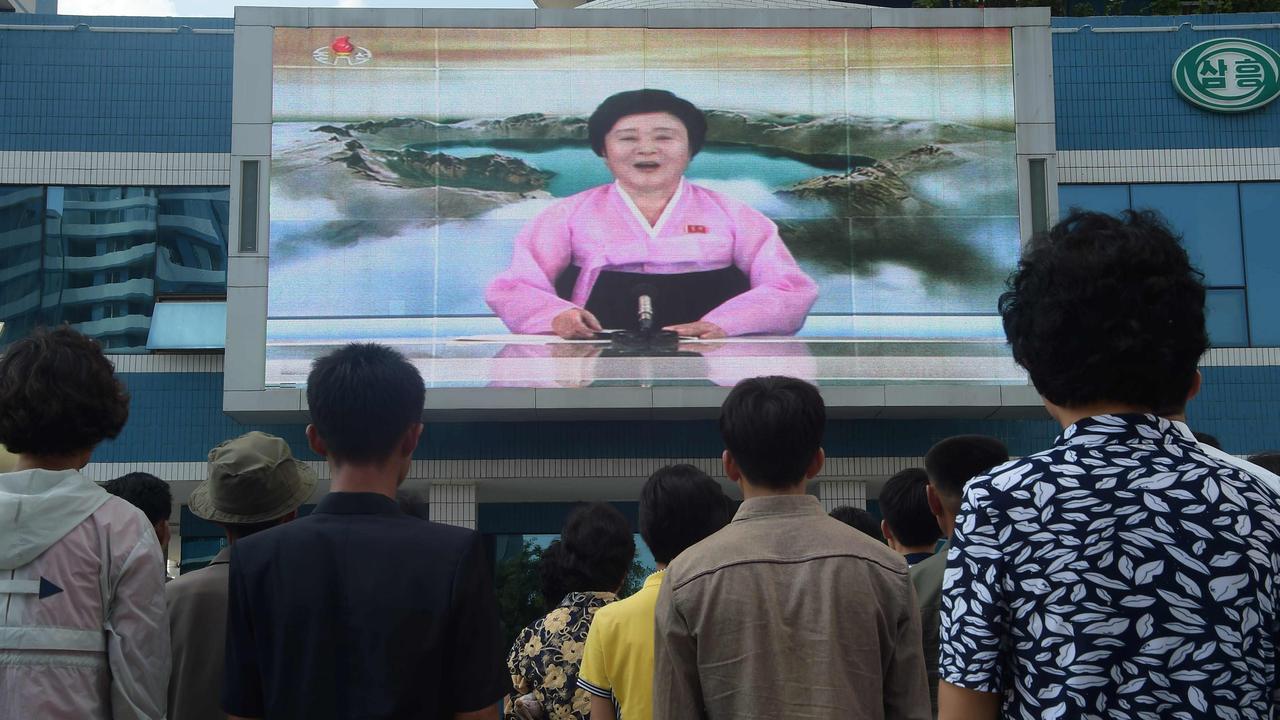 According to US news service CNN, crowds of North Koreans gathered outside a train station in North Korea's capital Pyongyang to watch news of the summit on a big screen, which included an update from North Korean newsreader Ri Chun Hee.
"The historic first meeting and talks between the respected and beloved Comrade Supreme Leader and Donald Trump, President of the United States of America, will be held on the morning of June 12 in the Republic of Singapore," she announced.
She said the summit was a "historical first" that is "garnering* the attention and hopes of the entire world".
The announcement is different to regular reporting of Mr Kim's meetings, which usually only reaches North Koreans after they are over.
Singapore was chosen for the meeting because it has a working relationship with both countries.

EXTRA READING
North Korea peace promise makes history
GLOSSARY
denuclearisation: getting rid of all nuclear weapons
Australian Eastern Standard Time: time in Queensland, NSW, Victoria, Tasmania, often written as AEST
alternating: in turn, repeatedly
interpreter: translator
prejudices: opinions you already have without any reason
likelihood: probability
nuclear weapons: bomb or missile that uses nuclear power
summit: meeting
garnering :collecting
LISTEN TO TODAY'S STORY
QUICK QUIZ
When and where and between whom did the historic meeting take place?
What did Mr Kim do in April to show he wanted the meeting to succeed?
What was Australia's involvement in the Korean War?
North Korean news announced the meeting to North Koreans today. What is different about that?
Why was the meeting in Singapore?
CLASSROOM ACTIVITIES
1. Body Language
The body language of these important world leaders was widely analysed at this historic first meeting. Outline some of the body language and gestures listed in the article and seen on the video and write what it may mean beside it.
2. Extension: List some examples of positive and negative body language. In what scenarios do you see some of these actions?
Time: Allow 15 minutes
Curriculum links: English, Personal & Social Capability
VCOP ACTIVITY
After reading the article, with a partner, highlight all the openers you can find in blue. Discuss if they are powerful and varied openers or not. Why do you think the journalist has used a mix of simple and power openers? Would you change any, and why?
QUESTION: Now that the leaders have met, what do you hope will happen next between North Korea and the US?
Explain your answer using full sentences and lots of adjectives.