Visitors will be permanently banned from climbing Australia's popular tourist attraction Uluru within two years.
The Uluru-Kata Tjuta National Park Board yesterday announced tourists would not be permitted to climb the huge monolith*, an activity long considered disrespectful by the region's traditional owners, from October 26, 2019.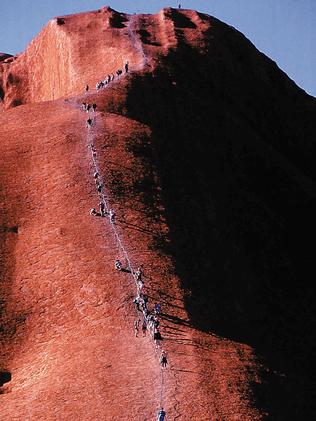 The symbolic date is the 34-year anniversary of the day Uluru and the surrounding land were handed back to its traditional owners, the Anangu people.
The two-year delay on the ban will allow tourists who booked trips to the red centre* to complete the climb, if they choose to do so.
Chairman of the park board Sammy Wilson said the Anangu people wanted visitors to respect the site.
"It is an extremely important place, not a theme park like Disneyland," he said.
"If I travel to another country and there is a sacred site, an area of restricted access, I don't enter or climb it, I respect it. It is the same here for Anangu. We welcome tourists here. We are not stopping tourism, just this activity.
"Closing the climb is not something to feel upset about but a cause for celebration," he added.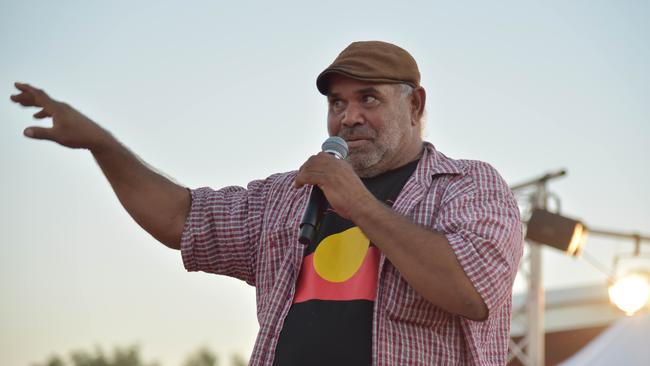 Plans to close the once-popular activity have been in place since 2010, when a 10-year plan for the park announced the climb would be closed as soon as fewer than 20 per cent of visitors completed it.
Only 16 per cent of the visitors to Uluru on the days the climb was open between 2011 and 2015 chose to make the trek up the rock's steep face.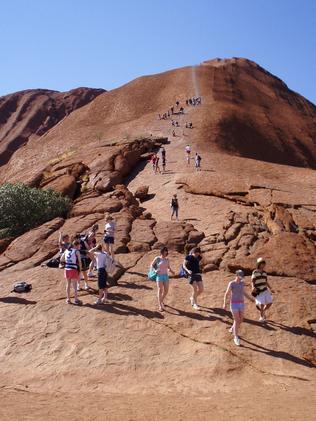 That represents a significant fall in the number of climbers — in 2010, about 38 per cent climbed and in the 1990s about 74 per cent made their way up.
Signs dotted around the base of Uluru already ask tourists not to climb.
"Uluru is sacred in our culture. It is a place of great knowledge. Under our traditional law, climbing is not permitted," the signs erected by its traditional owners, the Anangu, read.
Similar requests from traditional owners appear on the Parks Australia website.
"The climb is not prohibited but we ask you to respect our law and culture by not climbing Uluru," the message reads in part.
"We have a responsibility to teach and safeguard visitors to our land."
The climb can be dangerous. Thirty-six people have died on Uluru since the 1950s.
A chain was installed to help climbers scale* the rock in 1966.
The climb has been shut seven times since 1985 to mark the passing of senior traditional owners.
ULURU OR AYERS ROCK?
Uluru is the name given to the monolith* by the local Anangu indigenous people.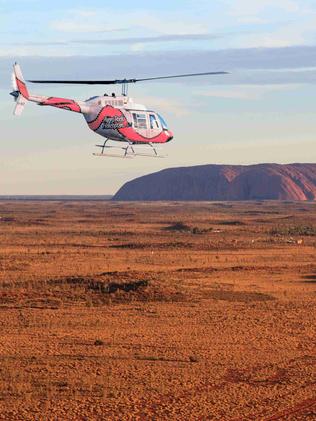 Explorer William Gosse sighted the impressive formation in 1873 and named it Ayers Rock after the Chief Secretary of South Australia, Sir Henry Ayers.
From 1873 both names were used and in 1993 it was officially given a dual name Ayers Rock/Uluru.
In 2002 it was reordered to Uluru/Ayers Rock out of respect for the traditional owners of the land.
It is now most commonly referred to as Uluru.
GLOSSARY
monolith: single, large rock
red centre: the middle of Australia, where the dirt is a bright red colour
scale: climb something steep
LISTEN TO TODAY'S STORY
CLASSROOM ACTIVITIES
1. For and against
List reasons for and against allowing people to climb Uluru.
Some reasons are in the story.
Think of as many other reasons as you can.
Extension:
Find out more about monoliths.
Use the information that you have found to write an information guide to monoliths.
Your guide must help people understand what monoliths are, how they were formed and give at least two examples of famous monoliths.
Include pictures and make your guide as interesting as you can.
Time: allow 70 minutes to complete this activity
Curriculum links: Geography, Ethical Capability, Intercultural Capability, Critical and Creative Thinking
2. Why did the name Ayers Rock change to Uluru?
Write a paragraph for a website about Australia to help people from other countries understand why it was important to make this change.
Extension:
Find out more about Aboriginal sacred sites.
Use the information you have found to create a page for a school workbook for students one year younger than you.
Your page will help the students to understand the most important things about sacred sites.
Time: allow 85 minutes to complete this activity
Curriculum links: Civics and Citizenship, Intercultural Capability, Geography
VCOP ACTIVITY
Up level it!
Find a basic sentence in the article and up level it.
Pick a basic word in the sentence and see if you can up level it to be more specific or higher level.
Add a connective and extend the sentence to give more information.
Enhance the opener of the sentence. You can add a new one, up level what's there or try shuffling the sentence order.
Make sure all the punctuation is correct and if appropriate use higher level punctuation to enhance the sentence.
Time: allow 20 minutes to complete this activity
Curriculum links: English, Big Write, VCOP
EXTRA RESOURCES
AUSSIE DRINKS OWN WEE TO SURVIVE
FOSSIL REVEALS ANCIENT SEA MONSTER
IN A SENTENCE, SHARE YOUR THOUGHTS ON TODAY'S STORY
Kids News loves reading your best grammar, vocabulary and spelling.
We publish the best comments.