Students from more than 70 countries are planning a massive global protest this Friday against inaction* on climate change, led by Swedish schoolgirl Greta Thunberg.
It could be one of the biggest environmental protests the world has seen.
Greta began a weekly "school strike for climate" on August 20 last year. Then 15, Greta rode her bicycle to sit on the cobblestones* in front of Stockholm's Parliament House with a handpainted sign that said "skolstrejk för klimatet", which is "school strike for climate" in Swedish.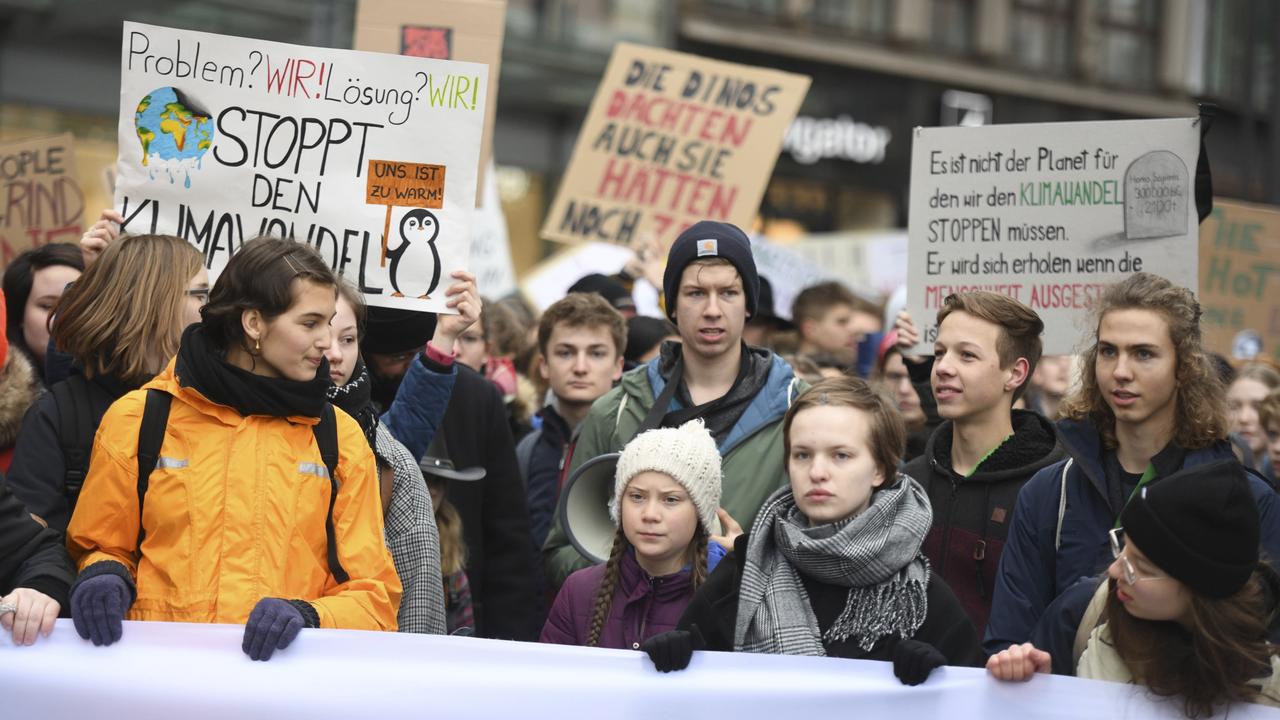 Thousands of students around the world have since copied her. Youth organisations are calling for a strike on Friday and Greta understands there will be more than 700 protest locations.
"I think this movement is very important. It not only makes people aware, and makes people talk about it more, but also to show the people in power that this is the most important thing there is," she told news agency Reuters.
Greta has almost 250,000 followers on social media platform Twitter where her movement carries the hashtags #FridaysForFuture and #SchoolStrike4Climate.
A TEDx* talk she delivered on climate change now carried on TED's main website has had more than 1.2 million views and last month Greta joined protests in Belgium, where she won a European Union pledge* to spend billions of euros* to combat climate change.
"I think the most fun thing is to watch all the pictures around the world of hundreds of thousands of children school striking for the climate," she said.
She has also had an impact on her parents, author and actor Svante Thunberg and opera singer Malena Ernman.
Inspired by their daughter's concern for the environment, the pair have stopped flying and have adopted vegan* diets as part of their efforts to live more environmentally sustainable lives, Svante Thunberg told a climate conference in Katowice, Poland, in December.
Greta said she wants Sweden to adhere* to the Paris Agreement, part of the UN Framework Convention on Climate Change.
"I've said that I will continue to strike every Friday until Sweden is in line with the Paris Agreement," she said. "That may take a couple of years and I'll just have to try to be patient."
UN PARIS AGREEMENT
The goal of the United Nations* Paris Agreement is to keep the increase in global average temperature to well below 2C above pre-industrial* levels and to limit the increase to 1.5C, since this would reduce the effects of climate change.
The Paris Agreement is a 2015 document signed by 195 countries.
Under the agreement, each country must plan for and report on what it is doing to limit global warming.
Sweden, Greta's home country, is a signatory* to the Paris Agreement.
Australia is also a signatory to the Paris Agreement.
There is much disagreement among Australians, including politicians, business people and scientists, about whether Australia is doing enough to meet its Paris Agreement targets and how best to do so.
GLOSSARY
inaction: not taking action
cobblestones: stone blocks used in olden times for roads
pledge: promise
euros: money of Europe
vegan: don't eat animal products
adhere: stick to
United Nations: organisation for international co-operation
pre-industrial: before the Industrial Revolution in the 1800s
signatory: someone who has signed up
EXTRA READING
Sir David Attenborough's climate change warning
Queen honours young Australians
Pupils learn the power of the pen

QUICK QUIZ
What has Greta done once a week since last August? Why?
What did Greta do in Belgium?
Name two things Greta's parents have changed to help the environment?
What are the goals of the Paris Agreement?
Did Australia sign the Paris Agreement?

LISTEN TO THIS STORY
CLASSROOM ACTIVITIES
1. Learning About Climate Change
As a class watch Greta Thunberg's speech about climate change and why she believes we need to take action (11-minute video).
You can view the Tedx talk at:
https://www.ted.com/talks/greta_thunberg_the_disarming_case_to_act_right_now_on_climate?language=en#t-18689
While you are watching, take some notes about the following questions.
What is climate change?
How do we stop it?
Why do we need to act?
Share your notes with a partner to see if you picked up the same or different information from Greta's speech.
Time: allow 20 minutes to complete this activity
Curriculum Links: English, Critical & Creative Thinking, Science
2. Extension
Greta Thunberg is a 16-year-old student trying, and possibly succeeding to make a difference in the world. Do you consider her an inspiration or role model? Give your reasons. Does it inspire you to try to make a positive change somewhere?
Time: allow 10 minutes to complete this activity
Curriculum Links: Critical & Creative Thinking, Personal & Social Capabilities & English
VCOP ACTIVITY
With a partner see if you can identify all the doing words/verbs in this text. Highlight them in yellow and then make a list of them all down your page. Now see if you and your partner can come up with a synonym for the chosen verb. Make sure it still makes sense in the context it was taken from.
Try to replace some of the original verbs with your synonyms and discuss if any are better and why.
HAVE YOUR SAY: Should children protest against inaction on climate change? Can they make a difference?
No one-word answers. Use full sentences to explain your thinking. Comments will not show until approved by editors.