John Hewat is a writer and storyteller with CARE Australia, which is an international aid agency that focuses on helping women and girls. He travelled to Zimbabwe* last year to meet a Zimbabwean girl named Precious and experience one of her long water-carrying journeys with her.
On February 1 last year, Precious took me on one of her twice-daily, two-hour journeys to collect water — and let me tell you, it's as exhausting as it is frightening.
We set off really early in the morning from the Chivi district of Zimbabwe — there wasn't anyone else around and it was still dark.
Precious taught me how to listen out for rustling in the grass — a sound that might mean a snake is nearby. She's heard about people being attacked on this journey before. There wouldn't be anyone around to help if you were hurt or injured. There's dense* scrub* all around, so you can't really see where you're going or what's around you.
I felt so sad walking along with her, knowing that she's often alone and afraid.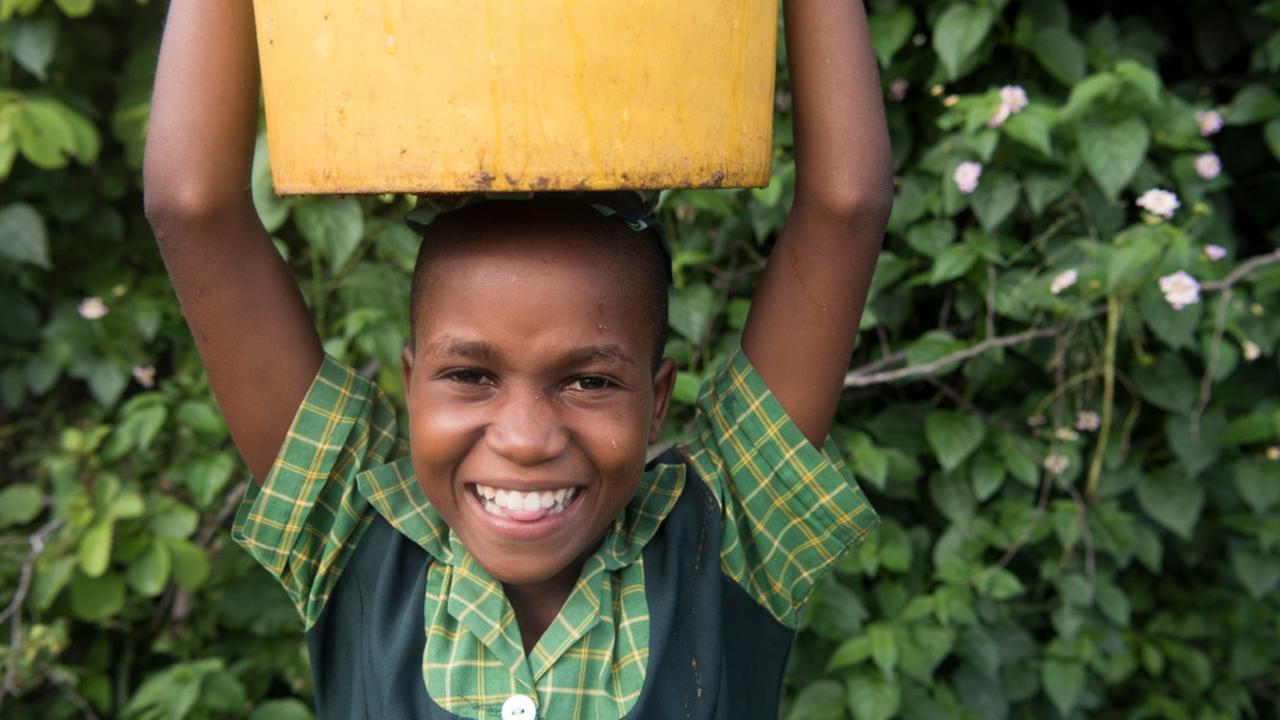 She told me she wishes she didn't have to make the journey, but her family depends on her.
When Precious filled her bucket at the river, I couldn't even see the bottom — the water is thick with dirt and who knows what else. Sometimes people find little black worms in their water buckets. The water is contaminated*, but she doesn't have any other choice. There's no other water source for miles. Her family has had cholera* and diarrhoea from drinking this water. It's a miracle she hasn't gotten really sick herself.
The track is really muddy and steep — on the way back I slipped over so many times. Precious is so tiny, but she somehow manages to heave* this giant bucket full of water on to her head and carry it all the way home. Even I struggled to pick it up, and I'm a grown man.
To be honest, when we got back I was heartbroken*.
The trek had been so long and I was so tired. And this dirty water was all we had to show for it.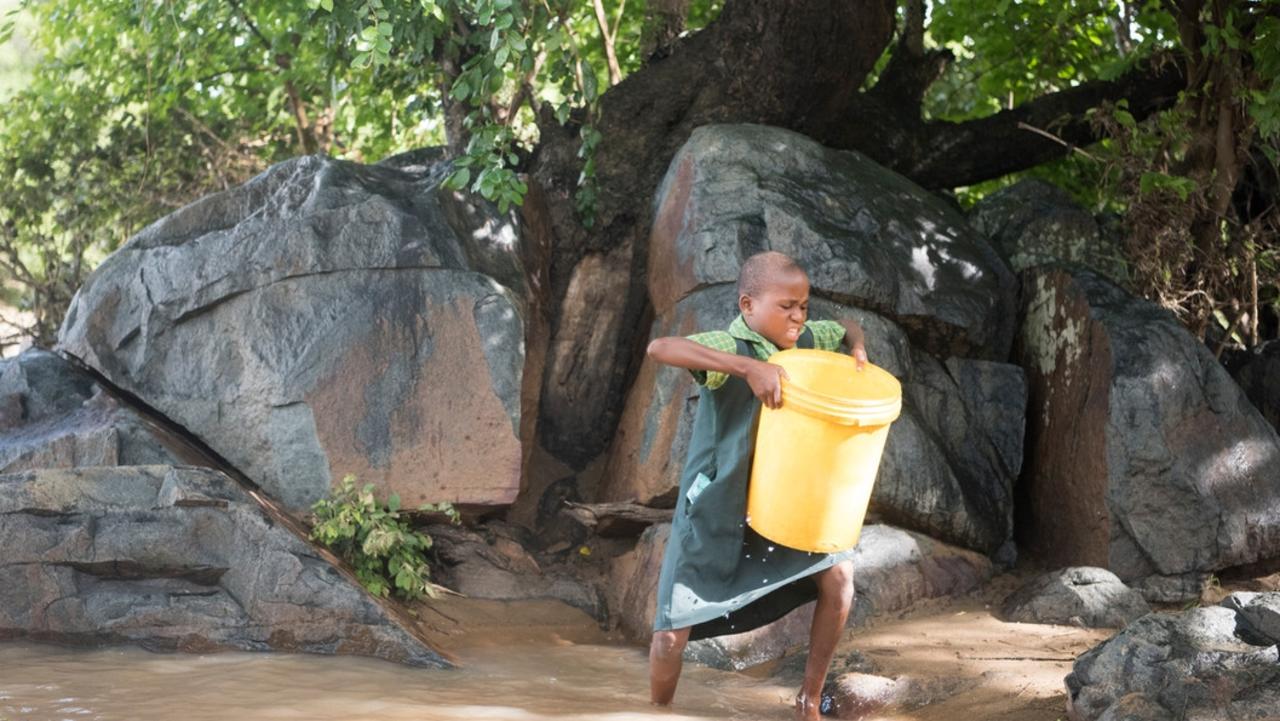 I'm really proud of the work CARE Australia does in Zimbabwe, but there are still so many kids who need clean water. The whole time I was walking with Precious, I kept thinking of my niece Lara, back home in Australia. I couldn't bear it if she had to go through this just to get water for her family.
As Aussies, we've been taught everyone deserves a fair go. And by bringing clean, safe drinking water closer to children like Precious, we can literally* transform their lives.
After my trip to meet Precious, we appealed for donations from Australians to help deliver a borehole* to Precious' village. I was overwhelmed* with happiness the day I saw the borehole drilled.
I am so proud of Australians for giving enough to literally change this young girl's life.
When the water erupted from the ground like a fountain, the entire community joined in applause and started singing and dancing — including Precious. No more perilous* walks for dirty water, no more dangerous animals, and more time to go to school; Precious's life has been changed! And so have generations to come who will live in that village.
I am so grateful to have been there when it happened, to see the happiness on Precious's face — but I'm even more grateful to the amazing Australians who made this possible. It's only because people give CARE gifts and donations to CARE Australia that lifesaving changes like this can happen.
EXTRA READING
Africa's oldest, biggest baobab trees die
Syrian children learn on edge of war zone
Kids campaign to save orang-utan habitat
Making dirty water clean to drink
GLOSSARY
Zimbabwe: country in southern Africa
dense: thick
scrub: bush
contaminated: not pure or clean
cholera: a dangerous bacterial disease caught by drinking contaminated water
heave: lift a heavy weight
heartbroken: feel extremely sad and upset
literally: actually
borehole: well hole
overwhelmed: overcome with emotion
perilous: life threatening; very dangerous
LISTEN TO THIS STORY
QUICK QUIZ
What time of day did Precious first go for water?
Rustling in the grass could mean …
What was sometimes in the bottom of the bucket of water?
Which aid organisation is John proud to help?
What did donations from Australians help CARE do in the village?
CLASSROOM ACTIVITIES
1. How can you and your class can help other kids in your school learn about the problems that people have when they don't have clean, safe running water in their community? Create a poster, a script/plan presentation for an assembly or special lesson and any other activities that you can think of.
Time: Allow 40 minutes
Curriculum Links: English, Geography, Personal and Social Capability
2. Extension: Should charities like CARE be responsible for making sure that people have clean, safe water? Who do you think should be responsible and why? Write a piece of persuasive writing on this question.
Time: Allow 25 minutes
Curriculum Links: English, Civics and Citizenship
VCOP ACTIVITY
After reading the article, with a partner, highlight all the openers you can find in blue. Discuss if they are powerful and varied openers or not. Why do you think the journalists has used a mix of simple and power openers? Would you change any, and why?
HAVE YOUR SAY: What can Australian children do to help raise awareness and funds so all children have clean water? Use full sentences. No one-word answers.