Tennis champion, Paralympic gold medallist, advocate* and philanthropist* Dylan ­Alcott has been named 2022 Australian of the Year, becoming the first person with a disability to win the top award.
Alcott, 31, travelled from Melbourne to Canberra to ­accept the honour just hours after he secured a spot in the Australian Open men's quad final, his last tournament before his ­retirement from professional tennis.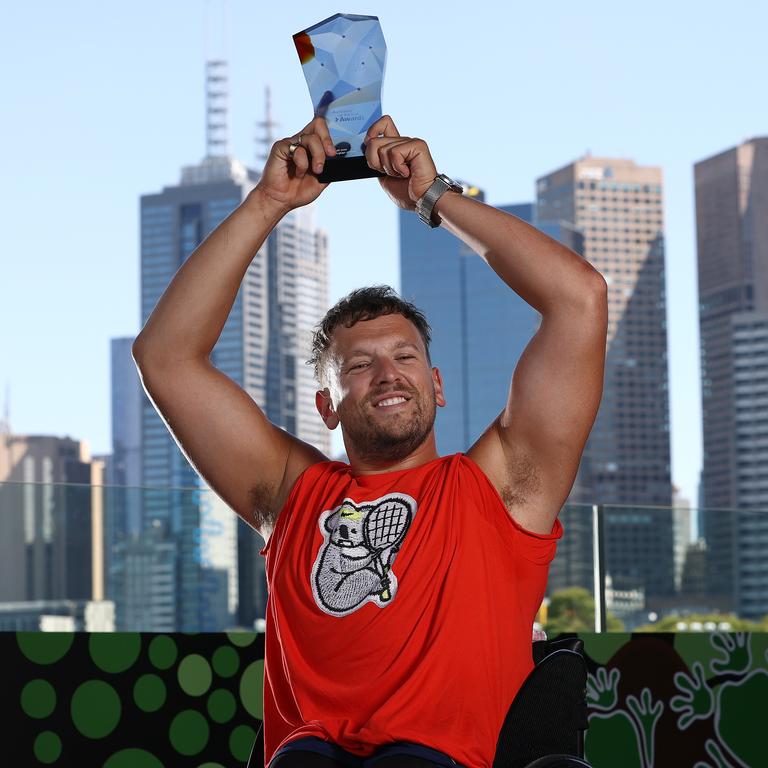 In being named Australian of the Year, Alcott was recognised for his "leadership and commitment to ­developing opportunities for people with a disability". He was also credited with "making an impact for thousands of Australians".
National Australia Day Council chairwoman Danielle Roche said Alcott was a champion who had risen to the top of the world rankings "through sheer grit* and determination".
"Dylan is an inspirational Australian on and off the tennis court," she said.
Alcott's sporting achievements include Australian Open champion seven years running from 2015 to 2021, although he was denied an eighth title and fairytale finish to his career this year, finishing runner-up.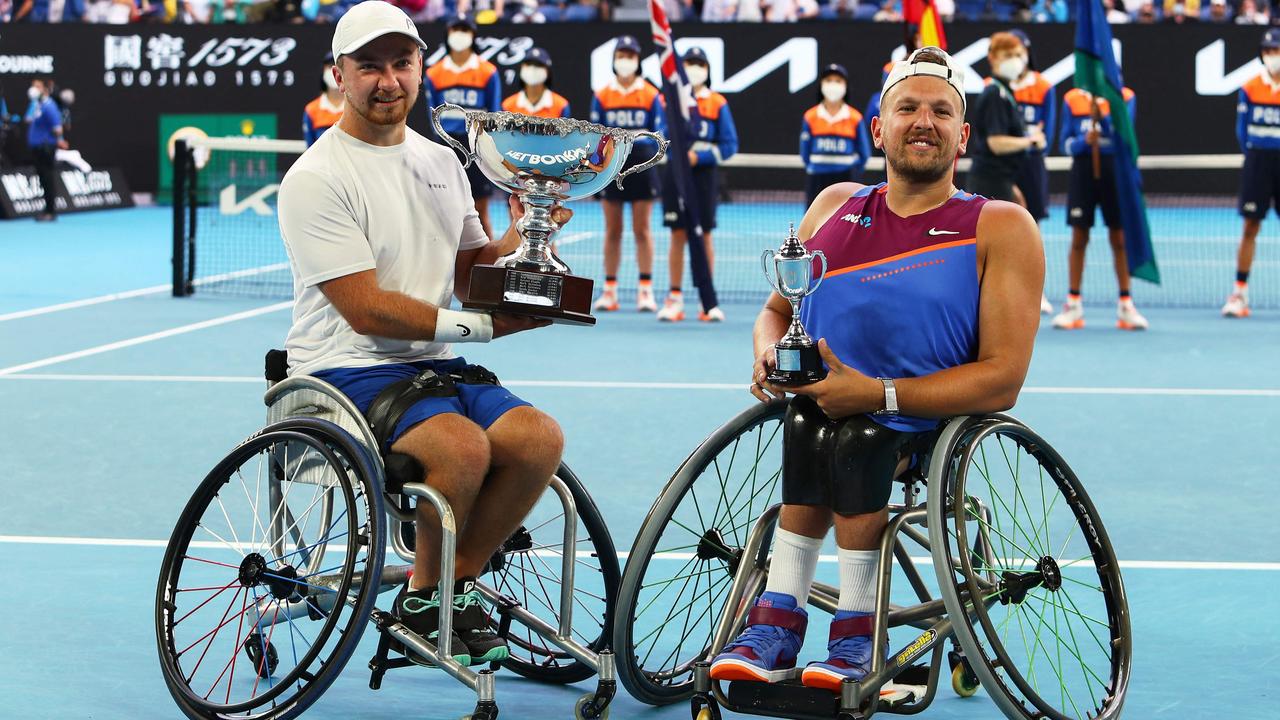 His Australian Open achievements are among 15 grand slam* quad singles and eight doubles titles.
In 2021 he became the first man in history to achieve a "golden slam" of all four major singles titles as well as a Paralympic gold medal in the same calendar year.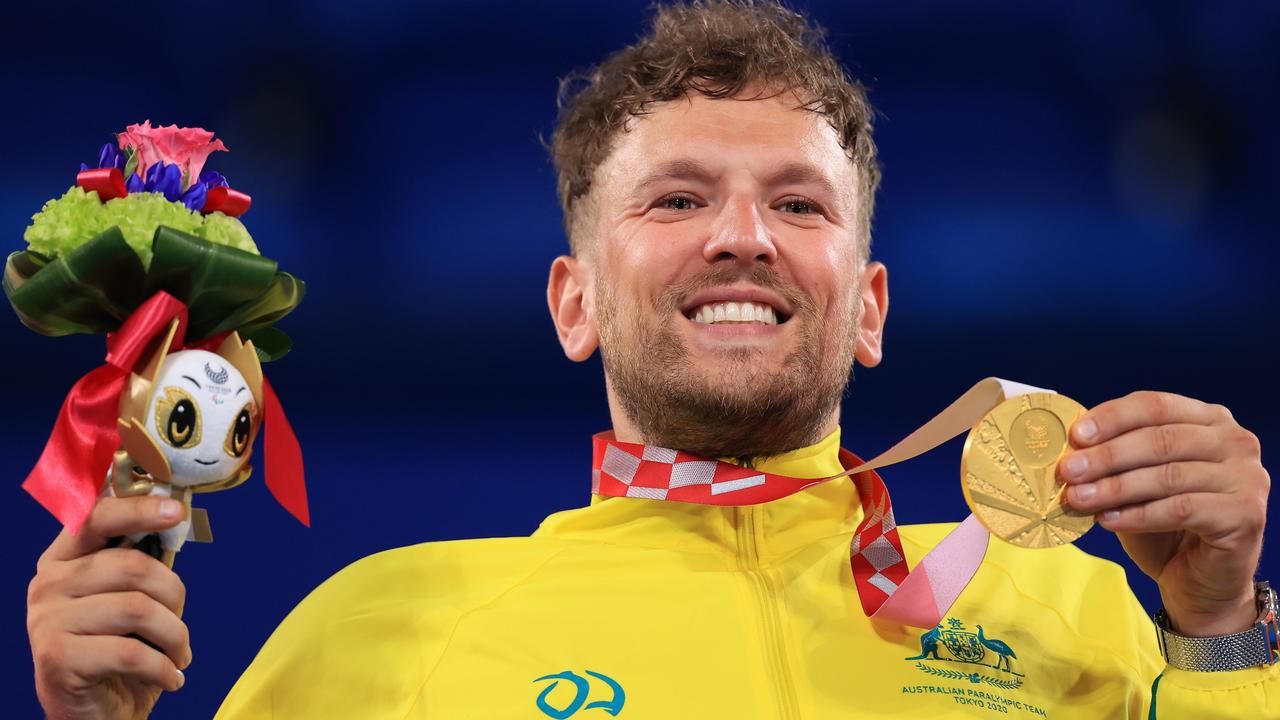 Outside sport, Alcott has founded* Get Skilled Access, helping to make organisations more inclusive*.
But that's not all – he is also the brains behind AbilityFest, which is the first and only fully ­accessible* music festival.
He also started the Dylan Alcott Foundation to provide scholarships and funding to marginalised* Australians with disabilities.
Alcott, who is also a TV and radio commentator, said that as a teenager he "hated" being in a wheelchair because he didn't see anyone like him in the media.
He noted his most "profound*" impact had come from beyond the field of play.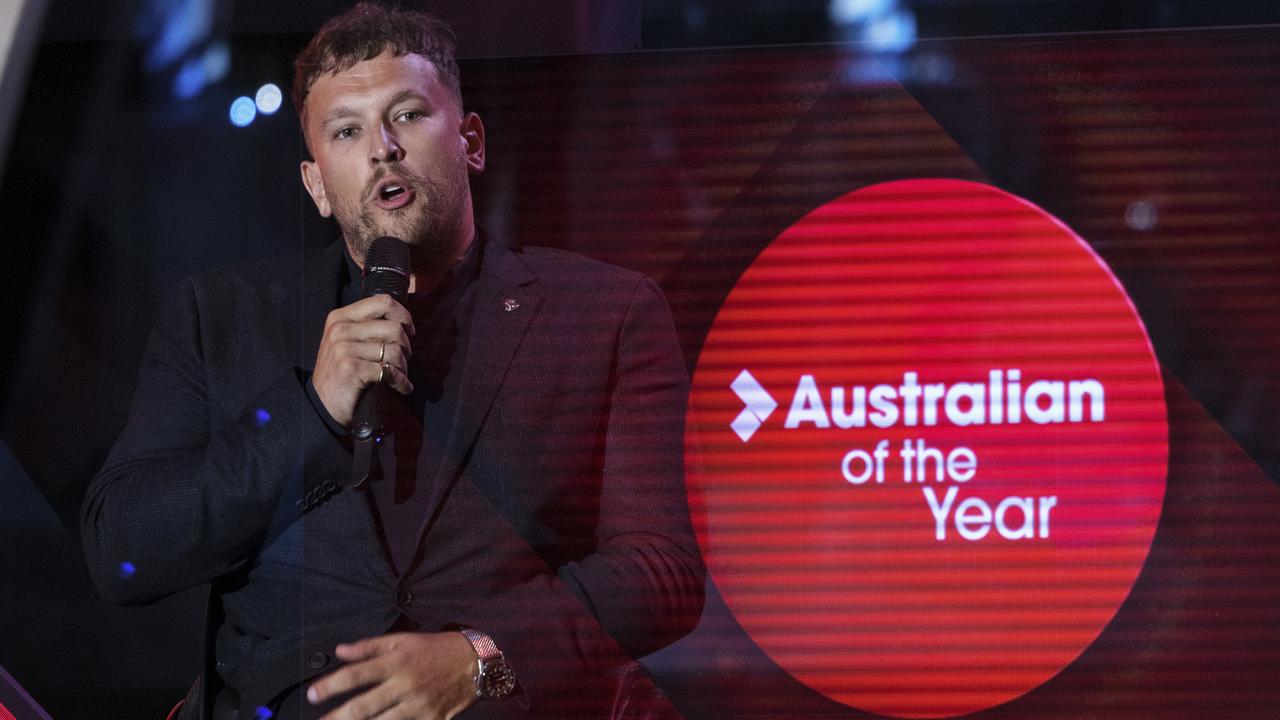 Alcott was named Australian of the Year at a ceremony held on the eve of Australia Day.
Also honoured was the 2022 Young Australian of the Year, Dr Daniel Nour.
Dr Nour, 26, is the founder* of Street Side Medics, a not-for-profit mobile medical service with 145 volunteers and four clinics across NSW. The service treats more than 300 homeless people who have illnesses ­including diabetes, hepatitis C, HIV and cancer.
He was recognised for "making a real difference to the lives of many Australians".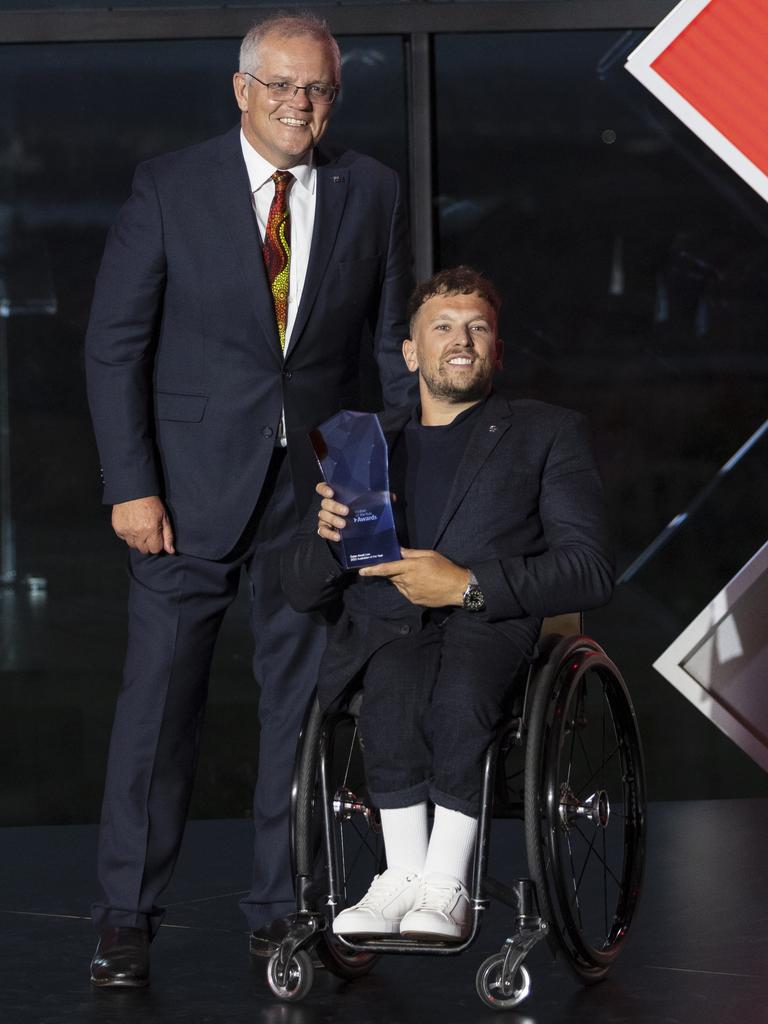 Prime Minister Scott Morrison described the 2022 finalists as "incredibly different" but sharing "a great civic mindedness*, a desire to make a difference and a great love of our country".
"Every year, I'm incredibly amazed at the breadth* of Australians who are the finalists," he said.
Mr Morrison said ­Alcott was a "household name" at the top of his game, but still "determined to help so many others succeed".
GLOSSARY
advocate: a person who publicly supports a cause or group
philanthropist: a person who gives money to important causes or helps people in need
grit: courage and mental toughness
grand slam: the four major tennis tournaments – Australian Open, US Open, French Open and Wimbledon
founded: started an organisation, business or group
inclusive: including all people or groups
accessible: able to be reached or entered by everyone, including people with a disability
marginalised: feeling left out, or on the margins, of society
profound: felt or experienced very strongly
founder: person who starts an organisation, business or group
civic mindedness: being involved in helping the community
breadth: wide range
EXTRA READING
Tennis legend Dylan Alcott to retire
Alcott claims historic Golden Slam
QUICK QUIZ
How many Grand Slam quad singles titles has Dylan Alcott won?
What first did Dylan Alcott achieve in 2021?
What did Dylan Alcott do after the Australian Open?
Name two of Dylan Alcott's achievements away from sport.
Who was named 2022 Young Australian of the Year
LISTEN TO THIS STORY
CLASSROOM ACTIVITIES
1. What makes an Australian of the Year?
Consider the acts and achievements of Dylan Alcott and Dr Daniel Nour as described in this news story. If you have time, you could also research past winners or nominees of Australian of the Year. Then create a "word cloud" containing all of the words you can think of that describe the attributes an Australian of the Year should possess.
Notes:
Aim for at least 20 words in your cloud.
You can create your word cloud on paper or use an online program (just google "word cloud" to find options).
Time: allow 20 minutes to complete this activity
Curriculum Links: English; Civics and Citizenship
2. Extension
Choose three attributes that you included in your word cloud that you think you also possess. Write a sentence for each giving an example of how you demonstrate this attribute.
Time: allow 15 minutes to complete this activity
Curriculum Links: English; Civics and Citizenship; Personal and Social Capability
VCOP ACTIVITY
Wow Word Recycle
There are plenty of wow words (ambitious pieces of vocabulary) being used in the article. Some are in the glossary, but there might be extra ones from the article that you think are exceptional as well.

Identify all the words in the article that you think are not common words, and particularly good choices for the writer to have chosen.
Select three words you have highlighted to recycle into your own sentences.
If any of the words you identified are not in the glossary, write up your own glossary for them.