Syrian children learning to read and write in camp schools after escaping war-torn homes
Syrian children are learning to read and write in camp schools after escaping their war-torn homes. See how these World Vision schools are giving the kids hope for the future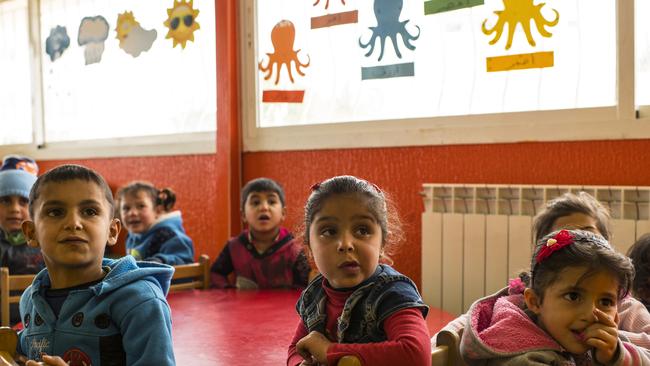 Syrian refugee children listen to their teacher at one of 10 Early Childhood Education centres supported by World Vision in Lebanon's Beqaa Valley. Picture: World Vision
This might look like any normal kindergarten or prep class, but these children are learning on the edge of a war zone.
Their school sits just over the border* from Syria where a terrible battle has been going on for more than seven years.
These kids are just some of the 5.6 million people forced to escape the country to save their own lives. Half of these – 2.6 million — are children.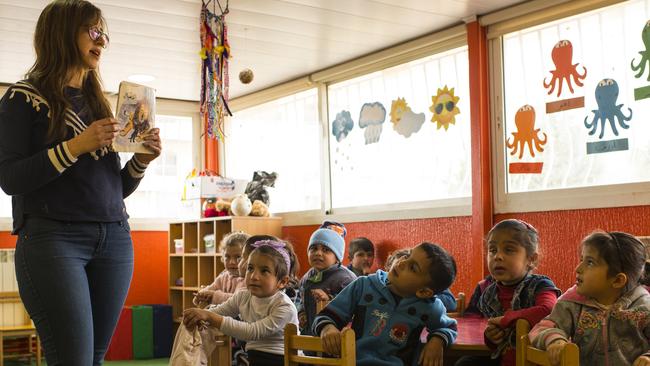 Syrian refugee children learn with their teacher in a classroom at one of the Early Childhood Education centres in Lebanon's Beqaa Valley. Picture: World Vision
This month has seen an escalation* in the conflict with an attack on innocent people using chemical weapons*.
Syria denies involvement in the attack, as does Russia, the main supporter of Syria's leader Bashar al-Assad, but the US, UK and France don't believe this and launched return air strikes* on Saturday.
The majority of Syrians have fled across borders to neighbouring countries including Turkey, Jordan and Iraq. More than a million Syrians escaped next door to Lebanon, most of which live just over the border in tent cities in the Beqaa Valley.
On the side of a mountain here is the World Vision Dar Sadaka centre. It's Arabic for House of Friendship. It houses about 500 students and is one of five set up by World Vision in the region.
Just like in ordinary schools, drawings and shapes on colourful paper have been cut out and stuck to the walls.
Tracy Khalaf is a trained psychologist and supervisor at the centre. She said when preschoolers first arrive they sometimes don't know their own names because they are in shock from having to flee* their home.
"We can't get their names out of them. So, we work on building their identity*. We work on calling them by their name," Ms Khalaf said.
"Our program is based on getting children into school or back to school."
Usually the girls want to cook or have children when they grow up but teachers try to explain they have more options than that.
"Many want to become teachers after attending the centre because they identify strongly with the predominately* female teachers," Ms Khalaf said.
"The boys usually have dreams of becoming mechanics* or working in agriculture*."
Many of the boys who attend the camp schools want to grow up to be mechanics or work on farms. Picture: Andrew Quilty
Ms Khalaf said the school aims to teach them about many jobs so girls and boys realise they can have any type of work they want regardless of gender.
As the war drags on, refugees continue to arrive. Some children have spent their entire teenage years in the camps. Many younger children were born there.
Well-known Australian war photographer Andrew Quilty was a guest in the refugee camps of World Vision Australia.
"The standard of teaching and facilities are far beyond what I expected to encounter," said Mr Quilty, who has seen similar camps in Afghanistan.
"In Afghanistan, there would be mud walls, no electricity, no decorations and the level of teacher training is low.
"These kids are clearly here because they enjoy learning."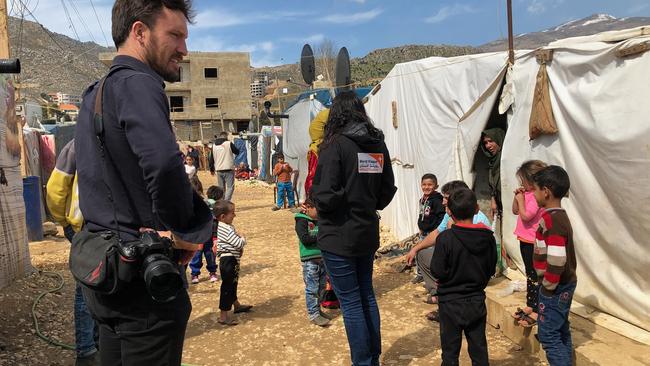 Children in the streets of the tent camp at the Syrian refugee camp. Picture: World Vision
Life in the refugee camps can be tough outside the schools. Children as young as five and six work long, hard days in the potato fields.
For those lucky enough to attend a learning centre, it means they become ready for school and don't have to work.
"A big part of the program is working with the parents to teach them about the long-term value of education," M Khalaf said.
Once the children finish here, World Vision tries to have them placed in Lebanese schools.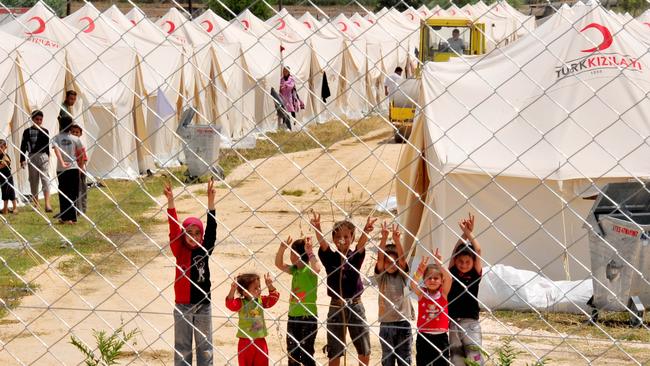 Syrian refugee children wave from the Boynuyogun Turkish Red Crescent camp in the Altinozu district of Hatay, Turkey near the Syrian border. Picture: AFP MUSTAFA OZER
WHAT YOU CAN DO TO HELP
The theme of this year's World Vision's Youth Conference — designed to empower* students to be a voice for equality for other children around the globe — is refugee and displaced* young people.
Students who take part will be inspired by leaders for change and people who have lived in conflict and disaster zones.
Youth Conference events will be held in Brisbane, Melbourne, Sydney and Perth between May 23 and June 7, 2018. Learn more at worldvision.com.au/youth-conference.
Children in class are being urged to host a 40 Hour Famine Backpack Challenge in their school on August 17-19.
Participants live for 40 hours with just the clothes on their back and a small backpack of food and belongings. The challenge aims to encourage participants to raise awareness about the living conditions refugees face, at the same time as raising funds for them.
Register your interest at www.40hourfamine.com.au
Angus Smith, who co-wrote this story, works for World Vision
GLOSSARY
border: a line separating two countries or states
escalation: a fast rise
chemical weapons: weapons which include chemicals such as gases to hurt or kill people
air strikes: an attack made by an aircraft
flee: escape
identity: who a person is
predominately: mostly
mechanics: a skilled worker who repairs vehicles or machinery
agriculture: farming
empower: give someone the power to do something
refugee: a person who has been forced to leave their country in order to escape war or natural disaster
displaced: moved from its normal place
LISTEN TO TODAY'S STORY
CLASSROOM ACTIVITIES
1. How are we the same? How are we different?
Carefully read the article and look at the photographs. Compare what it is like attending school at the World Vision Dar Sadaka centre to what it is like attending school where you are. Create a table that lists the things that are the same/similar and things that are different.
Extension: Draw a "side-by-side" picture of a Dar Sadaka centre classroom and your classroom that shows some of the similarities and differences you identified.
Time: Allow 20 minutes
Curriculum links: English
2. Thinking critically
Consider these questions and write a detailed and reasoned answer for each:
The USA, UK and France are a long way from Syria, why do you think they have become involved?
Do you think Dar Sadaka (House of Friendship) is a good name for World Vision's centre and why?
What do you think are some benefits of helping children to continue with their education during times of war?
Does your new knowledge help you appreciate anything about going to school in Australia that you previously took for granted?
What is meant by the expression "tent city" and what do you think would be the most difficult aspects of living in one?
Extension: Let's hope that one day Syria will have peace and that those who have been forced to leave can return. Make a list of 10 professions (jobs) that you think will be most important for rebuilding communities. (It may be useful to work with a friend and discuss your ideas to narrow down your top 10.)
Time: Allow 30 minutes
Curriculum links: English
VCOP ACTIVITY
After reading the article, with a partner, highlight as many pieces of punctuation as you can find in green. Discuss how these are being used, where and how often. What level of the punctuation pyramid is the journalist using in this article?
IN ONE SENTENCE, TELL US WHAT YOU THINK ABOUT THIS STORY
Please do not use one-word answers. Explain what you enjoyed or found interesting about the article. Use lots of adjectives.