Young Australians are greatly concerned about the difficult conditions refugees* are facing around the world and want to do more to help.
A new World Vision survey of more than 1000 young people aged 11 to 19 was taken as a "pulse check" on the humanitarian* views of young people and found 91 per cent want to do more to assist refugees.
Only one in 10 (9.4 per cent) agree that Australia is doing enough through overseas aid while nearly two thirds (61.4 per cent) of young people feel we should be doing more to welcome our fair share of refugees to resettle here.
The report, Australian Youth on the Global Refugee Crisis, offers an insight into what our youth think about the world's biggest humanitarian emergency — 68.5 million people have been forced to flee their homes around the world, the largest number in history.
The report reveals the impact the crisis* is having on a generation growing up with constant news items about families fleeing, being separated from loved ones and having to live in refugee camps for a very long time.
The survey findings come as World Vision launches its youth fundraising event, the 40 Hour Famine Backpack Challenge.
More than 50,000 young Australians will live out of a backpack for 40 hours to raise funds while trying to imagine stepping into the shoes of a refugee.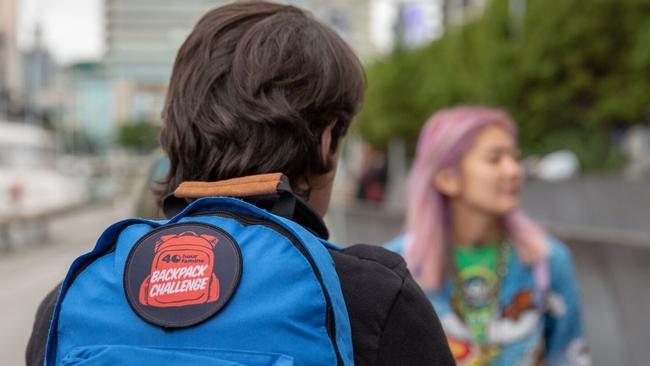 World Vision CEO Claire Rogers said the new direction of the 40 Hour Famine last year was widely embraced by Australia's youth who understood the refugee crisis.
"The survey clearly shows that we have underestimated the impact the refugee crisis has had on our youth," Ms Roger said. "Images of families fleeing from war, conflict and famine* have now become the daily norm* for our children."
Ms Rogers said it was pleasing to see Australian youth still fighting for causes they believe in.
"Australian youth were mobilising* change for drought-affected* global communities in the 1980s," she said.
"Young Australians have always been the moral compass* of this nation. I have no doubt this will be the generation to lead our government to a path of increased compassion and inclusiveness*."
The survey revealed the top three issues young people feel refugees face when they settle in Australia are discrimination* (57.1 per cent), mental health (55.6 per cent) and language (56.1 per cent).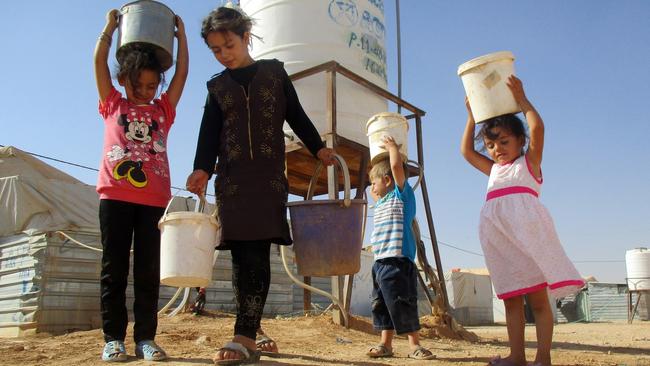 Half of young Australians have wondered about the possibility of becoming a refugee and one in five believe it is a definite possibility and it could happen to anyone.
When asked what they would pack if they faced having to flee their own homes, they said the most important items were food and water (64.3 per cent), identification documents (56.6 per cent) and money (51.6 per cent) ahead of their mobile phone (23.6 per cent).
This year's 40 Hour Famine Backpack Challenge will help World Vision support the needs of refugees and displaced people around the world, including through; emergency relief; provision of supplementary food; nutrition and hygiene support and child health care; and education opportunities for children and families.
To take part from August 17-19, visit 40hourfamine.com.au
GLOSSARY
refugees: a person who has been forced to leave their country in order to escape war, persecution, or natural disaster
humanitarian: concerned with or seeking to improve the wellbeing of humans
displaced: moved from its usual home
crisis: a time of intense difficulty or danger
famine: a serious lack of food
norm: normal
compassion: concern for others
mobilising: driving
drought-affected: suffering from drought
moral compass: conscience
inclusiveness: the act of including others
discrimination: treating someone badly because of certain features including race, age, or sex
LISTEN TO TODAY'S STORY
QUICK QUIZ
What fraction of young people feel we should be doing more to welcome our fair share of refugees to resettle here?
How many millions of people have been forced from their homes around the world?
How many hours does World Vision's backpack challenge last?
What are the top three issues young people feel refugees face when they settle in Australia?
What is the first item most young Australians would pack if they faced having to flee their own homes?
CLASSROOM ACTIVITIES
1. Refugee Crisis
Complete the 'Think Box' below reflecting on your knowledge and feelings of the refugee crisis in Australia and around the world.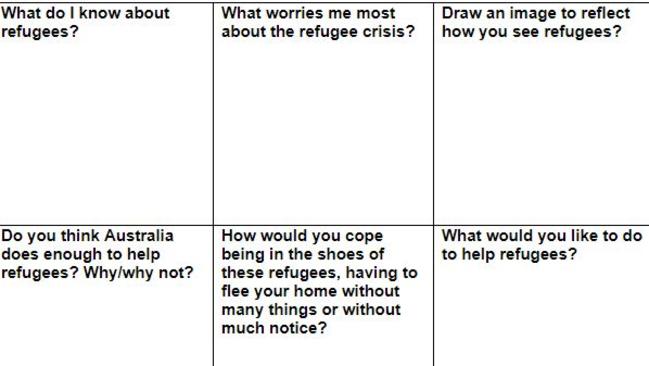 2. Extension: Would you like to complete the 40 hour backpack challenge that World Vision are co-ordinating to help the young refugees overseas? Ask your teacher if you can visit the website 40hourfamine.com.au and speak to your family if it's something you may be interested in participating in.
Time: Allow 30 minutes
Curriculum Links: English, Personal & Social & Ethical Capabilities
VCOP ACTIVITY
With a partner see if you can you identify all the doing words/verbs in this text? Highlight them in yellow and then make a list of them all down your page. Now see if you and your partner can come up with a synonym for the chosen verb- make sure it still makes the context it was taken from.
Try and see if you can replace some of the original verbs with your synonyms and discuss if any are better and why.
Curriculum Links: English, Big Write and VCOP
HAVE YOUR SAY: How do you think your family would feel and cope if you were forced from your home and country during a war and made to live in a refugee camp?
No one-word answers. Use full sentences to explain your thinking.