A Sydney schoolboy who wrote to Qantas boss Alan Joyce asking for advice on how to run his own airline, has now signed a special deal with the aviation* giant.
As the self-appointed* CEO* of Oceania Express, 10-year-old Alex Jacquot wrote to Mr Joyce to tell him about his plans and seek some guidance*.
"Do you have any tips on starting an airline? I'd be very grateful to know what you'd have to say," Alex wrote.
Everyone but Alex was surprised when Mr Joyce wrote back, personally inviting the schoolboy to a meeting "between myself as the CEO of Australia's oldest airline, and you, the CEO of Australia's newest airline".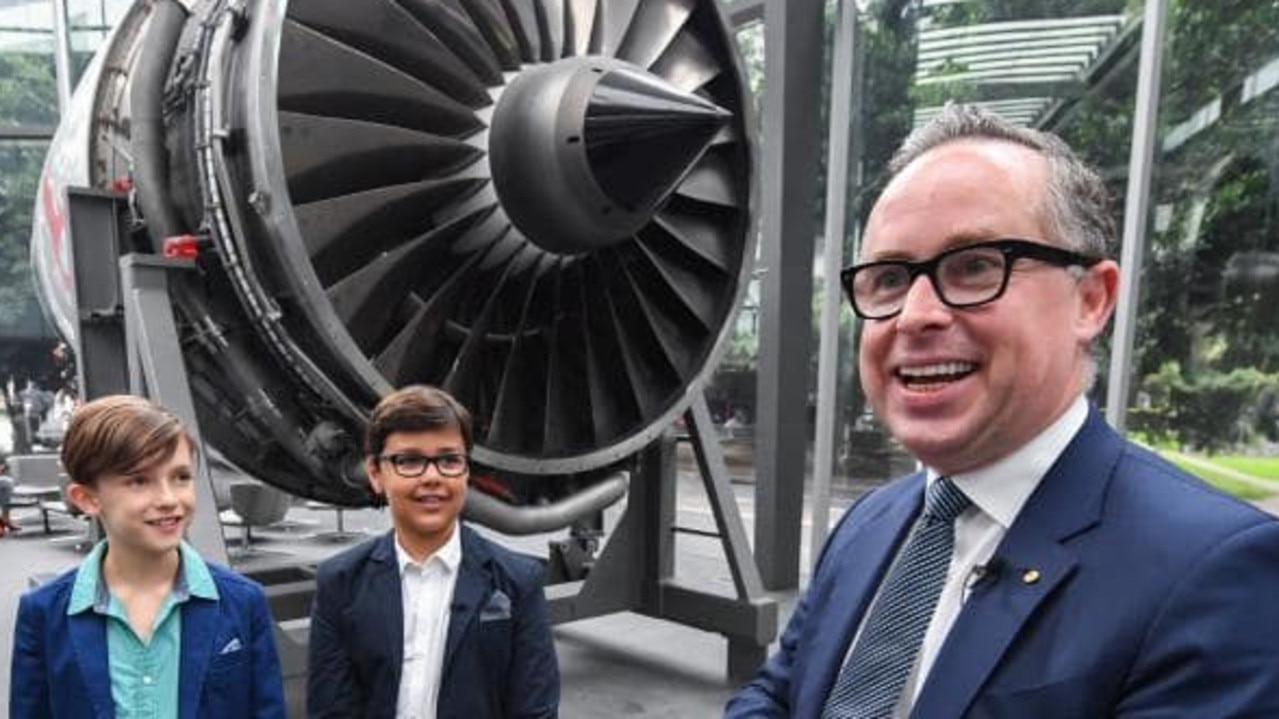 "At this meeting we can compare notes on what it's like to run an airline," wrote Mr Joyce.
"And I'd like to offer you a tour of our operations centre (where we keep an eye on every Qantas flight, wherever they are in the world)."
Late last week, at their meeting, Alex secured an agreement from Mr Joyce for a partnership between Qantas and his own fledgling* Oceania Express airline.
Speaking after the 30-minute boardroom conference, Mr Joyce said Alex had asked to take him seriously — so he did.
"It's hard not to be impressed by his enthusiasm*," Mr Joyce said.
"The aviation industry needs people who think big and Alex has that in spades*. It was a pleasure meeting with him and his co-founders."
He said the memorandum of understanding* signed by himself and Alex, would become active when the 10-year-old finished school in 2026.
"It might be pushed out a bit if he chooses to go to university, which I hope he does," said Mr Joyce.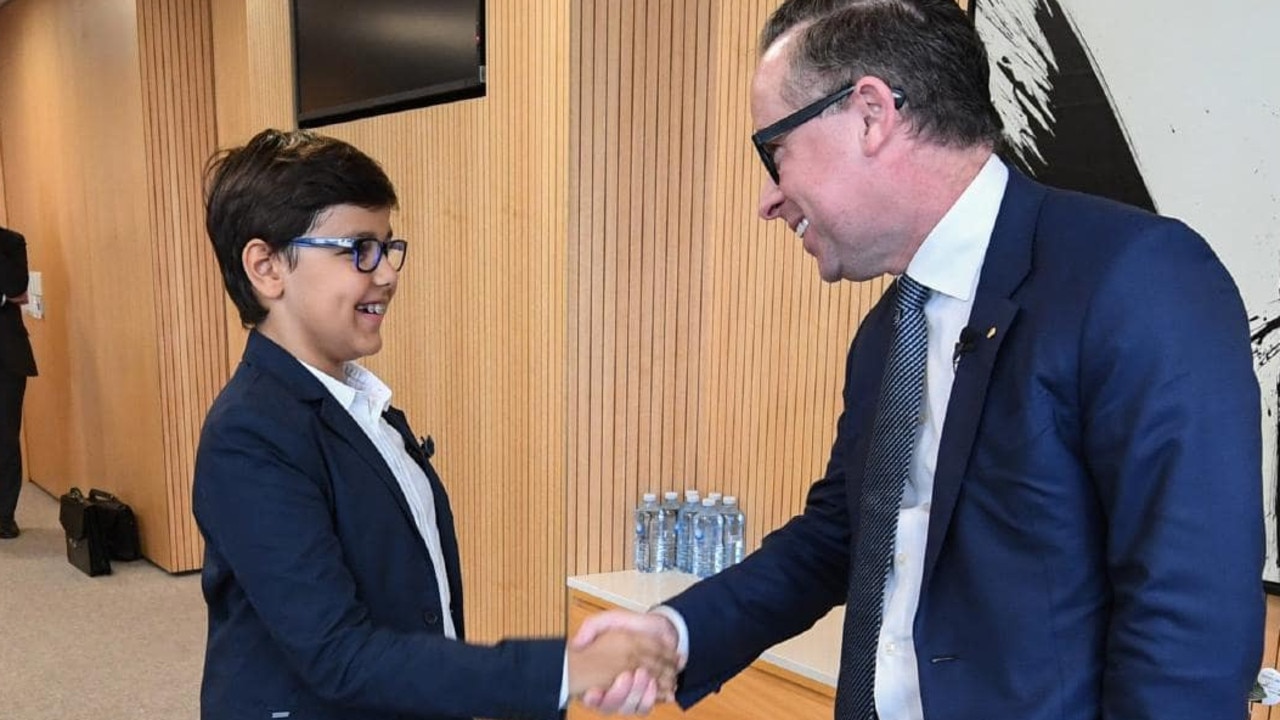 As part of the agreement, Alex was presented with a new logo, business cards and an artist's impression of the Oceania Express brand on a Boeing Dreamliner. The website domain* name oceaniaexpress.com.au was also registered by Qantas on Alex's behalf.
"This is a big day for our little airline," Alex declared.
"We've got a lot to learn from them but they can learn from us too. We've got some ideas about how to make long flights less boring."
VIDEO: A Qantas ad from 1998. Can you pick the famous overseas locations and the ones in Australia?
Alex was joined by his deputy CEO Wolf Stringer and sister Mila Jacquot, 7, the head of inflight service at the meeting with Mr Joyce and two of his executives.
Alex's mother Natasha Jacquot said her son's fascination with aviation started at an early age, and had continued to grow with much thought and work going into "Oceania Express".
"He's got notebooks full of flight numbers, he's sorted out the menus on different flights, he's ­appointed a head of maintenance, a head of on-board services, a head of IT, a head of legal," Ms Jacquot said.
"They have regular meetings at school planning whatever ­aspect they need to plan."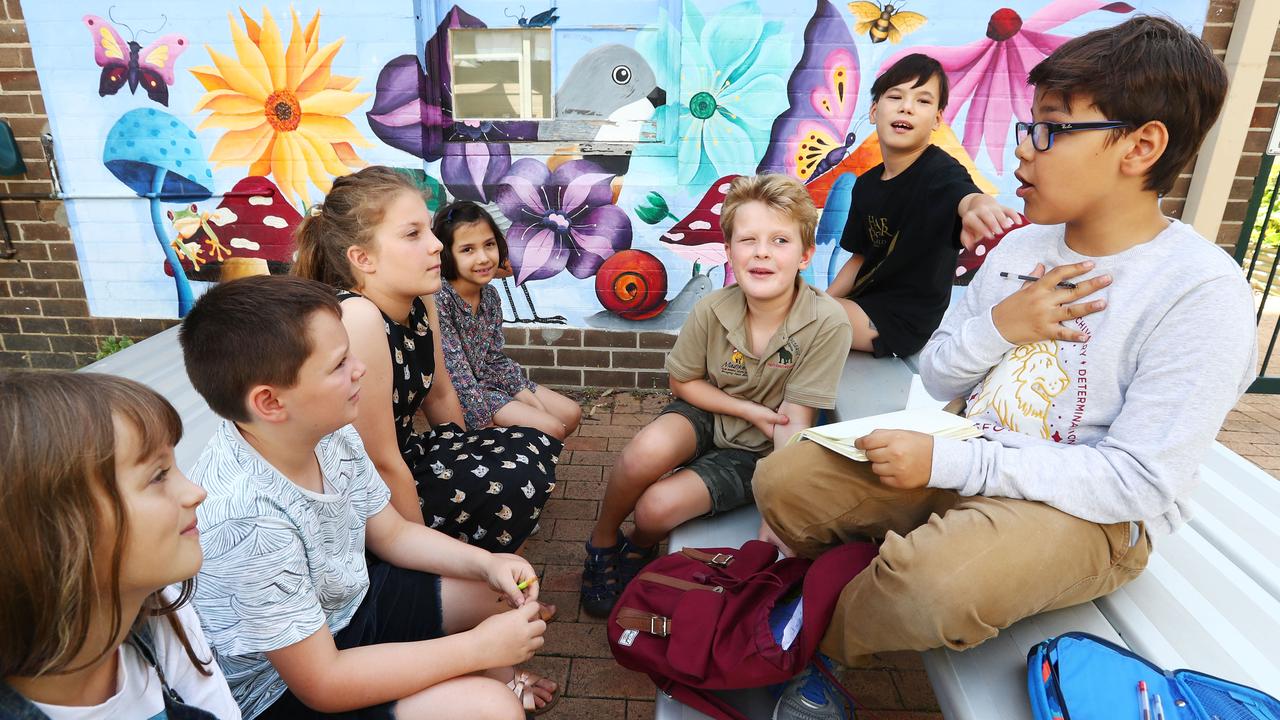 Alex's letter to Mr Joyce, and the Qantas CEO's gracious* reply went viral, after it was posted on the Facebook page of Alex's inner Sydney school.
Mr Joyce said since then, Qantas had received scores* of notes from other children with a passion for aviation.
"There are clearly a lot of budding* airline executives* out there, probably because it's an industry that really captures the imagination," he said.
"When we thought about the right way to respond to these letters, we decided to start a program that gives the biggest enthusiasts the chance to come and see behind the scenes at Qantas."
The Qantas Future High Flyers program will offer a selected number of schoolchildren the chance to spend a day at the Flying Kangaroo in Sydney and meet a variety of employees including pilots, engineers and office staff.
Further details are available at the qantasnewsroom.com.au website.
GLOSSARY
aviation: the flying or operation of aircraft
self-appointed: giving yourself a job or position
CEO: stands for chief executive officer, the top person in a company
guidance: advice
fledgling: young or just beginning
enthusiasm: keen or eager
in spades: to a high degree, a lot
memorandum of understanding: a document outlining the details of an agreement
domain: a sub-section of the internet under the control of a company
gracious: kind or well mannered
scores: a large number
budding: promising
executives: bosses
EXTRA READING
NASA's incredible supersonic jet surprise
New airport named for Nancy-Bird Walton
10-year-old boy raises $1 million
QUICK QUIZ
What is the name of Alex's airline?
What job does Alex's sister Mila do for his airline?
Who is Alan Joyce?
What is the name of the new program Qantas has started?
Name two things Mr Joyce presented Alex with at the meeting.
LISTEN TO THIS STORY

CLASSROOM ACTIVITIES
1. My Company
Alex has a passion for aviation. What industry are you passionate about? If you were to start your own company in this industry:
What would you call your company?
What would your point of difference be to other companies already in this industry? (What makes your company special?)
What are some of the important job roles you would need to fill in your company?
Who would your main competitors in the industry be?
Who could you ask for advice about this industry?
Time: allow 30 minutes to complete this activity
Curriculum Links: English, Critical and Creative Thinking
2. Extension
Design a logo and write a motto for your company.
Time: allow 20 minutes to complete this activity
Curriculum Links: English, Visual Arts
VCOP ACTIVITIES
Mr Joyce talks about Alex in the article. One of the comments he makes is this … "The aviation industry needs people who think big and Alex has that in spades. It was a pleasure meeting with him and his co-founders."
What does he mean when he uses the idiom 'Alex has that in spades'
What does it mean to have something in spades? (Write a definition).
Can you write another sentence using the idiom in your own way?
Challenge:
Write a definition of what an idiom is.
Can you find another idiom example and use it in a sentence?

HAVE YOUR SAY: Have you ever written to someone famous? What did you ask them? Did they write back?
No one-word answers. Use full sentences to explain your thinking. No comments will show until approved by editors.