Schoolchildren are sending letters of support and encouragement to drought-stricken* farmers, urging them to "keep believing" things will get better soon.
Victorian students at St Joseph's Primary School in Warrnambool are among hundreds of pupils across the nation who have penned* notes of support as part of the Adopt A Farmer campaign.
Student Sophie Jellie said she would love to help farmers "and learn about this tough time".
"I feel so touched about what you are going through," she said.
Nicholas Russell thought about farmers' experiences compared to his own.
"As a student, I am privileged," he said. "It's necessary for me to see how difficult it is for farmers and their families to survive a crippling* time."
Students in Victoria, NSW and Queensland are being urged to raise money for farmers with a uniform-free day on Wednesday, May 8 in exchange for a gold coin donation which will be given to farmers.
Donations will be distributed to farmers in need by charity partner Rural Aid.
Students are also encouraged to learn about the drought and share stories by writing letters to those in affected communities.
Hannah van de Camp wrote a heartfelt* note urging the country's farmers to "keep believing".
"I would love to support you and learn about this tough time," she said.
WHAT SOME OF THE KIDS HAVE WRITTEN
Daisy Shiells: "I would like to help farmers who are finding things hard during drought issues. I can't imagine what it would feel like."
Amelia Harris: "I want to go and see the drought because it's very different to our climate, we always have rain. It makes me feel very upset."
Neave Black: "Here, we don't have droughts so that's why I would like to be able to experience one."
WRITE YOUR OWN LETTER
Pupils can write letters to farmers, to share their stories and tell them why they want to lend a helping hand in times of drought.
Submit entries and letters to adoptafarmer@news.com.au
FLY TO VISIT A FARMER
Qantas is flying five students and their teacher from Melbourne, Sydney and Brisbane to a farming community as part of the campaign.
To go into the running, students can submit a 25-word entry on why they want to visit farmers in drought.
Send entries and letters to adoptafarmer@news.com.au
GLOSSARY
drought-stricken: suffering from the drought
penned: written
crippling: devastating
heartfelt: s have strong feelings for
EXTRA READING
Harry cooks up good idea with classmates
Battle to keep school grass green
Drought pushes food prices higher
QUICK QUIZ
Which school in Warrnambool has written letters to farmers?
What event is happening on Wednesday to help farmers?
Which organisation is collecting the money?
What heartfelt message did Hannah van de Camp send farmers?
Which airline is offering to fly five students and teacher to visit drought-stricken farmers?
LISTEN TO THIS STORY

CLASSROOM ACTIVITIES
1. In Their Shoes
Children are very good at feeling and showing the emotion of "empathy", that is the ability to share and understand the feelings of others. Which is why you have been so responsive to the Adopt a Farmer' campaign to raise money for and lift farmers spirits.
Complete the 'Y chart' below, of what being a child living in a drought-stricken community and/or family looks like, feels like and sounds like.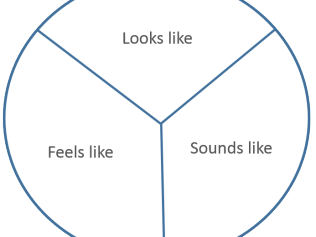 Time: allow 20 minutes to complete this activity
Curriculum Links: English, Critical and Creative Thinking, Personal and Social
2. Extension
If your school were to organise a uniform free day to raise money for farmers, and 50% of the kids donated $1, and the other 50% donated $2 (being a gold coin donation asked for), how much money would your school raise? What could this money go to for farmers?
Time: allow 15 minutes to complete this activity
Curriculum Links: Mathematics, Critical and Creative Thinking.
VCOP ACTIVITY
Adopt a Farming Family
It's not just the farmers doing it tough, it's their families as well. Think about how your school can raise funds or create care packages for a farming family that might be struggling to make ends meet. Let's take a bit of pressure off the poor farmers trying to keep their farms running and also take care of their family.
With Mother's Day coming up maybe you could design a picnic basket? What amazing ideas do you have?
HAVE YOUR SAY: What emotions do you think a farmer and their family would feel after receiving letters of support from schoolchildren?
No one-word answers. Use full sentences to explain your thinking. No comments will show until approved by editors.