The middle child is becoming less common* as Australian families get smaller.
Australian Bureau of Statistics 2016 census* data shows the average number of children per family is now 1.9 down from 2.1 in previous decades.
Experts say the disappearance of the "easygoing" middle child – who tends to be flexible, resilient* and generous – will be a big loss to society*.
"Middle children just tend to get on with things. They are not impeded by expectation and are not overindulged*," Brisbane child psychologist Dr Judith Locke said.
Dr Locke said the dynamics of three siblings in a family can teach children how to be playground ready, participate fairly in sports and deal with difficult situations.
"I am not advocating kids picking on each other but a little bit of playful pummelling* between siblings can be a good thing. They learn how to resolve conflict* without parental interference," Dr Locke said.
Birth order tends to result in the oldest child being a responsible leader and protector. The third child is the baby of the whole family, and enjoys the attention.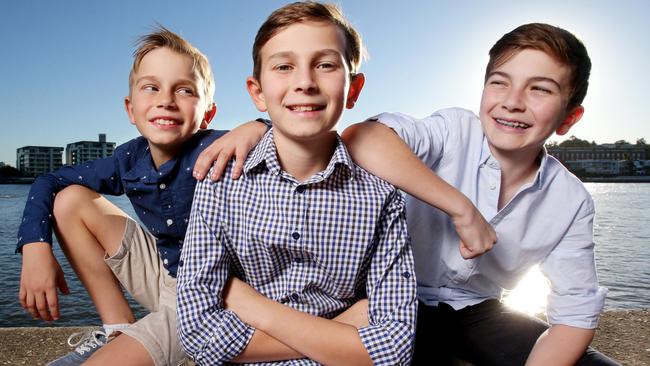 The Crain brothers are closely bonded but mum Mardi can see how birth order has influenced characteristics* in her sons.
"Harry at 13 is a leader and likes to feel like the protector. In the middle is Joshua, 10 – he … doesn't like that he gets hand-me-down football boots but he is easygoing and resilient. The youngest Max, 9 … is a little overindulged but he loves his older brothers and loves their attention," the Brisbane mum said.
FAMOUS MIDDLE CHILDREN
Australian actor Chris Hemsworth
US president Donald Trump
Pop star Katy Perry
Microsoft founder Bill Gates
Civil rights activist Martin Luther King Jr
GLOSSARY
common: something you see a lot
census: an official count or survey
resilient: bounces back
society: community
overindulged: spoiled
pummelling: hitting
resolve: find a solution
conflict: fighting
characteristics: a person's features or qualities
LISTEN TO TODAY'S STORY
QUICK QUIZ
What is the average number of children per family now?
What characteristics do oldest children generally have?
What characteristics do youngest children generally have?
Why does Dr Locke think losing middle children is a concern?
Which organisation reveals the average size of the Australian family?
CLASSROOM ACTIVITIES
1. Size matters
What is the average number of children in the families of your class? Survey your class to find out how many children are in each family.
Before you begin you will need to decide how you define a 'family', as families are all different shapes and sizes. Some include step brothers and sisters, half brothers and sisters and foster brothers and sisters. Some live together all the time while others share their time between different parents. You might like to define 'families' as 'those that live together most of the time' or you may come up with another suitable definition.
Add up all the siblings in your class then divide by the number of families in your class.
How does your class compare to the national average?
How many families have 'middle' children?
Time: Allow 20 minutes.
Curriculum links: English, Mathematics
2. Extension: Assume that Dr Locke's description of birth order characteristics is true for all eldest, middle and youngest children, which characteristics do you think you would prefer? Explain why you think these characteristics are most desirable.
Time: Allow 20 minutes
Curriculum links: English, Personal and Social Capability
VCOP ACTIVITY
After reading the article, with a partner, highlight as many pieces of punctuation as you can find in green. Discuss how these are being used, where and how often. What level of the punctuation pyramid is the journalist using in this article?
HAVE YOUR SAY: What sort of child are you — oldest, middle or youngest — and do you agree with Dr Locke's assessment of your personality?
No-one word answers. Use full sentences to explain your thinking.