Prince Harry and Meghan Markle have named their newborn* son Archie Harrison Mountbatten-Windsor.
They announced the two-day-old's name on Instagram last night after introducing him to the Queen, along with an intimate photo of the monarch* meeting her eighth great-grandchild at Windsor Castle.
Prince Philip and Meghan's mother Doria Ragland were also present for the beautiful royal family photo.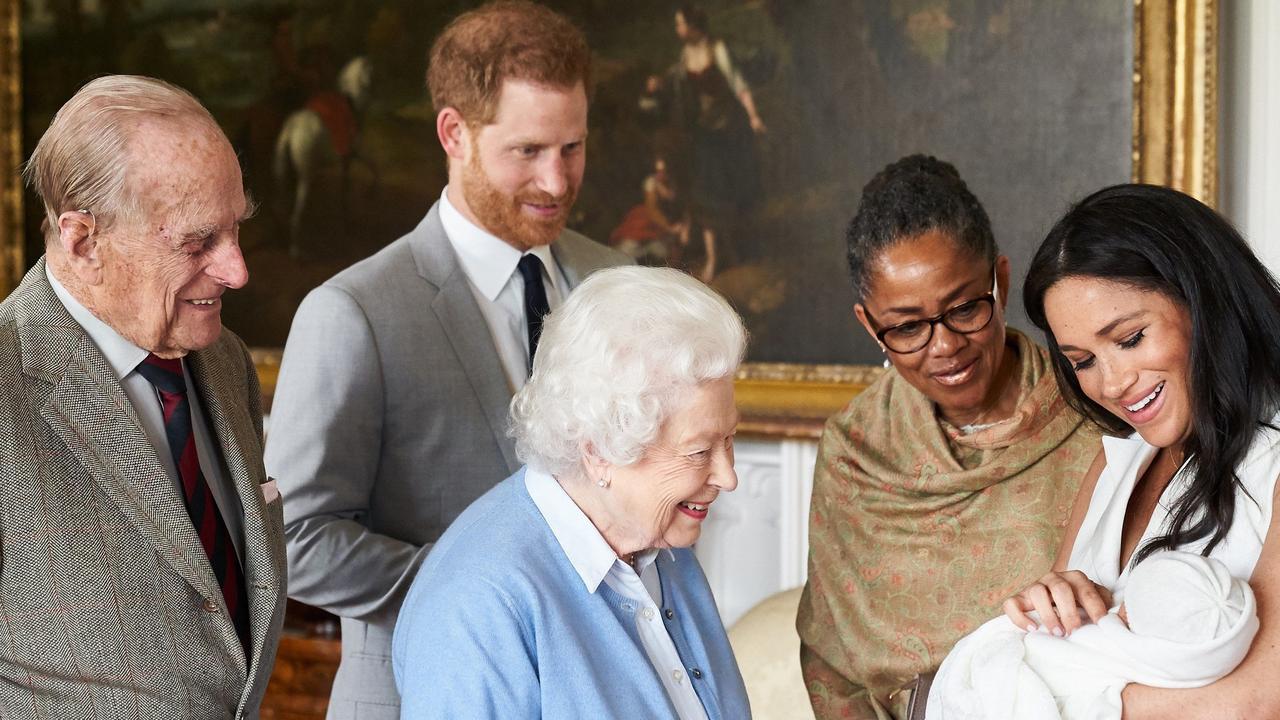 The choice of name is already causing great debate* with some social media users loving the non-traditional selection, and others questioning why the couple chose Archie over Archibald.
The name means "genuine"*, "bold"* and "brave".
The baby was not named a His Royal Highness (or HRH), even though the Queen could have bent the rules, as she did for Kate and William's children, to make him a prince.
Meghan and Harry have also chosen not to give him an aristocratic* title, even though he could have been known as Lord Mountbatten-Windsor and taken one of Prince Harry's lesser titles, such as Earl of Dumbarton.
He will simply be known as Master Archie.
Earlier, the happy couple released the first photos of their baby son. Master Archie was wrapped in a white shawl and wearing a white hat as the Duke and Duchess of Sussex beamed with joy in a photoshoot at St George's Hall in Windsor Castle.
The Duchess gushed over life after welcoming her little boy, saying: "It's magic.
"It's pretty amazing. I have the best two guys in the world, so I'm really happy."
She said Master Archie had the "sweetest temperament", adding, "he's the dream".
Asked who the baby takes after, the Duchess said: "We're still trying to figure that out."
Harry added: "Everyone says that babies change so much over two weeks. We're basically monitoring how the changing process happens over this next month really. But his looks are changing every single day, so who knows."
Asked how he was finding parenting, the prince said: "It's great. Parenting is amazing.
"It's only been two-and-a-half days, three days, but we're just so thrilled to have our own little bundle of joy."
The proud parents welcomed Master Archie at London's Portland Hospital on Monday (London time), but chose to keep most of the details private.
GLOSSARY
newborn: a baby born recently
monarch: a ruler, especially a queen, king or emperor
debate: discussion with two sides
genuine: real or authentic
bold: confident and willing to take risks
aristocratic: titled (such as Lord or Duke etc)

EXTRA READING
Harry and Meghan welcome a baby boy
Royals shine spotlight on others
Royal fans in frenzy after Prince Louis' arrival
QUICK QUIZ
How old is Archie?
What title will he have before his name Archie?
How many great-grandchildren does the Queen have?
Where did the two photoshoots of Archie take place?
How did the royal couple first announce his name?
LISTEN TO THIS STORY

CLASSROOM ACTIVITY
1. Aristocrats
Make a list of all the titles given to aristocrats around the world. The article above has some examples, but try and think of as many as you can.
Time: Allow 15 minutes for this activity.
Curriculum Links: English, History
2. Extension
Do you know what your name means? Look it up in a library book, on the internet or ask your Mum and Dad tonight when you get home.
Then, as a classroom activity, collect all your classmates' names and the meaning of them and create a name poster for the wall. It can include photos, drawings or other artwork as well as the meaning of names.
Time: allow 45 minutes for this activity
Curriculum Links: English, Creative Arts

VCOP ACTIVITY
The glossary of terms helps you to understand and learn the ambitious vocabulary being used in the article. Can you use the words outlined in the glossary to create new sentences? Challenge yourself to include other VCOP (vocabulary, connectives, openers and punctuation) elements in your sentence/s. Have another look through the article, can you find any other Wow Words not outlined in the glossary?
HAVE YOUR SAY: Do you like the name Master Archie or do you think the royals should have chosen a more traditional name?
No one-word answers. Use full sentences to explain your thinking. No comments will show until approved by editors.