Sydney's new international airport is to be named after Nancy-Bird Walton, Australia's first female pilot, known as the "Angel of the Outback".
The $5.3 billion airport at Badgerys Creek, NSW, will officially become Western Sydney International (Nancy-Bird Walton) Airport.
At just 13, during the Great Depression*, Mrs Walton had to leave school to help her family. In 1933, at age 17, she was taught to fly by another aviation* pioneer, Sir Charles Kingsford Smith, at his flying school at Mascot, NSW.
In 1935, at the age of 19 and within two years of her first flight, Mrs Walton gained her commercial pilot's licence, the first female in both Australia and the Commonwealth*.
Her successful career in aviation included working for the Royal Far West Children's Health Scheme, a flying doctors service providing medical transfers to hospital from isolated parts of Australia. It was here that she earned her nickname "Angel of the Outback".
Mrs Walton's granddaughter Anna Holman, 48, said the family was honoured to have the new airport named after her.
"The family is extremely excited and thrilled, and it's just a huge honour to be honest with you, we're all really avid* travellers, and at airports very often," she told The Daily Telegraph newspaper.
"So to be able to fly into one that's named after your grandmother is just a little unusual and something out of the ordinary, and it's just so lovely that our government is recognising a woman as well."
Mrs Holman said her most vivid* flying memory of her "Nan" was when she was taken for some aerial* acrobatics at just five years old.
"I do remember when I was five she took us flying and she turned the plane upside down — and I was like what are you doing? That's not natural," she said.
"It was a great experience but it was a little bit terrifying as well."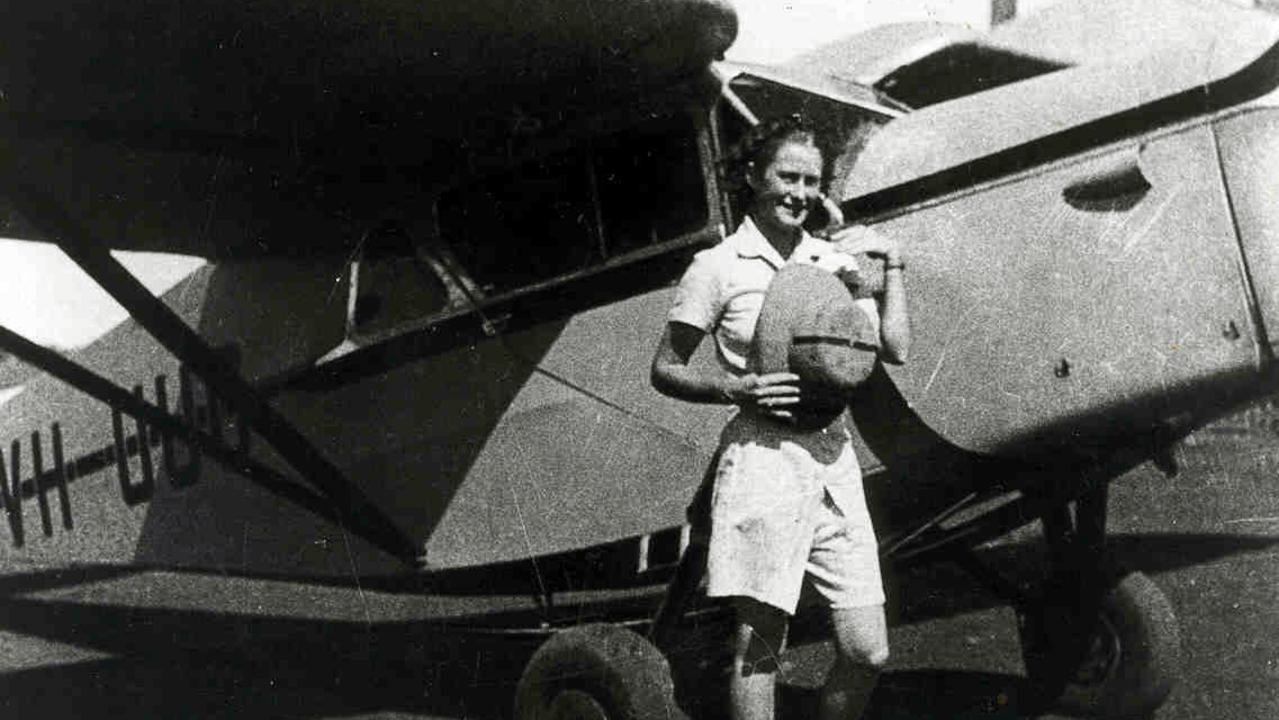 Prime Minister Scott Morrison said Nancy-Bird Walton was an "inspiring and natural choice" for the country's newest airport, which is scheduled to open in 2026.
"It is fitting that having recognised Charles Kingsford Smith at Sydney Airport that we now recognise Australia's greatest female aviation pioneer, Nancy-Bird Walton in the naming of Western Sydney Airport," he said.
"Nancy-Bird Walton is an Australian legend, a pioneer whose determination to take to the sky is an inspiration for generations who have followed."
Mrs Walton died in 2009 at the age of 93.
VIDEO: You can see some of the oldest and newest planes flying at this celebration of aviation history last year
TIMELINE OF FLIGHT
Aviation began in 1783 with the first hot-air balloon fight. The passengers were a sheep, a duck and a rooster.
In 1896 Otto Lilienthal flew a steered glider.
Airships became popular from the first successful flights of Zeppelins in 1900.
Wright brothers Orville and Wilbur made the first successful powered, controlled and sustained* aeroplane flight on December 17, 1903. Though they are the famous family members, they always credited their sister, Katherine, as being vital to their success. She knew as much as they did about their experimental aeroplanes, supported them financially and looked after them when they were injured in flying accidents.
Frenchwoman Raymonde de Laroche became the world's first licensed female pilot on March 8, 1910.
UK aviators John Alcock and Arthur Brown made the first non-stop trans-Atlantic flight in June 1919.
Australian Charles Kingsford Smith made the first trans-Pacific flight in 1928.
In 1935 Mrs Walton bought her first aeroplane, a de Havilland Gypsy Moth. She took off around Australia with her friend, Peggy McKillop, dropping in on country shows and giving rides to people who had never seen an aeroplane before. It was on this tour she was convinced to start up an outback ambulance service, for which she used her Gypsy Moth.
Great aviation advances were made during World War II, including the use of the first jet engines.
The first Airbus A380 delivered to Australian airline Qantas was named in honour of Mrs Walton.
GLOSSARY
Great Depression: 1929-1939 when banks and other businesses failed. Lots of people lost their jobs and became poor
aviation: to do with flying
Commonwealth: UK plus all the countries that were once part of the British Empire. Includes Australia, New Zealand, Canada
avid: keen
vivid: strong or bright, such as a memory or colour
aerial: up in the air
sustained: goes on for a long time
EXTRA READING
Celebration for 90-year-old lifesaver
Great Air Race of 1919 to be recreated
Hypersonic jet to fly New York-London in two hours
Fighting fires from the air at night
QUICK QUIZ
Why was Nancy-Bird Walton called the "Angel of the Outback"?
What did Mrs Holman's grandmother take to do when she was five?
The Wright brothers had a sister named Katherine. What did she do?
What was Mrs Walton's first aeroplane called?
What sort of big aeroplane is named after Mrs Walton?
LISTEN TO THIS STORY
CLASSROOM ACTIVITIES
1. Create a Memorial
Design a special area, a statue, a memorial wall or a poster. This will be at the entrance of the new airport and help the people who come to the airport understand why it is named after Nancy-Bird Walton.
Time: allow 30 minutes to complete this activity.
Curriculum Links: English, History, Visual Communication Design, Civics and Citizenship
2. Extension
Nancy-Bird Walton is a famous Australian hero. Do you know someone in your family, school or community who is an unsung hero? Write down why this person is a hero. Then, think about a place in the community or in your area that could be named after them. Explain why this place should be named after them. Write a news article about this person. Explain what this person does, what makes them a hero and why you chose the place to name after them.
Time: allow 40 minutes to complete this activity
Curriculum Links: English, Civics and Citizenship
VCOP ACTIVITY
Using your memory from your many first-day personal experiences, write a journal entry in Nancy's diary from 1933 when she first started at the flying school with Sir Charles Kingsford Smith.
Remember you are just making it up and pretending to be Nancy, but you may like to think of one of your first days experiences to help make it realistic.
How must you (Nancy) have felt?
What happened?
Was it a good first day or a bad first day?
Don't forget to include your VCOP to add voice to the piece of writing.
HAVE YOUR SAY: Would you prefer to be an aviation pioneer or a modern pilot? Why?
No one-word answers. Use full sentences to explain your thinking.
Comments will not show until approved by our editors.