Nabi Tajima, who was born on August 4 in 1900, died on Saturday at a hospital on Kikai ­Island, ­according to Susumu Yoshiyuki, a health and welfare worker.
Ms Tajima had been the last known living person born in the 19th century*.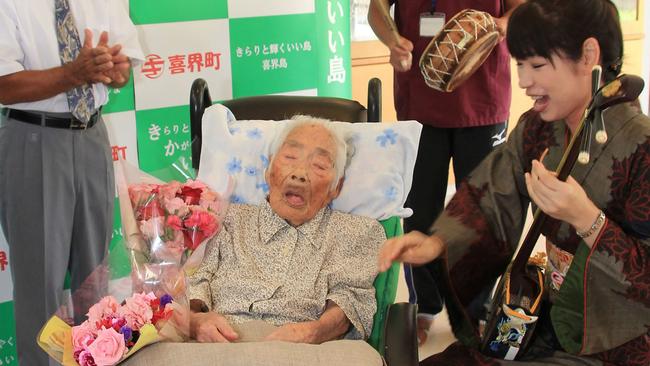 She had more than 160 descendants, including great, great, great grandchildren.
"Ms Tajima was living at a nursing centre for the elderly. In January, she became weaker, so she was taken to a local hospital," Mr Yoshiyuki said.
"She died there due to her ­advanced age," he said.
The Guinness World Records team has been ­investigating who is the oldest person in the world and was yet to recognise Ms Tajima as being the oldest.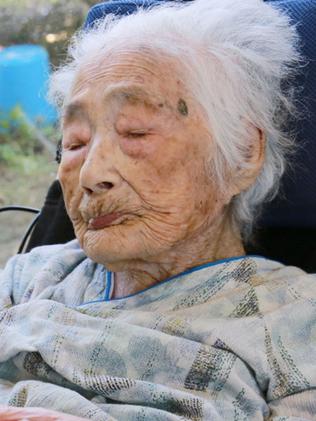 However, Ms Tajima was widely considered to be the oldest person since Violet Brown, of Jamaica, died last September at age 117.
Video shown on Japanese TV showed Ms Tajima moving her hands to the beat of music played on traditional Japanese instruments at a ceremony to honour her as the oldest person after Ms Brown's death.
The US-based Gerontology* Research Group says another Japanese woman, Chiyo Miyako of Tokyo, is now the world's oldest person on its records and is due to turn 117 next week.
The oldest man in the world is thought to be 112-year-old ­Masazo Nonaka, another resident of Japan, the organisation said.
Japan is known for the longevity* of its people and has been home to several citizens* recognised as the world's oldest. It has 68,000 ­people aged 100 or older, the government said last year.
The reasons for their long lives are not proven but are possibly linked to diet, their genes, Japan's healthcare system and a cohesive society, which means its members have a positive attitude that bonds people together.
The oldest living person on record is French woman Jeanne Louise Calment, who lived for a whopping 122 years and 164 days until her death in 1997.
She was in good health for most of her life and lived on her own until she was 110. She was able to walk unassisted until 115 when she fell, broke her leg and required a wheelchair.
She was also very funny. When asked at her 120th birthday what kind of future she expected, she answered: "A short one."
GLOSSARY
19th century: the years from 1801 to 1900
descendants: a person who is related to you and lives after you, such as a son or daughter.
gerontology: scientific study of old age, and the process of ageing
longevity: long life
citizens: people who live in a country, state or city.
LISTEN TO TODAY'S STORY
CLASSROOM ACTIVITIES
1. 117 years young
After reading the article on the death of possibly the world's oldest woman, answer the following questions in as much detail as you can. Use quotes or evidence from the article in your responses.
What century was Nabi born in?
List a few of the major changes in the world Nabi would have seen.
How many descendants did she have?
Do you think she would have enjoyed living to 117?
List the pros (positives) and cons (negatives) of living to 117.
Extension: How could a 'cohesive society' lead to people in Japan living longer?
Time: Allow 25 minutes
Curriculum links: English
2. Longer Lives
Japan's residents have a reputation for living longer and some of the possible factors why were listed in the article.
Design a poster giving people some tips to live longer (use things they do in Japan as a basis). Some tips may include things along the lines of eating better, how you interact with other members of society and cutting out things that aren't good for us.
Extension: How could your genes help you live longer?
Time: Allow 30 minutes
Curriculum links: English, Intercultural Capability, Critical & Creative Thinking
VCOP ACTIVITY
After reading the article, with a partner, highlight as many connectives as you can find in pink. Discuss if these are being used as conjunctions, or to join ideas and create flow.
IN ONE SENTENCE, TELL US WHAT YOU THINK ABOUT THIS STORY
Please do not use one-word answers. Explain what you enjoyed or found interesting about the article. Use lots of adjectives.