A 116-year-old woman who studies maths and loves playing the board game Othello has been honoured by Guinness World Records as the world's oldest living person.
Japanese woman Kane Tanaka was born premature* in 1903, the year of the Wright brothers' first powered flight.
Guinness World Records officially recognised Mrs Tanaka in a ceremony at the nursing home where she lives in Fukuoka, in Japan's southwest.
Her family and the mayor* were present to celebrate.
VIDEO: The ceremony to officially recognise Kane Tanaka's world record
Mrs Tanaka was born on January 2, 1903, the seventh among eight children.
She married Hideo Tanaka in 1922 at the age of 19. As was common at the time, the families arranged the marriage and Kane and Hideo didn't meet before their wedding day.
They had four children and adopted another child. When her husband became a soldier in 1937, Mrs Tanaka took over the family business, which sold sticky rice, Japanese sweets called zenzai and udon noodles.
Though she is now retired, she still gets up by 6am and studies maths and other subjects. She often beats the nursing home staff at the strategy board game Othello.
During the world record presentation, Mrs Tanaka was given chocolates, which she began to eat. When she was asked how many chocolates she wanted to eat that day, she replied: "100".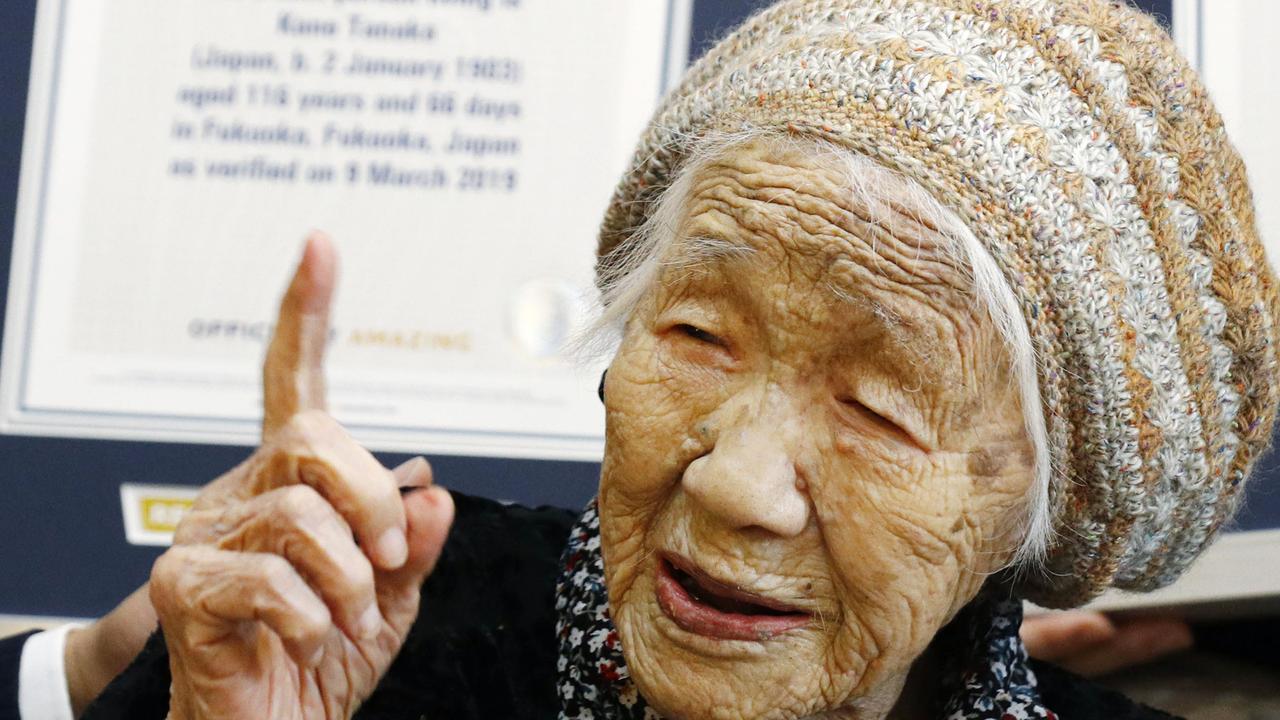 THE WORLD IN 1903
The world was a very different place when Kane Tanaka was born in 1903.
World War I and World War II, the Great Depression*, the moon landing and inventions such as TV, internet, mobile phones and satellites were still in the future.
In 1903, US businessman Henry Ford started the Ford Motor Co. with the aim of mass-producing cars. The few cars that existed at that time were individually made experimental projects.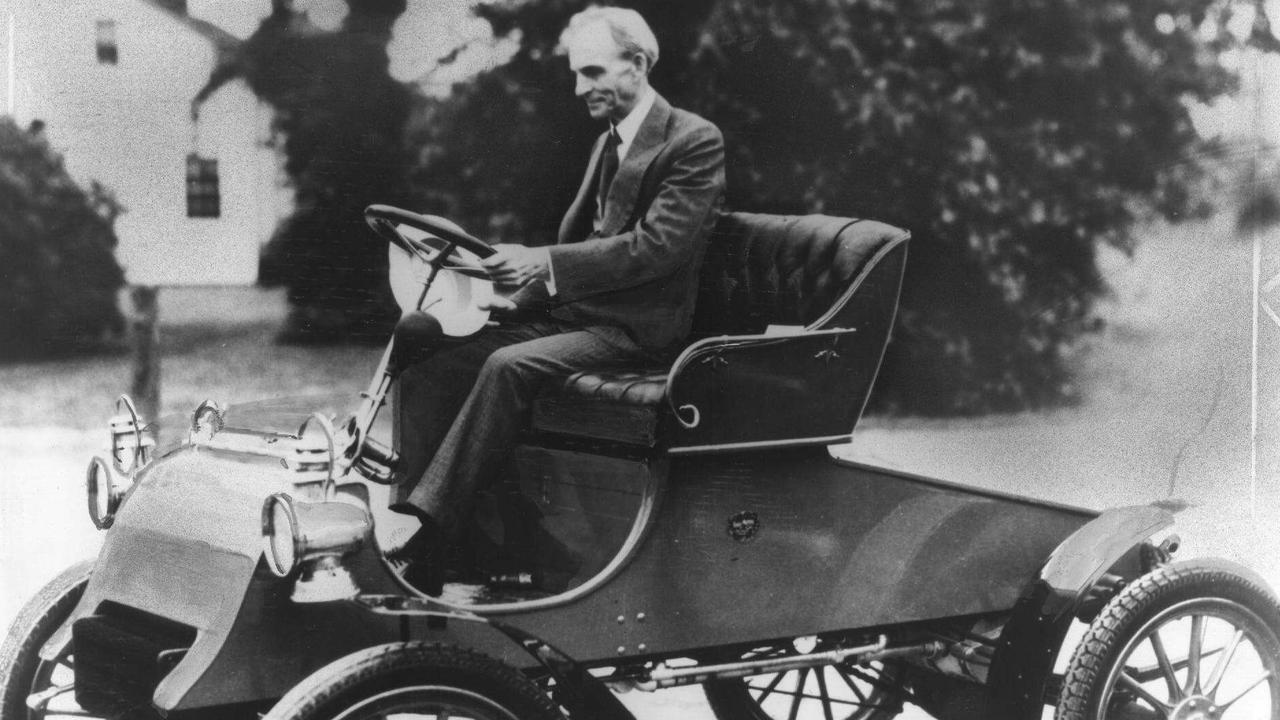 Crayola crayons were launched.
The first Tour de France bike race was held.
A US pharmacist named Caleb Bradham started selling a soft drink called Pepsi Cola.
German Reinhold Burger launched a "vacuum flask for keeping liquids hot or cold," which came to be called a Thermos.
The world's first feature film, The Great Train Robbery, launched. It was a 10-minute, silent movie with a plot.
The words peanut butter, vacuum cleaner, orthodontist, wireless, tractor and rainforest were first used.
LONG LIVES IN JAPAN
The previous oldest living person was another Japanese woman, Chiyo Miyako, who died in July 2018 at age 117. The oldest person prior to Miyako was also Japanese. Japanese people dominate the oldest-person list.
Traditionally, Japanese people ate mostly fish, rice and vegetables. Although diets are changing in Japan, scientists believe the traditional diet helps Japanese people live to an old age.
Age is also respected in Japanese culture, meaning people stay active and feel useful into their 80s and beyond.
Guineas World Records is currently investigating who the world's oldest man is after the death in January of Masaka Nonaka. Mr Nonaka was 113 and lived on the Japanese island of Hokkaido.
OLDEST PERSON EVER
The oldest person ever recorded was French woman, Jeanne Louise Calment, who lived to 122 years, according to Guinness World Records.
She was born on February 21, 1875 and died at a nursing home in Arles, southern France, on August 4, 1997 at the age of 122 years 164 days.
GLOSSARY
premature: early, particularly in relation to babies born early
mayor: government head of a town or area
Great Depression: Global financial crisis of 1929-1939 when many people lost their jobs and became very poor
EXTRA READING
World's oldest person dies aged 117
World-record skydiving for MND
Humans on quest to live forever
QUICK QUIZ
How old is Kane Tanaka?
What does Kane Tanaka do now she is retired?
List some words first used the year Kane Tanaka was born.
What do Japanese people eat that could help them live a long time?
What was the world's first feature film?
LISTEN TO THIS STORY
CLASSROOM ACTIVITIES
1. Create a timeline
Kane Tanaka would have seen and heard about a lot in her 116 years.
Create a timeline to show some of the major events that have happened in her life.
Draw a line across the middle of an A3 page and mark one end 1900 and the other end 2025. Decide on a scale that will allow you to place 116 years' worth of events as clearly as possible.
Begin by marking when Kane Tanaka was born and when she was awarded this world record. Read the article to find events of personal significance to her and some of the other world events that she would experience in her life. Mark each of the events mentioned and write in parenthesis ( ) how old she would have been at the time. You may need to research when these things occurred.
Time: allow 30 minutes to complete this activity
Curriculum Links: English, HASS — History, Mathematics
2. Extension
Include other events significant to Japan on the timeline. Remember to mark how old she was when these events occurred. Some examples include:
Summer and Winter Olympics held in Japan
Bombing of Hiroshima & Nagasaki
When women got the right to vote in Japan
Major earthquakes, tsunamis and other natural disasters
Time: allow 30 minutes to complete this activity
Curriculum Links: English, HASS — History, Mathematics, Intercultural understanding
VCOP ACTIVITY
After reading the article, with a partner, highlight all the openers you can find in blue. Discuss if they are powerful and varied openers or not. Why do you think the journalist has used a mix of simple and power openers? Would you change any, and why?
HAVE YOUR SAY: How would you like to spend your days if you were 116 years old?
No one-word answers. Use full sentences to explain your thinking. Comments will not show until approved by editors.