Young Harry Chase is a thinker and he snd his classmates have cooked up a terrific idea to help his drought-stricken* school.
The Tottenham Central School students in central NSW produced the Best Cookbook Ever. Probably, a collection of delicious recipes.
Harry designed the cover and students, parents and friends contributed much-loved country recipes to the cookbook, which is sold for $12 to raise money.
Copies were also given to donors who have sup­ported the small school in the middle of the drought.
Harry, a year 5 student, not only ­designed the book's cover, he also contributed a recipe called Harry's Snickerdoodle Biscuits.
"I like the biscuits because they're easy to make and it's all normal ­ingredients you have at home," he said.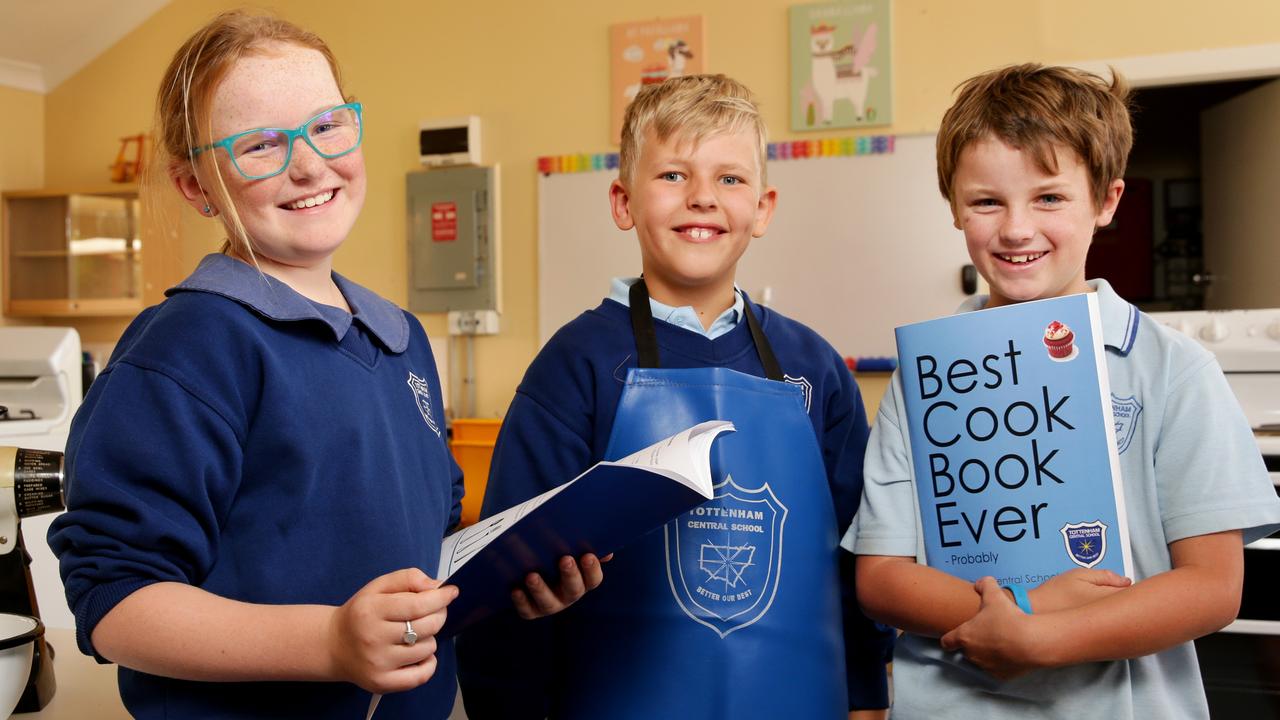 Harry lives on a farm and has seen first-hand the impact of the long drought.
"It's been really tough," he said. "We've been working hard. My dad used to come home early to play with us after school and now he can't anymore because he has to work at the moment."
Classmate Nathan Klante, 8, said he has also noticed the difference at home, where a lack of water prevents his parents from producing crops for feed.
"I think I don't do very much but I try to help," he said.
VIDEO: See how dry the land becomes in times of drought
Tottenham principal Amanda Thorpe aims to keep the school as "normal as possible" for the 85 children in her care.
The Tottenham students are lucky to have another NSW school giving them a helping hand. Primary students at Strathfield North Public School in Sydney last year raised more than $14,000 for Tottenham, which will be used to help pay for excursions and buy ­stationery.
Students in Victoria, NSW and Queensland are being urged to raise money for farmers with a uniform-free day on Wednesday, May 8, to learn about drought and share stories by writing letters to those in affected communities.
HOW YOU CAN HELP — ADOPT A FARMER
1. Schools encouraged to hold a uniform-free day (mufti day or casual clothes day) on May 8.
2. Students who take part to donate a gold coin. Schools to bank donations by direct deposit into Rural Aid bank account (Account name: Rural Aid – Adopt A farmer) BSB: 114-879 and Account No: 478 388 542.
3. Students are urged to write a letter to a farmer about why you want to support them and about your school and students. Send the letter via email to: adoptafarmer@news.com.au
4. A farmer taking part in the campaign will write back to your school.
5. Rural Aid will distribute $100 to as many farmers as possible so they can spend the money in their local communities and help keep the local economy alive.
FLY TO VISIT A DROUGHT-AFFECTED FARMER
Qantas will fly 5 students and their teacher to a community to meet farmers.
In 25 words or less, tell us why you should be selected.
To enter, email adoptafarmer@news.com.au
HOW HAS THE DROUGHT AFFECTED YOU?
IGA will give $1000 gift vouchers to 20 students in rural communities who write their own stories telling us how the drought has affected them.
To enter, email your stories to adoptafarmer@news.com.au
GLOSSARY
drought-stricken: suffering from drought
EXTRA READING
Battle to keep school grass green
QUICK QUIZ
Which school has created the cookbook?
What is the name of the cookbook?
Where is the school located?
What is the name of Harry's biscuit recipe?
Which Sydney school is raising funds to help Harry's school?
LISTEN TO THIS STORY
to come

CLASSROOM ACTIVITIES
1. An emotional game
Isn't it lovely during a time of crisis to read about people coming together to support our drought-stricken communities? Use this news article as inspiration to write a poem or song about the contrast between the hard times farming families are experiencing and the caring and thoughtful gestures this is inspiring. Perhaps you can even incorporate events or quotes from the article into your poem or song.
Time: allow 30 minutes to complete this activity
Curriculum Links: English, Music
2. Extension
Harry's idea to create the "Best Cookbook Ever. Probably", to raise funds for his school was clever. What fundraising ideas can you think of that are fun and original? Make a list with a partner and then provide more detail about how your best idea could be implemented.
Time: allow 20 minutes to complete this activity
Curriculum Links: English, Personal and Social Capability
VCOP ACTIVITY
After reading the article, with a partner, highlight as many wow words or ambitious pieces of vocabulary that you can find in yellow. Discuss the meanings of these words and see if you can use them orally in another sentence.
HAVE YOUR SAY: What item could you design and sell to school parents to help drought-stricken farming families?
No one-word answers. Use full sentences to explain your thinking. No comments will be published until approved by editors.