The Duke and Duchess of Sussex have patted koalas, travelled on a Melbourne tram and walked among the crowds of fans who gathered to catch a glimpse* of these glamorous* royals on their Australian tour this week.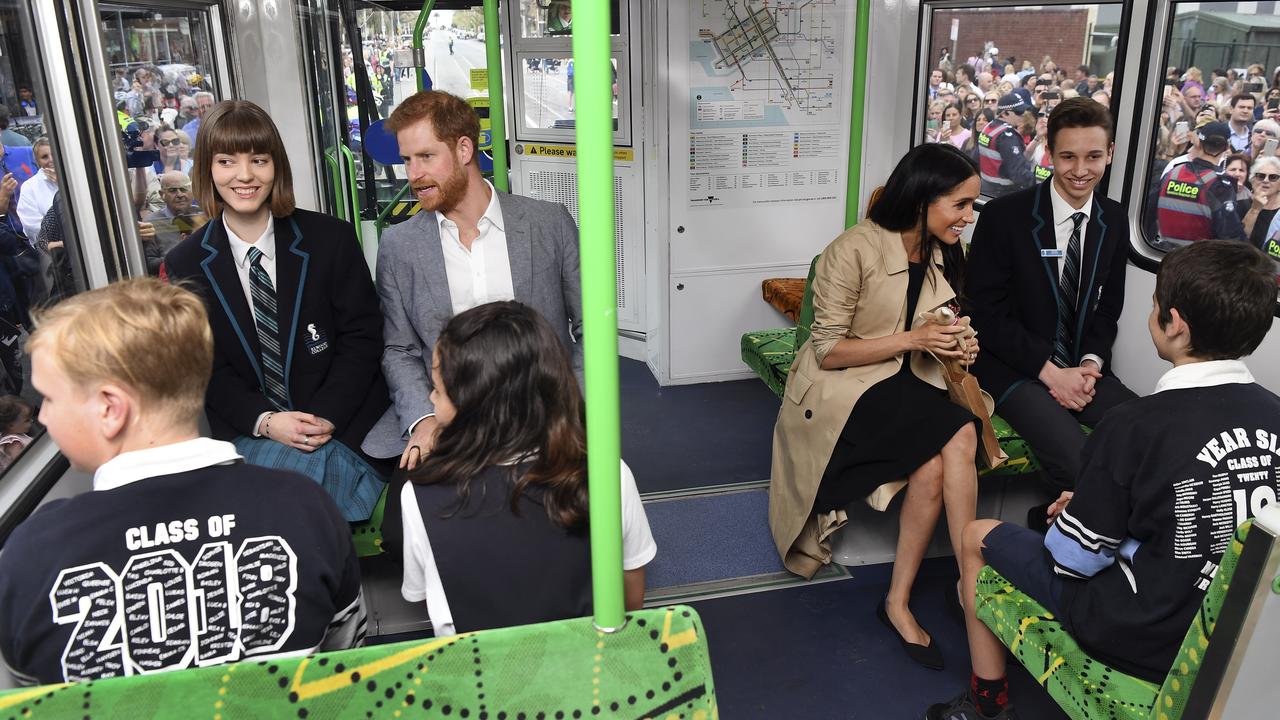 But they're not here on holiday. They're working. In just over a week in New South Wales, Queensland and Victoria they will attend 36 official engagements* as part of an itinerary* designed to draw attention to important issues Prince Harry and Meghan would like us to think more about.
Here are some of the big issues the royal tour has highlighted*.
DROUGHT AND MENTAL HEALTH
The couple went to Dubbo, in NSW and visited the Woodley's farm and helped feed their cattle. Meghan baked banana bread to share with the family.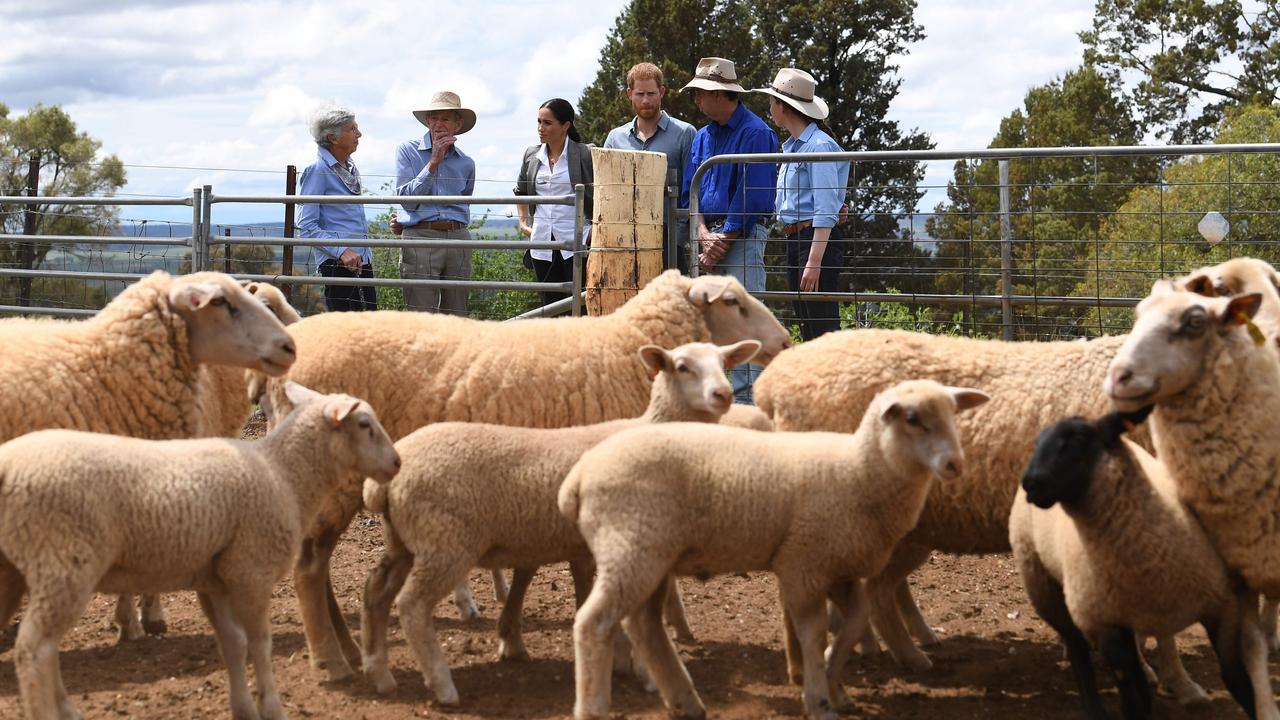 In Dubbo they had a barbecue with 30,000 locals in the town park and met volunteers, including those who help charity Drought Angels. It rained during the barbecue.
Prince Harry made a speech and joked that he had brought the rain as a gift, referring to the reason they were there: drought and the long-term stress* it puts farmers and others in rural communities under.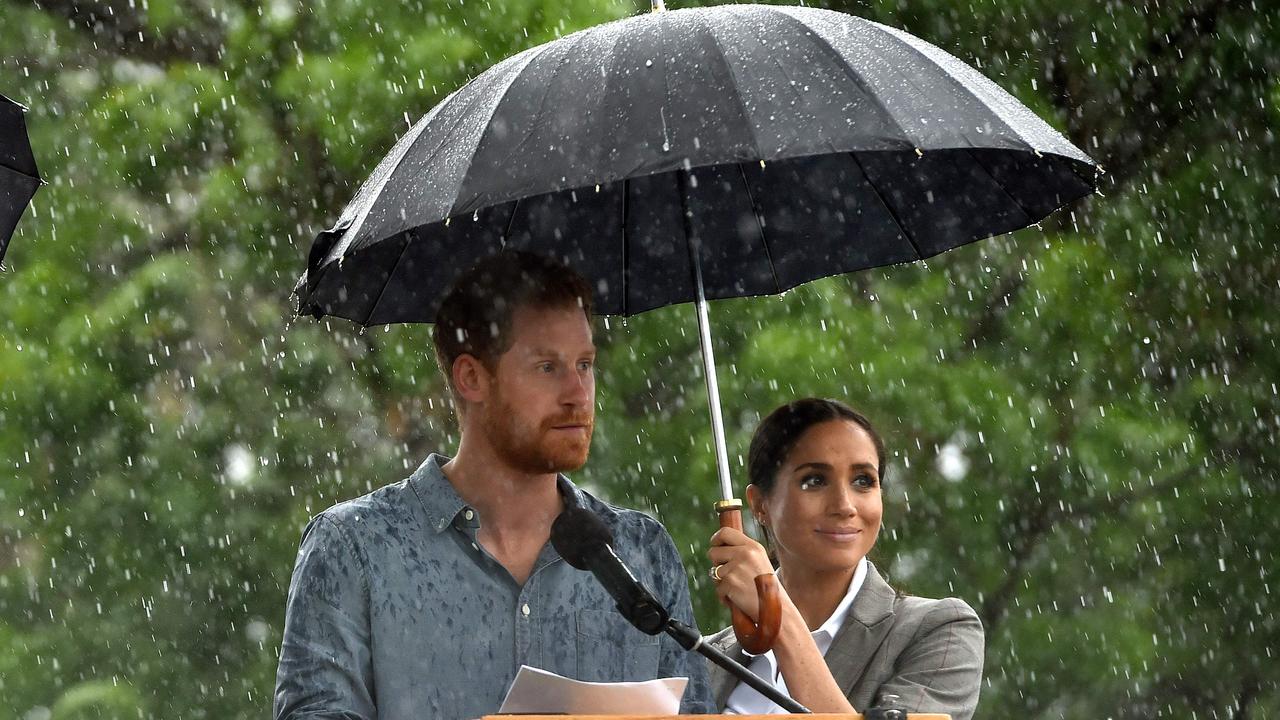 All of NSW, much of Queensland and parts of Victoria and South Australia is in drought, which means farmers have difficulty keeping their animals alive, growing crops, making an income and looking after their land. Drought effects everyone in rural communities as small businesses struggle and people have trouble finding work.
Prince Harry talked about the importance of asking for help when your mental health* suffers.
"All you need to do is to ask for it. Ask your neighbour, your peer*, your fellow farmer is literally* right around the corner," he said.
"Chances are they may well be suffering too and will relish* the opportunity to either listen or talk themselves.
One of the most-watched videos of the royal tour is of 5-year-old Luke Vincent's hugs for Prince Harry and Meghan when they met locals at Dubbo.
ROYAL FLYING DOCTOR SERVICE
While in Dubbo on day two, the couple unveiled* a new Royal Flying Doctor Service aeroplane, talked to doctors and met current and former patients.
They learned how important this lifesaving service is to people living in remote Australia.
Doctor William Ibbotson told AAP that the Royal visit would boost the profile* of the RFDS, which relies on donations to continue its services.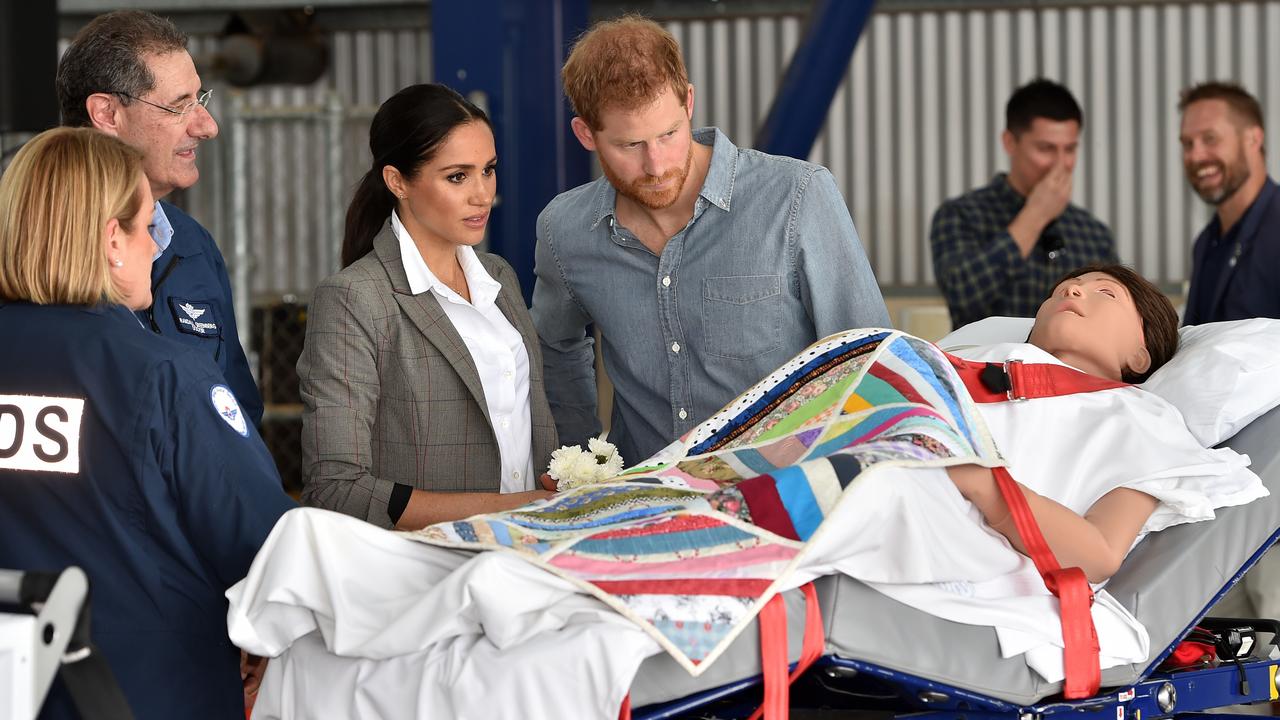 CONSERVATION
Prince Harry and Meghan opened the new Taronga Institute of Science and Learning at Taronga Zoo in Sydney.
We all love a visit to the zoo, but when the Duke and Duchess go, they draw attention to the work the zoo is doing for wildlife conservation.
Like zoos all around Australia, Taronga has moved from the old-fashioned approach of showing exotic animals for entertainment to education and conservation. Australian zoos teach visitors about how to look after the environment and the importance of preserving habitat for wildlife. Zoo breeding programs for endangered animals help keep many species from extinction.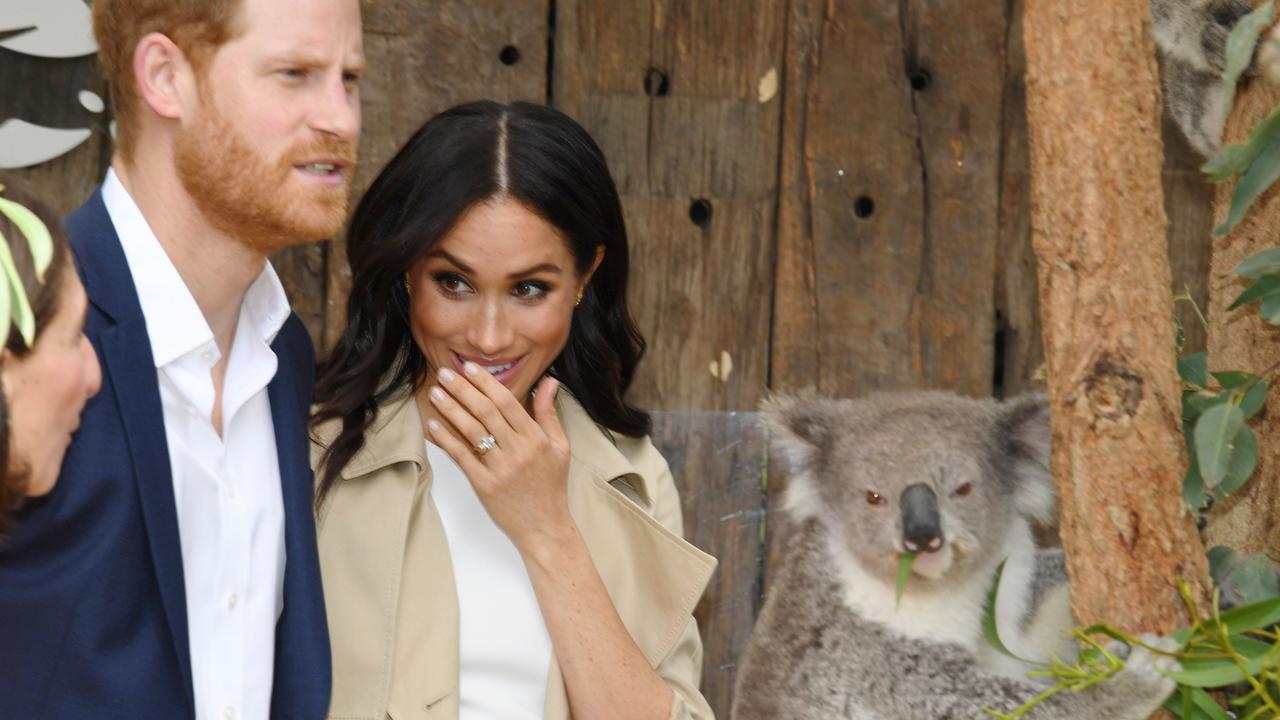 INDIGENOUS SOCIAL ENTERPRISE
They royal couple ate at social enterprise* cafe Charcoal Lane in Melbourne, which specialises in Australian native bush food while providing a training program for young Aboriginal and Torres Strait Islander people who have experienced difficulty finding a job.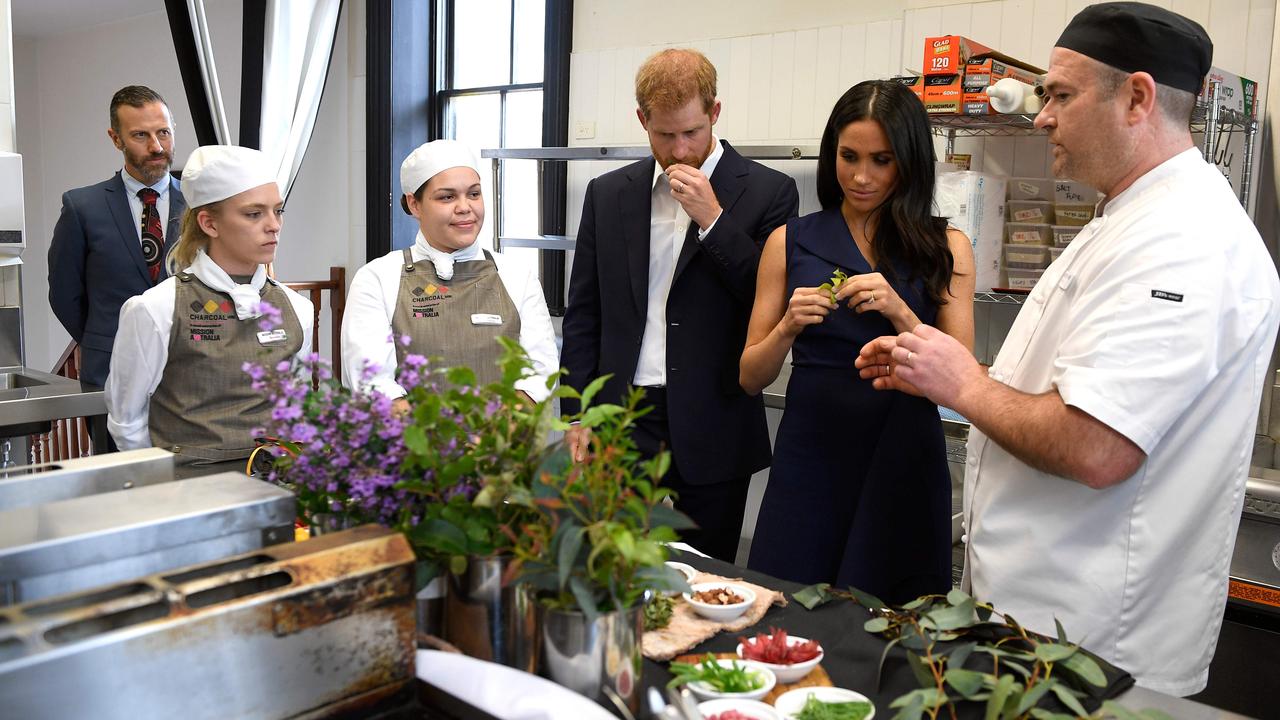 WOMEN'S SPORT AND FITNESS
The Duchess knows how to handball an Aussie footy, passing a Sherrin* to girls from This Girl Can VIC while in Melbourne. The program celebrates and encourages active women and girls of all shapes, sizes and levels of ability.
The couple were greeted by more than 150 women playing football, netball, cricket and a range of sports on the lawns of Victoria's Government House. There were also women doing yoga, boxing, cycling and a dance-based exercise activity called Zumba.
Prince Harry talked to two women playing AFL, but while he handled the Sherrin, he didn't test out his handball or kicking skills.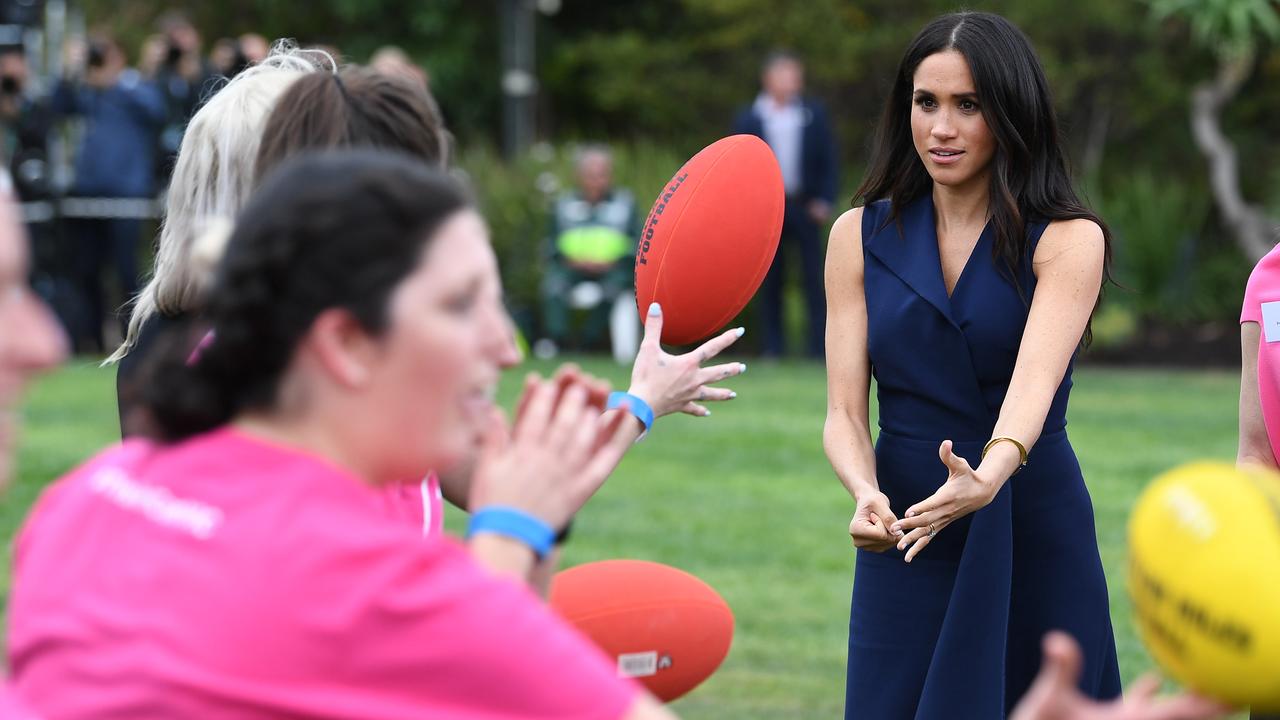 ETHICAL* CLOTHING
Everything Meghan wears is photographed, talked about and instantly bought by many women around the world who like to follow her style. It's called the "Meghan effect". On her visit to Dubbo, Meghan wore a pair of black jeans by a Queensland company. The jeans are made by women in Cambodia. By getting a good job sewing the jeans, the Cambodian women have been able to escape danger and poverty.
VETERANS*
On Saturday, Prince Harry will open the Invictus Games, a multi-sport event for wounded, injured and ill armed services men and women. He began the games after learning about the benefit of sport for mental* and physical recovery.
Prince Harry was a soldier in the British Army for 10 years and has a special interest in veterans' health.
EXTRA READING
Invictus Games for warriors almost here
Royal Flying Doctor Service turns 90

GLOSSARY
glimpse: brief look
glamorous: dressed up and fancy
engagements: appointments or events
itinerary: plan
highlighted: showed well
stress: worry
mental health: whether your mind is well and coping with life
peer: someone in your group
literally: actually
relish: enjoy
unveiled: launched
profile: how well people know about something
social enterprise: business that helps people
Sherrin: brand of football
ethical: does good things for people and the planet
veterans: people who have served in war or in the armed services
mental: to do with your brain rather than your body
LISTEN TO THIS STORY
QUICK QUIZ
How many official engagements are there and why do they do these?
What issues were they highlighting by going to Dubbo?
Why is it good for the Royal Flying Doctor Service for people to be talking about it?
What do Australian zoos do beyond showing off exotic animals?
Who competes at the Invictus Games?
CLASSROOM ACTIVITY
1. The issues
Prince Harry and Meghan are supporting a lot of causes and highlighting a number of important issues while on tour in Australia. Use the information in the article to make a list of the issues they are highlighting, why you believe the issue is important and how they have raised awareness for it. On your list make a note of whether this is a world issue or an Australian issue.
Time: Allow 20 minutes
Curriculum links: English, Ethical Capability
2. Extension
Imagine that Prince Harry and Meghan have room in their schedule to highlight one other issue. What other issue would you like them to raise awareness about? How could they do this?
Think about where they should visit to support this issue and what they might do there. Write a short speech that either Prince Harry or Meghan could give at this event stating what the issue is and how we can support/improve the issue and why it is important either for Australia or for the world.
Time: Allow 40 minutes
Curriculum links: English, Ethical Capability
VCOP ACTIVITY
With a partner see if you can you identify all the doing words/verbs in this text. Highlight them in yellow and then make a list of them all down your page. Now see if you and your partner can come up with a synonym for the chosen verb. Make sure it still makes sense in the context it was taken from.
Try to replace some of the original verbs with your synonyms and discuss if any are better and why.
HAVE YOUR SAY: What issue would you like the next Royal visit to bring attention to? Why?
Use full sentences to explain your thinking.