Future income and opportunity drive trade skills pitch to kids
Schools are being urged to encourage more students to learn a trade rather than study at university as the nation deals with a severe shortage in skilled tradespeople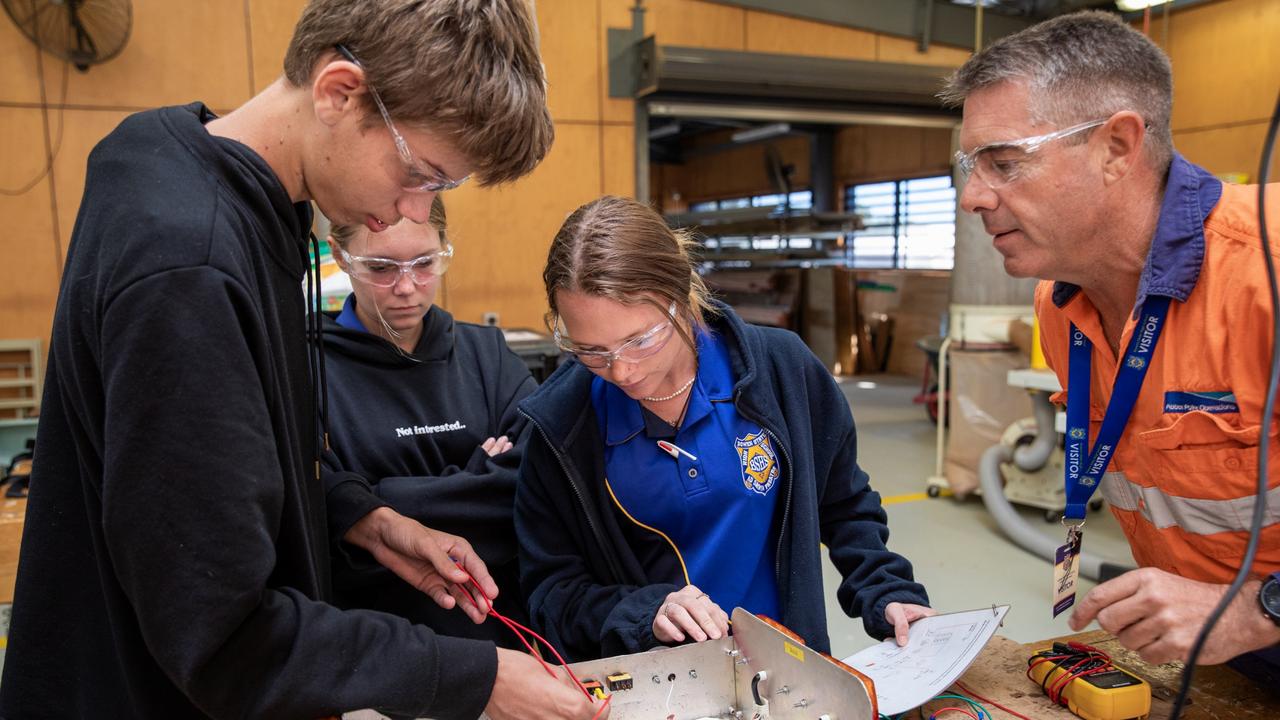 Not all schools offer students the chance to learn a trade.
Schools have been urged to redirect students away from university degrees and into a skill or trade, as new figures reveal another drop in the number of vocational education students in NSW despite the nation's acute shortage of skilled tradespeople.
The latest figures from the National Centre for Vocational Education Research show fewer than one in five 15 to 19-year-olds in NSW participated in a VET course at school in 2022, falling 3.1 per cent since 2021 and 3.2 per cent over the last five years.
Just 2600 students took up a school-based apprenticeship or traineeship last year, but more than 40,000 Year 12 students applied for university study.
Sydney builder Tom Quilty said clever kids from middle-class backgrounds should be more supported to take up a trade apprenticeship instead of a university HECS debt.
"Once you get through the pain of the four years (as an apprentice), you can earn just as much as doctors and lawyers," the 35-year-old small business owner said.
"In the long run, you come out debt free and qualified … the sky's the limit in regards to revenue," he said.
His own site foreman, 28-year-old James Sheather, spent three years studying a Bachelor of Business in supply chain management after high school, only to realise he "wasn't suited to an office job" and needed to take up a TAFE course instead.
"All my mates did trades coming out of school. I was going to uni thinking 'it's better doing it this way', you definitely feel like it's the smarter and better option … but it cost me," he said.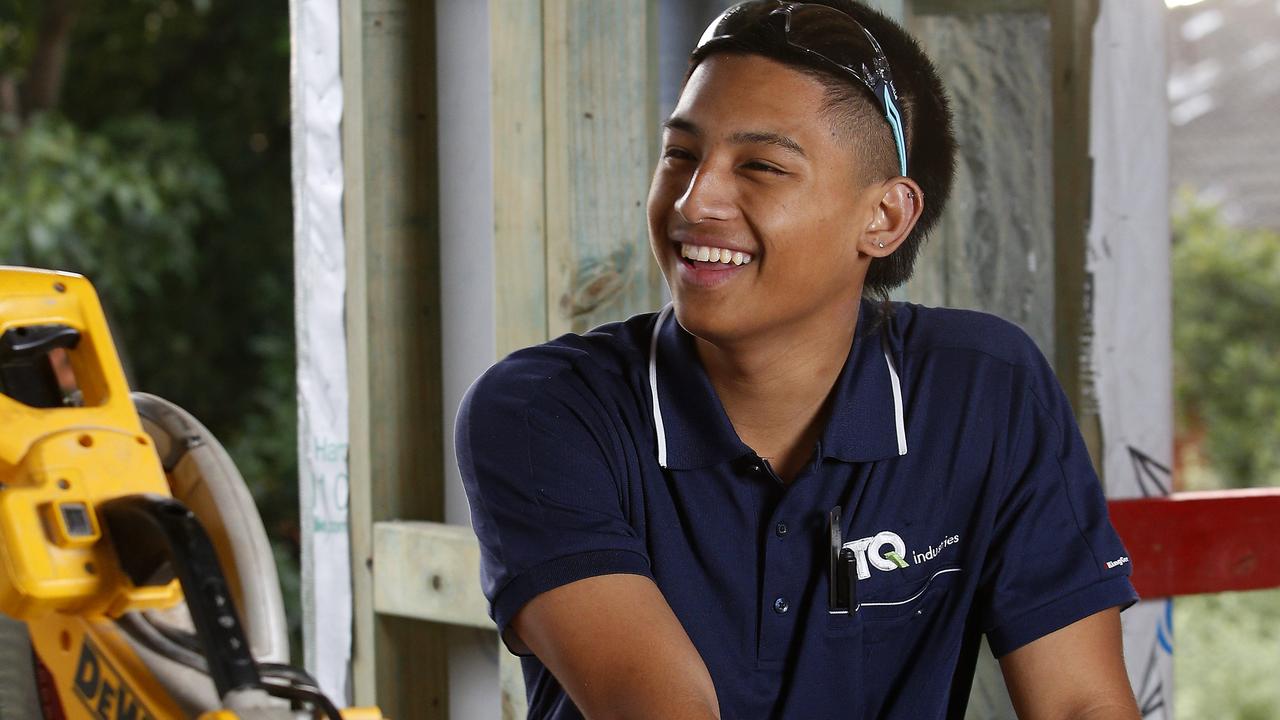 Apprentice Carpenter Nitin Gurung is completing a Cert III in carpentry while studying Year 12. Picture: John Appleyard
Electricians, motor mechanics and gardeners are among the trades in highest demand.
Of the seven occupations defined by Jobs and Skills Australia as having few applicants per vacancy, more than half require Certificate IV or III VET qualifications.
While new grad paralegals can start out on a $70,000 salary but end up with a $75,700 debt, entry-level electricians earn $76,050 on average without paying a cent on TAFE tuition.
Apprenticeship Employment Network executive director Gary Workman said schools need better industry and employer partnerships plus greater consistency to make sure students get a real chance to try a trade before committing to a university degree they might never use.
"Schools measure success … upon their university rankings, their entrance scores," he said. "Why aren't secondary schools measuring other forms of success for young people?"
VET is currently being offered in 146 of the 163 secondary Catholic schools in NSW, with 28 per cent of students undertaking at least one course. The same state's Independent Schools sector has more than 6,700 VET students in 130 schools, which equates to 24 per cent of students.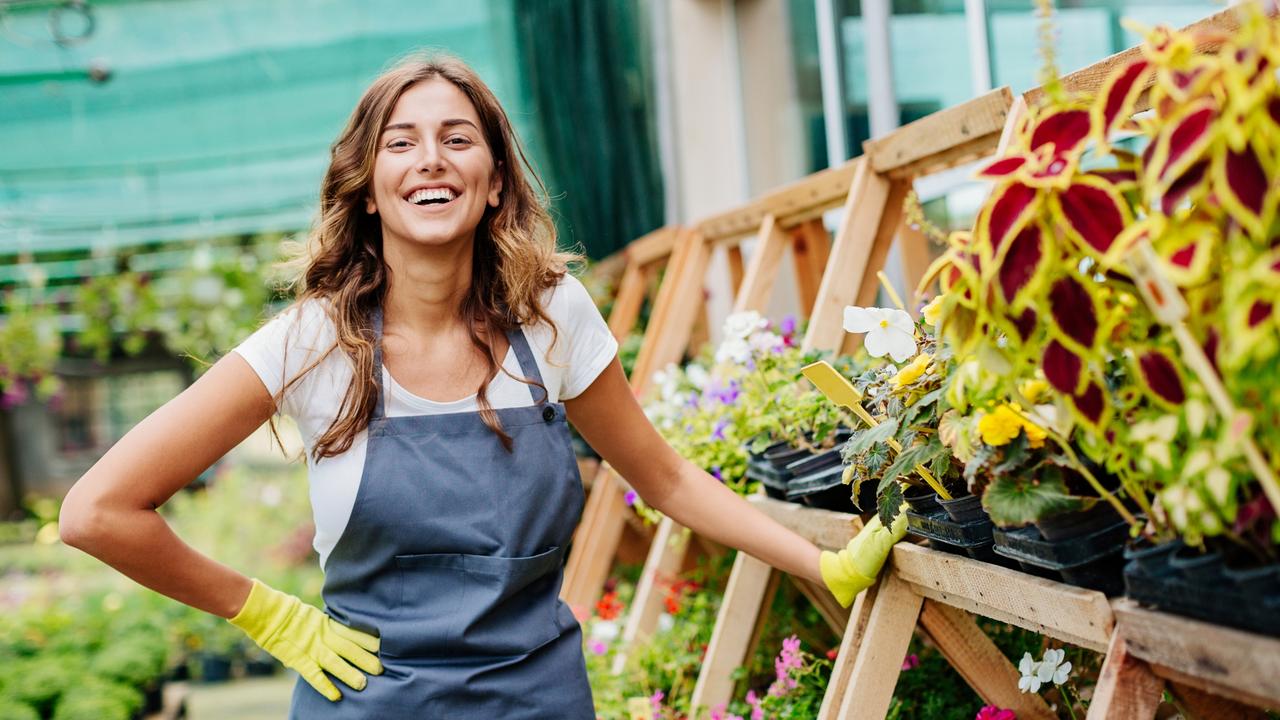 Gardeners, electricians and motor mechanics are in demand.
Thirty-three per cent of public school Year 11 and Year 12 students undertook VET last year while 32 schools did not participate – many of them academically selective.
Mr Quilty's 17-year-old carpentry apprentice Nitin Gurung is learning his trade through his Sydney school, Southern Cross Catholic College, but said many of his peers have dropped out.
"You get a taste of the trade, and I think it's the better way to start off than just going headfirst into some TAFE course and finding out you don't like it at all," he said.
"We started with 25 people and now there's 10 people … maybe it's too hard for some of them. People want to make big money but they don't want to work hard for it.
"It's the environment too … If you don't really have good mentors or good people around you, it just makes it twice as hard."
Dallas McInerney, CEO of Catholic Schools NSW, said "statewide co-ordination" and "up to date" relationships with industry are crucial to the enrolment and graduation rates in his sector, but said there was no need to channel students away from university.
"The delineation between a VET or university pathway is becoming less distinct … we have kids going with an ATAR, seeking university entrance who already have a Cert I or a Cert II," he said. "That blending is where the future will be."
POLL
GLOSSARY
vocational education: where you learn skills related to a specific career pathway or trade
VET: stands for vocational education and training
apprenticeship: where you learn a trade while doing on-the-job training
delineation: boundaries of definition
HECS: a government loan that covers the cost of university study and needs to be paid back
EXTRA READING
Play influences kids' career choices
Students called on to become teachers of the future
Top 10 surprising mathematical jobs
QUICK QUIZ
1. What proportion of NSW students took part in a VET course in 2022?
2. How many NSW students applied for university study in the same year?
3. What are three trades currently in high demand?
4. How many NSW schools didn't offer vocational education last year?
5. What is the starting salary of an electrician?
LISTEN TO THIS STORY
CLASSROOM ACTIVITIES
1. Career pathways
As the Kids News article states, going to university is not the only way to be successful in your chosen career. Certain sectors are encouraging schools to encourage students to look at vocational education as an option also, not just aiming for university.
Vocational education and training (VET) is learning where you develop targeted and practical skills. The skills you learn relate to a career pathway, so can apply them at work or in further education and training. You can add a VET course or certificate to your studies while you're in Year 11 or 12.
Write down all the careers you know of and put in the correct column. The first column is those that require a university degree (e.g. Doctor) and those that require a trade certificate (e.g. Plumber).
| | |
| --- | --- |
| UNIVERSITY QUALIFICATION | TRADE QUALIFICATION |
| 1. | 1. |
| 2. | 2. |
| 3. | 3. |
| 4. | 4. |
| 5. | 5. |
| 6. | 6. |
Time: allow 20 minutes to complete this activity
Curriculum Links: English, HASS, Personal and Social, Critical and Creative Thinking
2. Extension
"Schools measure success … upon their university rankings, their entrance scores," he said. "Why aren't secondary schools measuring other forms of success for young people?"
How could secondary schools measure student achievement rather than just a score? What should they be encouraging their students to do?
Time: allow 15 minutes to complete this activity
Curriculum Links: English, Personal and Social, Critical and Creative Thinking
VCOP ACTIVITY
To sum it up
After reading the article, use your comprehension skills to summarise in a maximum of three sentences what the article is about.
Think about:
What is the main topic or idea?
What is an important or interesting fact?
Who was involved (people or places)?
Use your VCOP skills to re-read your summary to make sure it is clear, specific and well punctuated.