Melbourne-based food charity FareShare today announced it is opening a second kitchen in Brisbane making it capable of cooking more than six million meals for people going hungry across Australia.
FareShare is expanding to Brisbane in a partnership* with Foodbank to reduce food waste and fight hunger with nutritious, cooked meals such as casseroles, stews, curries and quiches.
It uses rescued food*, which is perfectly edible but would otherwise end up in landfill*, for all its meals.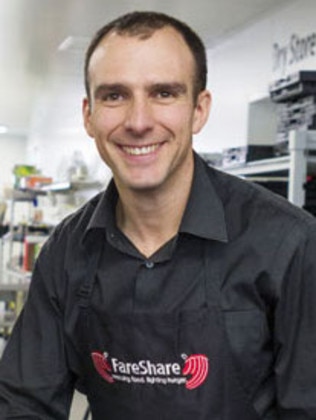 "We're building on what we have learned in Melbourne from cooking a few hundred pies a week 16 years ago to 1.2 million meals a year now," said FareShare CEO Marcus Godinho.
"We will establish a $4.5 million custom-built*, production kitchen in Brisbane with the capacity to cook five million meals a year. At the same time we will continue to grow the number of meals we cook for people doing it tough in Victoria.
"The new Brisbane kitchen will take advantage of Australia's greatest concentration of surplus* meat and vegetables which would otherwise go to waste and help support some of the 400,000 Queenslanders who experience food insecurity each year. Once in full production, we can supply meals to New South Wales and ACT as well.
"As cost of living pressures mount, more and more Australians are struggling to put food on the table. Fighting hunger with nutritious meals has never been more important," he said.
Foodbank will source ingredients and distribute meals through its existing network* of 300 Queensland charities. FareShare will focus on adding value to rescued food by cooking it into nutritious meals.
FareShare has the largest charity kitchen in the southern hemisphere in the Melbourne suburb of Abbotsford and cooks more than 5000 meals a day (1.2 million a year) with volunteer kitchen staff.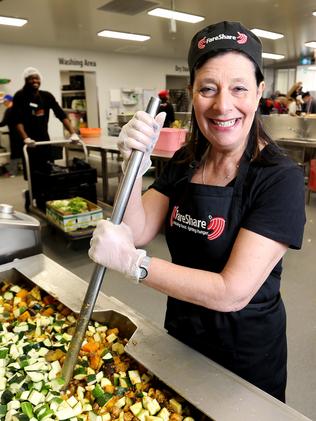 In its first year, the FareShare Queensland production kitchen aims to cook at least one million meals for Queenslanders.
WHAT IS FOOD INSECURITY?
It occurs whenever the availability of nutritional, safe foods or the ability to gain acceptable food in socially acceptable ways is limited or uncertain.
There are three key areas of food insecurity:
1. Food access: the capacity to acquire and consume a nutritious diet, including:
the ability to buy and transport food;
home storage, preparation and cooking facilities;
knowledge and skills to make appropriate choices;
and time and mobility to shop for and prepare food.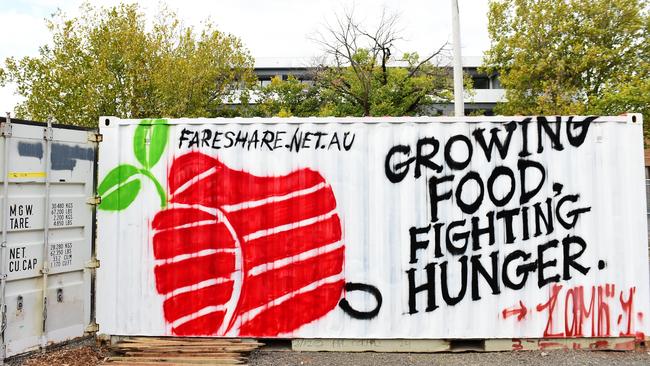 2. Food availability: the supply of food within a community affecting food security of individuals, households or an entire population, specifically:
location of food outlets;
availability of food within stores; and
price, quality and variety of available food (Nolan, Rickard-Bell, Mohsin, & Williams, 2006).
3. Food use: the appropriate use of food based on knowledge of basic nutrition and care.
There are three different "levels" of food security:
secure;
insecure but without hunger — where there may be anxiety or uncertainty about access to food or eating food that is not nutritional regularly.
insecure with extreme hunger — where meals are often missed or not adequate.
HOW YOU CAN HELP
FareShare needs five tonnes of lentils to add protein to its nutritious meals.
Production manager Chris Mitchison said lentils were a fantastic and versatile food but not easily accessible through normal food rescue channels.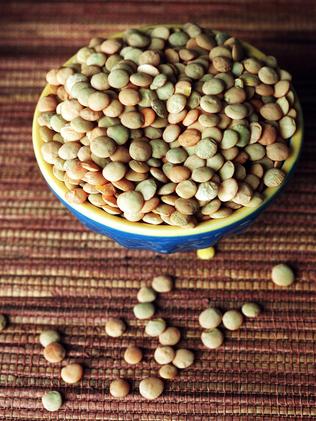 "We need lentils to add to our vegetables to make dals and soups. We also use lentils to stretch our curries and casseroles and to give our veggie rolls a protein boost," he said.
"At FareShare we aim to make every meal count knowing it may be the only meal of the day for someone in need."
If you'd like to run a lentil drive for FareShare, please email logistics manager Patrick Lanyon (patrick.lanyon@fareshare.net.au).
GLOSSARY
partnership: groups who have decided to work together
rescued food: food that would have otherwise been thrown out
landfill: rubbish that isn't recycled or composted
surplus: too much
network: connected things
LISTEN TO TODAY'S STORY
CLASSROOM ACTIVITIES
1. Feeding the hungry
Answer the following questions in as much detail as possible.
Try and include the question in your answer.
How many meals is the FareShare charity capable of cooking each year?
Where does the charity get the food from?
How many Queenslanders experience food insecurity?
Explain food insecurity in your own words.
Who cooks the nutritious meals?
What donations is the charity asking for?
Do you think this is an important charity? Why/why not?
Extension:
Organise a lentil drive to support FareShare in your school.
Design a poster to put in school newsletter, speak to your teacher or principal about organising the drive and contact the email address supplied in the article.
Time: allow 20 minutes to complete this activity.
Curriculum links: English, Ethical Capability
2. Food for life
Search for a recipe with ingredients are cheap, are nutritious and simple to cook.
You may need to look up the ingredients on a supermarket website to see what they cost.
Once you've chosen a recipe, type it up and compile all the recipes into a class recipe book.
Extension
Brainstorm some ways you could help some people in your community that may need a helping hand putting food on the table (food pantry, casserole club etc).
Time: allow 45 minutes to complete this activity.
Curriculum links: English, Critical and Creative Thinking
VCOP ACTIVITY
Lentil drive
The FareShare group needs lentils to help extend food supplies for those in need.
Design a poster or make an ad campaign asking the local community to donate lentils to the school.
Use emotive language and facts from the article to connect with the audience and persuade them that it's a worthy cause.
If you are creating an ad, write the script first so your actors know what to say.
Time: allow 40 minutes to complete this activity
Curriculum links: English, Big Write, VCOP- Vocabulary and Punctuation
EXTRA RESOURCES
TURNING FOOD SCRAPS INTO ENERGY
BRIDE SAYS 'I DO' TO DOUGHNUTS
IN A SENTENCE, SHARE YOUR THOUGHTS ON TODAY'S STORY
Kids News loves reading your best grammar, vocabulary and spelling. We publish the best comments.