A drone has filmed a Brazilian Indian tribe the outside world has never seen.
The tribes people live deep in the Amazon rainforest and have never had any contact with or known anything about the outside world.
They survive in a way that would not have changed for thousands of years — cutting canoes from trees and making tools and weapons from sticks and rocks.
The incredible video was shot from high above.
It shows a group of 16 indigenous* people from a tribe which, according to the Brazilian agency for indigenous tribes, Funai, has never had any outside contact.
In a clearing in the forest, the drone filmed a tribesman* walking with a bow and arrow, a traditional building known as a maloca, and a plantation of what is believed to be manioc, or cassava, a starchy food plant.
Other members of the tribe can be seen walking through the jungle near the clearing.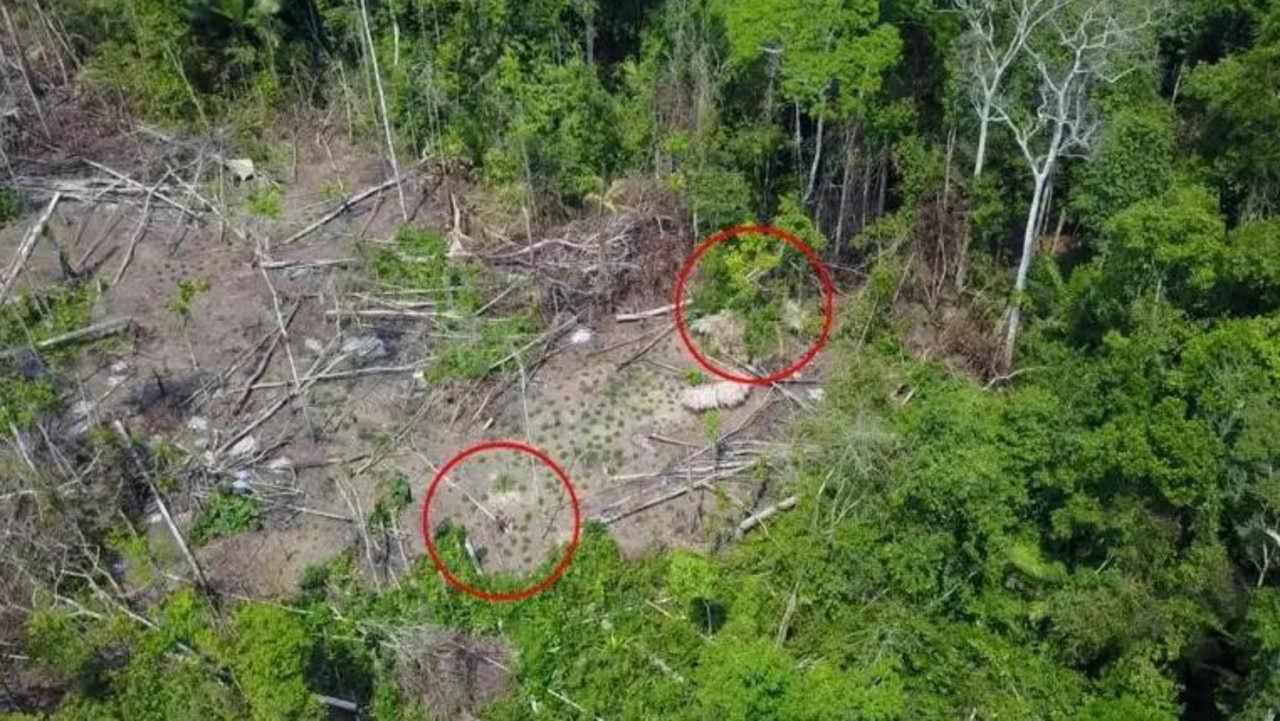 The name or ethnicity* of the tribe is unknown as the group has never been seen before and no contact has ever been made, according to Funai.
The agency, which released the film yesterday, said its experts trekked more than 300km into the 137,000 square-kilometre Vale do Javari Indian reserve on the border with Colombia and Peru, after receiving reports that illegal hunters were threatening tribes.
The three-week expedition last year included travelling 180km along rivers before riding on motorbikes and then walking for 120km through dense jungle.
The group also found items that confirmed there were uncontacted tribes in the region, including a stone axe tied together with plant fibre, a horn made from tree bark and dugout canoes.
The region, in the Brazilian state of Amazonas, is known to be occupied by six tribes that have been contacted.
But Funai believe there at least 16 tribes living in the forest who have never had any contact with civilisation.
Mr Pereira said it is the first time Indians have been filmed using drones, which the tribespeople couldn't see or hear.
He said: "The use of drones provided safety both for the indigenous people and for the Funai team.
"The idea is to share these scenes in order to confirm the existence of these Indians and the importance of protecting them. We need to strengthen our work in the region."
The team also found evidence of illegal hunters in the region and animals were released from illegal traps, a spokesman said.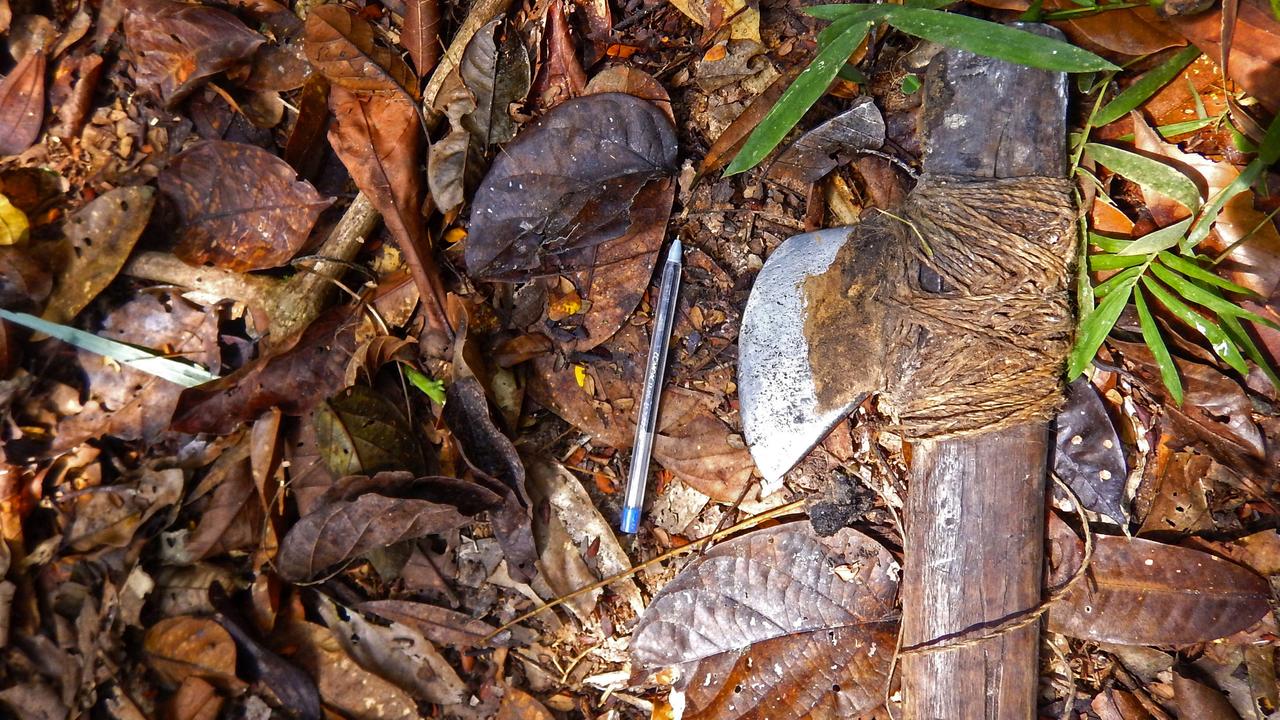 Funai's Bruno Pereira said that no attempt will be made to contact this or any of Brazil's uncontacted tribes.
He said: "We respect their isolation*. Their isolation will remain until the day they decide against it, or until an extreme situation requires the State to make contact."
Funai believe there are 113 uncontacted tribes living in the Brazilian Amazon, only 27 of which have been seen, which could number up to 3000 people.
There are also said to be 15 uncontacted tribes in neighbouring Peru and others deep in the forests of Bolivia, Colombia and Ecuador.
This story first appeared in The Sun and was reproduced with permission.
EXTRA READING
Ancient temple discovered in Egypt
Solving the Stonehenge mystery
GLOSSARY
indigenous: comes from that area
tribesman: man who is part of the tribe
ethnicity: being part of a particular cultural group
isolation: separation
LISTEN TO TODAY'S STORY
QUICK QUIZ
What is Funai?
What is the name of the tribe? If they don't know, why not?
How big is the Vale do Javari Indian reserve?
How far did the team walk?
How many people could be living in the Brazilian Amazon never having had any contact with the outside world?
CLASSROOM ACTIVITIES
1. Items and customs
Although no contact has been made with this tribe, their existence is known and some items have been found that belong to them. These items and the footage from the drone would give some clue about their customs.
Make a list of the items and knowledge gained from the footage and make assumptions about this tribe's way of life. Remember, assumptions are not necessarily correct. More information would need to be collected to know for sure.
For example,
What we know: tribesman carrying bow and arrow
Assumption: this tribe hunts for food or needs bows and arrows for protection
You may like to set out your work in a table labelled KNOWLEDGE and ASSUMPTIONS
Time: Allow 20 minutes
Curriculum links: English, Humanities – Geography, Intercultural Capabilities
2. Extension: Funai, the Brazilian agency for indigenous tribes, has said that they will not make contact with the tribe as they respect their isolation.
If you could make contact with this tribe or one of the other tribes in the Brazilian Amazon, what would you like to know about their way of life? Write 5 questions you would like answered and why these interest you.
Time: Allow 15 minutes
Curriculum links: English, Humanities – Geography, Intercultural Capabilities
VCOP ACTIVITY
The glossary of terms helps you to understand and learn the ambitious vocabulary being used in the article. Can you use the words outlined in the glossary to create new sentences? Challenge yourself to include other VCOP (vocabulary, connectives, openers and punctuation) elements in your sentence/s. Have another look through the article. Can you find any other Wow Words not outlined in the glossary?
HAVE YOUR SAY: What would you most like to know about the uncontacted tribes in Brazil? Use full sentences. No one-word answers.