When US President Donald Trump met the Queen at Buckingham Palace this morning, it appeared the American leader broke royal rules to give the monarch* a fist bump greeting.
However, it was an illusion as he was actually using an awkward* handshake where he grabbed her fingers rather than shaking her extended hand.
Body language expert Judi James told news agency The Press Association that Mr Trump — who is known for his over-the-top* hand-holding — was not able to get a proper grasp because the Queen usually offers only her fingertips.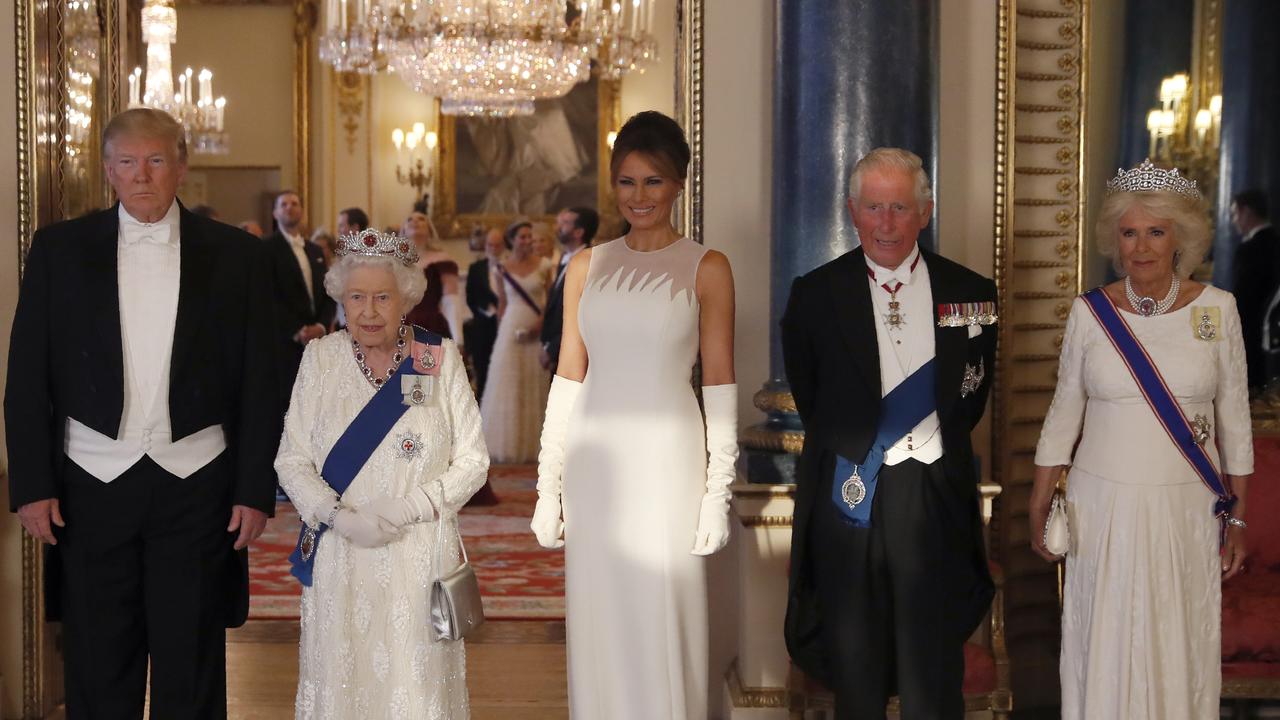 "He was leaning forward from a distance, with a tentative* pawing of her hand," she said. "The Queen only ever offers her fingertips so he couldn't get a grasp. He probably wasn't touching much more than her fingers."
Mr Trump also appeared to break royal protocol* by touching the Queen on the back as she rose from her chair during the state dinner at Buckingham Palace.
Mr Trump briefly and gently put his left hand out behind the monarch, but the Queen did not appear to be bothered by the moment.
How people greet and act around members of the Royal Family is determined by traditional rules that are hundreds of years old. For example, visitors are told to first greet the Queen as "Her Majesty," then as "Ma'am*".
The traditional form of greeting also calls for men to bow their heads while women do a small curtsy*. Other people prefer simply to shake hands in the usual way.
Touching the Queen is not advised.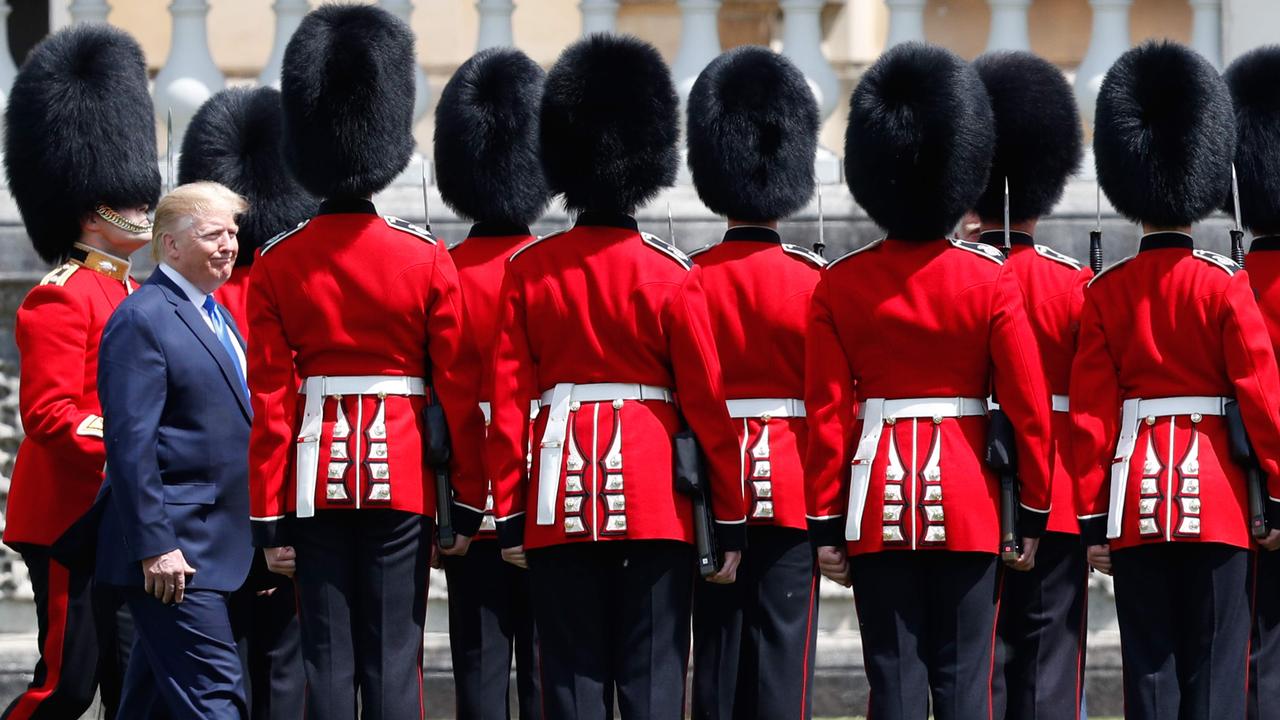 Mr Trump, who is in England on a state visit, said his first day was going well.
"London part of trip is going really well. The Queen and the entire Royal family have been fantastic. The relationship with the United Kingdom is very strong. Tremendous crowds of well wishers and people that love our Country," he wrote.
Mr Trump also visited Westminster Abbey in central London where he laid a wreath at the Grave of the Unknown Warrior.
The Queen welcomes Trump to Buckingham Palace
WHAT IS A STATE VISIT?
It's a formal trip to the United Kingdom* by a head of state* and is normally at the invitation of the Queen, who acts on advice from the British Government.
Although they're grand occasions, they're not just ceremonial affairs — they're also used by the Government to further what it sees as Britain's national interests.
The Queen usually receives one or two heads of state per year and has hosted 112 of these visits since becoming monarch in 1952.
The highlight of Mr Trump's state visit will be D-Day 75th anniversary celebrations in Portsmouth tomorrow (Wednesday), commemorating* the invasion of France by Allied forces* across the English Channel that was the turning point in the Second World War.
Prime Minister Scott Morrison is also due to attend, along with other world leaders.
GLOSSARY
monarch: a king, queen or emperor
awkward: uneasy or tricky
over-the-top: exaggerated
tentative: hesitant
protocol: rules
Ma'am: short for Madam
curtsy: bobbing down by bending the knees with one foot in front of the other
United Kingdom: area that includes England, Scotland, Wales and Northern Ireland
head of state: leader of a country
commemorating: remembering
Allied forces: co-operating forces, including Australia, against the Germans
EXTRA READING
Trump and Kim sign historic agreement
Scott Morrison still PM after election win
Prince Harry and Meghan Markle introduce Master Archie
QUICK QUIZ
Where did Donald Trump and the Queen meet?
What action do men and women traditionally do when they meet the Queen?
Which famous church did Mr Trump visit to lay a wreath?
Which countries make up the United Kingdom?
What is D-Day?
LISTEN TO THIS STORY
CLASSROOM ACTIVITY
1. Welcoming Trump
Pretend you are the Queen and write a speech to welcome US President Donald Trump to the United Kingdom and Buckingham Palace.
Think about how your speech will help to strengthen the political relationship between the UK and the US and what matters you think would be imporant for Mr Trump to hear.
Time: Allow 15 minutes for this activity
Curriculum Links: English, Civics and Civilisation
VCOP ACTIVITY
With a partner see if you can you identify all the doing words/verbs in this text. Highlight them in yellow and then make a list of them all down your page. Now see if you and your partner can come up with a synonym for the chosen verb. Make sure it still makes sense in the context it was taken from.
Try to replace some of the original verbs with your synonyms and discuss if any are better and why.
Curriculum Links: English, Big Write and VCOP
HAVE YOUR SAY: What question would you ask Donald Trump if you had the chance to meet the US President?
No one-word answers. Use full sentences to explain your thinking. No comments will show until approved by editors.