A video about one family's decision to sell its cows has gone viral* online, drawing attention to a crisis* in Australia's dairy industry.
Casey Treloar, 26, filmed herself with the Treloar family's 200 Holstein* dairy cows on her farm near Parawa on South Australia's Fleurieu Peninsula.
Since Ms Treloar posted it on Saturday, the video has been viewed more than 1 million times and shared more than 14,000 times on social media platform Facebook.
"This is a video I hoped I wouldn't ever have to film,'' Ms Treloar begins. She then delivers a seven-minute speech about $1 a litre milk.
VIDEO: This is an edited version of Casey Treloar's video
The Treloars are just the latest casualties* in a long battle for farmers trying to get paid enough for their milk to stay in business.
Ms Treloar's father, Stephen Treloar, said it was too late for his farm, but he hoped the attention would spark action to help other families facing a similar fate.
SA Dairyfarmers' Association chief Andrew Curtis said drought in northern Australia had added another blow to struggling SA dairy farmers. Mr Curtis said drought-stricken* farmers were buying up feed supplies, doubling hay and grain prices.
The number of registered dairy farms in SA has dropped from 1730 in the dairy boom days of the late 1970s to just 228 last financial year*.
Dairy farmers in other states are battling the same low prices for their milk, many with the additional difficulty of severe and long-term drought.
"The artificial* $1 per litre price set by the supermarkets has kept returns low and while we don't have the rainfall problems in our dairy areas, we rely on a lot of brought-in feed,'' Mr Curtis said.
Ms Treloar said while the $1 a litre milk war was not solely to blame for the demise* of the family farm, which once boasted 270 cows, it "did not help".
"The average we are getting paid for milk is now 38c per litre across the year and it is completely unsustainable when the cost of production is 60c per litre,'' she said.
Ms Treloar left the farm this week to go to a new job in Tasmania as a journalist, which she "loved doing", but said her dreams would always be on the family farm.
"That will be the last time I see my herd of cows and it is something I have loved doing my entire life,'' she said.
"The produce is world-class and is worth something, but until government (tackles price cuts and costs) and holds that process accountable, nothing will change.''
Ms Treloar said she feared for the future of the dairy industry in Australia, but her father would continue by managing a large nearby farm.
Mr Treloar said he hoped to save around two thirds of the herd, and was philosophical* that he and his wife Helen, 53, had been able to raise four children on the farm.
"It has always been one step forward and three steps back, and if we were smart we would have gotten out sooner, but I wanted to give it a go and bring the kids up,'' Mr Treloar said.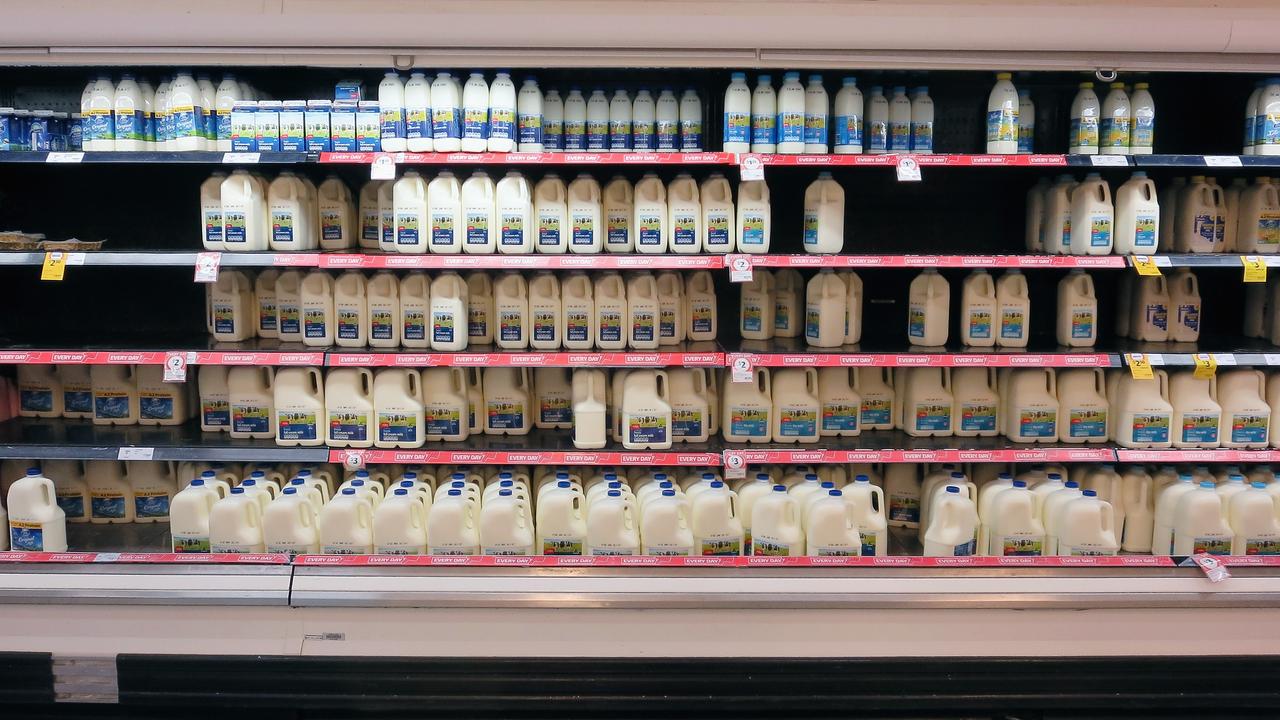 ONE-DOLLAR-A-LITRE MILK
Major supermarkets have been selling milk cheaply since Coles began its $1 a litre pricing on Australia Day 2011.
Dairy farmers say discounting milk devalues it, or makes consumers think it's not worth paying much for.
In 2016, then-Deputy Prime Minister Barnaby Joyce said the $1 price was "not the proper reflection on what the price of labour is for people on the land who work for a living."
The average price dairy farmers receive for milk has dropped in recent years. Most say that the amount they are paid is less than it costs to produce it.
There is no set price a processor or seller has to pay a dairy farmer for milk. This is called a free market.
The Australian government changed laws covering the dairy industry in 2000-2001 to make it a free market. This process is called deregulation.
Some other country's dairy industries are regulated, which means farmers are guaranteed a minimum price for their milk. Others — such as the US and Europe — support farmers by offering subsidies, which top up the price the processor or seller pays the farmer when prices are low.
GLOSSARY
viral: spreads quickly and widely
crisis: major problem
Holstein: dairy cow breed
casualties: those negatively affected or injured
stricken: affected
financial year: July 1 to June 30, rather than calendar year, January 1 to December 31
artificial: not natural; made up by someone
demise: end
philosophical: calmly accept something
EXTRA READING
Australians come to farmers' rescue
Australian food labelling laws begin
QUICK QUIZ
How much, on average, is the Treloar family getting paid for milk?
How much does it cost them to produce the milk?
What arguments mentioned do farmers make against $1 milk?
Did Barnaby Joyce think $1 milk was a good thing?
When was Australia's dairy industry deregulated?
LISTEN TO THIS STORY
CLASSROOM ACTIVITIES
1. Write a letter
Write a letter or a post to Kids News. In your letter, describe how you feel about the problems faced by dairy farmers and explain what you think could be done to help farmers like the Treloar family to keep their farms.
Time: allow 30 minutes to complete this activity
Curriculum Links: English, Civics and Citizenship
2. Extension
In the story, you have read about the different laws that countries have for dairy farming and milk prices: free market, subsidies and regulations for dairy farmers. What do you think about them? Make a list of arguments or reasons FOR and AGAINST the free market, subsidies and regulations.
Time: allow 20 minutes to complete this activity
Curriculum Links: Economics and Business, English, Critical and Creative Thinking
VCOP ACTIVITIES
Help the Treloars spread the word by creating a script for an ad campaign. Remember your ad will be public, so the information needs to be factual, appropriate for all audiences, but also emotional and convincing.
Your ad will go for 30 seconds, so you need to write information that is direct and straight to the point. You can decide if there will be speaking all the way through, or if it will be broken up with images and clips from the farms or supermarkets etc.
HAVE YOUR SAY: Should dairy farmers be paid more for milk? Would you buy $1 a litre milk? Would you pay more? What are your thoughts on this issue?
No one-word answers. Use full sentences to explain your thinking.