An Australian man has become the world's youngest person to complete the Seven Summits, Seven Volcanoes climbing challenge.
And, amazingly, he made the final climb with his 99-year-old Nan.
Dan Bull, 37, from Melbourne, has this month officially been recognised by the Guinness World Records for his achievements.
"I decided to make (Mount) Kosciuszko the last. My family came with me. Dad had just had a pretty major hip replacement and my sister came and Nan did too, despite turning 99 on that day," he said.
His Nan, Evelyn, who still lives on her own in Melbourne, didn't quite reach the top, but the climb put her grandson's name in the record books.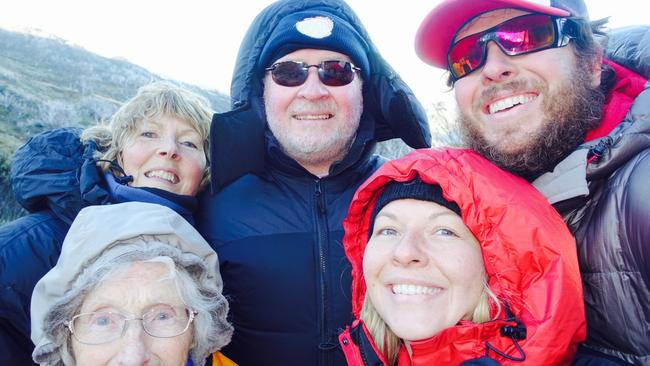 To complete the challenge, Bull climbed the highest mountain and the highest volcano on each continent* between August 3, 2006 and April 27, 2017.
He reached the mountain tops of Elbrus and Mont Blanc (Europe), Kilimanjaro (Africa), Denali (North America), Aconcagua (South America), Everest (Asia), Carstensz Pyramid and Kosciuszko (Oceania) and Vinson (Antarctica), as well as the Volcanic Summits of Ojos del Salado (South America), Pico de Orizaba (North America), Damavand (Asia), Mount Giluwe (Oceania) and Mount Sidley (Antarctica).
Mr Kosciuszko at 2228m was among his smallest climbs.
Elbrus in Russia was his first taste, Everest almost killed him and he went up Kilimanjaro in Tanzania for a charity run.
Mr Bull, who works in IT, began his love affair with climbing after seeing clips on the TV.
"Everest was definitely the dream," he said. "I remember seeing old footage* on the TV in our lounge room. And then it was turning that dream into a goal, that was a big part of it."
Mr Bull reached the summit* of Everest in May 2008. But he speaks about it as though it were yesterday.
"It was just this moment of exhilaration* when I reached the summit," he said.
"I was above the clouds, I was above everything.
"And then there is this feeling of dread* because you start thinking 'I have to get down'."
Mr Bull said that on his way back down he almost died. The thin air meant that he was taking up to 10 breaths in and out for each step.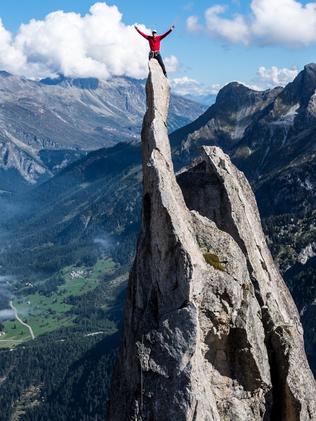 Mr Bull thinks his Nan, who will receive her 100th birthday card from the Queen in May, might have something to do with his determination.
"I had done some training on that 40C day on the weekend and it was about 4pm so I thought I'd call Nan and check on her," Bull said.
"She'd been out all day and was just about to sit down in front of the air conditioning but she said she had to go outside and feed the birds.
"She's a machine; maybe that's where it comes from."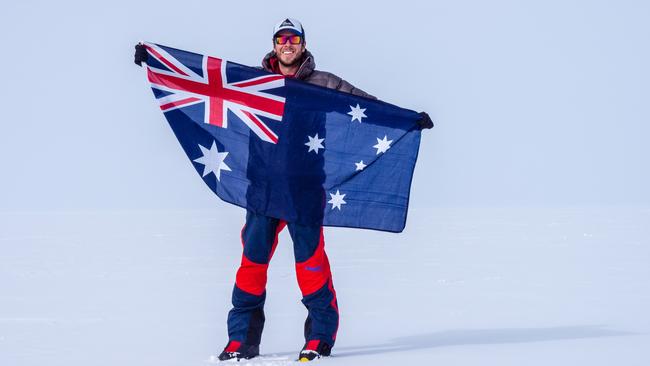 But when you've been on top of the world, it can be hard to work out what to do for your next challenge.
Mr Bull has that covered.
He is going to swim in Ojos del Salado on the Chile-Argentina border. It's the world's highest — and possibly coldest — lake.
And he plans to do it in his Speedos.
"I spotted this lake on one of my climbs and I found out it was the highest lake on the planet," he said. "I love water and I love climbing. Even though I'm not really a swimmer I loved the idea of combining the two."
Mr Bull plans to tackle the lake challenge in water temperatures of as low as -1C, in the next few months.
GLOSSARY
continent:

any of the world's main continuous expanses of land (Europe, Asia, Africa, North and South America, Australia, Antarctica)

footage:

part of a cinema or television film recording a particular event

summit:

the highest point of a hill or mountain

exhilaration:

a feeling of excitement, happiness, or elation

dread:

anticipate with great apprehension or fear
LISTEN TO TODAY'S STORY
CLASSROOM ACTIVITIES
1. Read or listen to the article carefully and complete the following activities.
What has Dan Bull been recognised in the Guinness World Record for?
What are some of the mountains/volcanoes he has climbed?
Why did he decide to make Mount Kosciuszko his last climb of the challenge? What was extra special about this climb?
What is his next goal? Why does he want to do this?
Where does he think his determination comes from?
What other personal characteristics would Dan Bull need to have to achieve this feat?
Imagine you were Mr Bull on his last climb, describe what he may have felt as he achieved this world record.
Extension: Design a certificate that you could present to Mr Bull in recognition of his achievement. Make sure your certificate lists the mountains and volcanoes that he has climbed. Make sure your certificate has pictures that represent what he is being recognised for.
Time: Allow 45 minutes
Curriculum links: English, Geography, The Arts – Visual Arts
2. Dan Bull has climbed the highest mountain and highest volcano on each continent.
Using an atlas locate the mountains and volcanoes he has climbed and mark them onto a blank map of the world. Find the height of each mountain/volcano and write it on the map as well.
Extension: Create a picture graph to show the difference in the heights of each mountain and volcano that Mr Bull climbed.
Present them in order of height. Think about the scale you will need to use for your graph so that all summits can be represented clearly on your graph.
Time: Allow 60 minutes
Curriculum links: English, Geography, Mathematics
IN ONE SENTENCE, TELL US WHAT YOU THOUGHT OF TODAY'S STORY
Kids News will publish the best comments. Try to use the correct spelling, punctuation and grammar.