Women and girls across Australia have a new figure of hope and inspiration*, with the unveiling of the famous Fearless Girl statue in Melbourne.
The statue, unveiled last week, stands in Federation Square in Melbourne, Victoria, as a symbol of gender* equality, just in time for International Women's Day, March 8.
Australia's Fearless Girl is one of five Fearless Girls installed around the world, created by US sculptor Kristen Visbal.
Ms Visbal made the first Fearless Girl for International Women's Day in 2017. That Fearless Girl is in the financial district of New York, US, where she stands facing a pre-existing sculpture of a charging bull. Ms Visbal interpreted the bull as a symbol for gender discrimination* and prejudice*. The bull sculpture is by Arturo Di Modica, who created it as a symbol of America's financial* resilience*.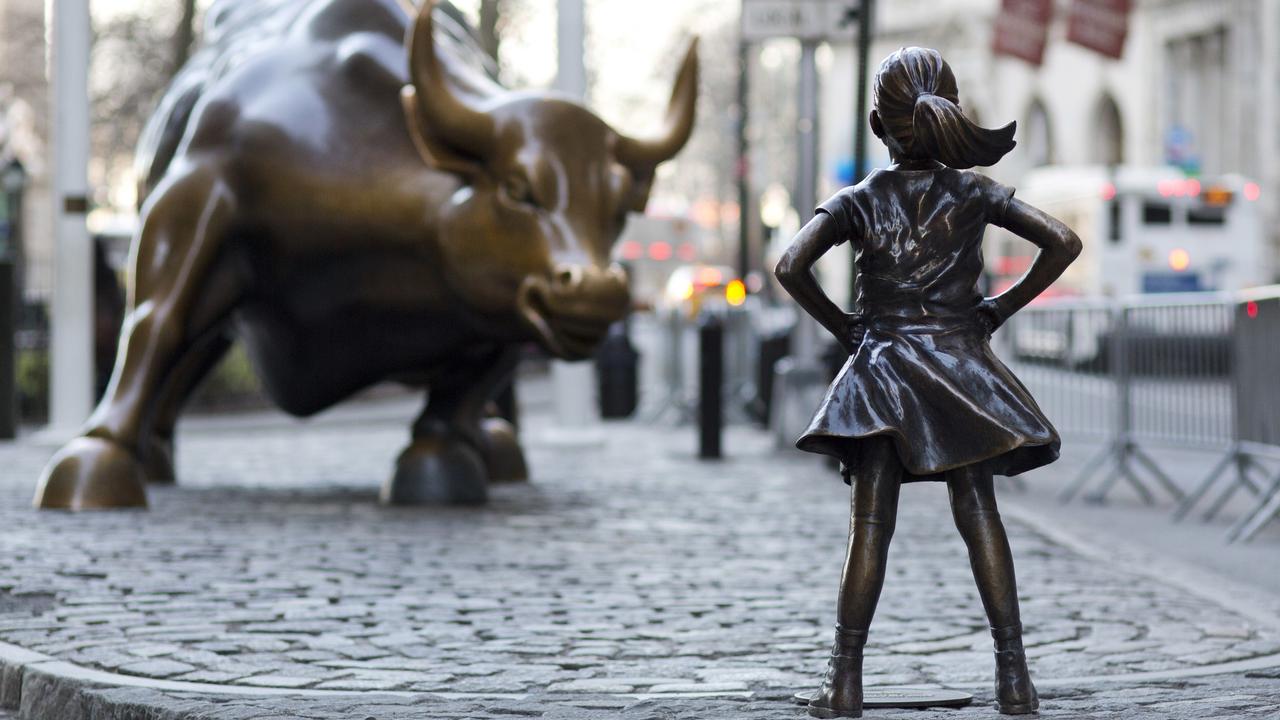 A Fearless Girl was installed in London on Tuesday. Fearless Girls were installed in Johannesburg, South Africa and Oslo, Norway, late last year.
Ms Visbal is excited her sculpture is installed "in another hemisphere*".
"I heard about this idea and thought how much fun this would be to use art to fund this message," Ms Visbal said.
"The idea was to celebrate International Women's Day and that she could take on anything, this child — and therefore women."
Ms Visbal said she was ecstatic* over the message it had grown to represent.
"These ideas are way overdue; they're simple basic ideas," she said.
"We determined this little girl would emulate* the wonder woman pose — and wear modern clothes — representing the future for women.
"I'm so glad to see the message has reached this far."
Ms Visbal was commissioned* by a US company to create the New York Fearless Girl, which is now suing her for making copies. Australian company Maurice Blackburn Lawyers commissioned the Melbourne statue and hopes it will lead the way for women in the workforce.
INTERNATIONAL WOMEN'S DAY
The first IWD was celebrated in 1911 by more than 1 million people in Europe.
IWD is celebrated on March 8 each year to:
Celebrate women's achievement
Raise awareness against bias*; and
Take action for equality.
VIDEO: This video was an entry in the IWD 2019 Best Practice Competition by a group of young women from India called Press for Progress
This year's theme is #BalanceforBetter. The theme promotes the belief that a gender-balanced world is a better world. It asks everyone to ask themselves: How can you help forge* a more gender-balanced world?
IWD is not run by one particular group or country but belongs to all groups collectively, everywhere.
You can find out more about IWD by visiting www.internationalwomensday.com
GLOSSARY
inspiration: the process of being stimulated to do something great
gender: either male or female
discriminate: treat someone differently because of difference
prejudice: an idea not based on fact or reason
financial: to do with money
resilience: toughness
hemisphere: half, as in the southern hemisphere
ecstatic: overflowing with excitement
emulate: match or copy
bias: prejudice against a group
EXTRA READING
Plan to pay male and female athletes equally
Belinda makes history as first female NRL ref
Bindi's International Women's Day honour
Green man or green woman for crossing job?
QUICK QUIZ
What date is International Women's Day each year?
Name the sculptor who created the Fearless Girl.
How many Fearless Girl statues are there and where are they?
What is the theme of this year's International Women's Day?
Who runs International Women's Day?
LISTEN TO THIS STORY
CLASSROOM ACTIVITIES
1. Strike a pose!
What does it mean to be fearless? How does the Fearless Girl statue help the campaign for a more gender-balanced world? Write down your answers to these questions then compare them with a partner.
Together have a close look at the picture of the Fearless Girl sculpture.
What is it about this girl that makes her look fearless?
Discuss her facial expression and body language. How do these impact her appearance?
With your partner, take turns to practice using a similar pose and facial expression to appear fearless. Have your partner offer suggestions to help you appear more fearless.
Time: allow 20 minutes to complete this activity
Curriculum Links: English, The Arts — Drama
2. Extension
Watch the videos included with this article. Both have a strong message about gender inequality. In a small group create either a dance or a short play to promote this year's theme for IWD, #BalanceforBetter. Think about what this means and how it can be portrayed through dance or drama. If possible, get your performance recorded then show it to your class. If filming is not available you could present your performance directly to your class.
Time: allow 60 minutes to complete this activity (Further sessions may be needed to rehearse)
Curriculum Links: English, The Arts — Dance/Drama
VCOP ACTIVITY
To celebrate International Women's Day, pick a strong female figure in your life to share why you see them as a female you admire. If might be a family member, a teacher or a friend that is important to you.
Jot down 3 points that you admire them for first. It might be their academic ability, their sports ability, their personality or nature, etc.
Now write a paragraph that explains who you have chosen them and why they are a strong female role model and someone to celebrate and admire.
Remember to read your work out loud before you say you are finished. That way you can check it makes sense and fix any things that are missing or that would make it even better.
Don't forget your VCOP to up-level your writing.
HAVE YOUR SAY: What can you do to help make a more gender-balanced world?
No one-word answers. Use full sentences to explain your thinking. Your answers will not show until approved by editors.