An Australian climber who broke his neck just three-and-a-half years ago reached the top of Mount Everest this week, becoming the fastest person to summit* the highest mountain on each of the world's seven continents.
Steve Plain's record is just 117 days, breaking the previous* record by nine days.
After his surfing accident in December 2014, doctors told Steve Plain he may never walk again.
Lying in bed paralysed*, Mr Plain set himself a big recovery* goal.
Now, the 36 year old is the Seven Summits speed world-record holder.
His record breaks the 2017 record set by Polish climber Janusz Kochanski, who took 132 days to climb the seven summits.
Since January, Mr Plain has climbed Mt Vinson (Antarctica), Aconcagua (South America), Kilimanjaro (Africa), Carstensz Pyramid in Papua New Guinea (Australasia) and Australia's Mt Kosciuszko. In Russhia he climbed Mt Elbrus, the highest peak in Europe, then tackled Denali in Alaska (North America's tallest) and Mt Everest.
His summit list includes eight mountains. Some people believe the Seven Summits record should include Australia's Mt Kosciuszko. Others think the Australasian mountain to climb should be Indonesia's Castensz Pyramid. So no one doubted* his record, Mr Plain climbed both.
Mt Everest, or Sagamartha (goddess of the sky) as the Nepalese call it, is 8848m and was his last..
He waited at Everest Base Camp for several days, waiting for safe weather.
"I just want to get up, get down, and get home," he said from Everest Base Camp on May 5.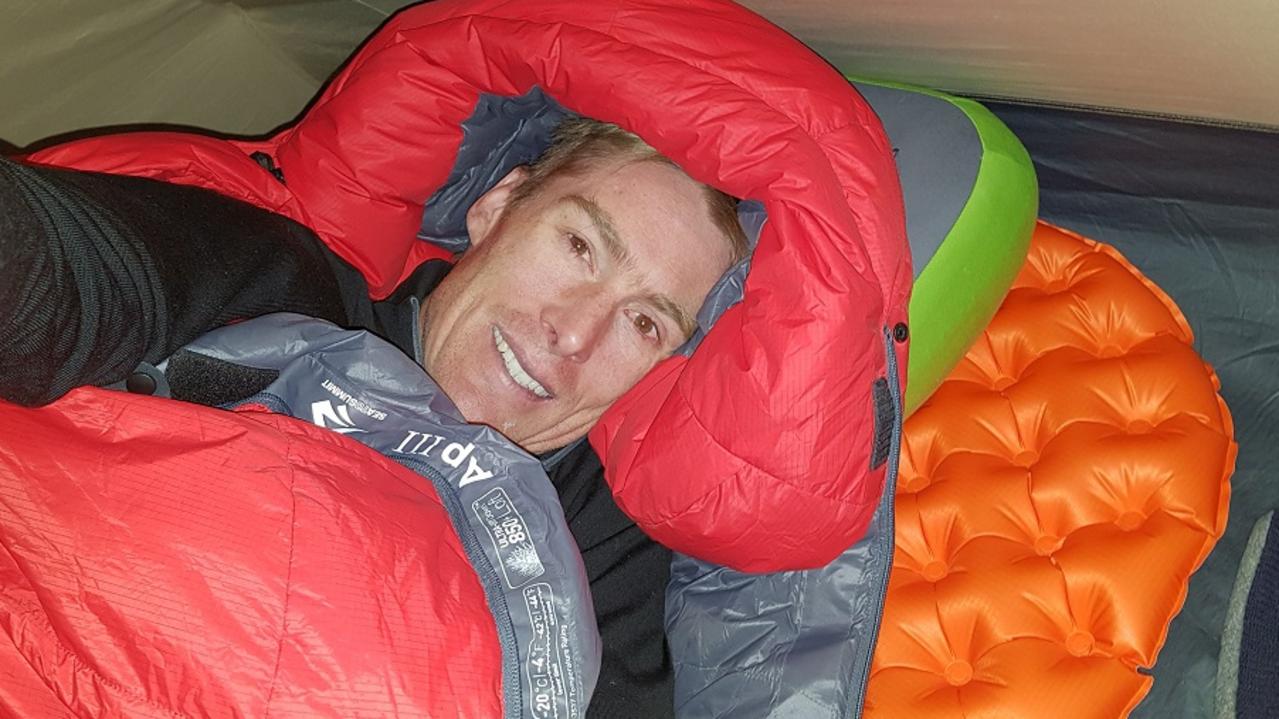 Mr Plain was surfing at Cottlesloe Beach in December 2014 when he was dumped by a wave and pushed headfirst into the sand. Two lifesavers rescued him as he couldn't move or breathe.
"Lying in that hospital staring at the ceiling with the thought that I may not be able to walk again and do some of the things I wanted to do, I decided right there to give myself some focus in the rehab* process," he said.
The adventurer has wanted to climb Mt Everest since he visited Base Camp when he was 16.
Mr Plain's world record wasn't just a personal rehabilitation* goal. He's using his experience to support Surf Life Saving Western Australia and SpinalCure Australia, a charity that raises money for research into spinal cord* injuries.
GLOSSARY
paralysis : inability to move
summit: top
previous: one before
paralysed: can't move
recovery: return to normal
doubted: felt uncertain
rehab: short for rehabilitation
rehabilitation: exercises to get better
spinal cord: the nerves running down the spine
LISTEN TO TODAY'S STORY
EXTRA READING
Aussie climber on top of the world
QUICK QUIZ
How many days did Steve Plain take? What was the previous record?
List the seven summits next to the continents they are on.
How high is Mt Everest?
What do the Nepalese call Mt Everest?
Name two organisations he would like people to support. Why would he have chosen these two?
CLASSROOM ACTIVITIES
1. Interview
Imagine that you have been asked to interview Steve Plain for Kids News. The purpose of the interview is to show why Steve is a great model, highlight the personal qualities that helped him to face his challenges and give advice to kids that will help them when times are tough.
Write FIVE questions. For each question, write the answers that you think Steve would give.
Time: Allow 25 minutes
Curriculum Links: Personal and Social Capability
2. Extension: Who is your role model or hero? Choose someone who you really admire and are inspired by. This can be anyone, including someone in your everyday life. Think about why they are a good role model or hero. Write a report about this person and why you chose them Don't forget to include plenty of examples to make your report convincing.
Time: Allow 30 minutes
Curriculum Links: Personal and Social Capability, Civics and Citizenship.
VCOP ACTIVITY
After reading the article, with a partner, highlight as many pieces of punctuation as you can find in green. Discuss how these are being used, where and how often. What level of the punctuation pyramid is the journalist using in this article?
IN ONE SENTENCE, TELL US WHAT YOU THINK ABOUT THIS STORY
Please do not use one-word answers. Explain what you enjoyed or found interesting about the article. Use lots of adjectives.