Angus Walters is counting the sleeps until Christmas.
But unlike the rest of his grade two classmates at Parap Primary School in the Northern Territory, Angus' anticipation revolves* around client orders rather than summer holidays and Santa Claus.
Angus is a budding entrepreneur*. At just seven he already has a thriving business.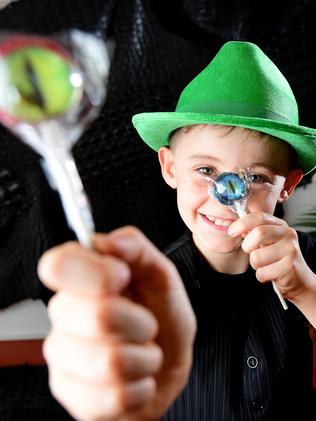 Since he quietly kicked off his Croc Candy in July this year, this little boy with big ambitions has attracted a growing list of some of Darwin's biggest businesses as clients.
In recent weeks Angus has fielded* orders from Darwin City Council to supply his personally chosen sweet treat at their Christmas lunch and the capital city's biggest businessman Mick Burns has also committed to stocking Croc Candy at the Crocosaurus Cove wildlife centre.
"I'm still learning and hoping it can grow," Angus said.
Proud mother Joanne Walters said her son's determination to overcome dyslexia* and see his enterprise* through from a business plan to trading was "amazing".
"I can see how this project — which started in our lounge room during the school holidays — can help and inspire so many young people and ultimately contribute to ideas and innovation in a broader sense," she said.
GLOSSARY
revolves: involves
entrepreneur: businessperson
fielded: received
dyslexia: a condition that causes sufferers to have issues with aspects of reading, writing and spelling. Around one in five people have dyslexia.
enterprise: business
LISTEN TO TODAY'S STORY
CLASSROOM ACTIVITIES
1. Comprehension
Write a sentence to summarise the article.
How did Angus' business begin and how has it grown?
Aside from the fact that he is only seven years old, what else makes Angus' business achievements remarkable?
Write down three words to describe how you think Angus and his mum are feeling about the success of Croc Candy.
Extension:
Do you think you could start a business of your own?
Write down what product or service you would sell, who you would sell it to, why you think they would want it and what you think is a fair price to charge.
Time: allow 15 minutes to complete this activity
Curriculum links: English
2. A tidy profit
An important aspect of running a business is knowing your costs and determining the right price to sell your product at so that you make a profit.
Imagine Angus' product costs $25 per batch to make and another $15 for packaging, and each batch makes 100 lollipops.
What is the total cost per batch to produce Croc Candy?
How much does each individual Croc Candy cost to produce?
If Angus wanted to make 30 cents profit on each Croc Candy, how much would he need to sell them for?
How much profit would this make him per batch?
To make a total profit of $600, how many batches of Croc Candy would Angus need to sell?
Extension:
Work out how Angus' figures would change if he was able to find a way to reduce his production costs by $5 per batch but did not change his selling price.
The figures used in this activity are made up and do not represent actual costs or profits of Croc Candy.
Time: allow 20 minutes to complete this activity
Curriculum links: English, Mathematics
VCOP ACTIVITY
Grammar and VCOP
Use words from the glossary to create new sentences.
Challenge yourself to include other VCOP elements in your sentences.
Have another look through the article, can you find any other Wow Words not outlined in the glossary?
Time: allow 20 minutes to complete this activity
Curriculum Links: English, Big Write, VCOP
EXTRA READING
IN A SENTENCE, SHARE YOUR THOUGHTS ON TODAY'S STORY
Kids News loves reading your best grammar, vocabulary and spelling.
We publish the best comments.