A teenager who can't drive a car is about to fly an aeroplane solo around Australia to try to raise $40,000 for charity.
Solomon Cameron is 15 years old and from Bendigo, Victoria. Flying is his passion.
"I think it's just the fact that you're in the air, doing something that not everyone has the opportunity to do. It's part of the reason why I really want a career in aviation* … a commercial* pilot, maybe working somewhere up north."
Though he doesn't have a learner's permit to drive a car, the Year 10 student has already completed about 90 flying hours in his light aircraft, flying across Victoria to places such as Mount Beauty, Shepparton, Mildura and Yarrawonga.
Now he is preparing to fly unaccompanied* around Australia in May to raise funds for Angel Flight, a charity that arranges non-emergency flights to assist rural people in need of specialist medical treatment.
VIDEO: Watch Solomon flying an aeroplane. Credit: 9 News
The Bendigo Flying Club has been helping Solomon plan his solo flight and helping foster* the passion for aviation in a young, ambitious* pilot.
Solomon said it was meeting fellow pilots who had assisted with the Angel Flight charity that piqued* his interested in a charity flight around Australia.
"I've met a few pilots who work for them. I think they do a pretty cool job, and I'd really like to support their cause," Solomon said.
The budding young pilot often rides his bicycle to the Bendigo airport, or his mother drops him off, before he settles down in the pilot's seat of his light aircraft and flies unaccompanied across Victoria.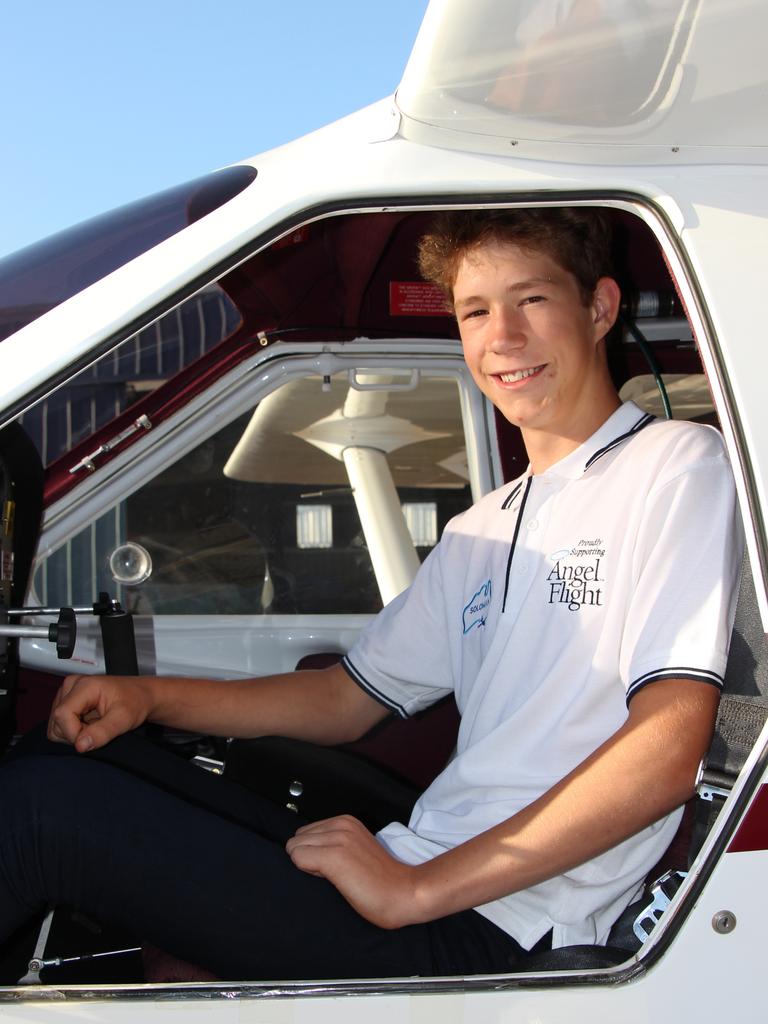 It's a passion that first started when he was 11 years old and would ride his bike to the airport every weekend to sit on a bench for hours watching the planes.
He mowed lawns and did other odd jobs for a year to save up for his first flying lesson at the age of 12.
"For my 15th birthday I went solo. Six days later I received my pilot's certificate," Solomon said.
"Since then I've been flying about in planes … it's just really peaceful when you're up there. It's pretty fun as well."
Solomon has been supported in his planning by Linda Beilharz, the first Australian woman to ski to both the North and South poles.
Ms Beilharz will continue to support Solomon as his journey progresses, providing advice and guidance regarding weather conditions and planning as he spends about 30 days circumnavigating* the country.
Solomon will leave on his journey from Bendigo.
"My first stop will be Bruny Island down in Tasmania," Solomon said. After Tasmania, he will travel in an anticlockwise direction up the east coast, across the top of Australia, down the west coast, across the Nullarbor and back to Bendigo.
"The trip takes me to the most southern, eastern, western and northern parts of Australia. I'm going to be visiting quite a few new places, and I'm looking forward to seeing it all from the air."
All funds raised by Solomon's flight will go towards essential safety for the trip, with 100 per cent of the leftover funds donated to Angel Flight.
For information or to donate to Solomon's fundraiser flight, visit gofundme.com/soloman-15
GLOSSARY
aviation: to do with flying
commercial: as a paid job rather than for fun
unaccompanied: solo
foster: help develop
piqued: sparked
circumnavigating: travelling around the edge of something in a circle or loop
EXTRA READING
Celebrations for 90-year-old lifesaver
New airport named for Nancy-Bird Walton
Aussie teen is first drone racing world champion
Great Air Race of 1919 to be recreated
Green flying dude is king of the sky
QUICK QUIZ
Which charity is Solomon supporting? What does it do?
How old was he when he had his first flying lesson?
What is the name of the place he takes off from? What state is that in?
Where will his first stop be?
What will Solomon use the donated money for?
LISTEN TO THIS STORY
CLASSROOM ACTIVITIES
1. Flying SOLOman
Use an atlas and either draw or use a blank map of Australia to mark Solomon's planned journey around Australia, as well all the places mentioned in the article that he has flown to before. Name the places where you believe Solomon will stop as he says that the trip will take him to the "most southern, eastern, western and northern parts of Australia".
Time: allow 25 minutes to complete this activity
Curriculum Links: Geography, English
2. Extension
Do you think 15 years old is too young to undertake this flight on his own? Outline your reasons for why or why not. What is a goal you'd like to achieve for yourself in the coming years?
Time: allow 10 minutes to complete this activity
Curriculum Links: English, Critical & Creative Thinking
VCOP ACTIVITY
After reading the article, with a partner, highlight as many connectives as you can find in pink. Discuss if these are being used as conjunctions, or to join ideas and create flow.
HAVE YOUR SAY: Would you like to fly an aeroplane? Why or why not? Send a message of support to Solomon.
No one-word answers. Use full sentences to explain your thinking. No comments will be published until approved by editors.