A 10-year-old boy raised $1 million for drought relief in five weeks
A 10-year-old boy's response to learning about Australia's drought was to find a way to help. In five weeks, he has raised more than one million dollars. What are your ideas for helping people?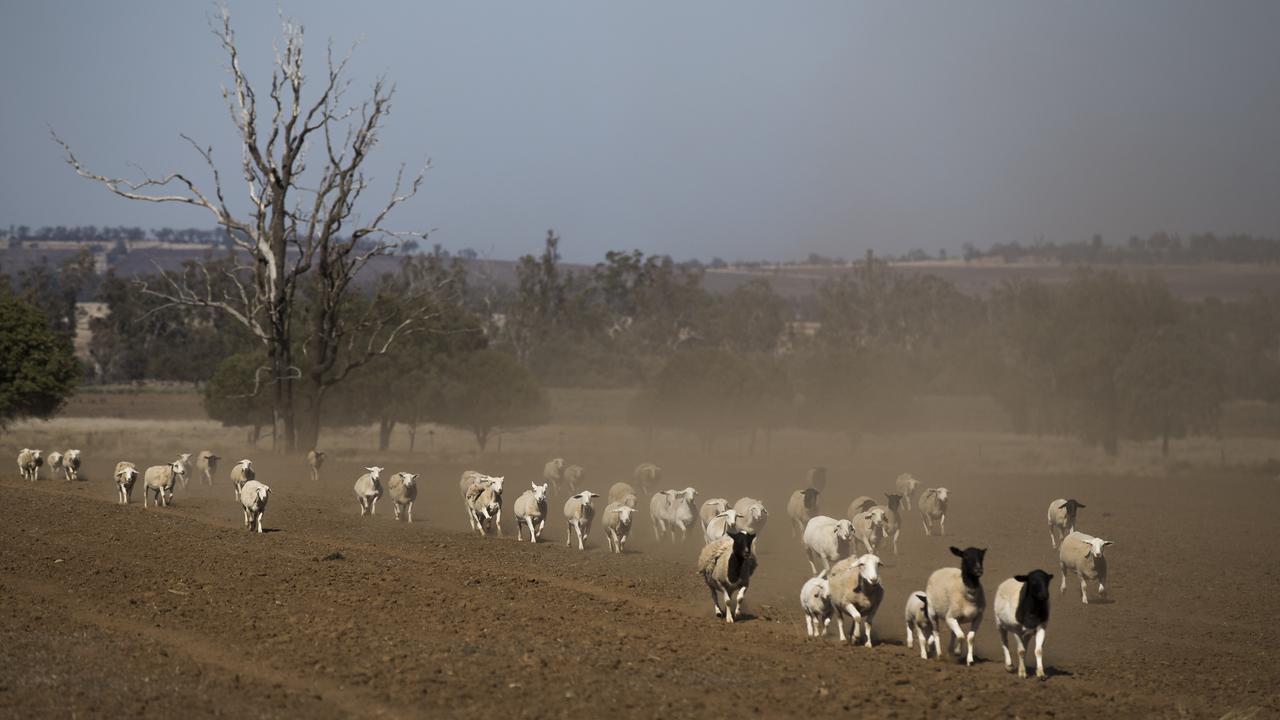 The drought-affected property of Bill and Lyn Guest near Narrabri, New South Wales. Picture: Dylan Robinson
A fundraising* campaign* started by a 10-year-old boy who thought more should be done to help drought-affected farmers has raised more than $1 million in less than five weeks.
Jack Berne, a Year 4 student from Sydney's northern beaches, launched the Fiver for a Farmer campaign early last month with an initial* fundraising goal of $20,000, which it reached in 48 hours.
Jack said it was the dry land, animals and sad children he'd seen in a video at school that had made him want to do something.
"I just really felt like they needed our help," he said.
"I saw kids skipping out* on school that were my age and I went home to Mum and said that we need to do more.''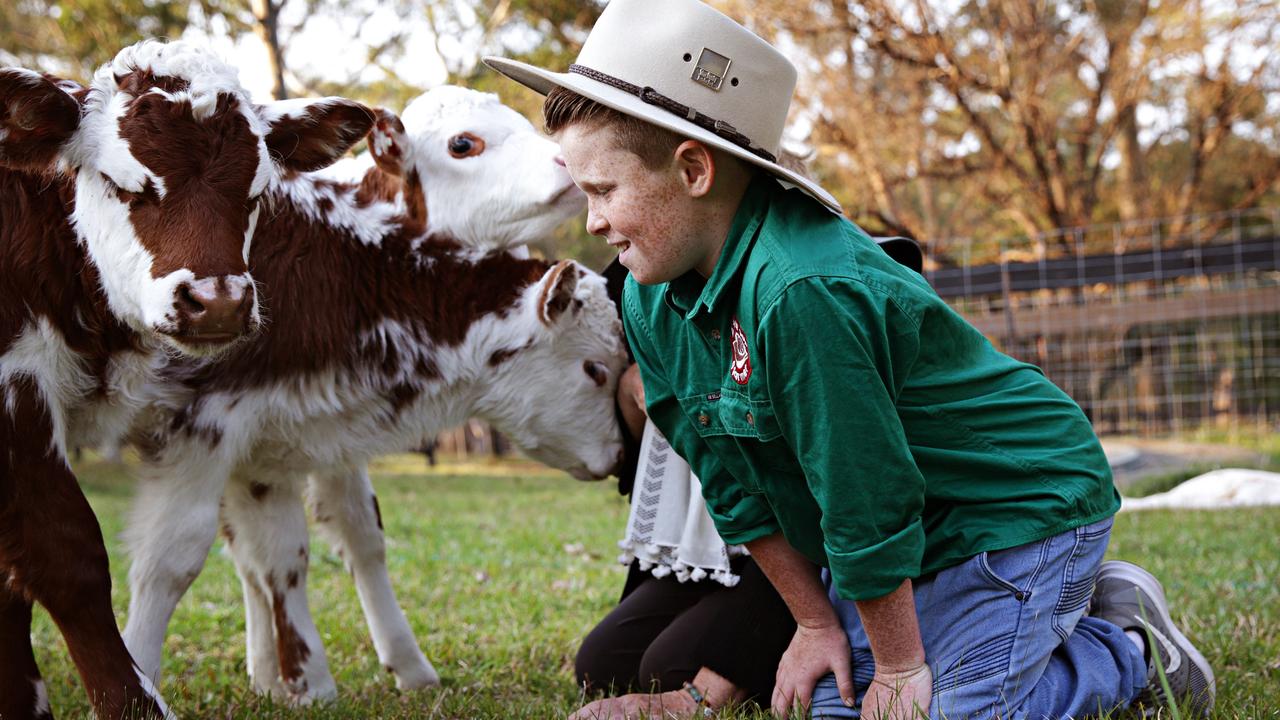 Jack Berne with calves at Wendy Smallwood's property in Terry Hills, NSW. Picture: Adam Yip
The money raised will help fund* two charities: Rural Aid and Drought Angels.
Jack's mother, Prue Berne, said all the funds would make it to the charities because "there have been no admin* costs, it's all been run by a bunch of mums".
Drought Angels spokes­woman Natasha Johnston said the charity would receive the first transfer of funds next week.
Ms Johnston said up to $1500 would be immediately available to families, and could also be used to pay bills such as electricity or rates*. More assistance may be possible.
Ms Berne said her son had "captured the heart of the ­nation".
"It's touched people on all different levels because it's made them realise that, actually, everyone can afford $5, so let's make a difference," she said.
There was some rain in Australia's southeast in the past week but dry and warm weather is predicted to continue in drought-affected areas.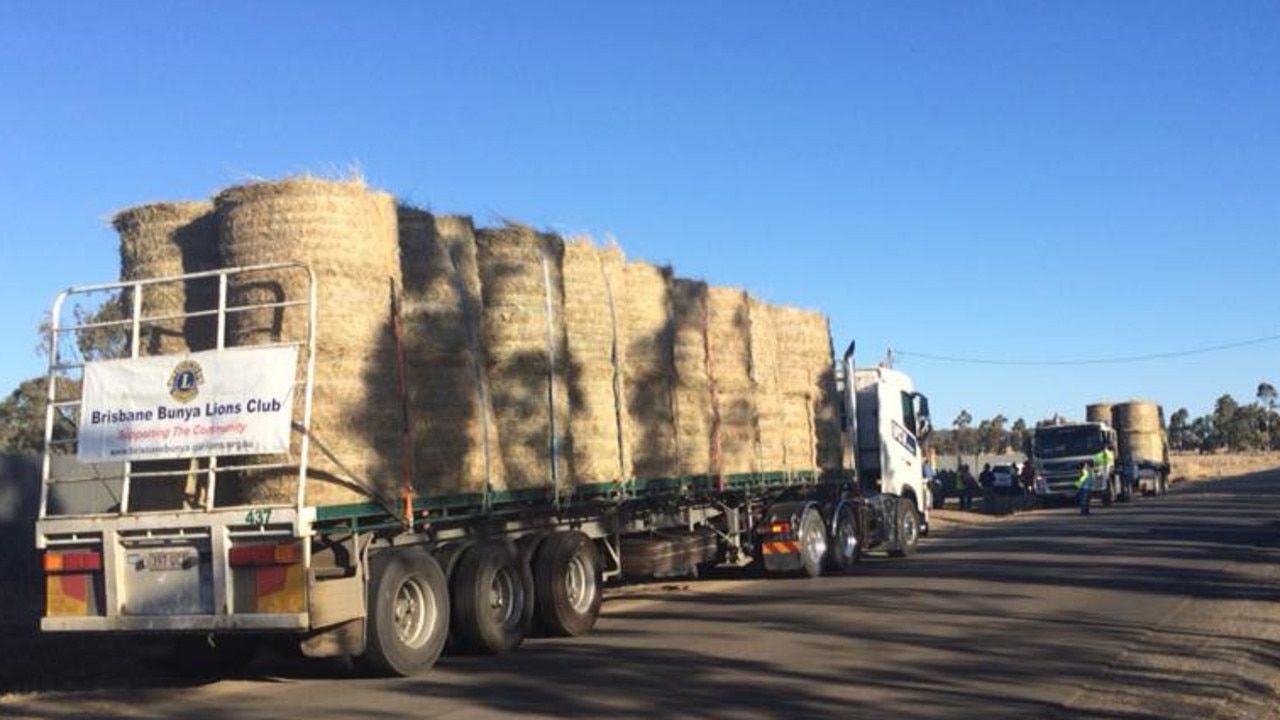 Sheep and cattle have run out of grass to eat in drought areas and farmers are spending a lot of money buying hay or relying on donations, such as this truckload of hay from Brisbane Bunya Lions Club. Picture: supplied
EXTRA READING
Camels for Australian drought trial
Australians come to farmers' rescue
GLOSSARY
fundraising: collecting or making money to give to others
campaign: plan
initial: first
skipping out: not going
fund: pay for
admin: short for administration, or the costs of running a charity, such as postage, computers, paper and pens and paying staff
rates: council charges for owning a house or farm
LISTEN TO TODAY'S STORY
QUICK QUIZ
What is Jack's campaign called? Why?
How much did he initially hope to raise?
Which two charities will the money go to?
Who is helping Jack? Are they being paid for their help?
What has the campaign helped people realise?
CLASSROOM ACTIVITIES
1. Young Australian of the Year
Did you know that there is a Young Australian of the Year award? Write a report that explains why Jack should be nominated for this award.
Time: Allow 30 minutes
Curriculum Links: English, Civics and Citizenship
2. Extension: What is something you can do to help make a difference to people in your community who needs help? Brainstorm some ideas and choose one. Create a plan to make it happen. Design posters that will encourage other kids to get involved.
Time: Allow 30 minutes
Curriculum Links: Civics and Citizenship
VCOP ACTIVITY
After reading the article, with a partner, highlight as many pieces of punctuation as you can find in green. Discuss how these are being used, where and how often. What level of the punctuation pyramid is the journalist using in this article?