The world's oldest known message in a bottle has been found half-buried at a West Australian beach almost 132 years after it was tossed overboard* into the Indian Ocean.
The previous world record for the oldest message in a bottle was 108 years, four months and 18 days between it being thrown and its discovery.
The bottle was found near Wedge Island, 180km north of Perth, and had been flung from the German sailing barque Paula in 1886 as part of a 69-year official experiment to better understand the world's ocean currents and to find faster and better shipping routes*.
Perth woman Tonya Illman found the bottle while picking up rubbish. The note inside was rolled up and damp and tied with string.
She took it home and put it in the oven to dry it out. Once dry she could read the German writing and could see that the year marked was something in the 1800s.
From 1864 until 1933, thousands of bottles were thrown into the sea from German ships, each containing a form on which the captain wrote the date it was thrown in the water, the co-ordinates*, the name of the ship, its home port and travel route.
On the back, the finder was asked to write when and where the bottle had been found and return it to Germany.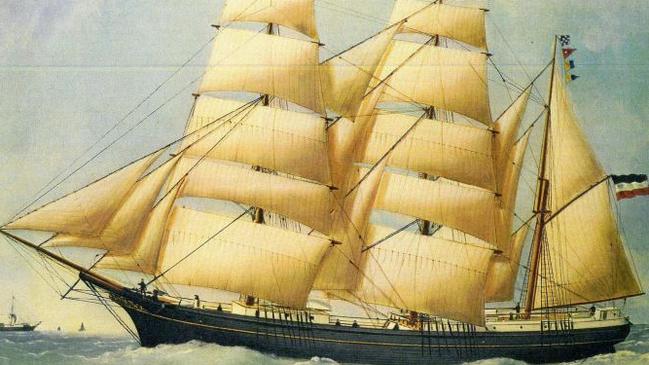 Only 662 message slips were returned and none of the bottles.
The Wedge Island find takes that total to 663 and is the only known example of the type of bottle used. Before this, the last bottle and note to be found was in 1934 in Denmark.
The latest find has been called authentic* by the German Naval Observatory and the Western Australian Museum.
Mrs Illman has loaned it to the museum to display for the next two years.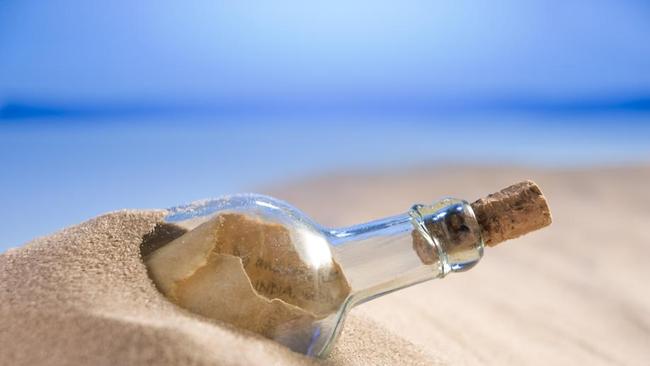 GLOSSARY
overboard: moving from a ship to water
routes: a way or course to get from a starting point to an end point
co-ordinates: a group of numbers used to indicate your position
authentic: real, not a copy
LISTEN TO TODAY'S STORY

CLASSROOM ACTIVITIES
1. Today's message
What would you put into a message if you knew it would be found 132 years from now? What are the most important things that you think somebody from the future would like to know about the present? Write a message of your own, letting whoever will find it know what the world is like now in 2018.
Extension: Today's technology could also enable you to put more than just words into a bottle. You could easily include pictures, video or sound saved onto a USB stick. Brainstorm a list of these that you think would be most interesting to somebody 132 years into the future and then from your list choose one favourite and explain why it is the one you would choose.
Time: Allow 20 minutes
Curriculum links: English, History
2. Make a replica
Create your own version of the message that Tonya Illman found inside a bottle. Your form should include all of the same details as the original and you will need to use some creativity to make it look as though it has been at sea for the past 132 years.
Extension: When sending a message in a bottle, you can't be sure who will find it, or what language that person might use. So to ensure that it can be understood it could be useful to include multiple languages. Write a very short greeting (one sentence) and then use 'Google Translator' (google 'Google Translator' to find it) to see, write, hear and say your greeting in five other languages of your choice.
Time: Allow 30 minutes
Curriculum links: English, History, Visual Art, Languages
VCOP ACTIVITIES
After reading the article, with a partner, highlight as many pieces of punctuation as you can find in green. Discuss how these are being used, where and how often. What level of the punctuation pyramid is the journalist using in this article?
IN ONE SENTENCE, TELL US WHAT YOU LIKE ABOUT TODAY'S STORY
Please do not use one-word answers. Explain what you enjoyed or found interesting about today's article. Use lots of adjectives.