Who was J Robert Oppenheimer, the father of the atomic bomb?
One of the biggest movie releases of 2023 is Oppenheimer, the true story of a US scientist who created the atomic bomb. Discover more about the man and his devastating invention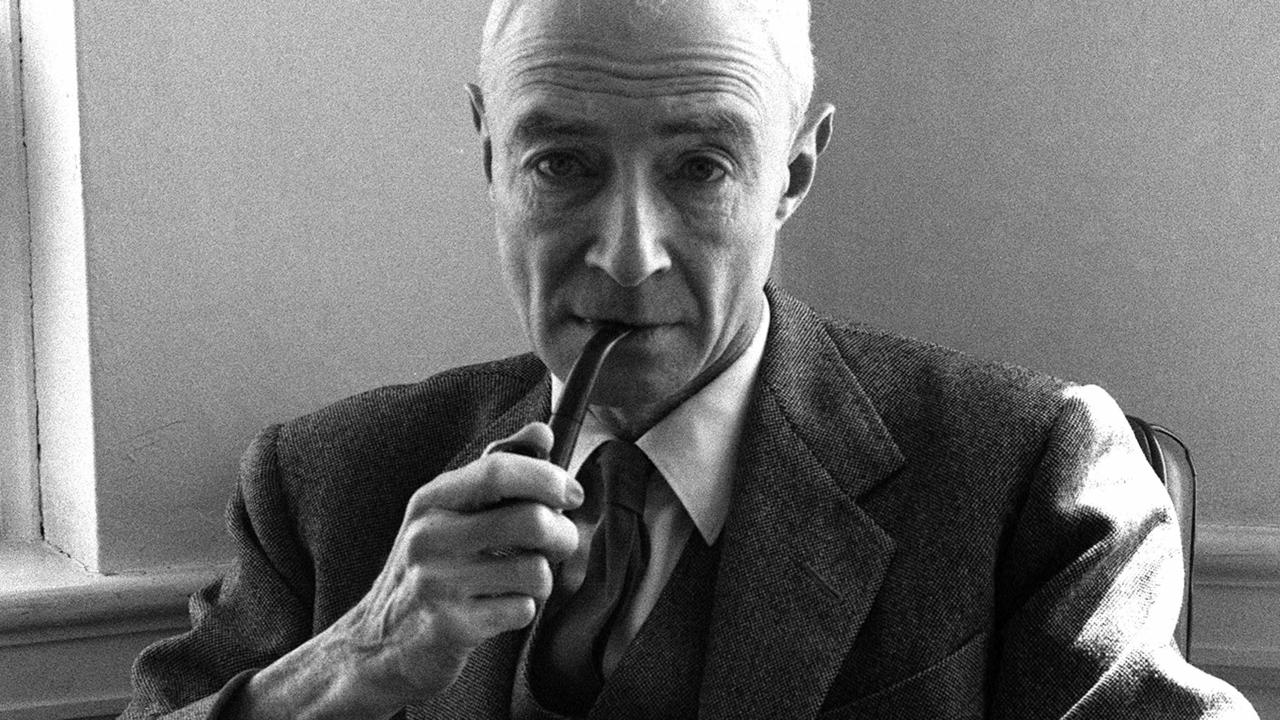 Dr J Robert Oppenheimer puffs on a pipe during an interview at the Institute for Advanced Study in Princeton, New Jersey in 1963.
One of the biggest movie releases of 2023 is Oppenheimer, the true story of an American scientist who built the world's first atomic* bomb.
Here we learn more about the man who helped end World War II with his devastating* invention.
WHO WAS OPPENHEIMER?
Julius Robert Oppenheimer was born in New York in 1904 to his textile importer father Julius S. Oppenheimer and mother Ella, who was a painter.
As a boy, he was interested in schoolwork more than playing with his classmates and particularly enjoyed science.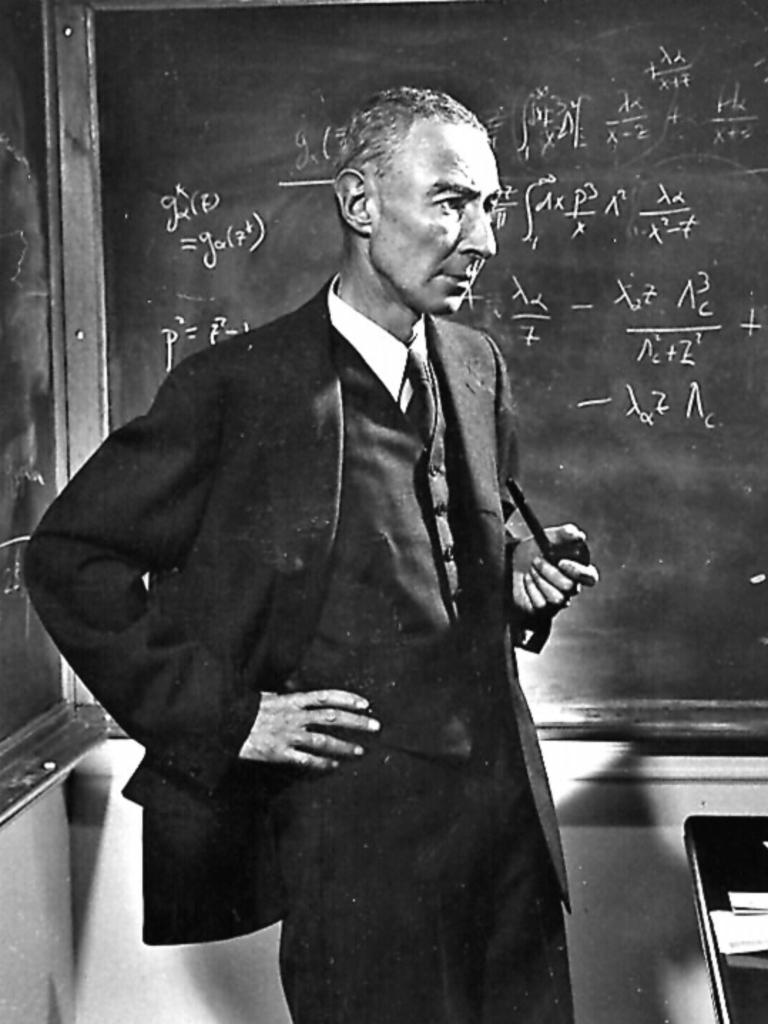 Dr Robert Oppenheimer, the US scientist who built the first atomic bomb. Picture: Keystone
He went on to study chemistry and physics at America's famous Harvard University. A memoir written by Hans Bethe quotes the physicist* as saying: "I had a real chance to learn. I loved it. I almost came alive. I took more courses than I was supposed to, lived in the library stacks, just raided the place intellectually."
He graduated* in 1925. He then travelled by boat to England and worked as a research assistant at the University of Cambridge before moving to Germany to attend the University of Göttingen. There he studied with important physicists and received a doctorate (a postgraduate university degree that earns scholars the title Doctor of Philosophy) in 1927. Dr Oppenheimer later returned to the US as a professor of physics to teach university students.
WHY IS HE FAMOUS?
In the early 1930s, the Nazi Party* came to power in Germany under the leadership of Adolf Hitler*.
Many scientists – including famous physicist Albert Einstein, who changed our ideas about space and time – were forced to flee to avoid being captured or killed by the Nazis.
Hitler started World War II in 1939 and Einstein and other scientists warned the US government that Germany was attempting to make a nuclear, or atomic, bomb.
Nuclear scientists Albert Einstein and Robert Oppenheimer who became friends and colleagues after the war.
In 1942, Dr Oppenheimer was chosen by US President Franklin D. Roosevelt to head up the secretive Manhattan Project — a research program to develop their own atomic bomb.
Dr Oppenheimer was made the director of a laboratory in Los Alamos, New Mexico where the world's first atomic bomb was built in 1945.
On July 16 of that year, Dr Oppenheimer's team tested their deadly invention.
The bomb exploded over the New Mexico desert, destroying the tower that was holding it and turning the asphalt around its base to green sand. Seconds after the explosion came a huge blast wave and heat searing out across the desert. No one could see the radiation generated by the explosion, but they all knew the waves of energy were there.
Dr Oppenheimer's first thought was from a Hindu scripture*: "Now I am become Death, the destroyer of worlds."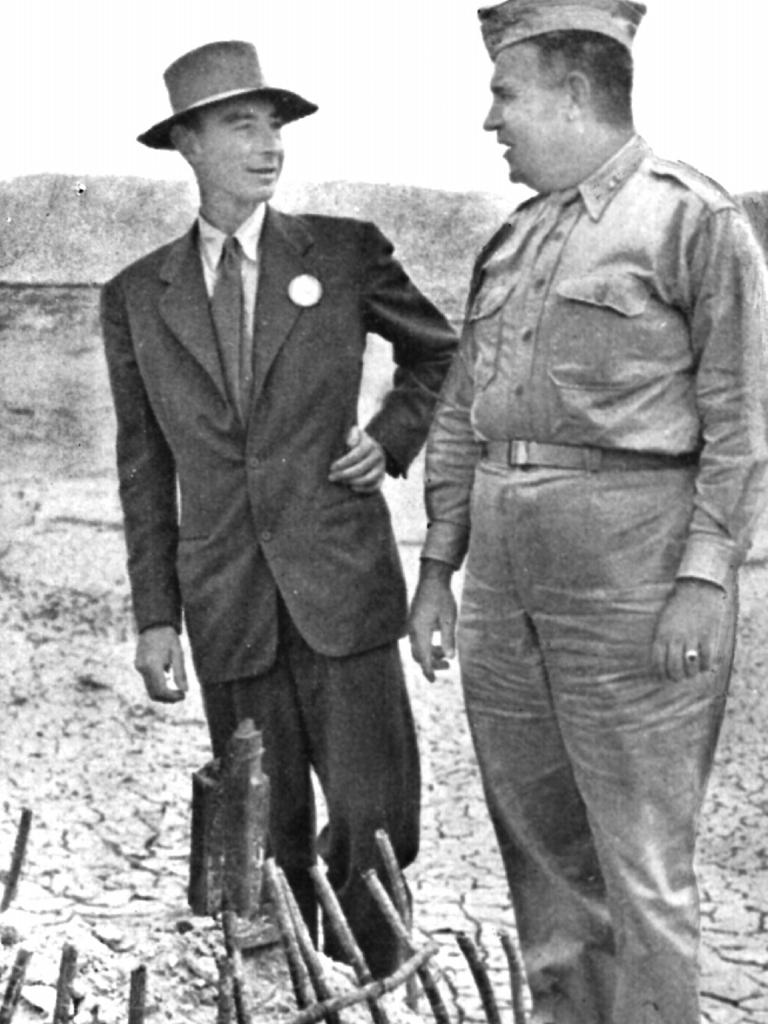 Dr Oppenheimer and Major General Groves at New Mexico atomic test site.
ENDING WORLD WAR II
Between August 6 and 9 in 1945 — just weeks after the Trinity test — atomic bombs were dropped on the Japanese towns of Hiroshima and Nagasaki.
The result was catastrophic*.
The attack killed more than 200,000 people and led to the end of World War II.
To this day, the Japan attacks are the only time nuclear* weapons have been used in armed conflict.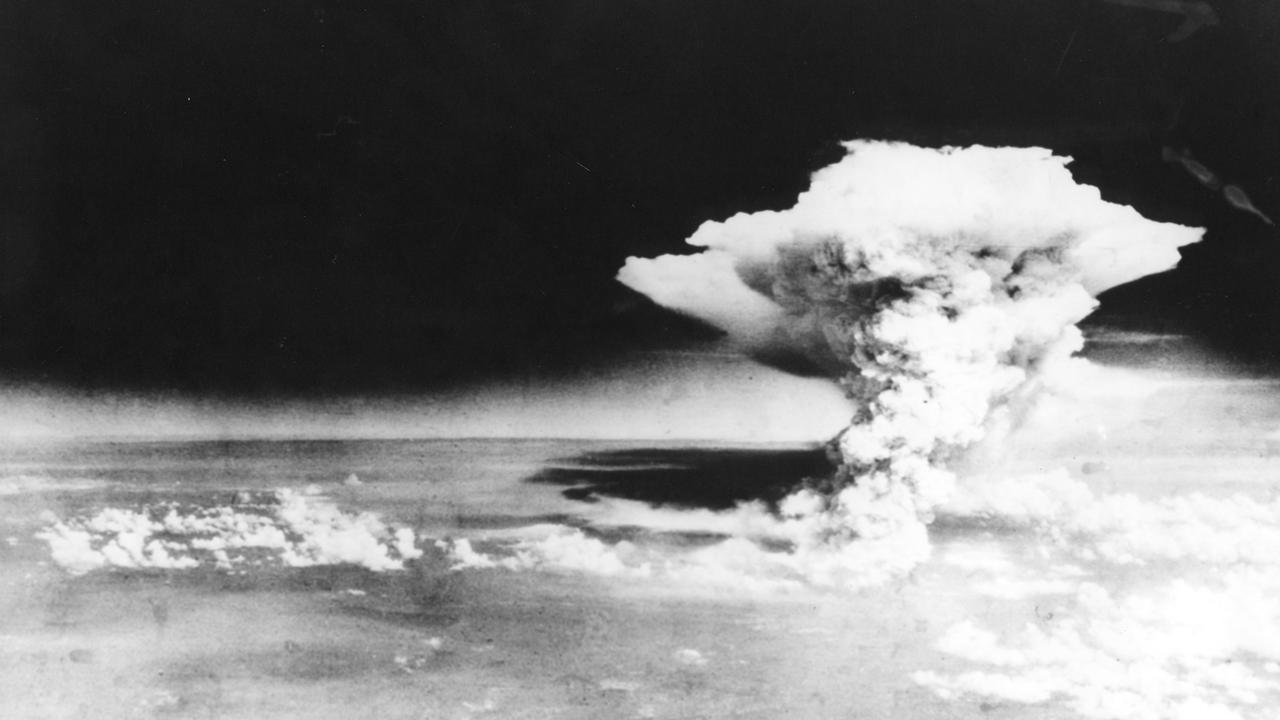 This picture taken on August 6, 1945 by the US Army and released via the Hiroshima Peace Memorial Museum shows a mushroom cloud of the atomic bomb dropped on the city of Hiroshima in Japan. Picture: AFP
Dr Oppenheimer is often called the "father of the atomic bomb" and was treated like a celebrity after the Japan attacks. But he wrestled for years about whether he was a hero or a villain for inventing the bomb.
From 1947 to 1953, Dr Oppenheimer was the chairman of the advisory committee of America's Atomic Energy Commission, which opposed the development of the much more powerful hydrogen bomb.
He died from throat cancer in 1967 at the age of 62.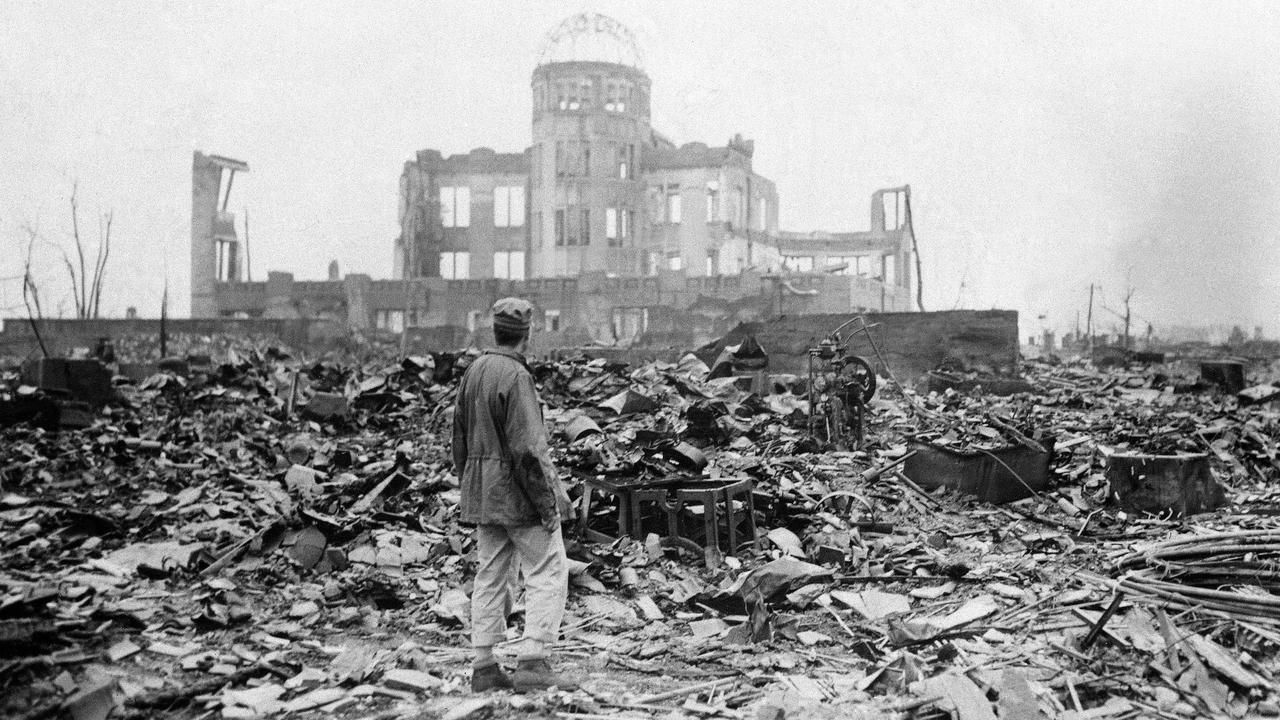 This photo from September 8, 1945, shows the rubble that was once an exhibition centre and government office in Hiroshima, Japan, a month after the first atomic explosion. Picture: AP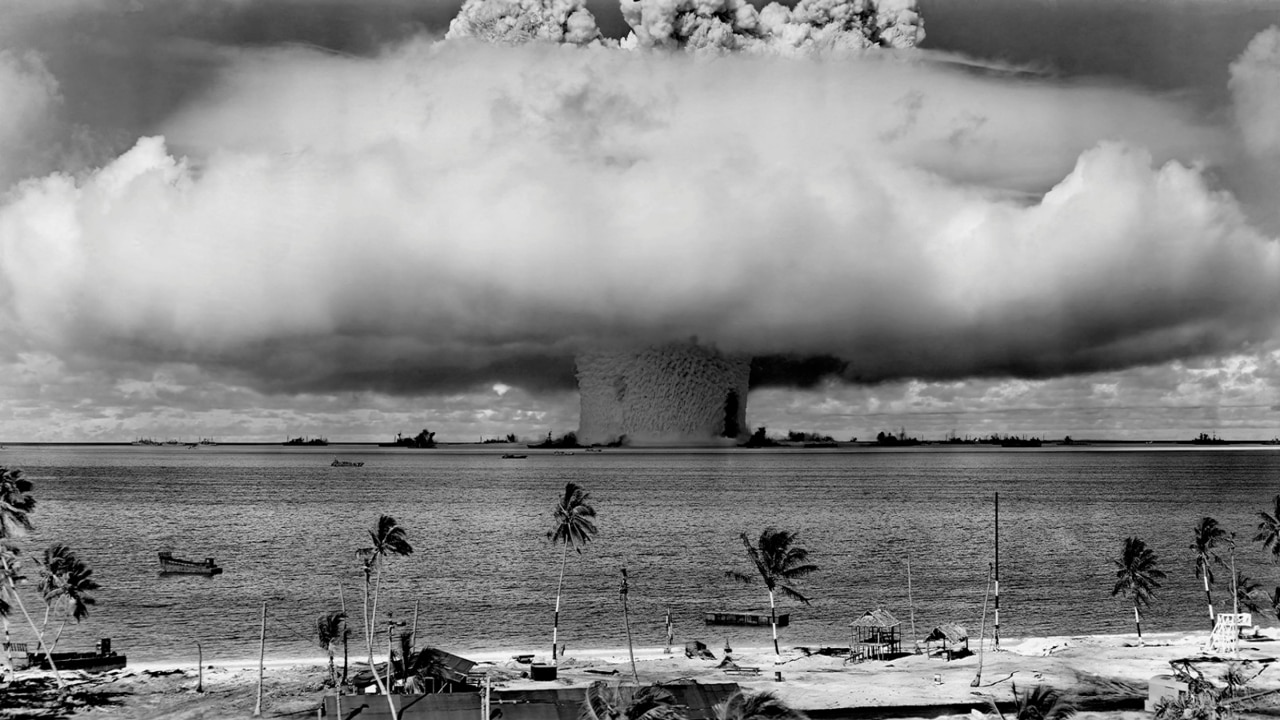 POLL
GLOSSARY
atomic: relating to an atom or atoms
devastating: highly destructive or damaging
graduated: finished a period of education
physicist: an expert in the science of physics which is concerned with the nature and properties of matter and energy
Nazi Party: a political party active between 1920 and 1945 with the official name the National Socialist German Workers' Party
Adolf Hitler: the leader of the Nazi Party from 1921 and responsible for starting World War II and the killing of millions of Jewish people
Hindu scripture: ancient religious texts
catastrophic: causing sudden great damage or suffering
nuclear: relating to the nucleus of an atom
EXTRA READING
Ban on Nazi swastika symbol
Marking 80 years since Darwin bombing
Investigators shine new light on Anne Frank mystery
QUICK QUIZ
1. Where did Oppenheimer receive his doctorate in physics?
2. Which famous scientist warned the US about Germany trying to build atomic weapons?
3. What was the name of the US project set up to create an atomic bomb?
4. Where was the atomic bomb test held?
5. Which element was in the bomb that Dr Oppenheimer later opposed?
LISTEN TO THIS STORY
CLASSROOM ACTIVITIES
1. Hero or villain
Dr Oppenheimer was celebrated as a celebrity after the atomic bombs used on Japan in 1945. But he wrestled with whether he should be referred to as a hero or villain. He also described himself, saying: "Now I am become Death, the destroyer of worlds."
Would you describe him as a hero or villain?
Write HERO on one side of your page and VILLAIN on the other and write points below each heading that support which title he should be given.
Time: allow 25 minutes to complete this activity
Curriculum Links: English, Science, Ethical, Personal and Social, Critical and Creative Thinking
2. Extension
What other jobs or research positions exist today that might also have a level of ethical doubt? Try to think of three and list them below:
1.

2.
3.
Could you work for a company that was producing or researching doing something that you thought was wrong or against your beliefs? Explain your answer.
Time: allow 15 minutes to complete this activity
Curriculum Links: English, Ethical, Personal and Social, Critical and Creative Thinking
VCOP ACTIVITIES
1. Oppenheimer's dilemma
Read the article about Julius Robert Oppenheimer, the scientist who built the world's first atomic bomb. Imagine you are a historian investigating Oppenheimer's life and work. With a partner, your task is to present your findings in a discussion format.
Divide the discussion into three parts:
Early Life and Career: Talk about Dr Oppenheimer's upbringing, education, and early interest in science. Discuss his contributions as a professor of physics and his experiences in England and Germany.
The Manhattan Project: Describe why Dr Oppenheimer was chosen to lead the Manhattan Project and the significance of this secretive research program. Explain the events leading up to the successful testing of the atomic bomb in New Mexico in 1945.
The Moral Dilemma: Discuss the ethical questions that arose after the atomic bomb was used in Japan, leading to the end of World War II. Explore Dr Oppenheimer's conflicting feelings about his role and the impact of his work on the world.
Take turns discussing each part of the topic. Share your thoughts, ask questions, and try to see the situation from different perspectives, considering the historical context and the consequences of Dr Oppenheimer's work.
Reflect on the following questions:
- Do you think Dr Oppenheimer should be called the "father of the atomic bomb"? Why or why not?
- What would you have done if you were in Dr Oppenheimer's position during the Manhattan Project?
- How do you think Dr Oppenheimer's actions affected the world, both positively and negatively?
Remember to think critically and consider different viewpoints while discussing Dr Oppenheimer's life and work. The goal of this task is to explore historical events and ethical dilemmas and to develop your own understanding of complex historical figures.