Two robots and more than 100 people have been working for years on repainting the 95-year-old Sydney Harbour Bridge. Every year they strip back tens of thousands of square metres of lead-based paint and repaint four layers of fresh paint.
Mirko Cerovac is one of the painters. He has been on the job for 25 years. His sons, Goran, 44, and Joseph, 38, also work on the bridge, as a carpenter and supervisor.
"The whole southern approach* has been done," Joseph said. "We're on the northern approach."
The northern approach alone, rarely seen by most travellers across the bridge, is due to take three years.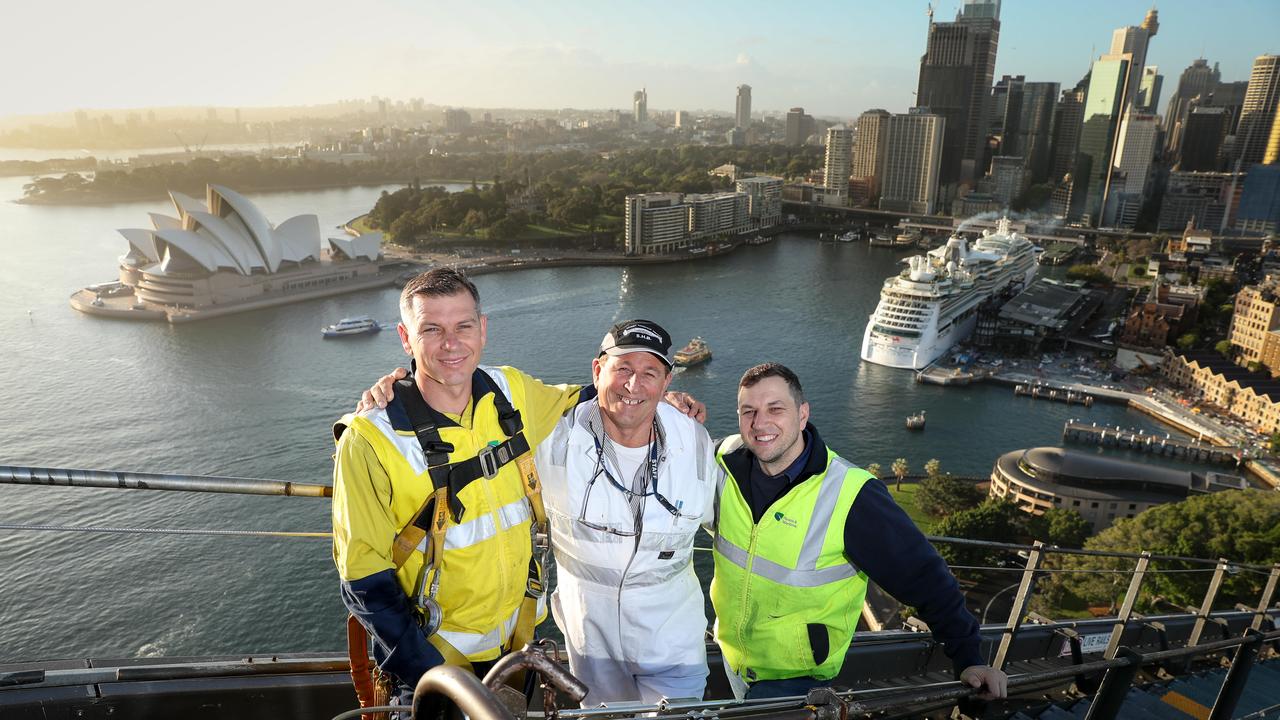 To replace the old-fashioned lead paint, which is now known to be toxic*, carpenters build a containment* cabin to enclose an area about the size of a shipping container around one small part of the bridge. The cabin is then sealed up by plastic, after which workers enter in fully enclosed suits to sandblast* the lead paint away a few 20c piece-sized circles at a time.
"It's normally about four weeks," Joseph said. "Carpentry is two days. Containment plastic is another two days, then it's three weeks sandblasting and painting." When that shipping-container-sized part of the bridge is completed, they begin the process again on the next part of the bridge.
Painting is mostly sprayed on, though around the rivets* they still use a brush.
There's a zinc-green undercoat, a red undercoat, a black undercoat, then, finally, Sydney Harbour Bridge Grey. It is a specially made colour, not available for anyone to buy or use.
There are several teams building, blasting and painting at any one time. "Our target is 16,000 square metres each year; within the next five years, we're hoping to reach 20,000," Joseph said. "We're gradually going up." Still, the team has barely begun on the main arch.
An advertisement in a newspaper got Mirko his job. "It didn't say Harbour Bridge, that's what drew us," Goran said. "It just said bridge painter."
"I used to do heights," said Mirko, who left Slovenia aged 18 to emigrate* to Australia.
"I was factory-painting motorbikes and cars in Slovenia."
He remembers driving over the bridge in a taxi when he first arrived in Australia.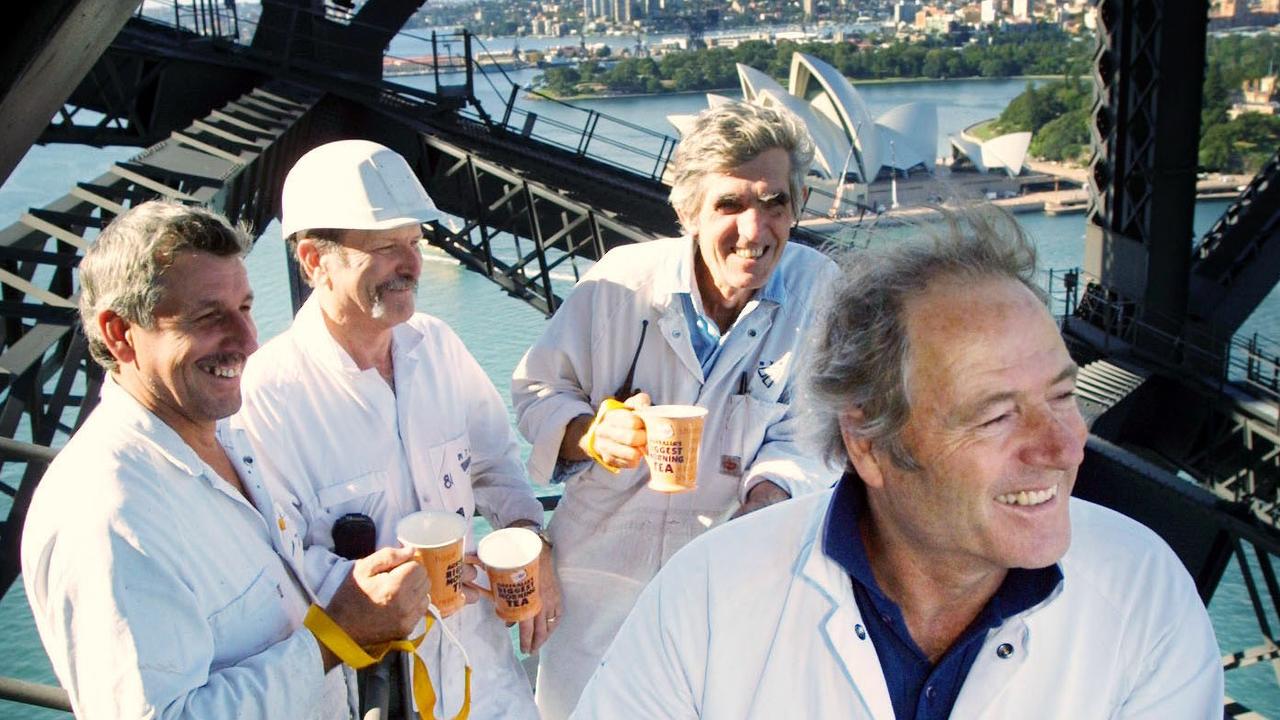 The Cerovacs are not the only family working on the Bridge. Jye Mansfield was one of 70 people to apply for three painting and ­boilermaker* positions. "The old man (his dad) said, 'There's a position going on the bridge. If you're keen and smart, (and) lucky enough, you might get one'," the 22-year-old said.
Jye's father, Stephen, had been in smash repairs when he decided to move to peach farming. "I didn't even eat peaches," he said.
A friend got him an interview at the bridge and he was in. "A big change," he said. "It was good."
Peter Mann, the Bridge's strategic infrastructure* manager, said those who work on the bridge "take enormous pride" in working on a piece of Australian history.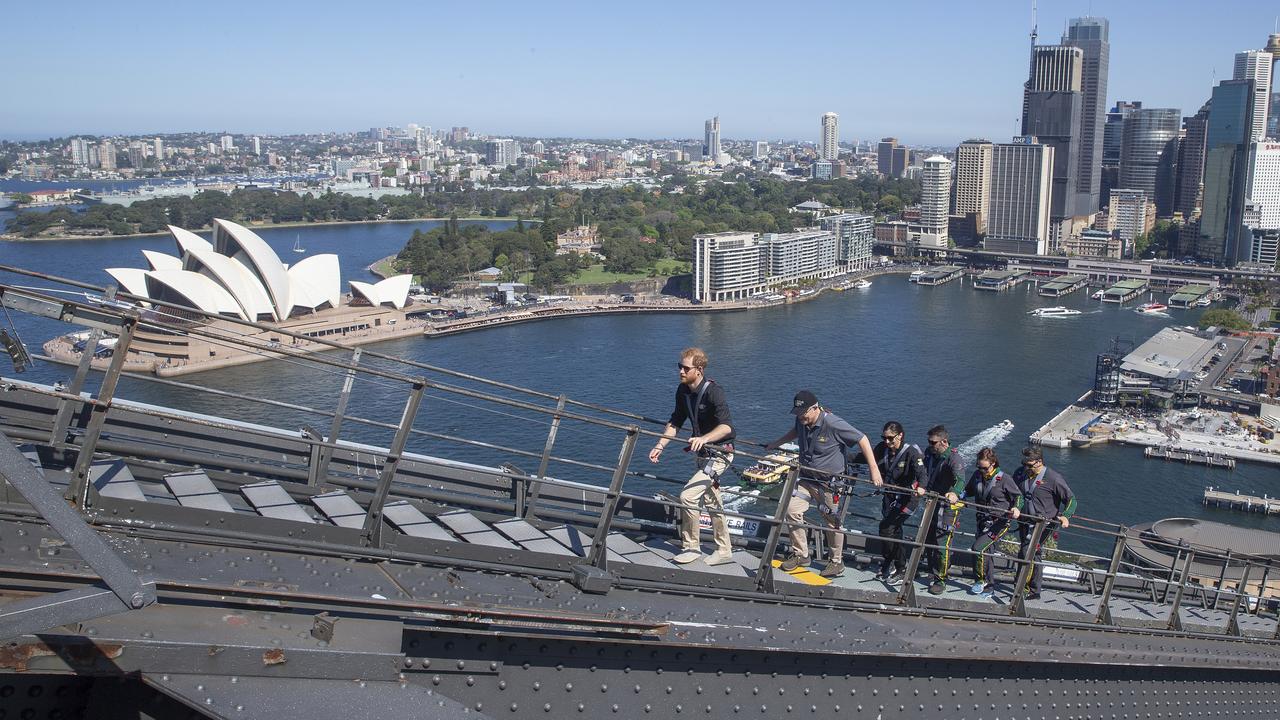 "We never want to replace the Sydney Harbour Bridge, and so we're always working on strategies to ensure we take care of the Bridge for hundreds of years into the future," he said.
Mr Mann said that even though the Bridge is 95 years old, it is still leading the world with the hi-tech equipment used to maintain it.
The NSW government's roads organisation, called Roads and Maritime Services, or RMS, has two sandblasting ­robots that are used during ­painting and one climbing inspection robot, which inspects more than 7km of tunnels inside the arches."
The RMS also uses "cold metal spray" that adds more metal to areas thinned by rust and time.
Melinda Pavey, NSW Minister for Roads, Maritime and Freight, said vehicles crossing the Bridge had increased more than 14-fold* since its opening in 1932 "so it's essential the Bridge is maintained for the ­people it serves.
"Regular repainting is an ­essential and ongoing part of the Bridge's maintenance."
On October 17, Ms Pavey and 98-year-old Sydney woman Daphne Dunne opened two glass elevators so that people of all abilities can cross the Bridge's footpath. Before the elevators, those who wanted to walk across had to climb 60 steps
MORE TO KNOW
The Sydney Harbour Bridge connects the central city and north shore suburbs.
Before the Bridge was built the only way across the harbour were by boat or a 20km drive that included five other bridges.
Its nickname is "the coathanger".
The foundations for the four stone pillars are 12m deep each and are anchored by 36m-long tunnels dug into rock.
The arch spans 503m.
There are 6 million rivets in the Bridge, each of which was hammered into place by hand.
Work began in December 1926 and the then NSW Premier Jack Lang opened the completed Bridge on March 19, 1932.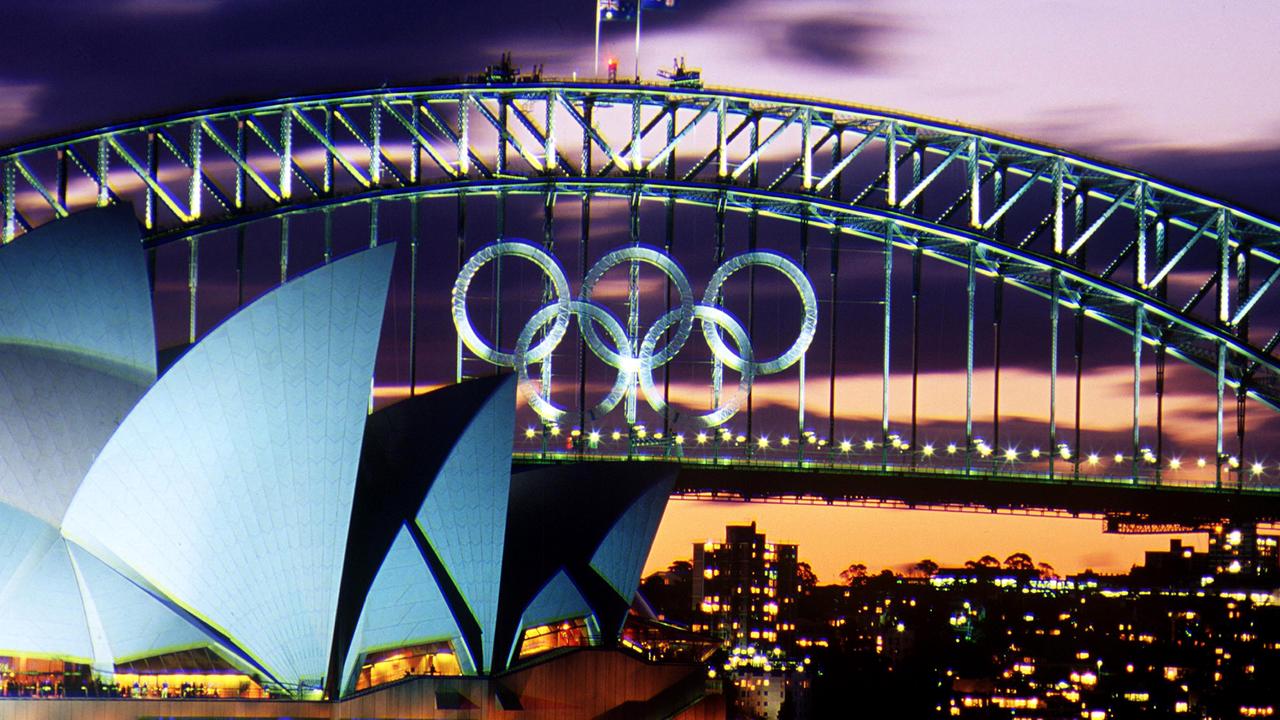 EXTRA READING
World-famous Sydney Opera House turns 45
World's longest sea bridge opens
Pioneering women honoured for breaking new ground
Digging up the historical past beneath our cities
GLOSSARY
approach: road that leads to the Bridge
toxic: poisonous
containment: hold something in
sandblast: sand is sprayed under pressure to strip off paint
rivets: like a nail, that holds two pieces of metal together
emigrate: leave your home country to live in another
boilermaker: expert welder and metalworker
infrastructure: roads, bridges, sewers, water pipes and other public equipment
14-fold: 14 times the amount or number
LISTEN TO TODAY'S STORY
QUICK QUIZ
1. How long has Mirko worked on the Bridge for?
2. Why do they take the lead paint off?
3. What colour is the final coat of paint?
4. What is "cold metal spray" and why is it used?
5. How long is the arch?
CLASSROOM ACTIVITIES
Write a job ad
Use what you have learnt from reading this news article about painting the Sydney Harbour Bridge to help you write a job advertisement looking for a new employee to join the team. The job advertisement should specify the types of skills, qualities, attitude and experience candidates would need to be successful in the role.
Extension: Make a list of other jobs that either work directly on maintaining or managing the Sydney Harbour Bridge, and of people who might use the bridge in the course of their work.
Time: Allow 20 minutes
Curriculum links: English
VCOP ACTIVITY
With a partner see if you can you identify all the doing words/verbs in this text. Highlight them in yellow and then make a list of them all down your page. Now see if you and your partner can come up with a synonym for the chosen verb. Make sure it still makes sense in the context it was taken from.
Try to replace some of the original verbs with your synonyms and discuss if any are better and why.
HAVE YOUR SAY: Have you ever seen, been across or climbed the Sydney Harbour Bridge? What about other big buildings, structures or mountains? Share your experience. What was it like? How did you feel? Use full sentences. No one-word answers.