Graffiti scrawled* by Australian soldiers on underground cave walls in France more than 100 years ago has been preserved* as a time capsule* of life in the First World War.
Two thirds of the 3000 etchings on the chalky* walls are from Australians and now form an important part of our country's military history because they give fresh insight into the soldiers' experiences.
A team of French and Australian researchers are working together to identify the inscriptions*, which include the thoughts of at least 731 Anzac soldiers.
The graffiti includes names, ranks*, battalions*, home addresses, height, weight, pictures of slouch hats and other simple messages.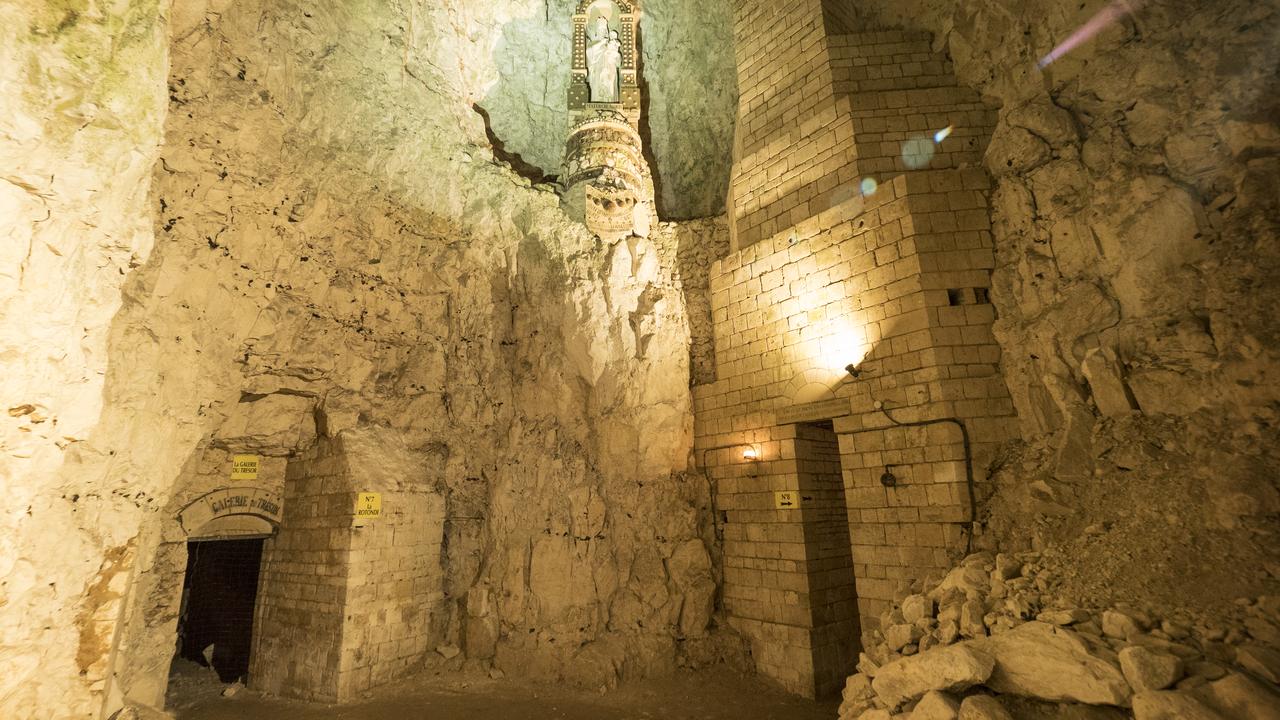 The caves — which stretch for about 3km and are 30m underground — are located near the French city of Naours and house about 300 rooms.
Centuries ago, the Naours Caves were used by local villagers to store goods and hide from invaders.
At one stage, about 3000 people lived in the underground city during the Thirty Years' War from 1618 to 1648. They built their own chapels, bakeries and other stores. Chimneys were pushed up through cottages above so invading troops would not realise there was a population living below ground.
However, during the First World War, the caves were used for recreation and leisure activities by the Australian troops in between battles.
Naours is near Vignacourt, which was a busy staging area for the Somme battlefields and where many soldiers took leave, as indicated in the diary of one Australian soldier.
Private Wilfred Allsop from Sydney wrote on January 2nd, 1917: "At 1pm, 10 of us went to the famous caves near Naours where refugees used to hide in times of invasion. These caves contain about 300 rooms, one cave being half a mile long. A whole division of troops — 20,000 — could be accommodated here, horses, artillery* …"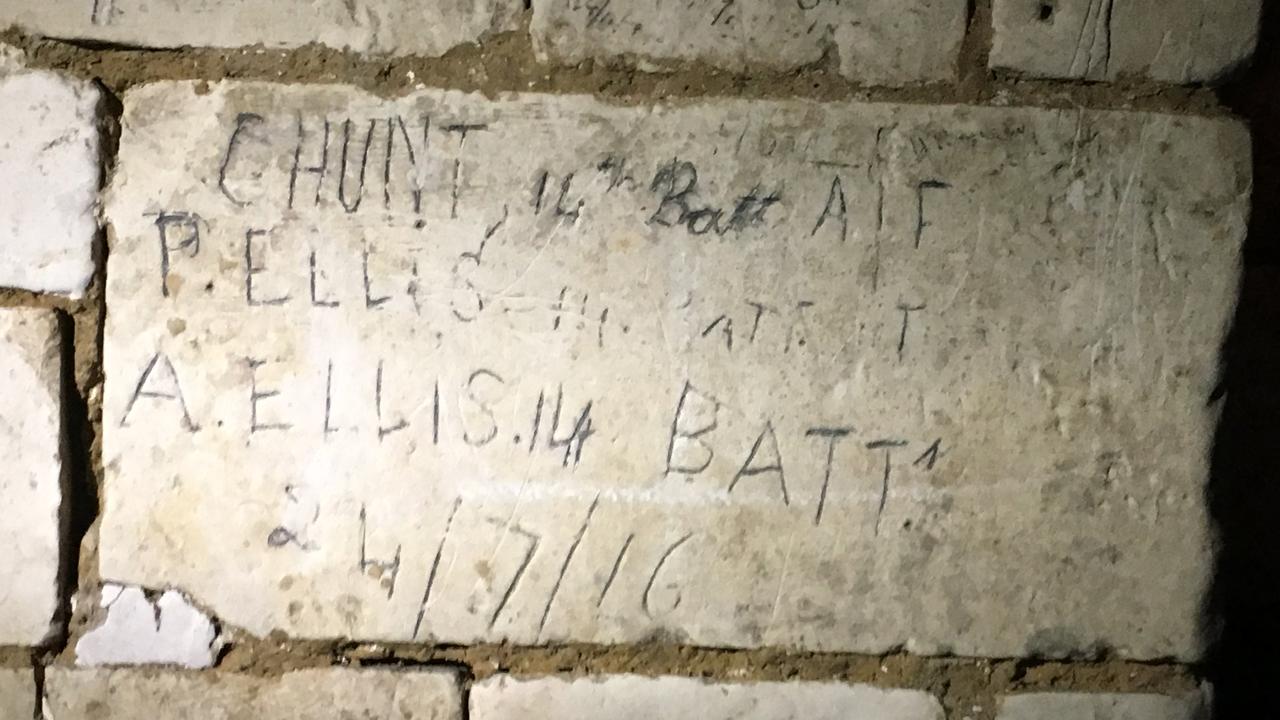 French archaeologist* Gilles Prilaux has been tasked with connecting the signatures on the walls with the names and biographies of Australian soldiers. He hopes to identify about 600 men. So far he has identified 370 soldiers with certainty and has another 140 in the process.
Mr Prilaux said uncovering the hidden stories about the soldiers' lives was an emotional journey for many of the 50 families he has already contacted.
"(There is) a lot of emotion, interest, joy, many of them have even made the journey here to stand before these signatures," Mr Prilaux said.
Gus Macpherson, 62, of Gympie in Queensland, said he gained great comfort knowing the memory of his grandfather Lt Allan Stuart Macpherson — who scratched his name and division into the walls — would be preserved in the caves.
"We have taken him out of the darkness from a drawer (where his story and papers were stored) and brought him into the light, back to life so to speak," Mr Macpherson said.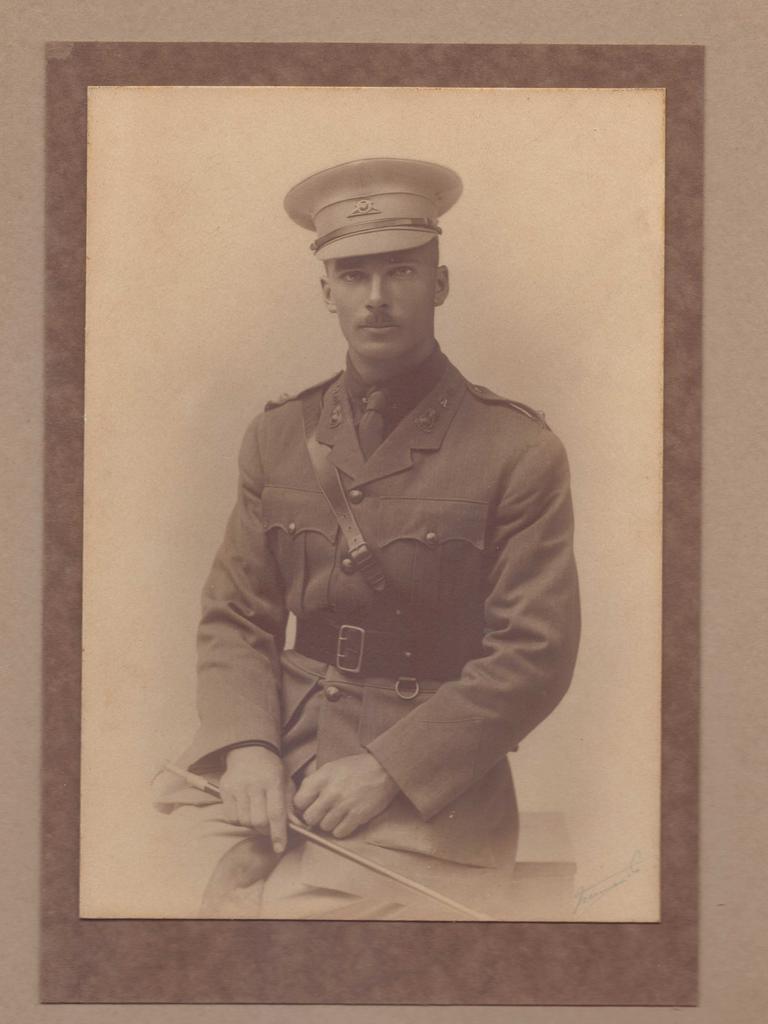 His family gave copies of his grandfather's medals for use in a planned museum. They included the Military Cross and Military Star for two acts of bravery on the battlefields one day apart in April 1917.
Mr Macpherson said his grandfather was a quiet, gentle man who rarely spoke about the war on his return.
"This is an amazing connection to my grandfather. The French never forgot all the Australian soldiers and other countries that went to help in the war," he said.
"It's important to me that they remember what my grandfather and a lot of other soldiers did in that terrible war.
VIDEO: 101 years on, the village of Villers-Bretonneux has never forgotten the Australian sacrifices in the First World War.
ANZAC 2019: Battle of Villers-Bretonneux
"I imagine it is a very sombre* and special place at the caves. They (the soldiers) were writing their names just before battle — even the next day they were heading to battle — and their writings were almost to say that I exist and I am here and thinking tomorrow I may be gone."
A museum with the theme Life Behind The Lines will open in coming months to allow visitors to see the graffiti, biographies and portraits of the soldiers.

GLOSSARY
scrawled: written
preserved: to protect something in its original state
time capsule: containing historically significant items to be discovered in the future
inscriptions: writings
ranks: a position in the armed forces
battalions: a large body of troops ready for battle
artillery: big guns used in war
archaeologist: a person who studies human history by uncovering artefacts and other physical remains
sombre: serious or sad
EXTRA READING
Fossilised Iron Dragon found in the outback
World's biggest war memorial turns 100
Just ask about amazing war stories
QUICK QUIZ
Which country houses the Naour Caves?
Approximately how many Australian signatures are there?
What did humans use the caves for centuries ago?
What rank was Gus Macpherson's grandfather?
How many rooms are within the caves?
LISTEN TO THIS STORY


CLASSROOM ACTIVITIES
1. Journal entry
You are an Australian soldier, having just arrived in the Naours Caves from the battlefield. Write a journal entry of your experience there. What have you just been through on the battlefield and how are you feeling now that you are in the caves?
Explain the scene around you, what are your mates doing, what is the general feeling of the group? Include in your journal entry what the caves have been used for in the past and why you might feel safer here. How are you feeling about returning to the battlefield?
When describing what is happening, remember to use lots of descriptive words and phrases so that the reader can picture what it was like.
Time: allow 20 minutes to complete this activity
Curriculum Links: English, Humanities and Social Sciences – History, Personal and Social Capabilities, Critical and Creative thinking

2. Extension
The caves of Naours have been used as a safe haven for many people over the past few centuries, including hiding 3000 people for 30 years from 1618-1648 and as a safe area for recreation for Australian troops during World War I.
Draw an artist's impression of what a scene in the Naours caves might have looked like during each of these times.
First World War: Australian soldiers using the caves for recreation and leisure activities. What might you see as you look around?
1618-48: 3000 people lived in the caves underground during this war. What would the scene underground have looked like then?
There are some clues in the article to help you.
Time: allow 20 minutes to complete this activity
Curriculum Links: English, Humanities and Social Sciences – History, The Arts – Visual Arts, Critical and Creative thinking

VCOP ACTIVITY
An Original Twitter Tweet in graffiti style!
Imagine you are in the war and are one of the soldiers in the caves.
This might be your only chance to write a message to your family or to let people know you were there.
You can use pictures and text, but you only get 50 characters.
Each picture is one character, each finger space is one character, as is each letter and piece of punctuation.
What do you write and why?
HAVE YOUR SAY: How do you think you would feel visiting the Naours Caves and reading the messages from soldiers just days before they went into battle?
No one-word answers. Use full sentences to explain your thinking. No comments will show until approved by editors.