Record history in your COVID-19 time capsule
Kids News has produced a 'time capsule' activity book so children can document their time in isolation and how it's made them feel so they can always remember this unique period in their life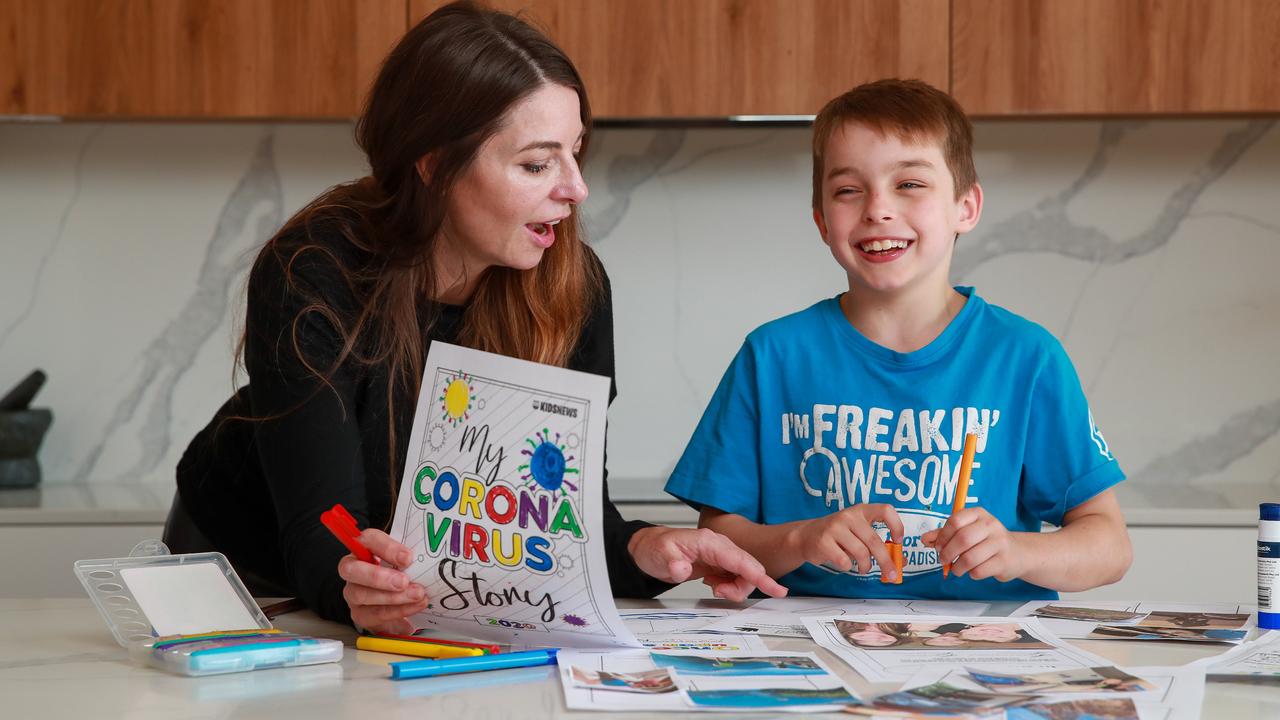 Laila Kaiser and her son Oscar, 9, taking part in the Kids News coronavirus time capsule activity this week at home in Manly, NSW. Picture: Justin Lloyd
Kids around Australia can now create their own coronavirus* time capsule*.
A free, printable 'My COVID-19 Story' activity booklet from Kids News encourages children to record their personal experiences and save special items for their future selves to see.
Mum Laila Kaiser said she believes saving something from this strange time in human history will be invaluable* to her nine-year-old son Oscar Scott once he is old enough to appreciate* what he went through.
"When we began to go through our photos for his booklet, he realised how much he's actually done and how different his life is than before isolation*," she said.
"It demonstrated to him how much has changed, and at the end of it I think he realised that this could be really cool to look back on," Ms Kaiser said.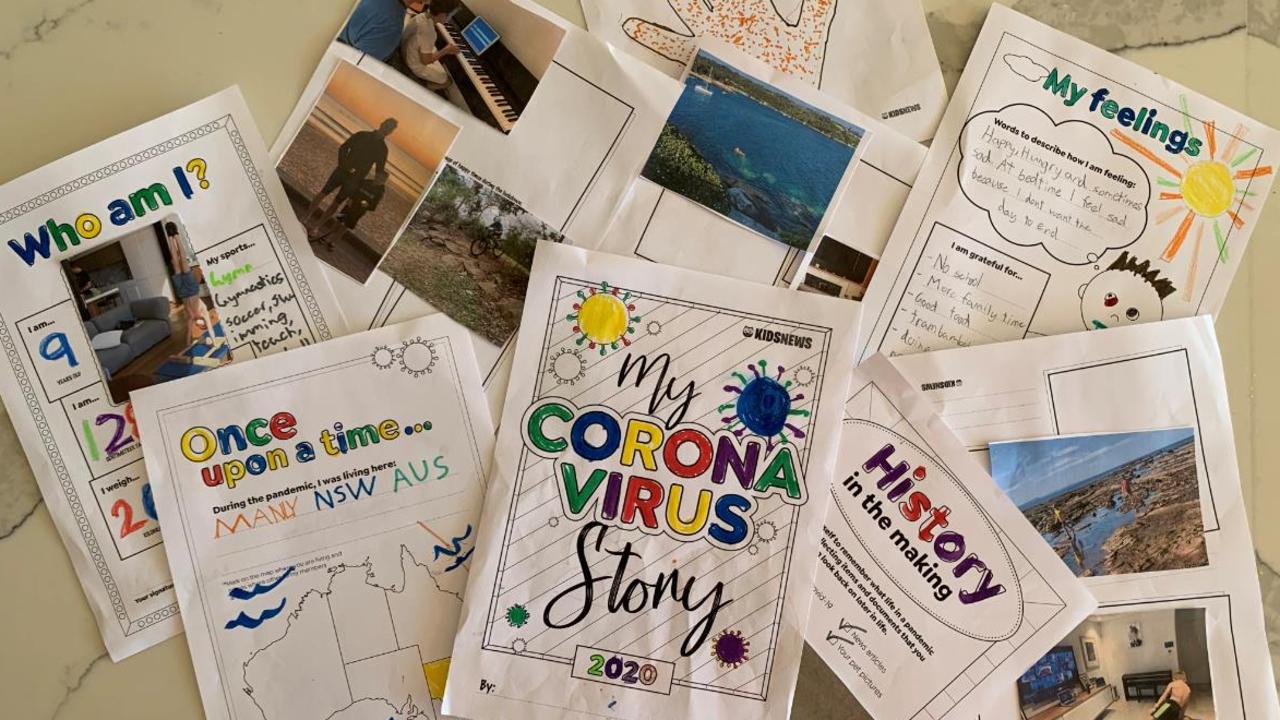 Oscar has put a lot of effort into gathering information, photos and items for his coronavirus time capsule. Picture: Justin Lloyd
The family is now building the booklet into a 3D capsule, adding souvenirs and objects from their time together, including sheet music from piano lessons Oscar started at home with his dad.
"We can add in a rock that he found, or some of the fishing line, or some of the leaves that he sees along the way," Ms Kaiser said.
"There was a lot of outdoors stuff. Stuff we've never done. It has opened up a whole new life for him."
Dr Catherine Choong, president of the Royal Australasian College of Physicians Paediatrics* and Child Health Division, said documenting what is happening in the world and how they're feeling about it can be useful when a child is older and looking back on this period of their life.
"It is important during this time for children to have outlets to express their feelings in whatever way they feel comfortable. Now is a good time for parents to sit down with their child and talk about how they're feeling right now with the current events and recent changes in their life," said Dr Choong.
In fact, the diary exercise revealed Oscar's appreciation for an unexpected coronavirus outcome — more togetherness in isolation.
A serious competitive gymnast with an intense training schedule in normal life, Oscar's COVID-19 diary reveals that he currently has more time and more room to breathe.
"He normally spends 18 hours a week in a gym, so he's been able to go mountain biking, he's gone fishing. When he was asked the name of his teacher, he put 'Mum'," Ms Kaiser said.
Ms Kaiser said regularly reaching out to friends and family here and overseas via various digital platforms had been very helpful for Oscar as he shares isolation highlights and difficulties.
"One of his gratitude* responses (for the time capsule) was increased time with family. He means that both physically, as in us, and also just the opportunity to have at least one or two Zoom calls a week just with family," she said.
Print your free "My coronavirus Story' activity sheets from HERE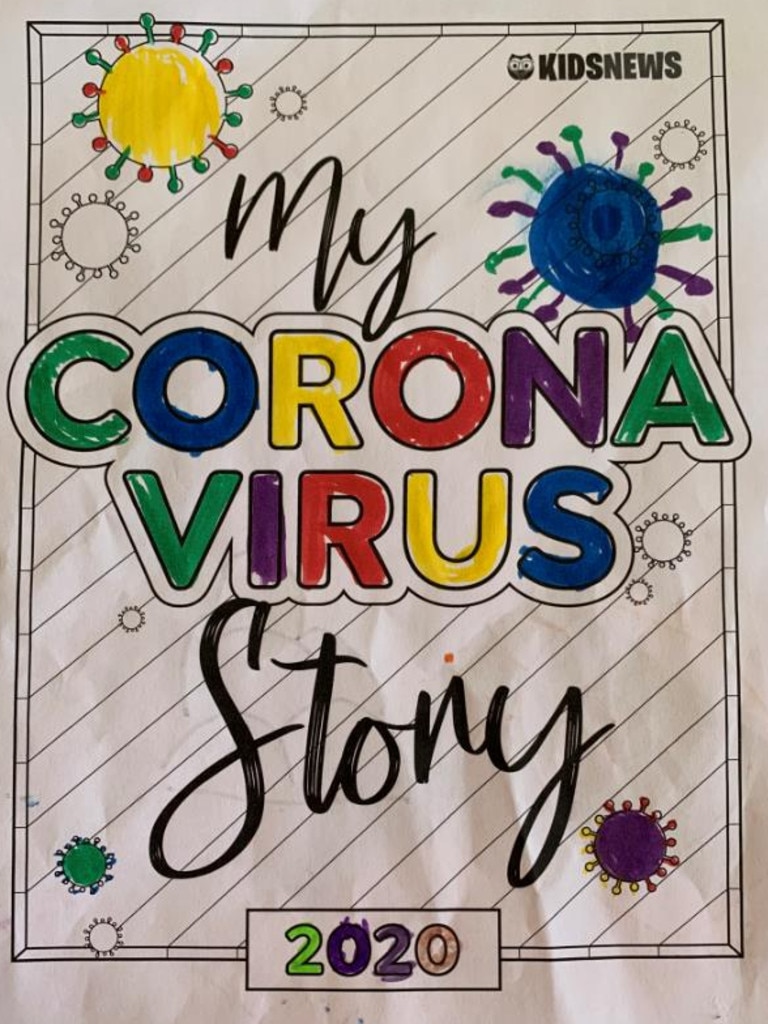 Oscar's coloured-in time capsule cover.
GLOSSARY
coronavirus: a virus that causes disease in humans and animals
time capsule: a package containing items to record a moment in time
invaluable: precious or special
appreciate: to respect or treasure something
isolation: kept in one place away from others
paediatrics: medicine dealing with children
gratitude: being thankful
EXTRA READING
Toy Story star surprises bullied Aussie boy
Home learning enough to make parents scream
Handwashing: how does soap work?
QUICK QUIZ
Name three items Oscar is putting in his time capsule.
Why is keeping a record of events like this recommended for kids?
Which sport is Oscar missing out on?
What is the name of the booklet?
What has compiling the time capsule demonstrated to Oscar?
LISTEN TO THIS STORY
CLASSROOM ACTIVITIES
1. Create an Advertisement
Create a design for a poster, a storyboard or script for a TV/online advertisement that lets kids and families know about the coronavirus time capsule activity and encourages them to do it at home.
Time: allow 30 minutes to complete this activity
Curriculum Links: English, Visual Communication Design, Media Arts
2. Extension
Plan, design and create an extra activity to add to the time capsule workbook. Remember to think about the purpose of the activities.
Time: allow at least 30 minutes to complete this activity
Curriculum Links: English, Personal and Social Capability, History
VCOP ACTIVITY
Proper Noun Police
A proper noun is a noun that names a particular person, place or thing. It always has a capital letter.
How many proper nouns can you find within this article? Find them all and sort them into the category of name, place, time (date/month).
Can you find any proper nouns included in your writing?
What are they?
Can you sort them into their categories?
HAVE YOUR SAY: What will you remember most about living in isolation during the COVID-19 crisis?
No one-word answers. Use full sentences to explain your thinking. No comments will show until approved by editors.