A rusty piece of 1970s steel water tank and the Australian man who bought it have set a new world record.
Brett Ford, from Tungamah, Victoria, paid $17,000 for one end of a Furphy water tank made in 1977. It is one of only about 10 made that year and so is extremely rare.
Furphy tanks are part of Australia's history and even part of Australia's slang language.
They were made by Shepparton, Victoria, company J Furphy & Sons from 1864 and farms used horses to pull them to carry water to sheep and cattle and fight fires. They were important equipment to cart drinking water for World War I soldiers in Europe and the Middle East.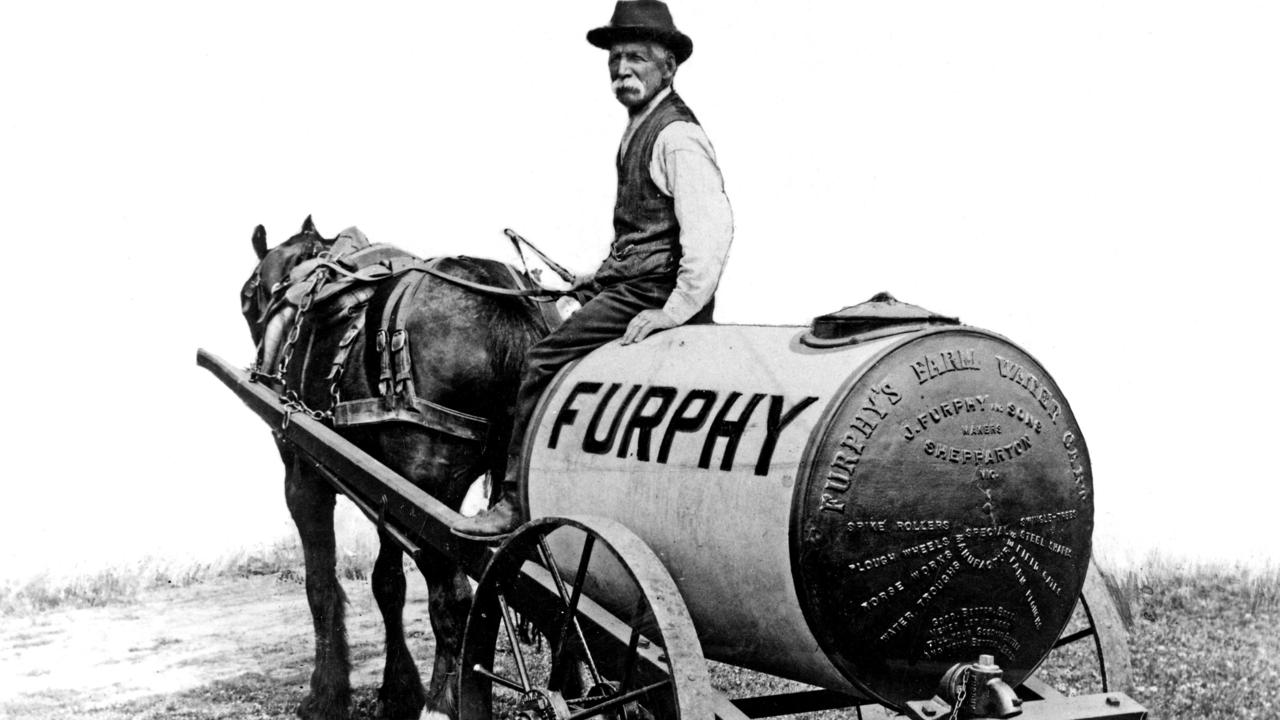 Adam Furphy, managing director of J. Furphy & Sons and the fifth generation of Furphys to lead the company, said the cart drivers brought news and gossip to the soldiers as they moved from camp to camp.
"Not all of their news was reliable*, leading the word 'furphy' to become a synonym* for suspect* information or rumour," Mr Furphy said.
Although the Furphy company still makes stainless-steel water tanks, the old tanks are fought over by collectors each time one is offered for sale.
Many of the old tanks feature poems and sayings on the steel ends.
Mr Ford bought the tank end at a sale of a large collection owned by Glenrowan man John "Clancy" Paull.
Mr Paull had been collecting vintage Australian-made water carts and parts since 1988 but his collection became too big, so he decided to sell most of it.
Auctioneer* Paul Durden from Kevin Hicks Real Estate, who ran the sale, said the price beat the previous record set last year, when a buyer paid $26,000 for two Furphy ends in a complete tank.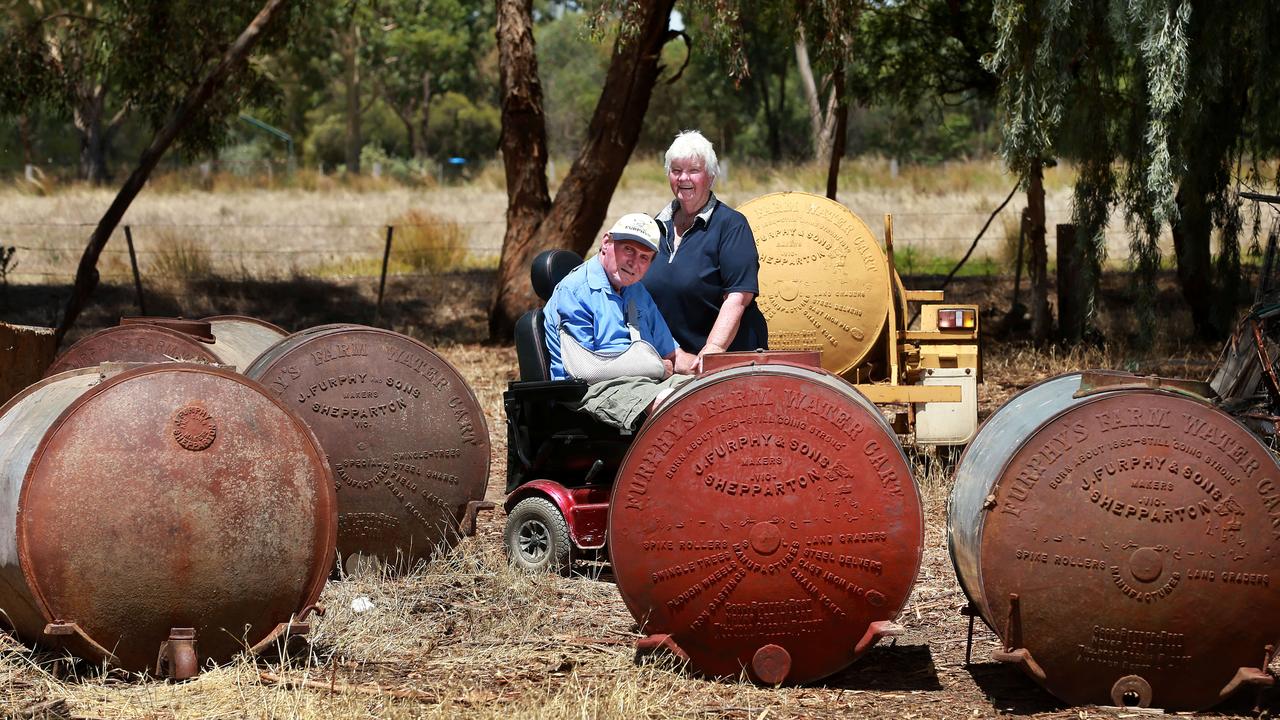 "Other items sold … was a rare Furphy gate for $11,000 and a Furphy 1880-1889 oval badge end for $15,000, another Furphy tank end for $9000 plus a Furphy 1988 150th-anniversary end selling for $8000 with many other Furphy ends and collectables* selling in the $1000s," Mr Durden said.
"This was one of the largest Furphy and collectable sales we have conducted in a long time and one that has set record benchmark* prices."
Mr Paull said he had no idea when he started collecting that one day his collection would be so valuable.
"There's a little bit of regret but I know the collection is going to people who will appreciate* the pieces and enjoy them as I have," he said.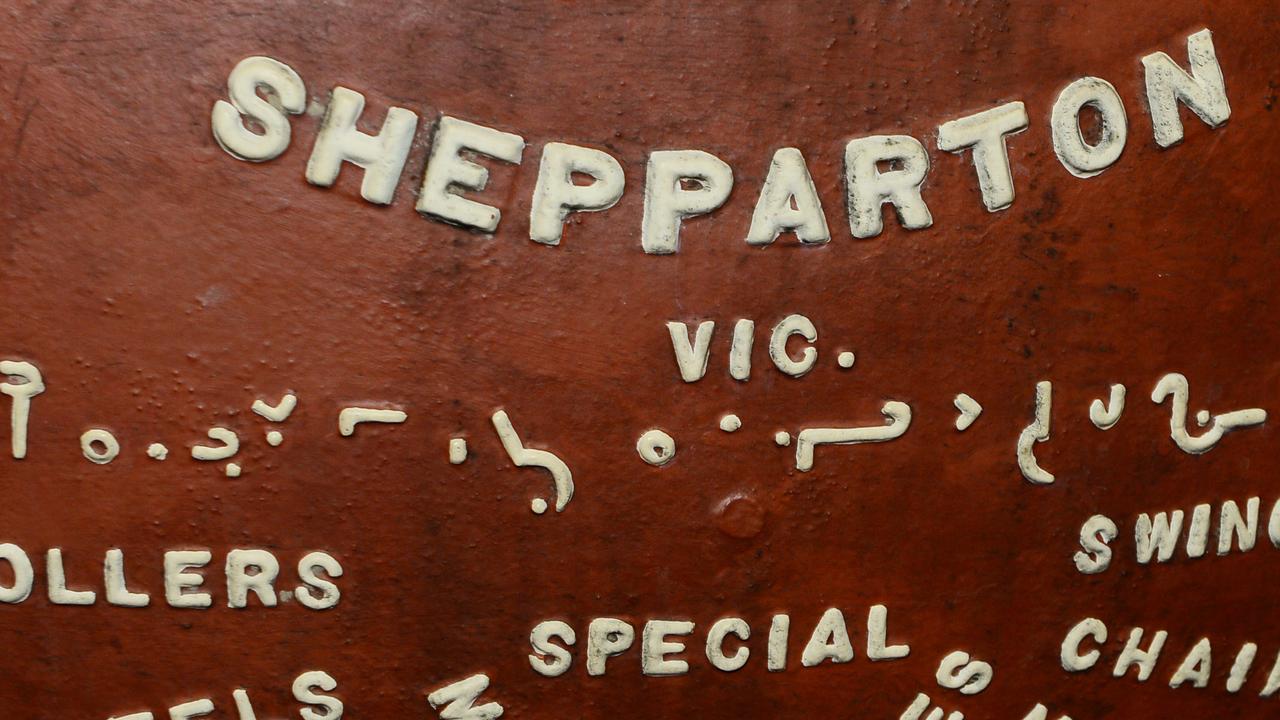 A POEM, A SLOGAN* AND A FURPHY
Some Furphy tanks have the following poem or saying on them in raised steel lettering: "Good, Better, Best, Never let it Rest, Till Your Good is Better, And Your Better Best."
Other tanks have a saying in Pitman's shorthand on them. Shorthand is a type of quick writing used by court reporters, secretaries and journalists. The shorthand said: "Water is a Gift from God but Beer is a Concoction* of the Devil don't drink Beer."
After World War I people who didn't know this was shorthand thought it was written in Arabic* that had something to do with the tanks' use in the Middle East in the war. Another furphy!
The shorthand message was changed in 1925 to read: "Water is the Gift of God but Beer and Whisky are concoctions of the Devil come and have a drink of Water."
Later, the company added a drawing of a stork* holding a baby with another shorthand message: "Produce and populate* or perish*", which was a version of the slogan "Populate or perish" the then Prime Minister Billy Hughes used to try to convince Australians to have lots of children so Australia's population would grow quickly. Mr Hughes was Australian Prime Minister from 1915 to 1923, which was during and after World War I.
MORE STORIES ABOUT HISTORY
Waltzing Matilda could be on its way home
Clydesdale horses hang up their reigns
GLOSSARY
reliable: predictable
synonym: means the same as
suspect: doubtful or not believable
auctioneer: salesman who runs the auction
collectables: items collectors collect
benchmark: standard to measure other things by
appreciate: value
slogan: saying or message
concoction: mixtures or creations
Arabic: language of many Middle Eastern countries
stork: bird that people used to think brought babies
populate: bring people
perish: die or fail
LISTEN TO TODAY'S STORY
QUICK QUIZ
1. How much did Brett Ford pay for the tank end?
2. Who is Adam?
3. Why did Mr Paull sell the tank end?
4. It's not Arabic lettering on some of the tank ends. What language is it?
5. Who was the Prime Minister during World War I?
CLASSROOM ACTIVITIES
The Kids News article explains one of the phrases of Aussie slang. The Furphy tanks also had some other interesting phrases of the time written on them and there are many more in our slang language, some still in use, some not known so well any more.
Write the meaning next to the phrases below. If you don't know some, ask your classmates and share your ideas.
Furphy
Populate or perish
Good, Better, Best, Never let it Rest, Till Your Good is Better, And Your Better Best
Water is the Gift of God, but Beer and Whisky are concoctions of the Devil, come and have a drink of Water
Dog's breakfast
Choc a block
Budgie smugglers
Fair dinkum
Hard yakka
Have a Captain Cook
Put a sock in it
Hit the frog and toad
Extension: Write a list of some other appropriate Aussie slang words or phrases that you know of.
Time: Allow 20 minutes
Curriculum links: English, History
VCOP ACTIVITY
The glossary of terms helps you to understand and learn the ambitious vocabulary being used in the article. Can you use the words outlined in the glossary to create new sentences? Challenge yourself to include other VCOP (vocabulary, connectives, openers and punctuation) elements in your sentence/s. Have another look through the article. Can you find any other Wow Words not outlined in the glossary?
QUESTION: What would you write on the end of a water tank if you were designing one for World War I soldiers? Why? full sentences to explain your answer.