Oetzi the Iceman traces his roots to present day Turkey
Fresh look at DNA from Oetzi the Iceman traces his roots to present day Turkey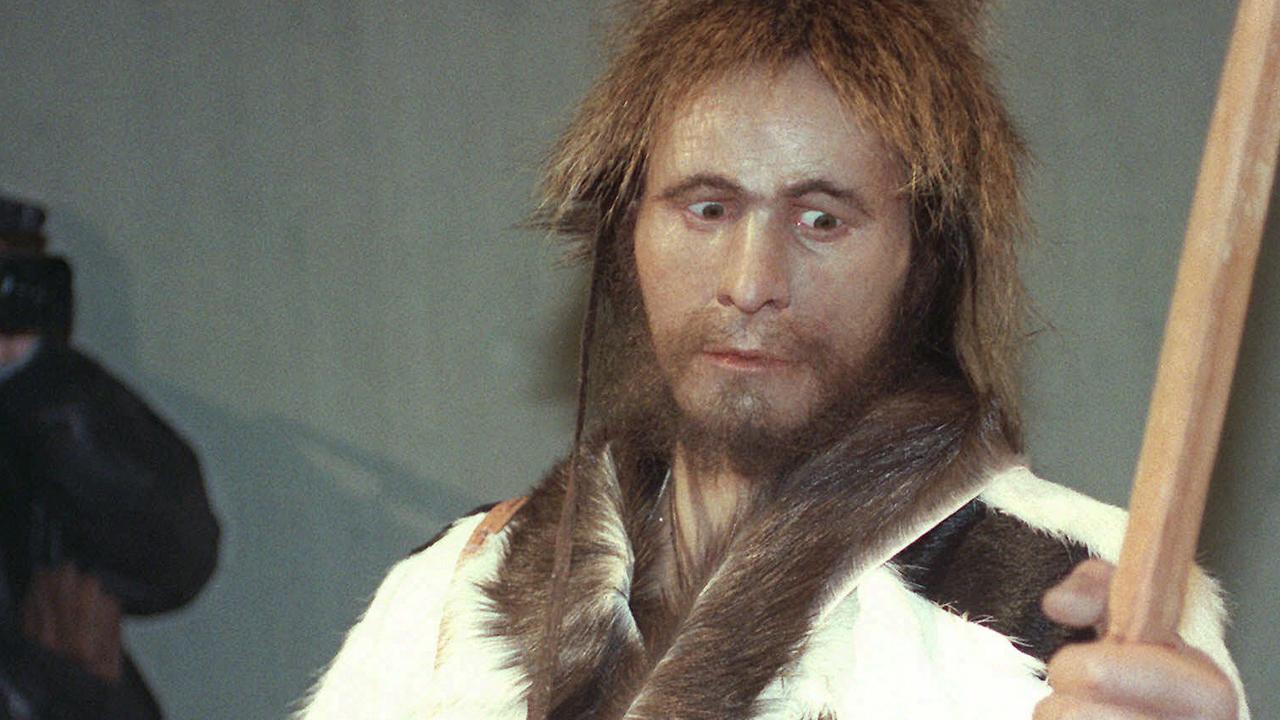 Preserved body of Iceman found in ice in Alps between Austria and Italy in 1991. Iceman "Oetzi" reconstruction model at Neanderthal, Germany 11 Dec 1996.
Oetzi the Iceman has a new look. Decades after the famous glacier mummy* was discovered in the Italian Alps, scientists have dug back into his DNA* to paint a better picture of the ancient hunter*.
They determined that Oetzi was mostly descended* from farmers from present day Turkey, and his head was balder and skin darker than what was initially thought, according to a study published in the journal Cell Genomics.
Oetzi, who lived more than 5,000 years ago, was frozen into the ice after he was killed by an arrow to the back. His corpse was preserved as a "natural mummy"* until 1991, when hikers found him along with some of his clothing and gear — including a copper axe, a longbow and a bearskin hat.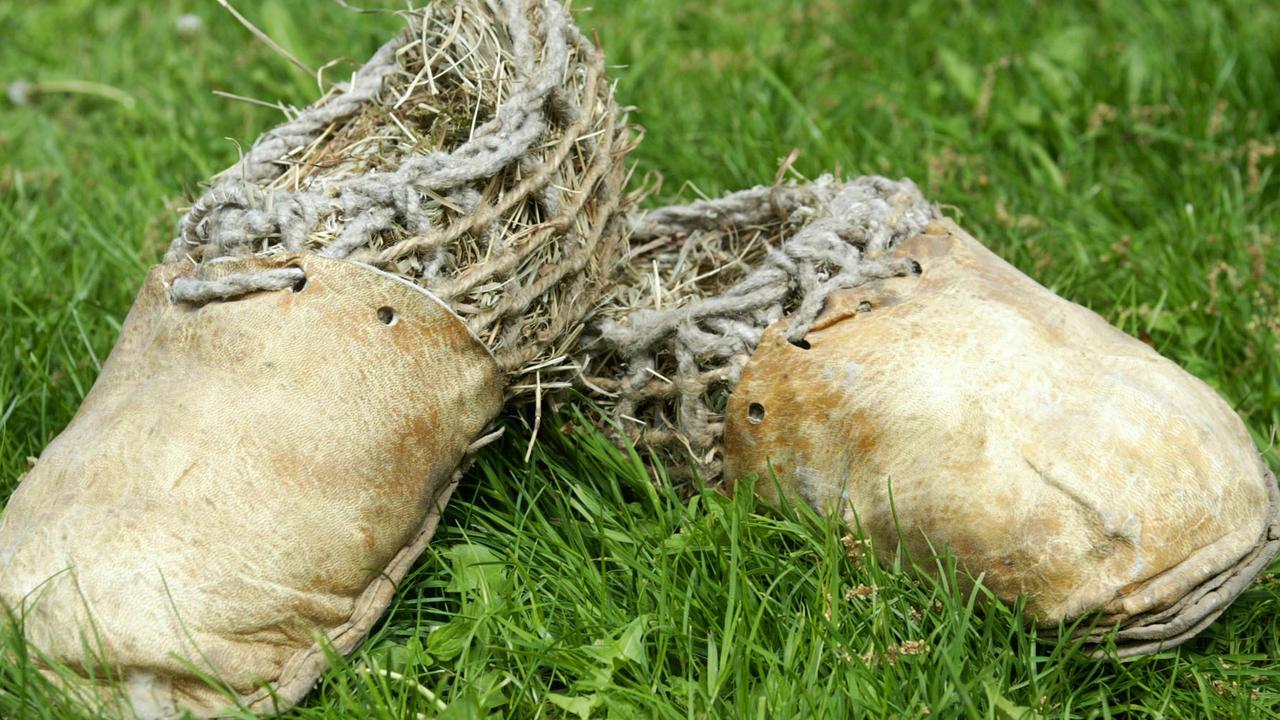 Replicas of the shoes found with Oetzi, a well-preserved 5,300yr-old iceman found in 1991. Picture: AP PicPetr/David/Josek
Since then, many researchers have worked to uncover more about the mummy, which is displayed at the South Tyrol Museum of Archaeology* in Bolzano, Italy.
An earlier draft of Oetzi's genome* was published in 2012. But ancient DNA research has advanced since then, so scientists decided to take another look at the iceman's genes, explained study author Professor Johannes Krause, a geneticist* at Germany's Max Planck Institute for Evolutionary Anthropology. They used DNA extracted* from the mummy's hip bone.
The updated genome is "providing deeper insights into the history of this mummy," said Professor Andreas Keller of Germany's Saarland University.
Based on the new genome, Oetzi's appearance when he died around age 45 was much like the mummy looks today: it's dark and doesn't have much hair on it, said study author Dr Albert Zink, head of the Institute for Mummy Studies at Eurac Research in Italy. Scientists previously thought the iceman was lighter-skinned and hairier in life, but that his mummified corpse had changed over time.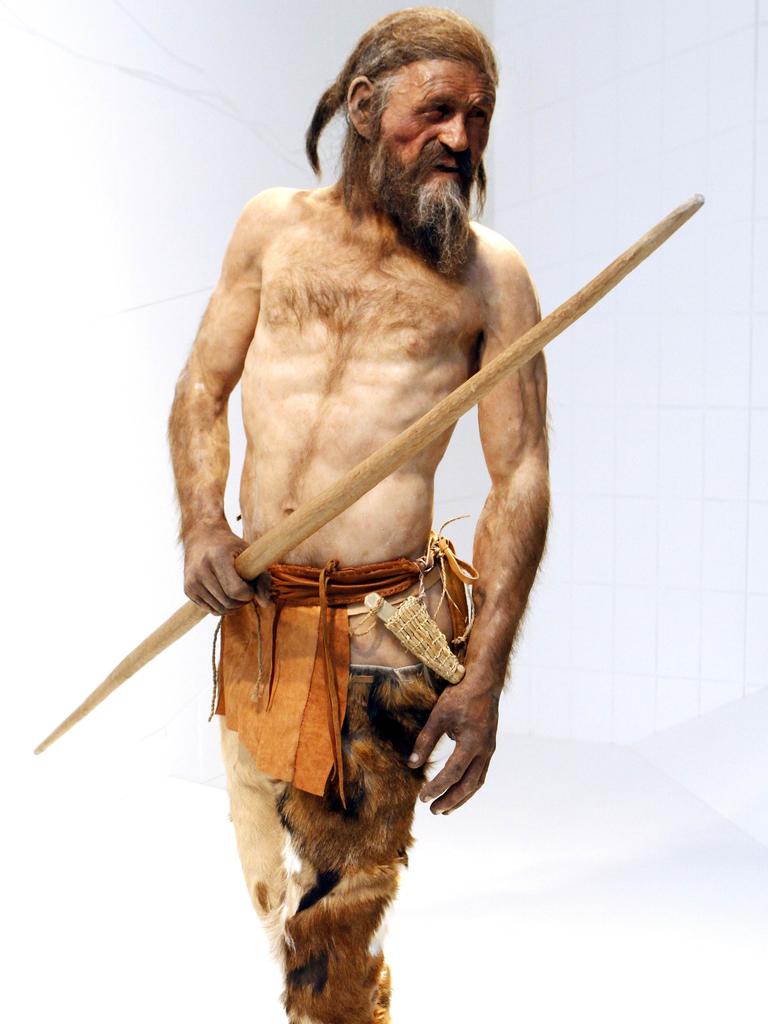 Based on three-dimensional images of the mummy's skeleton as well as the latest forensic technology, a model of the living Oetzi has been created by Dutch experts Alfons and Adrie Kennis. Picture: AFP Photo/Andrea Solero
His genome also showed an increased chance of obesity* and diabetes*, the researchers reported.
And his ancestry* suggests that he lived among an isolated population* in the Alps, Dr Zink said. Most Europeans today have a mix of genes from three groups: farmers from Anatolia, hunter-gatherers* from the west and herders* from the east. But 92 per cent of Oetzi's ancestry was from just the Anatolian farmers*, without much mixing from the other groups.
POLL
GLOSSARY
glacier mummy: A mummy preserved in ice, in this case, Oetzi the Iceman, who was found frozen in a glacier
DNA: The genetic material that carries information about living organisms and determines their traits
descended: came from or originated from
ancient hunter: someone who lived a long time ago and hunted animals for food
natural mummy: a preserved body that has been kept in its original state due to natural conditions, like being frozen in ice
archaeology: the study of ancient human history and civilisations through the analysis of artefacts and remains
genome: The complete set of an organism's DNA
geneticist: a scientist who studies genetics, which is the science of genes and heredity
extracted: taken out or removed
ancestry: the family or ethnic background of a person; their lineage
obesity: a medical condition where a person has excess body fat
diabetes: a medical condition that affects how the body processes glucose (sugar)
isolated population: a group of people living separately from others, often with limited interaction
Anatolian farmers: people who were engaged in farming in the Anatolia region (present-day Turkey)
hunter-gatherers: people who lived by hunting animals and gathering plants for food
herders: people who raise and care for animals, often for their meat, milk, or other products
ancestry: The family or ethnic background of a person, their lineage
EXTRA READING
Baby woolly mammoth intact in ice
Huge find in Egypt's 'City of the Dead'
Inside tragic final months of King Tut's life
QUICK QUIZ
Who is Oetzi the Iceman, and where was he discovered?
What did scientists find out about Oetzi's ancestry from his DNA?
How was Oetzi preserved for thousands of years, and where is his body displayed now?
Why did scientists decide to re-examine Oetzi's DNA, and what did they discover from the updated genome?
What insights did the updated genome provide about Oetzi's appearance, lifestyle, and ancestry?
LISTEN TO THIS STORY
CLASSROOM ACTIVITIES
1. What can Oetzi teach us?
What do you think we can learn about life 5,000 years ago from Oetzi and the items that he was found with? Use information in the story to help you.
Time: allow at least 20 minutes to complete this activity
Curriculum Links: English, History
2. Extension
Do you think it is right that ancient people's remains (like Oetzi) are put on display? Give as many reasons as you can to support your opinion on this question. Use information from the story and perhaps your research skills to help you.
Time: allow at least 60 minutes to complete this activity
Curriculum Links: English, History, Critical and Creative Thinking, Ethical Capability
VCOP ACTIVITY
Unravelling Oetzi the Iceman's secrets
Carefully read and understand the article about Oetzi the Iceman's new DNA findings. Your goal is to explore the newly discovered information about Oetzi the Iceman and create a short piece of writing to describe his appearance, ancestry, and lifestyle.
With a partner, discuss the key points you learned about Oetzi's appearance, ancestry, and lifestyle from the article. Use the following questions to guide your discussion:
- What did scientists discover about Oetzi's ancestry?
- How did Oetzi look like when he was alive, according to the new findings?
- How did the new DNA study provide deeper insights into Oetzi's history?
- Did anything surprise you?
Imagine you are a historian writing an article for a magazine about Oetzi the Iceman's newly discovered secrets. Write a short piece (about 150-200 words) using the information from the article. Consider using your V.C.O.P. skills to enhance your response. Remember you don't have to use all elements, it's about considering the audience and making choices that will benefit them. Here are some examples:
- Vocabulary: Use descriptive words like "ancient," "frozen," "ancestry," "isolated," etc.
- Connectives: Use words like "according to," "meanwhile," "as a result," etc., to connect your ideas.
- Openers: Start your sentences differently, for example, "Interestingly,..." or "Surprisingly,...".
- Punctuation: Use commas, full stops, and capital letters correctly.
Edit and Uplevel: After writing, read through your tribute aloud to yourself to make sure your ideas are clear, there are no omissions, and the writing makes sense. Next, you can check for any spelling or grammar mistakes that you can fix. Remember, your goal is to understand the new information about Oetzi the Iceman's appearance, ancestry, and lifestyle, and then convey this knowledge through a short written piece.
Share your written piece with your partner and listen to their perspective as well. Discuss any differences in your writing styles or viewpoints.
Optional Extension - If you have more time or want to explore further:
1. Research: Research more about ancient mummies and their significance in understanding history.
2. Illustration: Draw a simple sketch of how you imagine Oetzi looked like based on the new findings.
3. Presentation: Present your writing and illustration to your classmates, explaining the importance of uncovering ancient secrets.
Time: allow at least 30 minutes to complete the task
Curriculum Links: English, Oral Language, Big Write, VCOP