Nepal celebrates 70 years of climbing Mt Everest, but fears for its environmental future
Edmund Hillary and Tenzing Norgay stunned the world 70 years ago when they became the first men to reach the top of Mt Everest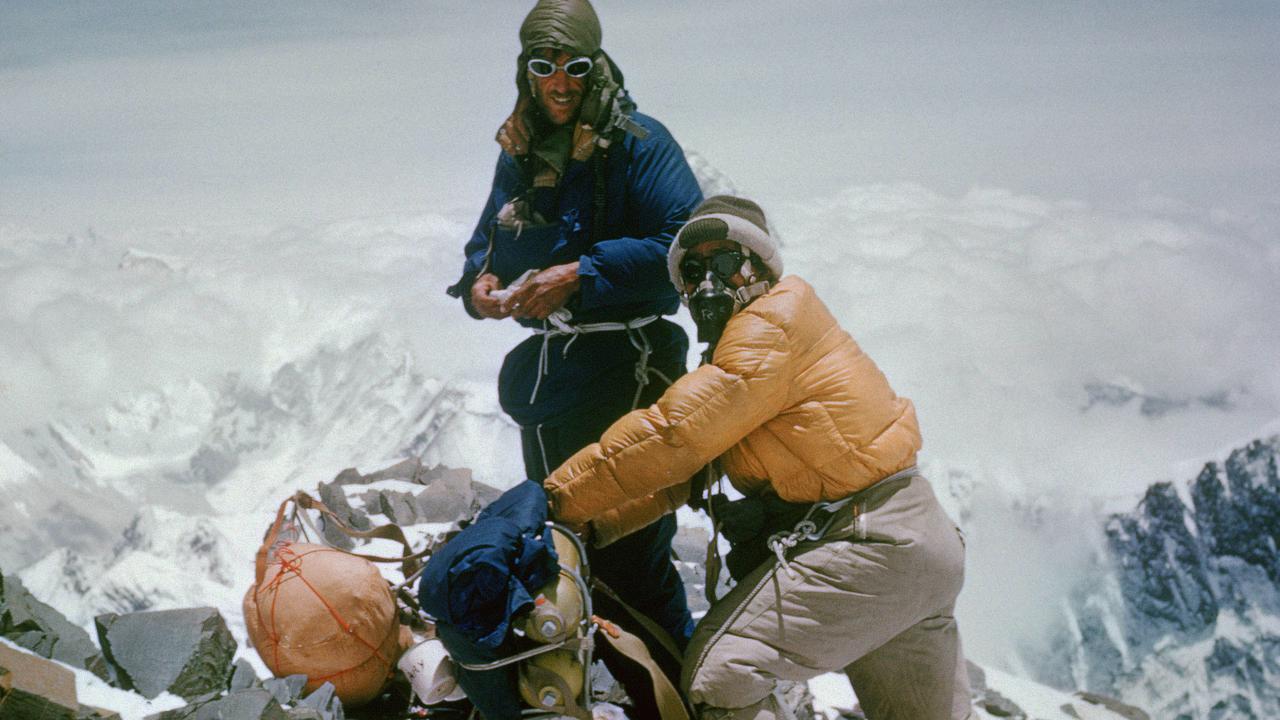 Explorers Edmund Hillary and Sherpa Tenzing Norgay on their way to the highest camp at 8500m on Mt Everest. Picture: Alfred Gregory
Nepal is celebrating 70 years since the first climbers reached the top of Mt Everest.
On May 29 in 1953, New Zealand beekeeper Edmund Hillary and Sherpa mountaineer* Tenzing Norgay became the first people to stand on the 8848m summit* of the world's tallest mountain.
They were lucky to be given the chance. Nepal's government would only allow one expedition* a year, so this was a big deal. British expedition leader John Hunt asked Mr Hillary and another New Zealander, George Lowe, to join his climb.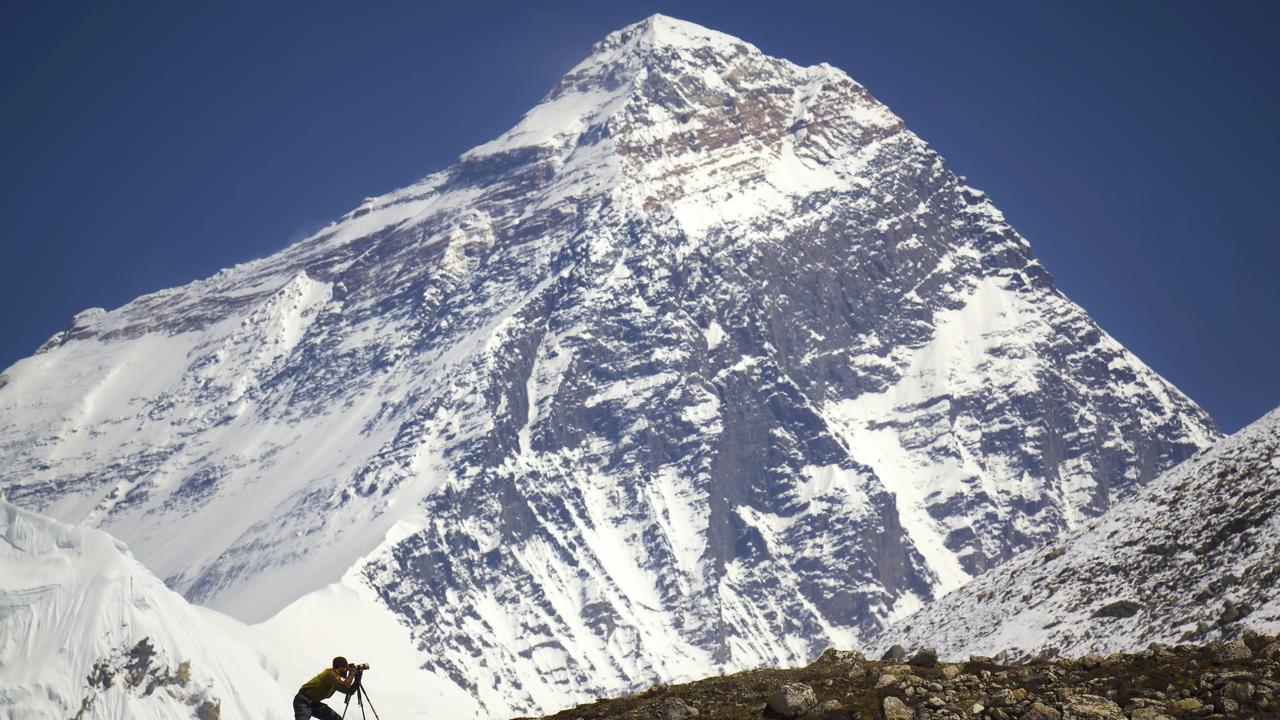 Mt Everest in Nepal. Picture: iStock
More than 400 people on the expedition climbed the mountain in stages, moving to a higher camp every few weeks to get used to the high altitude*. At each stage fewer and fewer people would continue to climb.
At the final camp, only two teams were chosen to try for the summit. The first team of Tom Bourdillon and Charles Evans got within 91m of the top, but had to turn back.
Mr Hillary and Mr Tenzing then tried. They ran into difficulties, including a 12m-high rock wall — later named 'Hillary's Step' — but became the first humans to climb to the top of the world.
Because the air was so thin and it was hard to breathe, they stayed for just a few minutes.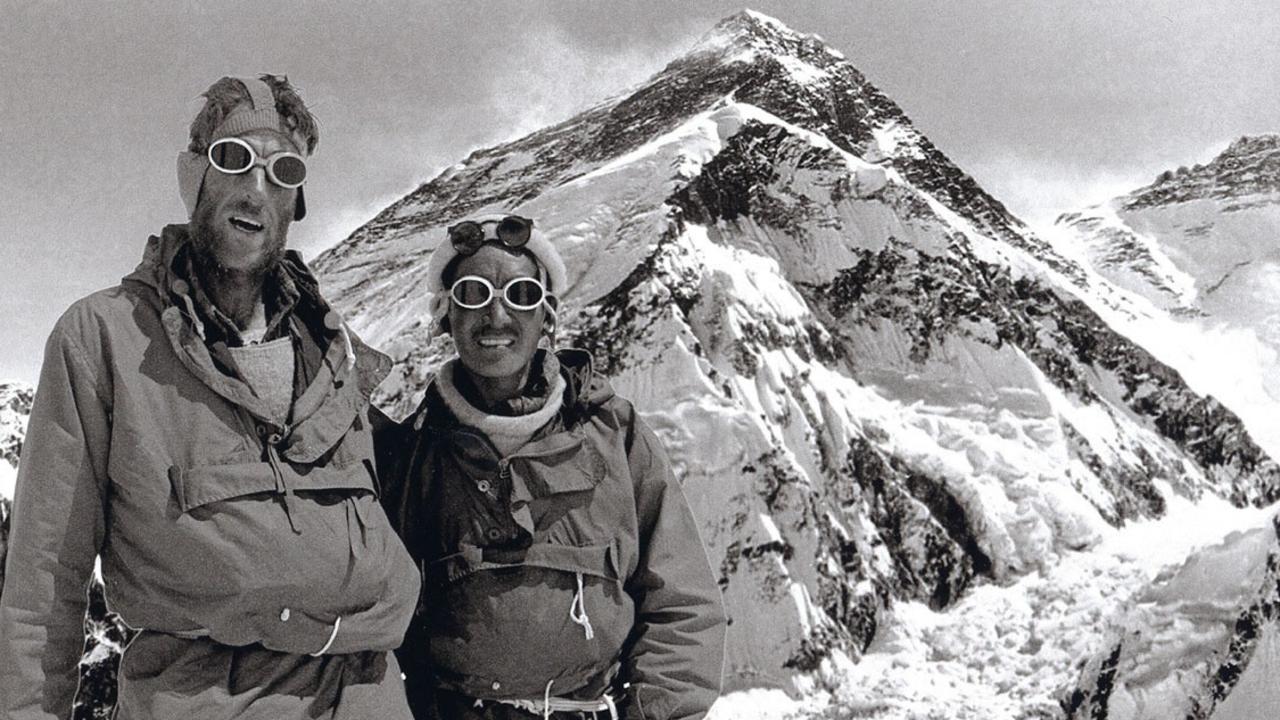 Edmund Hillary and Tenzing Norgay on their Mt Everest expedition.
Mr Tenzing thanked the gods of the mountain by burying chocolate and other food in the snow. Mr Hillary pressed a crucifix* into the snow. The cross belonged to John Hunt, who had asked Mr Hillary to leave it at the summit if he reached it.
Mr Hillary took a photograph of Mr Tenzing on the summit, not thinking to get one of himself, before snapping pictures of the main ridges leading away from Everest, to prove they had reached their goal.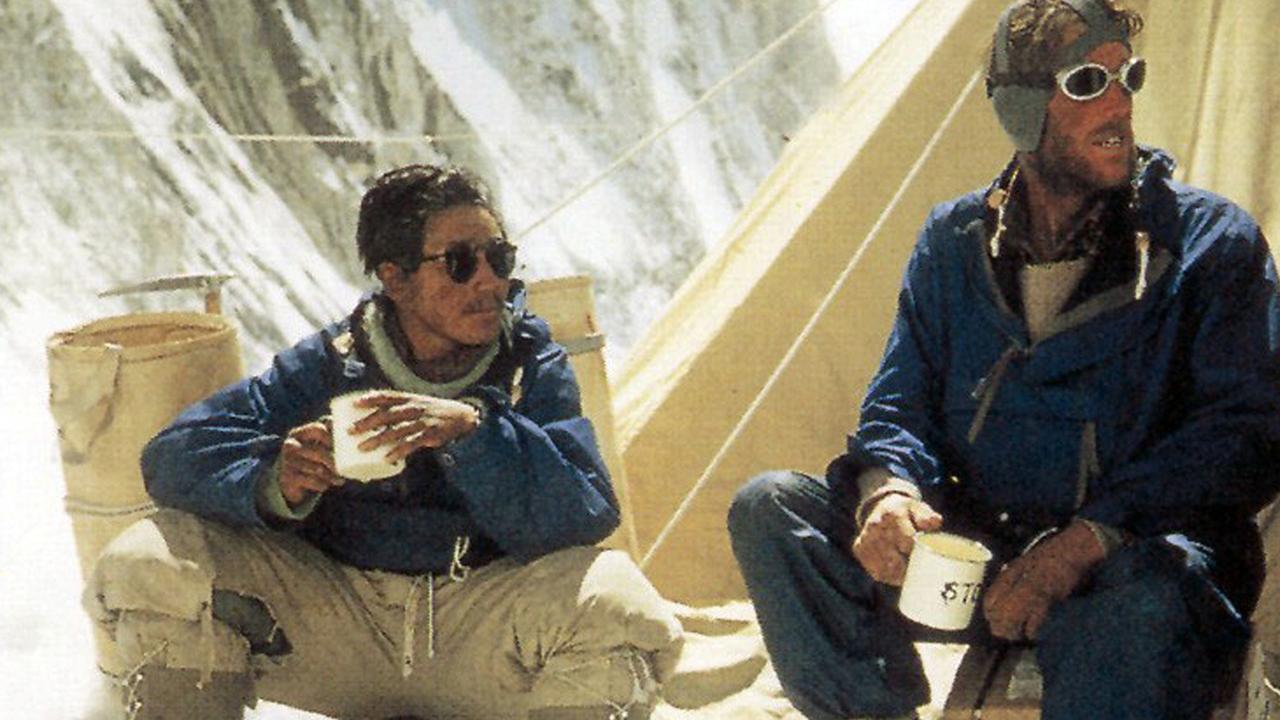 Explorers Tenzing Norgay and Sir Edmund Hillary enjoy a warm drink on the mountain. Picture: AP
Mr Hillary and Mr Tenzing had been warned the biggest threat they faced on the mountain was dehydration*.
"Tenzing and I had spent a good part of the previous night quaffing* copious* quantities of hot lemon drink and as a consequence we arrived on top with full bladders," Mr Hillary wrote in his autobiography*, View From The Summit.
"Having just paid our respects to the highest mountain in the world, I then had no choice but to urinate* on it."
Mr Hillary was always very modest and thought their successful ascent* would only interest other climbers. He did not expect the worldwide excitement that followed, including being knighted Sir Edmund Hillary by a young Queen Elizabeth II.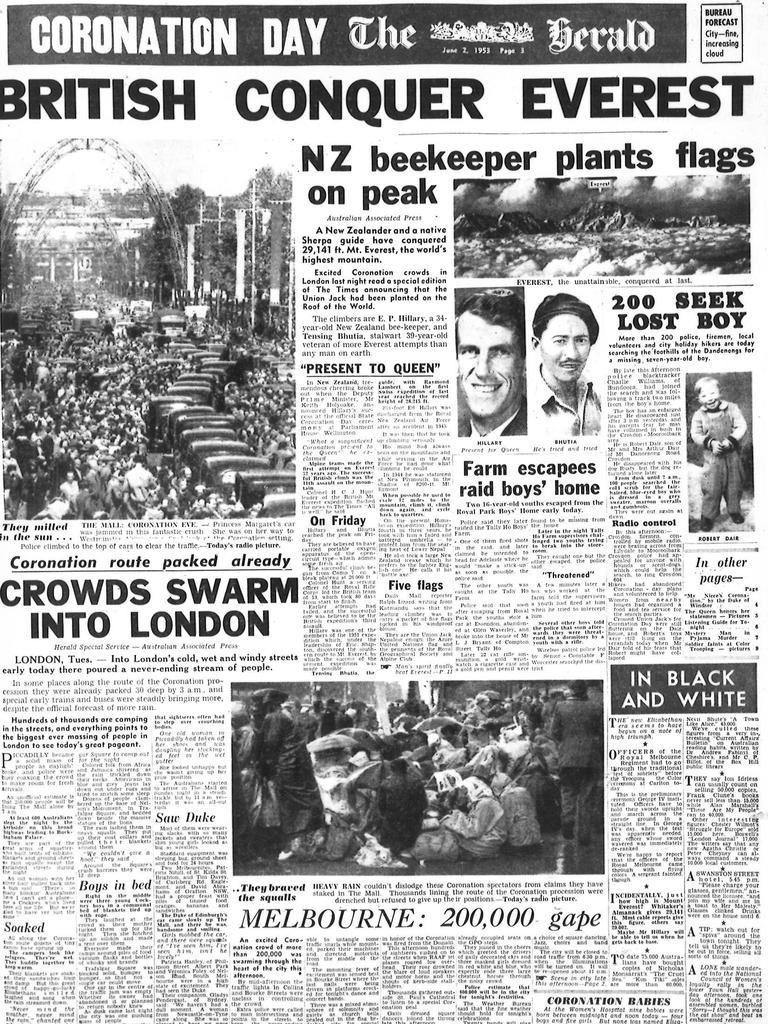 A news story about the successful climb in The Herald newspaper in 1953. .
Sir Edmund Hillary had many other adventures in his life including reaching the South Pole by tractor on January 4 in 1958. He died in 2008.
Mr Tenzing received numerous awards for his Mt Everest achievement. He went on to become a mountain climbing instructor and tour guide before his death in 1986.
EVEREST TODAY
More than 6000 climbers have conquered* Mt Everest since 1953, but sadly, at least 322 have lost their lives.
Rubbish left by climbers and worsening environmental conditions on the mountain are raising concerns for climbers and the people whose livelihoods depend on the flow of visitors.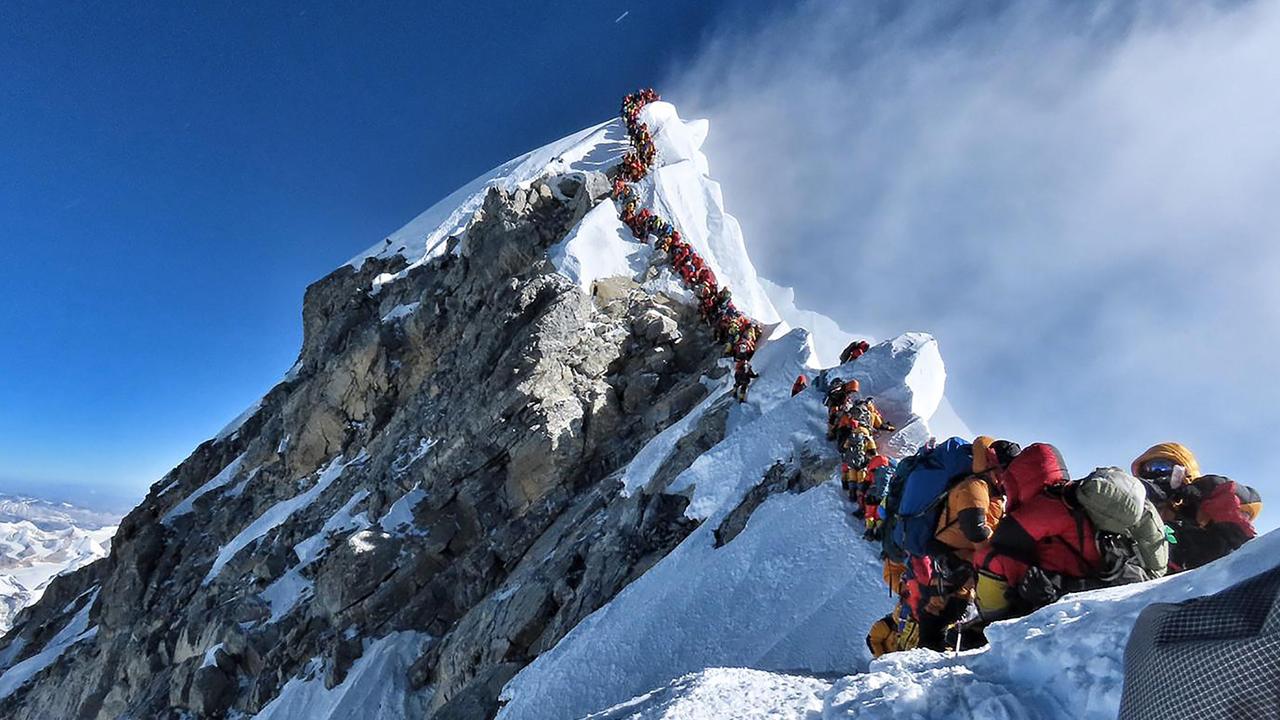 Mountain climbers line up to stand at the summit of Mt Everest. Picture: Handout /@nimsdai Project Possible /AFP)
Recent research found Mt Everest's glaciers* have lost 2000 years of ice in just the past 30 years. Researchers who placed sensors in the South Col Glacier, which is the highest, found it had lost 54m of thickness in the past 25 years.
Ang Tshering, a well-known Sherpa who has been campaigning to save the Himalayan* peaks, says global warming is to blame.
"The rising temperature of the Himalayan area is more than the global average, so the snow and ice is melting fast and the mountain is turning black, the glaciers are melting and lakes are drying up," he said.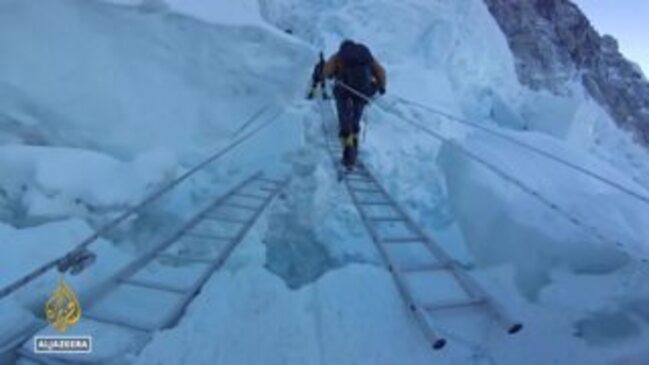 POLL
GLOSSARY
Sherpa: a member of a Himalayan people living on the borders of Nepal and Tibet, renowned for their skill in climbing mountains
mountaineer: someone who climbs mountains
summit: the top of a mountain
altitude: how high something is compared to the ground
crucifix: a cross with the figure of Jesus crucified upon it
dehydration: when the body doesn't function properly because of lack of water
quaffing: drinking
copious: lots
autobiography: A person's life story written by themself
urinate: wee
ascent: climb up
conquered: been successful at something
glaciers: huge, thick masses of ice
Himalayan: relating to the Himalayan mountain range
EXTRA READING
Sherpa Kami summits Everest for record 25th time
New height agreed for Mt Everest
Aussie teen's successful Everest trek
QUICK QUIZ
1. How tall is Mt Everest?
2. How many people started Hillary and Tenzing's successful expedition?
3. How did Hillary prove they had been at the summit?
4. Who knighted Hillary for his efforts?
5. What threats does Mt Everest face today?
LISTEN TO THIS STORY
CLASSROOM ACTIVITIES
1. 70 years of climbing Everest
Over the past 70 years of mountaineers climbing Mt Everest, there would have been significant changes in technology and learning on how to tackle the mountain.
What things may have been improved for current-day climbers looking to conquer Mt Everest:
—
—
—
—
—
Time: allow 25 minutes to complete this activity
Curriculum Links: English; Science; Design and Technologies; Personal and Social; Critical and Creative Thinking
2. Extension
If you were to research, plan and reach the summit of Mt Everest, what would you do to pay respects to the mountain or record this moment as a lasting keepsake?
Time: allow 10 minutes to complete this activity
Curriculum Links: English; Critical and Creative Thinking
VCOP ACTIVITY
1. Don't eat the yellow snow!
Have you ever been so busting to use the toilet, that you had no choice but to go at a really inappropriate time or place?
Without being rude with your writing, as you might be sharing it with others, share a time when your bladder got the better of you.
Can't think of a time? Lucky you! Write about when would be the worst time for you to be busting for the toilet, and what would you do.
Read the piece back to yourself first to make sure it makes sense and is appropriate. Can you do anything to edit and up-level it to make it even better?