How Phar Lap won the 1930 Melbourne Cup and the hearts of Australians
With the 2018 Melbourne Cup upon us, we look back at the history of Phar Lap — one of the greatest winners of the Cup and a horse that captured the imagination of the nation
Phar Lap being ridden by jockey Jim Pike.
With the 2018 Melbourne Cup upon us tomorrow, we look back at the history of Phar Lap — one of the greatest winners of the "race that stops the nation".
Australians travelled thousands of kilometres to see the horse nicknamed Big Red when he raced. His story captured the imagination of the nation and his success helped improve their spirits and gave them hope during the tough financial years of the Depression* in the 1930s.
Phar Lap's story began with his birth in Timaru, in New Zealand on October 4, 1926. His coat was shiny and red and he grew to be 17 hands* high.
As a young colt*, Phar Lap was put up for sale in 1928. Australian trainer Harry Telford received a copy of the sale catalogue* and was impressed by the colt's breeding*.
Mr Telford, however, did not have money to buy the horse and successfully approached American businessman David J Davis for the 160 pounds.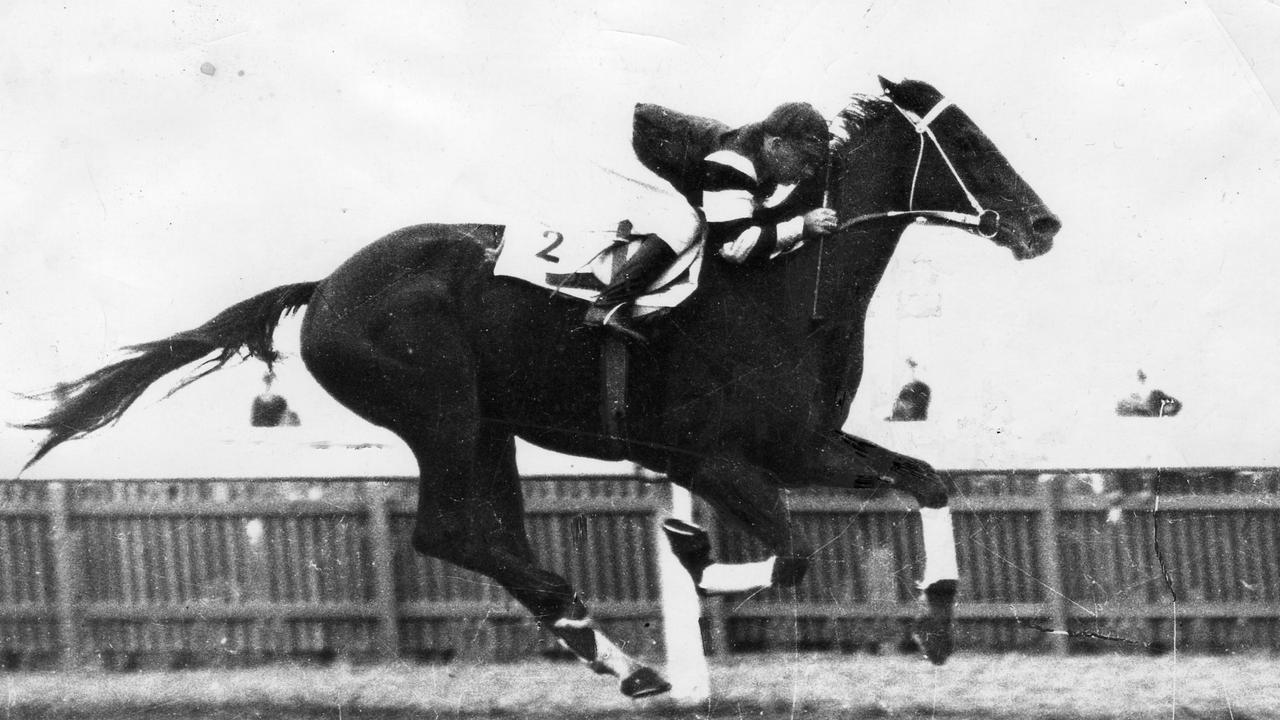 Phar Lap ridden by jockey Billy Elliott winning the Elder Stakes race at Morphettville in May, 1930.
Back in Australia, Phar Lap failed to place in eight of his first nine starts.
But then success came for Big Red in a big way.
He went on to win 36 of his next 41 races, including the 1930 Melbourne Cup.
Phar Lap won that Cup after surviving a plot to kill him.
Four days before the 1930 Melbourne Cup, in a quiet street in suburban Melbourne, strapper* Tommy Woodcock was walking the champion back to his stable after a morning gallop when a car rounded the corner and a masked man in the back seat shot at Phar Lap.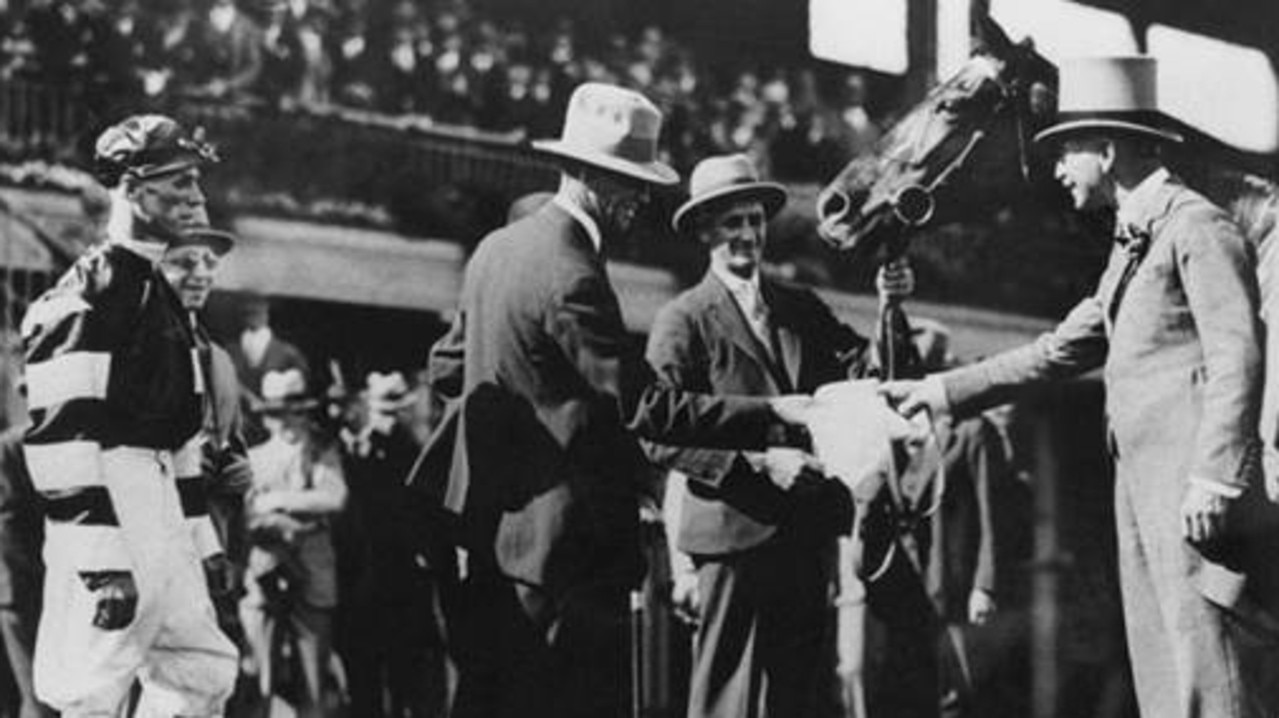 The 1929 Victoria Derby presentation to Harry Telford after Phar Lap's success. Picture: Victoria Racing Club
Amazingly, Phar Lap still ran that afternoon at Flemington — and he won the Derby by a huge distance.
The 1930 Melbourne Cup was the first to be captured on talking film*. It shows that Phar Lap was an easy winner despite the heavy weight of 62.6kg he had to carry.
In 1931, he went on to win another 14 races — and the hearts of Australians.
Phar Lap often galloped away in front of the field and finished the race running at only half pace.
He was the only horse in Australian racing history to have been favourite for the Melbourne Cup three years in a row.
Phar Lap wins the 1932 Agua Caliente in Tijuana. Picture: Supplied
In 1931, Mr Davis decided to send the horse to the United States to run in the 1932 Agua Caliente handicap in Tijuana, Mexico, the richest race in the world at the time.
Phar Lap won the race with jockey Billy Elliott aboard.
Sixteen days later, on April 5, 1932, Phar Lap died in mysterious circumstances in San Francisco.
Tommy Woodcock, the devoted strapper who had helped Phar Lap through all of his races, was heartbroken and the horse died in his arms.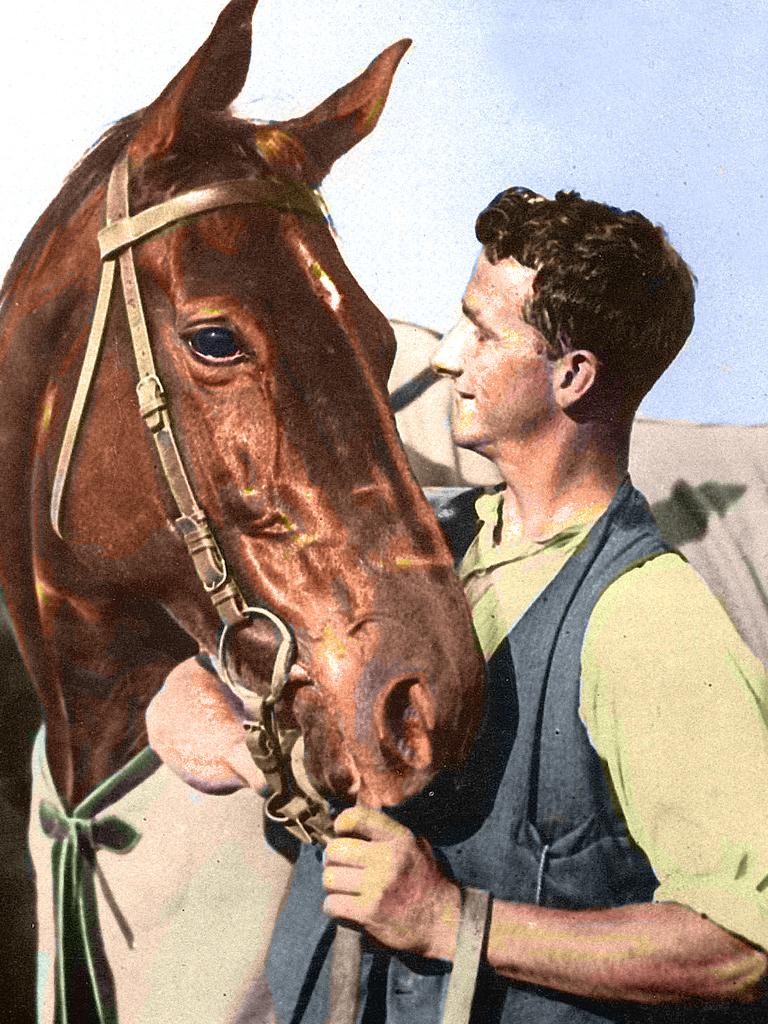 Strapper Tommy Woodcock with racehorse Phar Lap.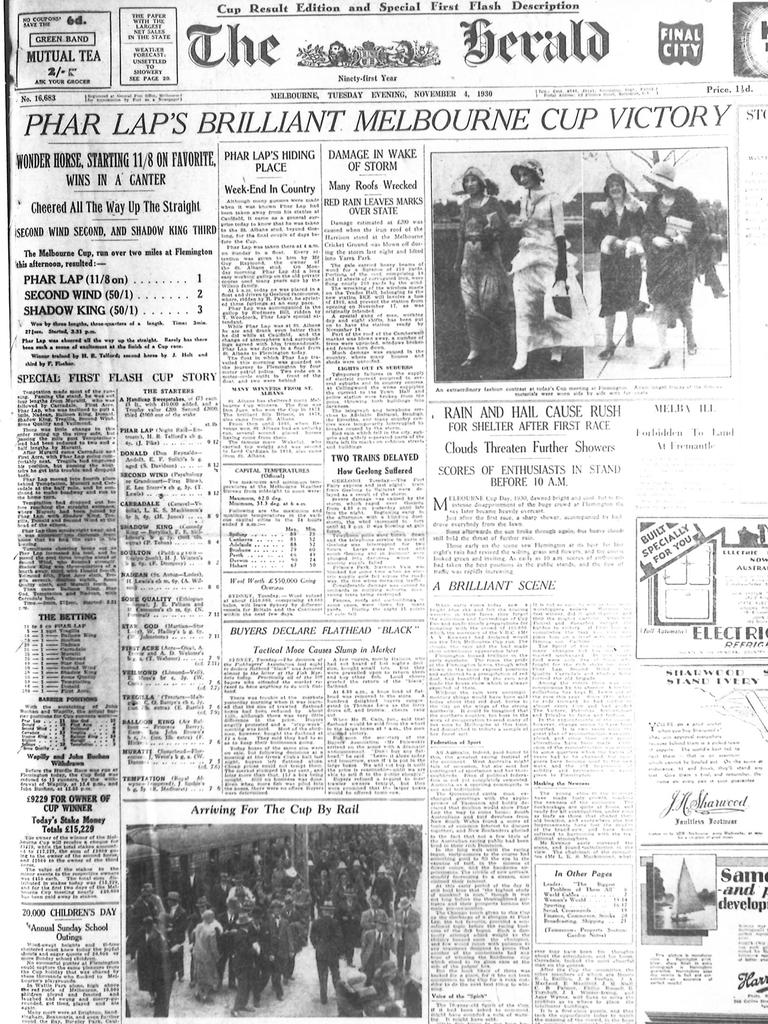 Front page article of The Herald about Phar Lap's Melbourne Cup win.
Back in Australia, Phar Lap's death came as a big shock. People described it as a great tragedy and rumours spread that he may have been poisoned.
Mr Davis asked for Phar Lap's heart to be sent to the University of Sydney for examination by Dr Stewart McKay, an expert on thoroughbreds*, and pathology* expert Professor Welsh. He wanted them to determine if Phar Lap had been poisoned.
It was during this examination that part of the wall of the left ventricle* was removed, to inspect the muscle thickness of the heart walls.
Noting the unusually large size of Phar Lap's heart, Dr McKay suggested to Mr Telford that it be donated to the Australian Institute of Anatomy* in Canberra.
Debate continues today as to whether Phar Lap died of a very bad infection or from arsenic poisoning. No one knows the truth.
PHAR LAP ON DISPLAY
Phar Lap's heart is now on display at the National Museum of Australia and his stuffed body is on display in the Australia Gallery at the Melbourne Museum.
Phar Lap's heart weighs 6.35kg, which is more than 1.5 times the weight of an average thoroughbred racehorse heart, which weighs 3—4kg.
The saying, "a heart as big as Phar Lap's" refers to the horse's strength and staying power, as well as the weight of his heart. It is used to indicate great courage, generosity or power.
EXTRA READING
Winx already the greatest racehorse of all time
GLOSSARY
The Depression: when a country is dealing with tough financial times meaning production of items is low and there are not many jobs
hands: unit of measurement for determining the height of horses and ponies
colt: young male horse less than four years old
catalogue: a complete list of items
breeding: family history
strapper: a person who grooms and looks after horses
talking film: when audio was added to films
thoroughbreds: horses from the best family bloodlines
pathology: science of the causes and effects of diseases
ventricle: a hollow part or cavity in the heart
anatomy: science concerned with how the bodies of humans and animals are made up
LISTEN TO TODAY'S STORY
QUICK QUIZ
1. Where was Phar Lap born and in which year?
2. Who was Phar Lap's famous strapper?
3. In which year did Phar Lap win the Melbourne Cup
4. How many times was Phar Lap favourite for the Melbourne Cup?
5. Where can you see Phar Lap's heart today?
CLASSROOM ACTIVITIES
1. Timeline
Create a timeline of Phar Lap's life detailing each of the events mentioned in the article in sequential order. Each event on your timeline should have a date and a dot point style description of what happened on that date and where it happened.
2. Extension
Show that you understand the saying "a heart as big as Phar Lap's" by writing a paragraph about somebody you think it applies to explaining why you think it applies to them.
Time: Allow 25 minutes
Curriculum links: English, Mathematics, History
VCOP ACTIVITY
With a partner see if you can you identify all the doing words/verbs in this text. Highlight them in yellow and then make a list of them all down your page. Now see if you and your partner can come up with a synonym for the chosen verb. Make sure it still makes sense in the context it was taken from.
Try to replace some of the original verbs with your synonyms and discuss if any are better and why.
Curriculum Links: English, Big Write and VCOP
HAVE YOUR SAY: Which part of Phar Lap's story did you like the most?
No one-word answers. Use full sentences to explain your thinking.