As Private Albert Lightfoot prepared himself for battle 100 years ago, he closed the book he was reading and placed it in the gasmask pouch* around his neck.
A little hardback novel about life in colonial Africa, it had just been published that year, 1918.
It was called the Edge O' Beyond.
And at 10pm on April 24, as Lightfoot and his mates in the Australian Imperial Force charged the German lines in a battle that would free the French village of Villers-Bretonneux, the book would save his life.
A German bullet struck him on his jacket front, tearing through the book's cover and its pages, but not reaching his chest.
Afterwards, Lightfoot would record the moment in a note written on the inside cover.
"Bullet hole made in the battle field in France, April 24, 1918,'' he wrote.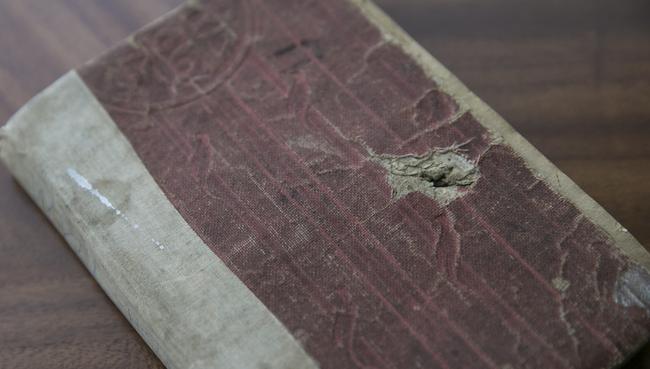 About 1200 of Lightfoot's fellow Australian soldiers were not so lucky, and would not make it home from that battle on the Western Front.
But their efforts forced the Germans back and saw the French and Australian flags raised over Villers-Bretonneux the next morning, April 25, exactly three years after the disastrous* landing at Gallipoli*.
Now, a century on, Lightfoot's Australian relatives are travelling to France to display the book at the Franco-Australian Museum, a small memorial built at the Victoria School in the village, named for the schoolchildren from Victoria in Australia who raised money to rebuild it after World War I.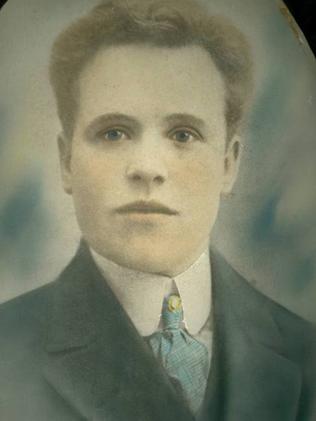 Lightfoot's great-nephews Danny and Wayne Duke, and their cousin, Lightfoot's great-niece Jan Kornweibel, will make the journey with Lightfoot's precious* book.
Danny Duke, 71, said the bullet appeared to have gone right through the book and may have deflected* into Lightfoot's wrist, as records show he was shot and wounded that night in an injury that saw him flown to the UK and later released from the army.
Lightfoot was born in London on March 12, 1890, and moved to Australia when he was 21 years old, joining his sister Louisa in Perth.
A house painter, Lightfoot was also a talented artist, mostly painting landscapes. But like so many young men of that time, he answered the call to serve his country in the military.
In 1915, when he was 25, he enlisted with the Australian Imperial Force and in January 1916 shipped out for Europe, leaving Fremantle aboard the transport ship Borda.
He took part in several battles in Egypt, France and Belgium before the battle on April 24.
After he returned to Australia he went back to house painting and tried his luck in the West Australian goldfields, Mr Duke said.
Lightfoot never married nor had children, and much of his life story remains unknown. Few of his paintings still exist. Mr Duke has only one photograph of him, and none of him in uniform.
"He was a fairly quiet man,'' Mr Duke said. "I recall him being a bit of a larrikin*."
Lightfoot died in August 1957 in a veterans' home in Perth.
Mr Duke said the family had decided to offer Lightfoot's book for display to the smaller Franco-Australian Museum because of the vast* size of the collection held by the Australian War Memorial in Canberra.
The museum, which was recently renovated, is proof of the links between Australia and Villers-Bretonneux, where the locals still acknowledge the sacrifice of the men who came from the other side of the world to save their village.
The Town Hall features two painted kangaroos on its outside walls and flies the Australian flag.
Plaques around the town commemorate* the Australian sacrifice, and a large sign over the playground at the Victoria School declares, in English: Do not forget Australia.
More than 8000 people are expected to attend the dawn service at the Australian National Memorial on Anzac Day to reflect of the actions of Albert Lightfoot and his brothers-in-arms a century ago.
Lest we forget.*
GLOSSARY
gasmark pouch: a small bag to hold a gasmark
disastrous: causing great damage
Gallipoli: A peninsula in Turkey where Australians joined an unsuccessful battle to control the sea route from Europe to Russia during World War I.
precious: of great value and to be treated carefully
deflected: cause to change direction
larrikin: mischievous person
vast: huge
commemorate: recall and show respect for
Lest we forget: a caution against forgetting those who gave their lives in battle to protect us.
LISTEN TO TODAY'S STORY
CLASSROOM ACTIVITIES
1. Biography
Use information from the article to write a biography about Private Albert Lightfoot. Write the biography in sequential order beginning with when and where he was born and concluding with where and when he died. Include the significant details of his life, what he did before the war, where he was involved in battles, when and why he left the army and what he did next. Also include what you know about his personal characteristics.
Extension: Imagine you are Private Albert Lightfoot recovering in an army hospital after he was injured. Write a letter home to your family explaining where you are and what happened to you on April 24, 1918. Include how you are feeling, emotionally and physically.
Time: Allow 40 minutes
Curriculum links: English, The Humanities – History
2. Villers-Bretonneux remembers
The townspeople of Villers-Bretonneux in France still remember Australia's involvement in the battle in their town in World War I. List the ways that Australia's involvement is still celebrated in Villers-Bretonneux. Why do they remember Australia so fondly? How does this recognition make you feel?
Extension: Private Lightfoot's relatives are travelling to Villers-Bretonneux to place the book on display in a museum there. Write a short (one paragraph) description of this item that can be placed alongside the book so those visiting the museum know the significance of it.
Time: Allow 25 minutes
Curriculum links: English, The Humanities – History
VCOP ACTIVITY
After reading the article, with a partner, highlight as many pieces of punctuation as you can find in green. Discuss how these are being used, where and how often. What level of the punctuation pyramid is the journalist using in this article?
IN ONE SENTENCE, TELL US WHAT YOU THINK ABOUT THIS STORY
Please do not use one-word answers. Explain what you enjoyed or found interesting about the article. Use lots of adjectives.