Century-old scenes from World War I have been brought to life in incredible 3D by an artist who worked on Harry Potter, Dr Who and The Jungle Book.
Visual effects artist Michael Harrison used the latest techniques and software but also an old optical illusion* to turn 100-year-old photos into 3D images.
By looking at the pictures on a screen with crossed eyes and focusing on the middle of the image you will be able to see the 3D images of explosions, battlefields and soldiers digging trenches, relaxing, training and fighting.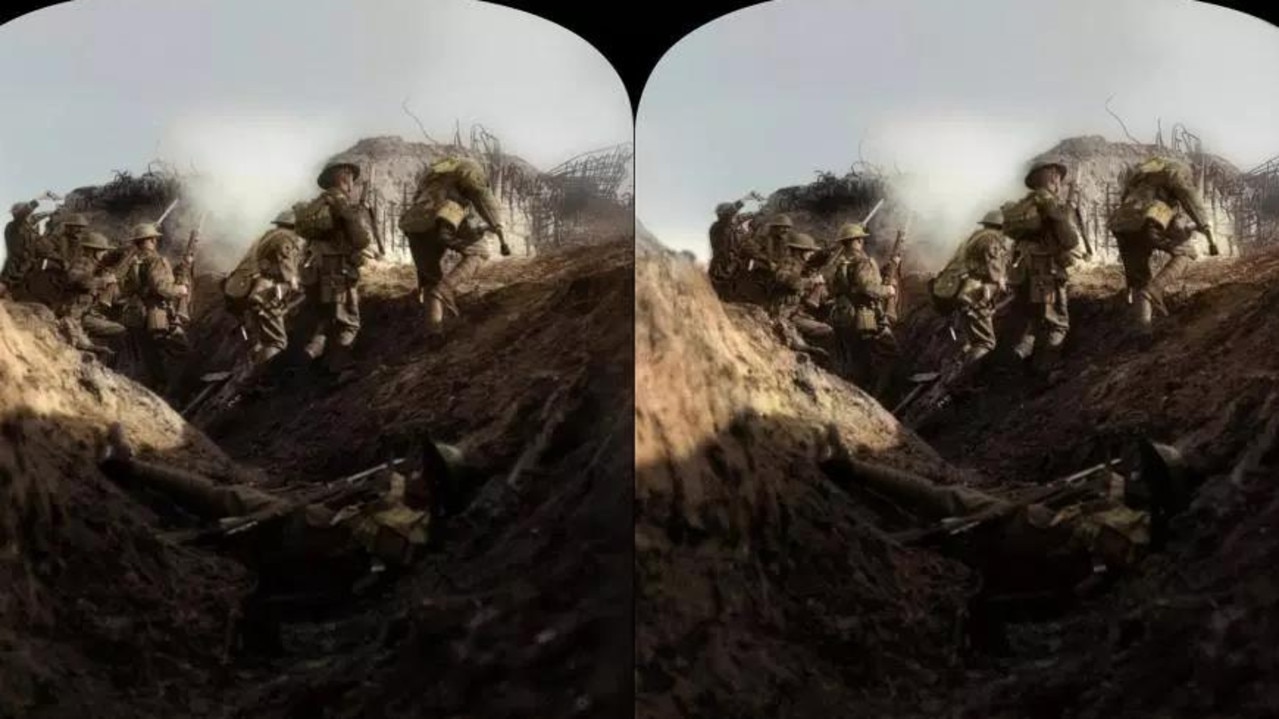 Mr Harrison from Bures in the UK first got the idea from old stereo views* he found on eBay and a trip to Belgium in the 1980s.
"I remembered viewing 3D images in old antique machines at the Sanctuary Wood Trench museum near Ypres* (France) in the '80s, and I thought that it would be interesting to see if I could use similar techniques which I have learnt in my job, to try and colourise* two slightly different images accurately. It's been a technical and creative challenge.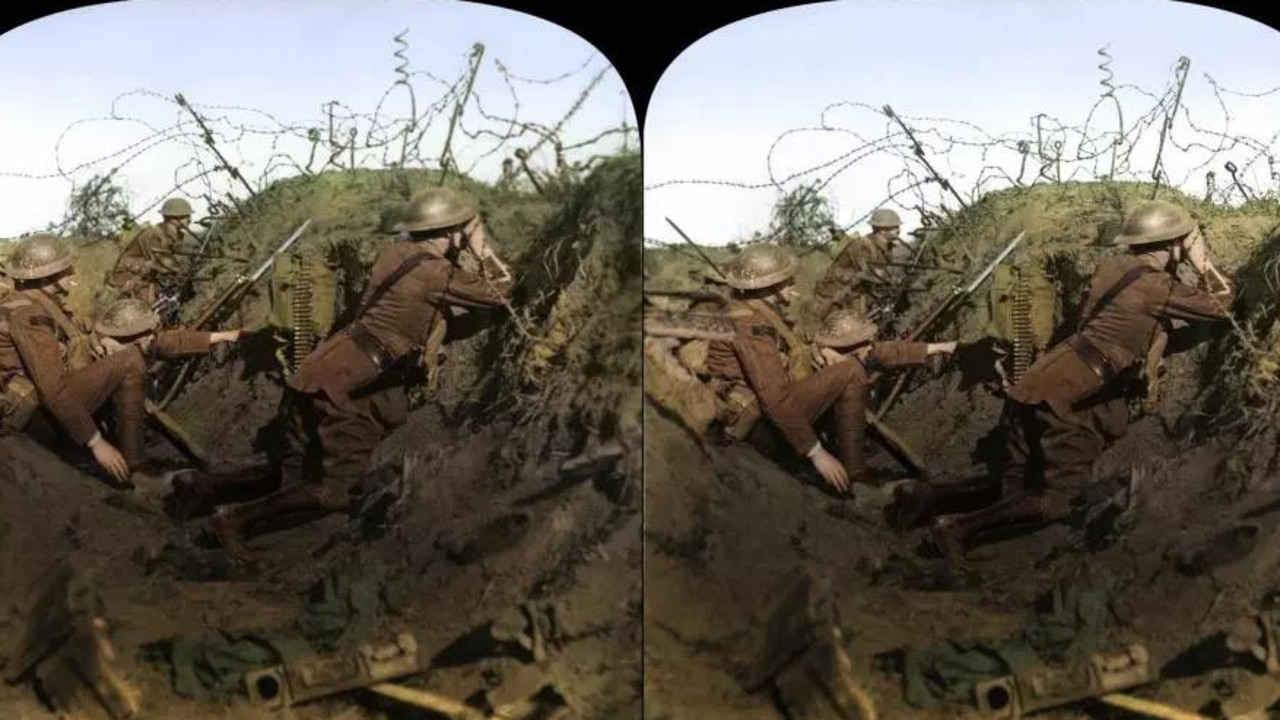 "What I see is people and places bought back to life … What I am trying to do is to bring the past into the present.
"I'd like to convey* that the people who fought in this war were real people, and not just flat black and white images.
"Everyone has a history and a family. We should not forget about the past so that we can learn from it, and not repeat the same mistakes."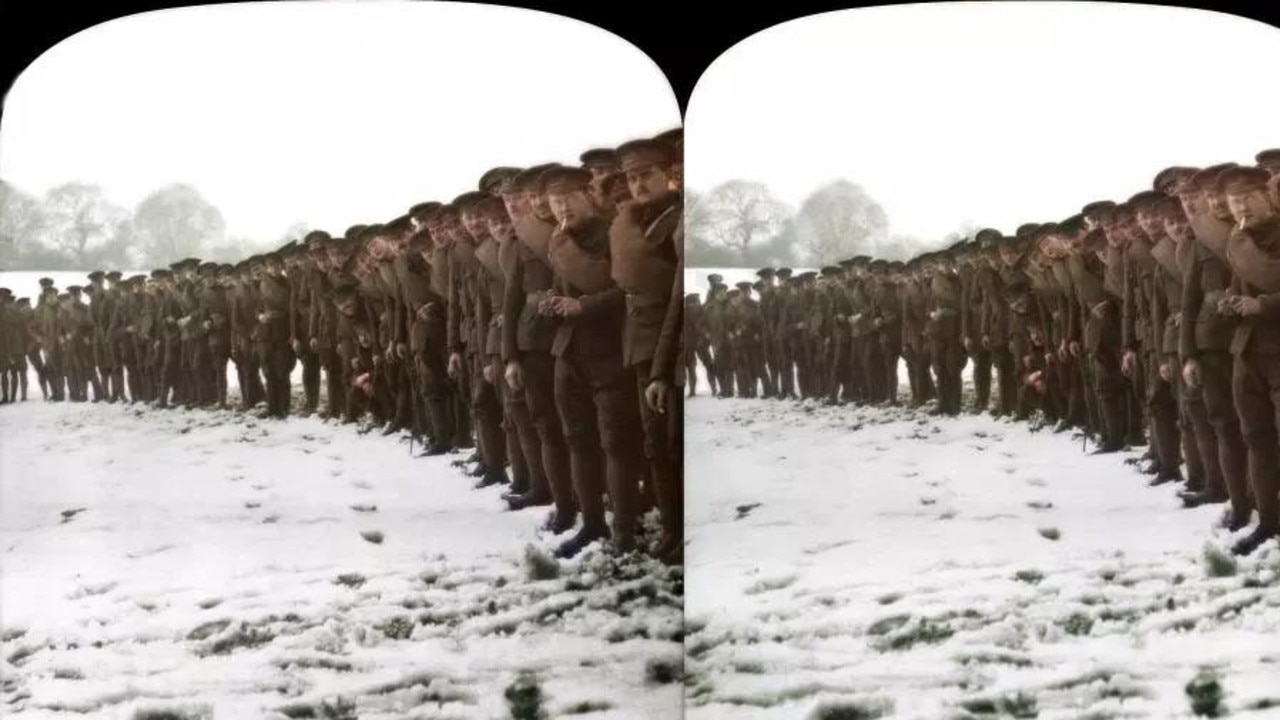 Each picture can take Michael a month or more to do as he fits it in around his job. He has worked on feature films and television series, including the Harry Potter and The Jungle Book films and Dr Who TV series.
Working on two images quadruples* the length of time it takes to complete each one, Mr Harrison said.
This full collection took him more than a year to do. He explained his process and the problems he ran into along the way.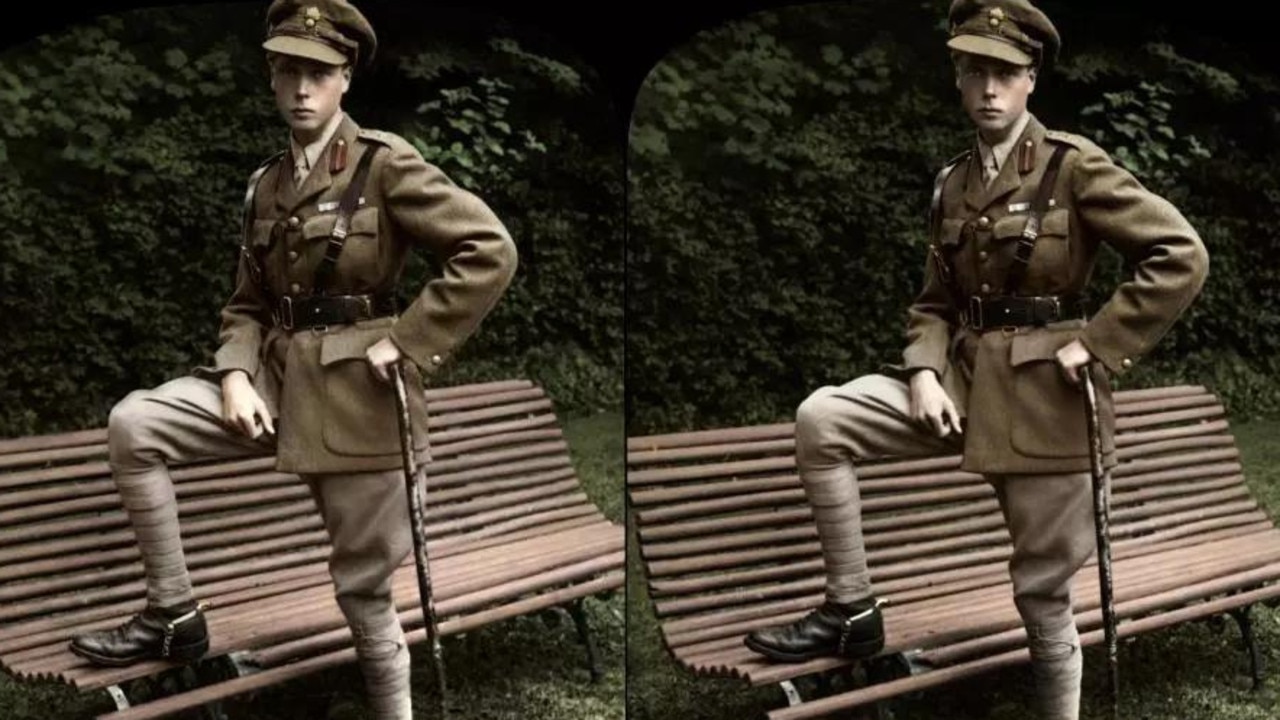 "After analysing* which images work best in depth, I then start by first scanning the images from my collection at a very high resolution*," he said.
"Then I spend time cleaning up/despotting* the various artefacts*. After that is done, I apply broad brushstrokes to get the initial colour tone of the image down, before I start the labour intensive process of accurately layering and colourising in both eyes.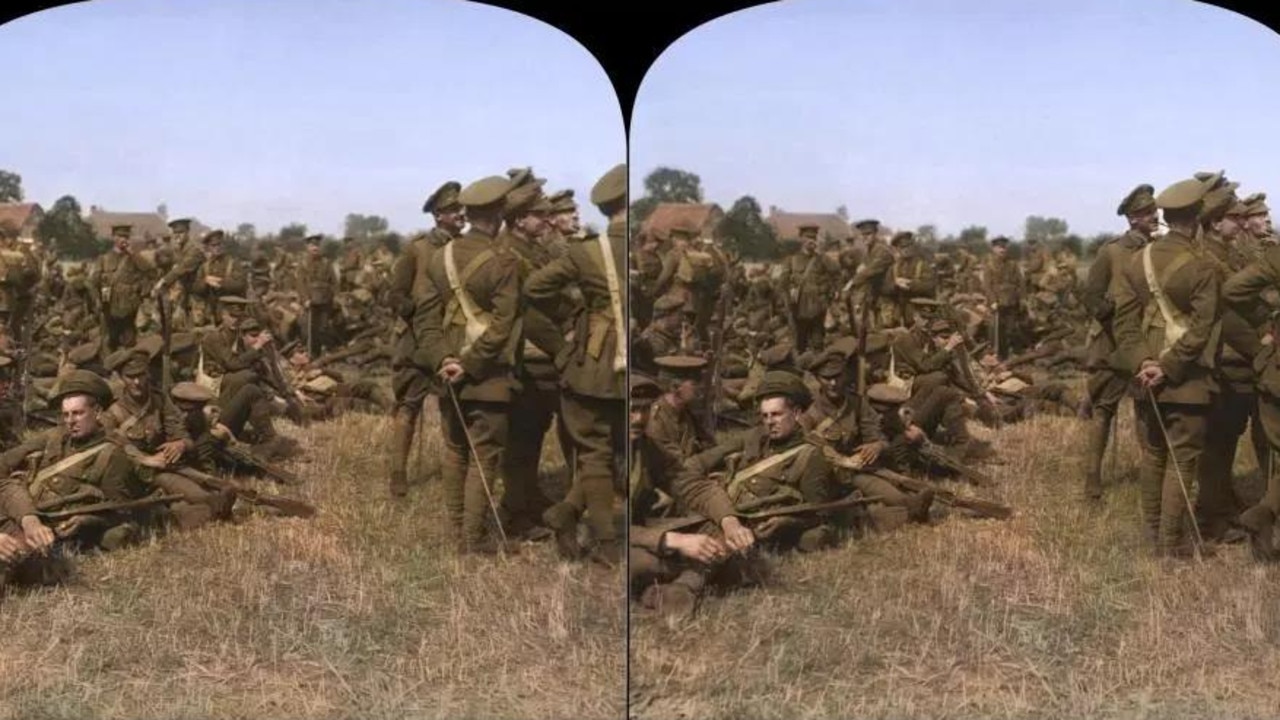 "I refer often to reference images of uniforms and equipment, and also reference my own photographs to see how colours change, depending on the season, weather conditions, and time of day.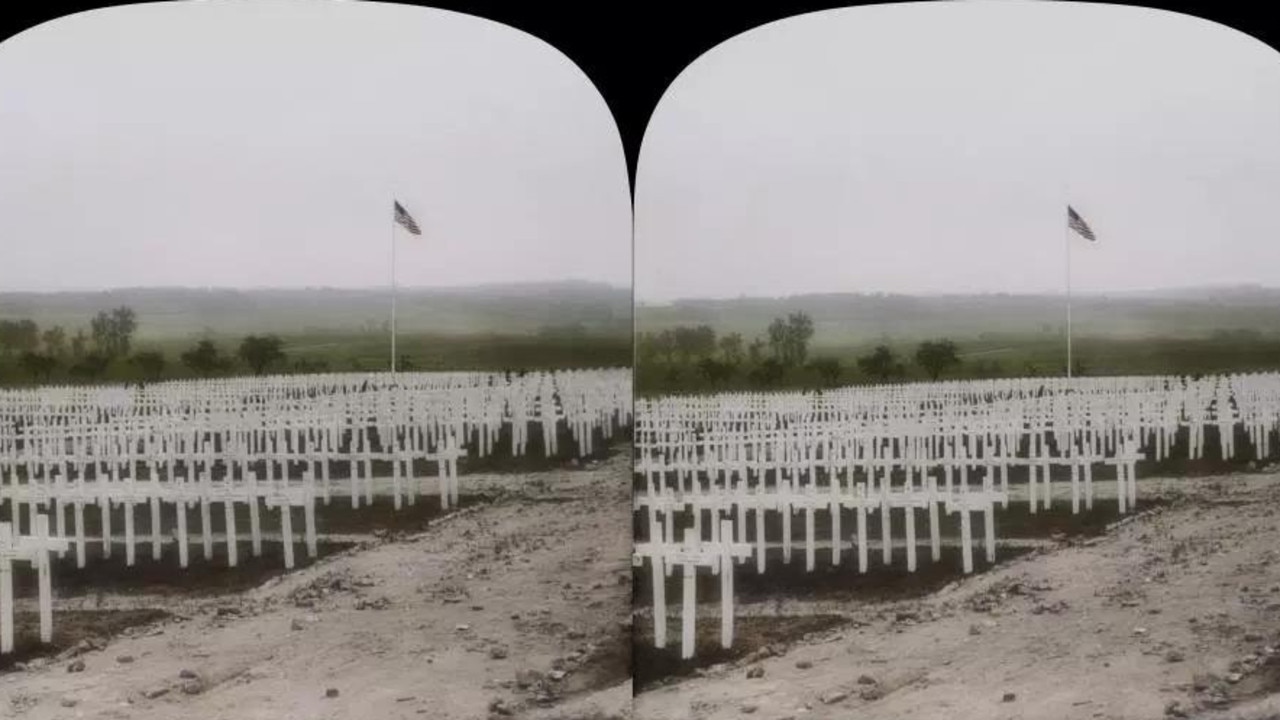 "My place of work has kindly let me use their equipment during evenings, or weekends, as long as it didn't interfere with the day job."
This story was previously published in The Sun and was reproduced with permission.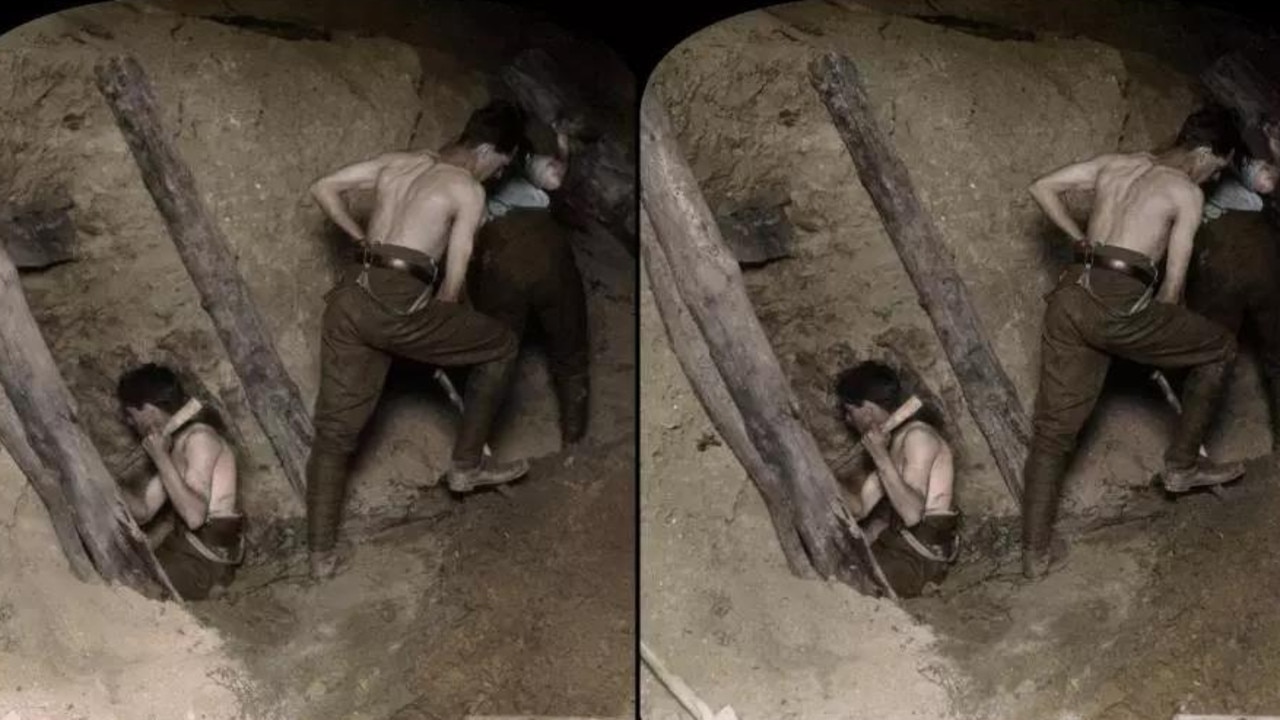 EXTRA READING
Corner of curves? It's an optical illusion
Snapshot of Australian history
Harry Potter comes of age at 21
Battle remembered with Anzac biscuits and Waltzing Matilda
GLOSSARY
optical illusion: a trick that fools the brain so you think you see something your eyes can't
stereo views: an old-fashioned device that shows two images that your brain combines into one to make it seem 3D
Ypres: a village in France where lots of fighting happened in WWI. Many Australians fought and died there.
colourise: add colour to
convey: communicate
quadruples: times four
analysing: assessing
high resolution: high quality with lots of detail
despotting: take the marks and dirt off
artefacts: old things that tell us what the past was like
LISTEN TO TODAY'S STORY
QUICK QUIZ
How did he first get the idea to make the images?
Why is he doing it?
Why does he believe we shouldn't forget the past?
How long did it take him for this collection, in his spare time?
What are two steps in the process?
CLASSROOM ACTIVITIES
1. What steps are involved in creating these 3D images?
Make a flow chart that shows, in order, what is involved in the process of creating them.
Time: Allow 20 minutes
Curriculum links: English, The Arts – Visual Arts, The Humanities – History
2. Extension
Michael Harrison is passionate about his work. What evidence from the article tells you that? Do you think it is important to preserve history in such a way?
Time: Allow 20 minutes
Curriculum links: English, The Arts – Visual Arts, The Humanities – History
VCOP ACTIVITY
With a partner see if you can you identify all the doing words/verbs in this text. Highlight them in yellow and then make a list of them all down your page. Now see if you and your partner can come up with a synonym for the chosen verb. Make sure it still makes sense in the context it was taken from.
Try to replace some of the original verbs with your synonyms and discuss if any are better and why.
HAVE YOUR SAY: What time, place or event in history would you like to experience in 3D? Why?
Use full sentences. No one-word answers.