Scientists have revealed details of a winged beast — nicknamed the Iron Dragon — which flew above Queensland during the age of dinosaurs, hunting fish in rivers and lakes.
Palaeontologists* have been studying Australia's most complete fossil of the pterosaur*, which they named Ferrodraco lentoni, for two years after the bones were dug up near Winton in central western Queensland.
The creature, which lived about 96 million years ago during the Cretaceous period, had a 4m wingspan*, a bony crest* at the tip of its upper and lower jaws and spike-shaped teeth perfect for eating fish.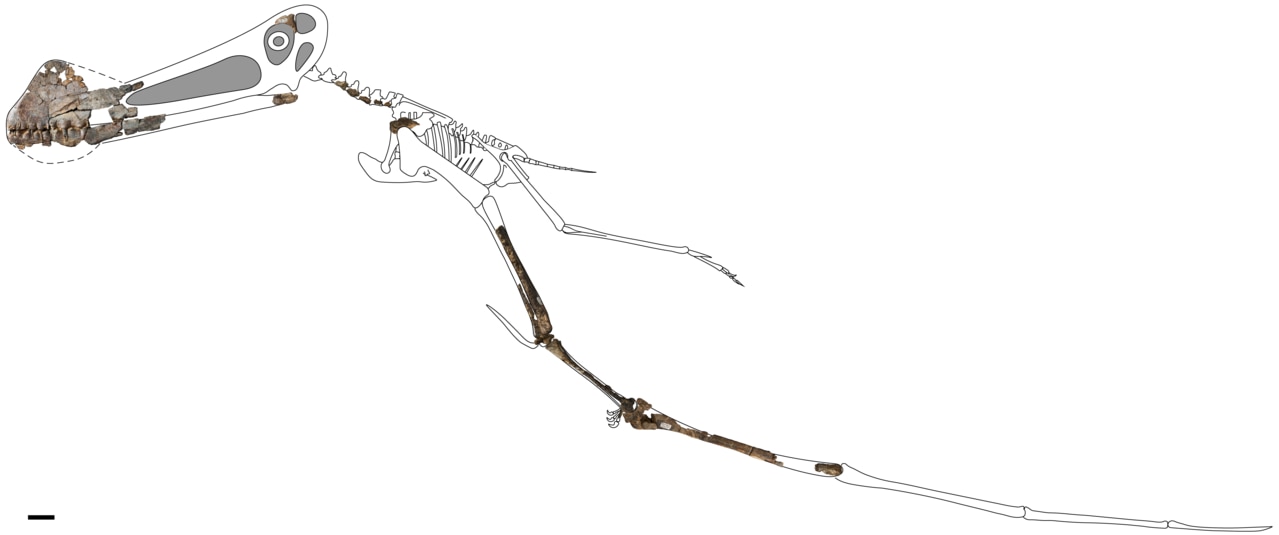 Only 15 pterosaur specimens have ever been scientifically described as from Australia, many of them broken and incomplete.
With the Iron Dragon, the researchers discovered part of a skull, five neck bones, parts of both wings and 40 individual teeth and tooth fragments.
While this made up about 10 per cent of its skeleton, it was still enough to reveal a lot about the animal.
"This pterosaur gives us a better understanding of the pterosaurs that lived in Australia during the mid-Cretaceous," palaeontologist Adele Pentland of the Australian Age of Dinosaurs Natural History Museum, and a PhD candidate at Swinburne University of Technology, said.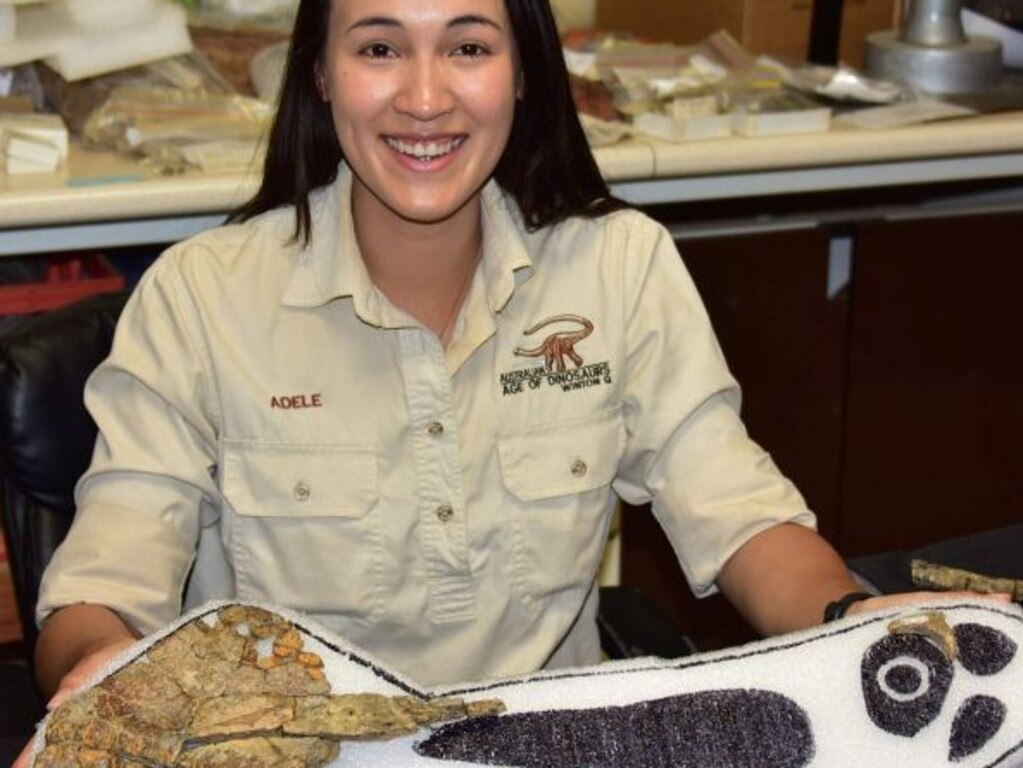 Pterosaurs, the biggest of which had a 10.7m wingspan, lived around the world alongside the dinosaurs during the Triassic, Jurassic and Cretaceous periods. Both became extinct after an asteroid struck Earth 66 million years ago.
"Pterosaurs are quite rare in the fossil record, and are often incomplete, as their bones are hollow and the cortical bone* is quite thin," said Ms Pentland, lead author of the research published last week for the first time in the journal Scientific Reports.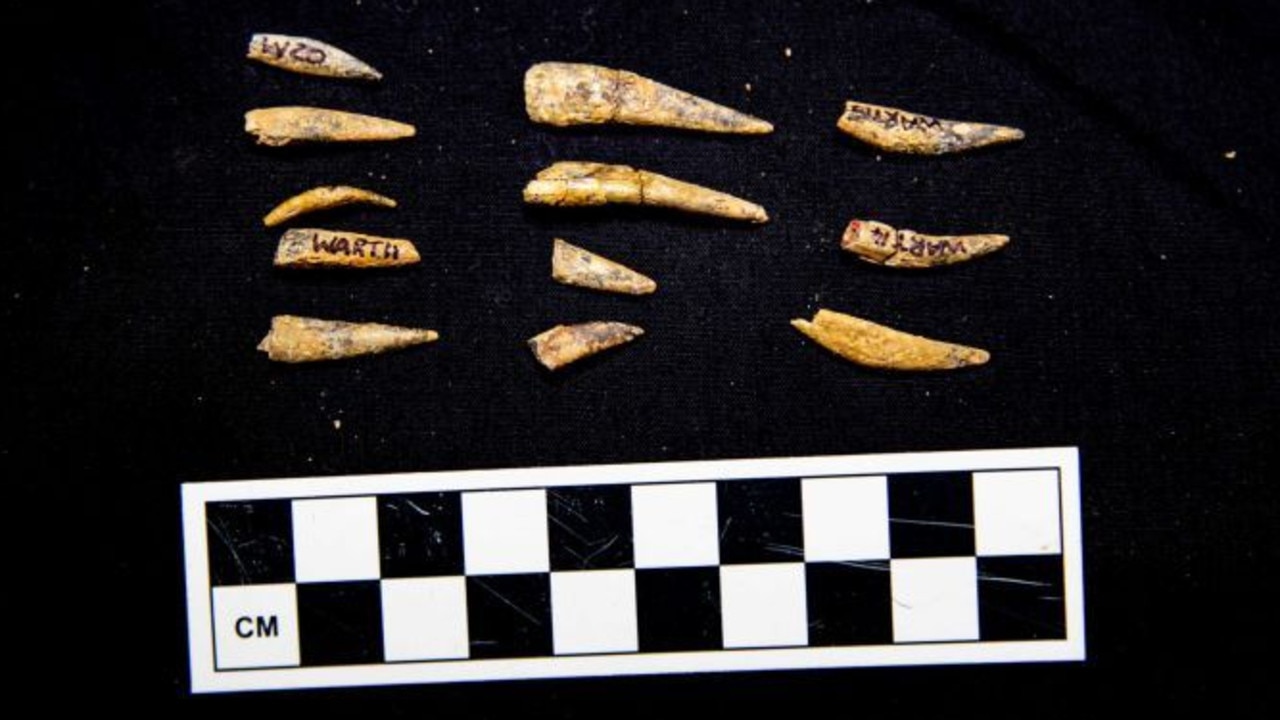 The Iron Dragon lived in forested areas around lake and river systems alongside the meat-eating dinosaur Australovenator and long-necked four-legged plant-eaters Savannasaurus and Diamantinasaurus, as well as crocodile relatives and other animals.
The Iron Dragon, which was nicknamed after the ironstone it was buried in, was discovered by Winton grazier Bob Elliott in April 2017 when he was spraying weedkiller along the banks of a creek on Belmont Station.
The Winton area has produced several well-preserved dinosaur fossils in recent decades.
VIDEO: Earlier this year, scientists discovered dinosaur tracks at Winton.
Dinosaur footprints discovered near Winton in central-west Queensland
GLOSSARY
palaeontologists: scientists who study fossils
pterosaur: flying reptile of the Jurassic and Cretaceous periods
wingspan: measurement from tip to tip of the wings
crest: a comb or tuft of feathers on an animal's head
cortical bone: dense outer surface of bone
EXTRA READING
Giant parrot nicknamed Squawkzilla found
Australia's 'Jurassic Park' discovered
Human-sized extinct penguin found
First look at humans' ancient cousin
PM promises Australia will help US land on Mars
QUICK QUIZ
How many years ago did the Iron Dragon live?
Who found it first?
How big is its wingspan?
What happened to the pterosaurs?
What percentage of the skeleton was found?
LISTEN TO THIS STORY

CLASSROOM ACTIVITIES
1. Finding facts
Vertically, down the left-hand side of your page, write the words IRON DRAGON. Then, using each of the letters in IRON DRAGON as the first letters of your sentences, write 10 facts about Ferrodraco lentoni.
Time: allow 20 minutes to complete this activity
Curriculum Links: English; Science
2. Extension
Sketch a scene showing Ferrodraco lentoni that provides information about what it looked like, its habitat, what it ate and other animals that it lived alongside.
Time: allow 20 minutes to complete this activity
Curriculum Links: English; Science; Visual Arts
VCOP ACTIVITY
Write a blurb for a new exciting novel being written about the Iron Dragon of Australia.
Decide a little about what the story will be about to make your blurb exciting and enticing to readers. The story will be a narrative, but with use scientific facts about the animal to also make it realistic.
HAVE YOUR SAY: If you were lucky enough to discover a fossil, which dinosaur do you hope you could find?
No one-word answers. Use full sentences to explain your thinking.