A large piece of Australia's motoring history will come to an end this week when Holden closes its factory in South Australia.
Workers will finish their final shift at the Elizabeth plant on Friday after making cars there for almost 70 years.
At its peak, the factory built 780 cars a day.
Holden will become a national sales company and vehicle importer after the closure, so we will still see Holden cars on our roads, but they will have been brought here from overseas.
"It is the end of an era for local manufacturing* and it has been a big part of my life," said Dave Depares, who started working at Holden in 1988 as a 17-year-old.
Holden began as an Adelaide saddlery* in 1856 and switched to car body building during World War I.
In 1924, the company became the exclusive supplier of American car manufacturer General Motors in Australia.
Seven years later, the two companies merged to become General Motors-Holden's Limited.
Then chairman of the company, Edward Holden, signed an exclusive deal to build General Motors bodies in Australia and new plants were built in Brisbane, Sydney, Melbourne, Adelaide and Perth where the complete cars were assembled using the Australian-made bodies and imported engines and chassis*.
In 1948, the company finally achieved its long-term dream of building the first all-Australian motor vehicle.
On November 29, Prime Minister Ben Chifley unveiled the first Holden 48-215, which became affectionately known as the FX and was designed for the Australian environment.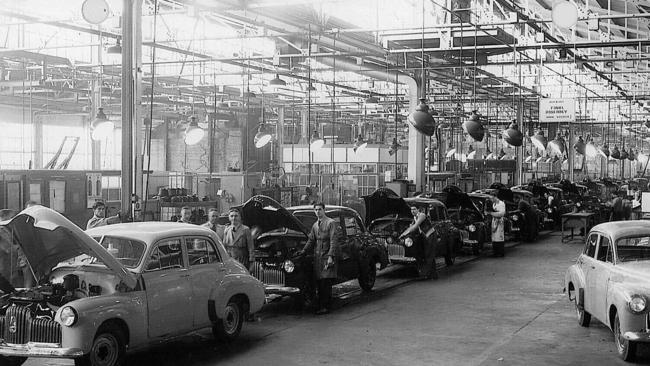 The price was set at $733 (including tax), which represented a staggering 94 weeks' wages for the average worker at the time.
Despite this, the car was an instant hit and Holden was swamped with requests for the car — 18,000 people had signed up and paid their deposit without even having seen the vehicle.
By the 1950s, Holden dominated the Australian market with more than 40 per cent of car sales. It had sold a million vehicles by 1962.
Holden produced an iconic advertising campaign in 1976, when it famously posed the rhetorical question*: "What's your favourite car, Australia?"
The line sparked an ad featuring a montage of outdoor scenes, including cricket and a beach. "We love football, meat pies, kangaroos and Holden cars," a chanting crowd sang for the signature jingle.
The iconic* car brand's most popular car — the Commodore — was introduced in 1978 and increased sales for many decades.
But fast forward 40 years, and several factors have forced the car giant to close its Australian factory — the high Australian dollar, high wages, import barriers in Asia, and the refusal of further government subsidies to offset costs.
Chairman and managing director Mark Bernhard said stopping local production was a very difficult decision.
"There's no question closure is going to be gut-wrenching*," he said. "We're going to lose some terrifically skilled and passionate people who put their hearts, minds and souls into Holden."
And he admitted Holden's loyal car buyers would be sad, too.
"For some customers who are hugely passionate about the product that we've designed and developed and manufactured locally it's going to be a very sad day on October 20," he said.
When it finally closes its doors, almost 3000 Australian Holden workers will have lost their jobs.
GLOSSARY
manufacturing: the making of goods or wares by manual labour or by machinery
saddlery: a business which makes saddles
chassis: the frame, wheels, and machinery of a motor vehicle
rhetorical question: a question designed to produce an effect and not to draw an answer
iconic: relating to or of the nature of an icon, portrait, or image
gut-wrenching: disturbing or distressing
LISTEN TO TODAY'S STORY
CLASSROOM ACTIVITIES
Activity 1. Identifying the main idea
Identify each individual paragraph in the news article. Read each paragraph carefully and write one sentence that gives the main idea of that paragraph.

Extension:
Create a timeline and on it mark and record the major events in Holden's history as detailed in the article.

Time: allow 20 minutes to complete this activity
Curriculum links: English
Activity 2. Maths equations
Use information found in the article to help you answer these maths questions.
• How old is Dave Depares now?
• How many years is it since Holden first began as a saddlery?
• In which year did Holden and General Motors merge?
• How much was the average week's wages back in 1948 when the first all-Australian motor vehicle was released?
• What was the total value of the 18,000 Holden 48-215s ordered upon its release?

Extension:
Do some research of your own about the way motor vehicles have evolved over time.
Write down five things that are common in most cars now that wouldn't have been present in early versions of cars.

Time: allow 20 minutes to complete this activity
Curriculum links: English, Mathematics, History
VCOP ACTIVITY

(Vocabulary, Connectives, Openers, Punctuation)
Acrostic poem
Holden is an iconic Australian brand and quality car manufacturer.
Write an acrostic poem about Holden to celebrate their history.
Time: allow 15 minutes to complete this activity
Curriculum links: English, Big Write, VCOP- Vocabulary
EXTRA RESOURCES