FORMER Prime Minister, the Honourable Tony Abbott MP, has visited Ballarat's Botanical Gardens to unveil a bronze bust of himself — the latest addition to Ballarat's famed Prime Ministers Avenue.
The official unveiling ceremony started at 9.30am on Monday, June 5, at the Ballarat Botanical Gardens.
Mr Abbott, who was Prime Minister between 2013 and 2015, said he was happy with the work of Sydney-based sculptor Linda Klarfeld.
"I think she's done a fine job, she's presented a rather flattering side of me," he said.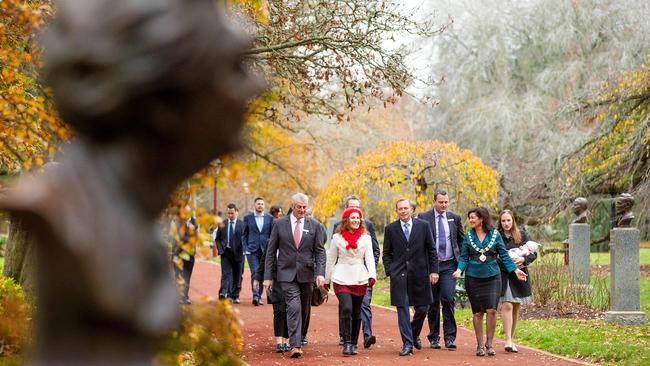 "In the end it is important to appreciate that just about everyone in public life is there for the right reasons."
Located in Ballarat's beautiful and historic Botanical Gardens, Prime Ministers Avenue is a feature of national significance*, displaying bronze portrait busts of each of the previous Prime Ministers of Australia.
Mr Abbott's portrait was the 28th to be added to the Avenue.
"I am proud to be joining such company and I hope the company, both living and dead, is happy at the new addition," Mr Abbott said.
The Avenue was officially opened by the Governor of Victoria, Sir Winston Dugan on March 2, 1940, who unveiled the busts of the first six Prime Ministers of Australia: Edmund Barton, Alfred Deakin, Chris Watson, George Reid, Andrew Fisher and Joseph Cook.
The first 12 busts in Prime Ministers Avenue were a gift to the people of Ballarat from prominent local benefactor* and Member of Parliament, Richard Armstrong Crouch who left a further bequest* to ensure the continuation of the Avenue after his death.
Ballarat City Council is now in charge of making sure the busts are completed.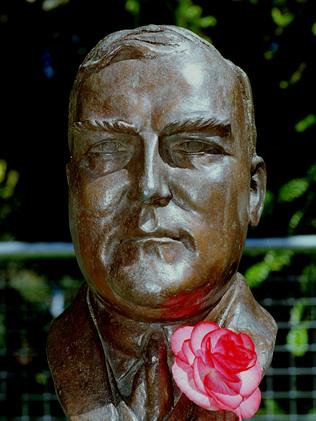 This year, the Ballarat Botanical Gardens is celebrating 160 years since it was established.
GLOSSARY
significance: importance
benefactor: person who gives money or things for a cause
bequest: given object
LISTEN TO TODAY'S STORY
CLASSROOM ACTIVITIES
Activity 1. Prime Ministers Avenue
After reading the article, tell me what you've learned about the following key points in the article:
What is Prime Ministers Avenue? How did it start and how does it keep up to date?
What can you tell me about the Ballarat Botanical Gardens and why the sculptures are there?
Extension:
What is a bequest?
Who or what would you leave money to in the future and why?
Time: Allow 15 minutes to complete this activity
Curriculum links: English, History
Activity 2. Fine art
Imagine you had to be represented as a bronze bust, like the former prime ministers.
Sketch a design of yourself, from the shoulders up, that a sculptor could then turn into a 3D representation.
Extension:
Research the work of Mr Abbott's sculptor Linda Klarfeld.
What other work has she done?
Do you like her sculptures?
Time: Allow 40 minutes to complete this activity
Curriculum links: Visual Arts, History, Design and Technologies
VCOP ACTIVITY
(Vocabulary, Connectives, Openers and Punctuation)
Alliteration is where you use the same sound or letters are used close together in a phrase or sentence.
Eg: The snake slithered silently through the sand or the bronze bust in Ballarat Botanical Gardens
Write a sentence with alliteration about a popular area/object/icon or landmark at school or in your community.
Time: allow 15 minutes to complete this activity
Curriculum Links: English, Big Write, VCOP
EXTRA RESOURCES
TWIGGY'S RECORD BREAKING DONATION
HORSE-DRAWN CARRIAGES REINED-IN