Archaeologists have found a 2000-year-old chariot from a villa* on the outskirts of Pompeii, the city buried in the volcanic eruption of Mount Vesuvius in 79AD.
The almost perfectly preserved ancient Roman, four-wheel, ceremonial chariot or carriage made of iron, bronze and tin was found near the stables of a grand villa at Civita Giuliana, around 700m north of the walls of Pompeii. The carriage would also originally have had timber parts. The remains of three horses were previously found at the stables.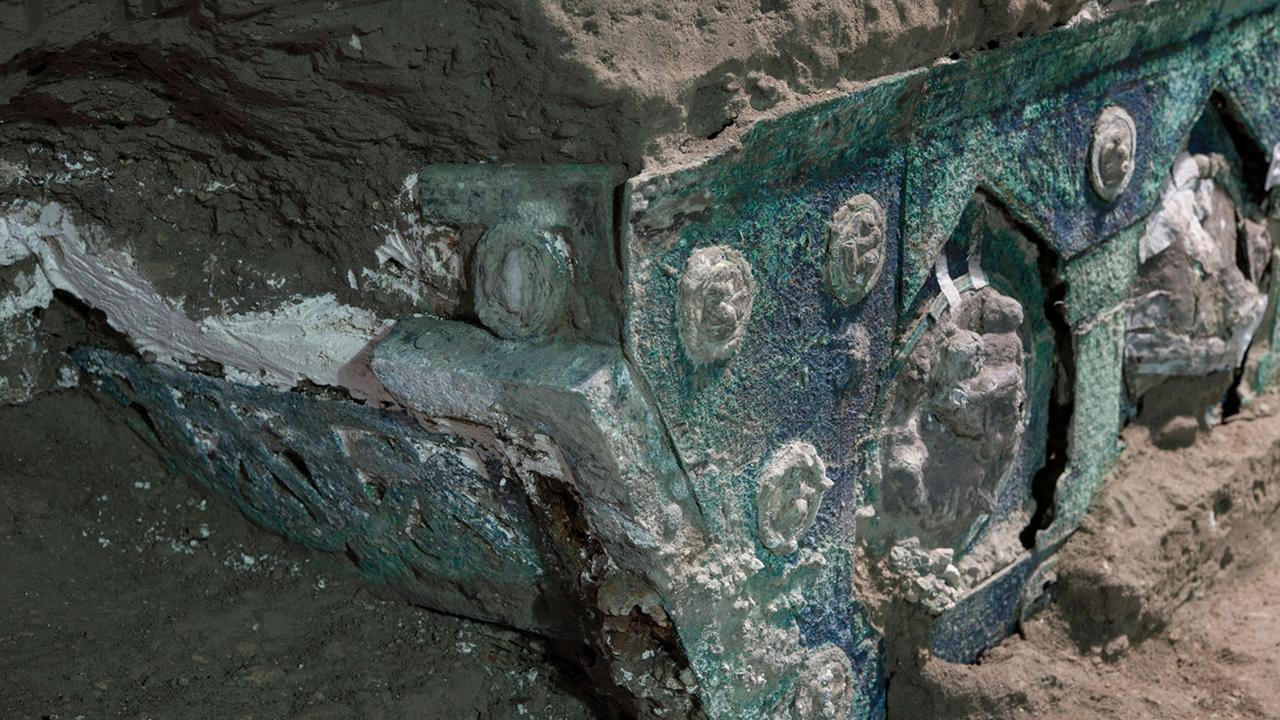 Massimo Osanna, the outgoing director of the Pompeii archaeological site, said the carriage was the first of its kind discovered in the area. Previously, other vehicles used for transport and work had been found, but none for ceremonies.
"This is an extraordinary discovery that advances our understanding of the ancient world," Professor Osanna said, adding that the carriage would have "accompanied festive moments for the community, (such as) parades and processions". An example of when such a special carriage would be used was to carry a bride to their new home after her wedding.
The culture ministry called it "a unique find, without any precedent* in Italy".
The chariot was spared when the walls and roof of the structure it was in collapsed, and also survived looting* by modern-day antiquities* thieves, who had dug tunnels through to the site, grazing but not damaging the four-wheel cart, according to officials.
Pompeii, 23km southeast of Naples, was home to about 13,000 people when it was buried under ash, pumice* pebbles and dust when Mount Vesuvius erupted.
About two-thirds of the 66ha ancient town has been uncovered. The ruins were not discovered until the 16th century and organised excavations began in about 1750.
"Pompeii continues to amaze us with its discoveries and it will do so for many years, with 20ha still to be dug up," said Culture Minister Dario Franceschini.
Pompeii is a UNESCO World Heritage Site.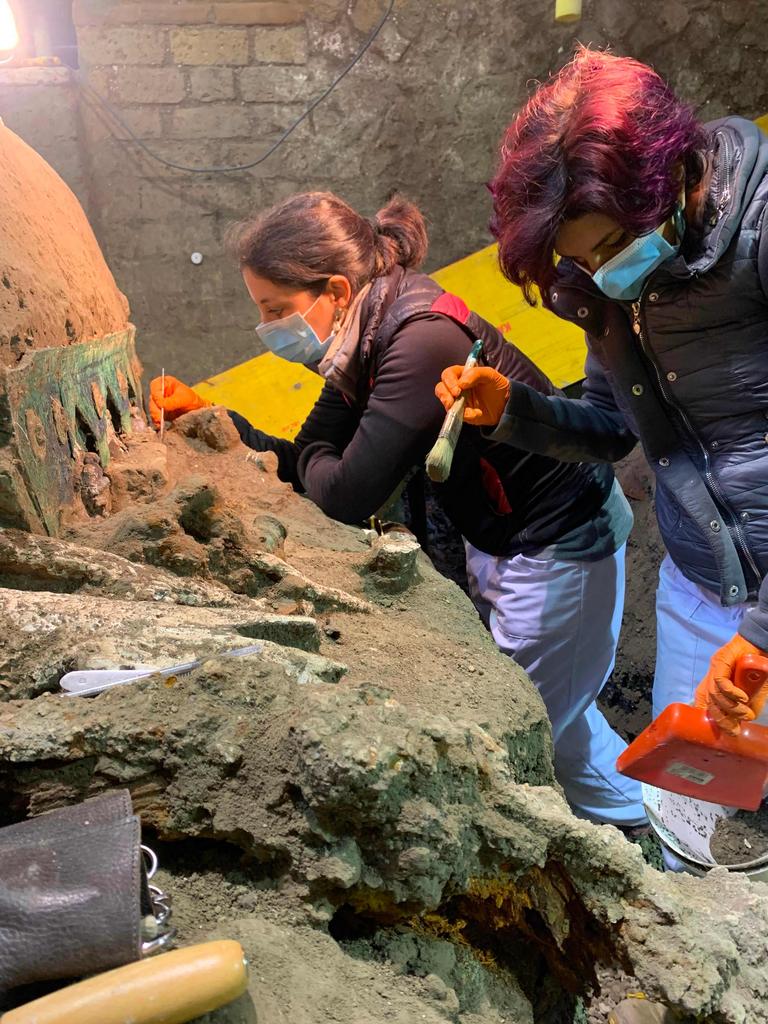 GLOSSARY
villa: grand home
precedent: an earlier event seen as an example of something similar
looting: stealing
antiquities: ancient past, especially what is called the classical period, before the Middle Ages
pumice: light, porous volcanic rock
EXTRA READING
Exploring the lost city of Pompeii
2000-year-old Pompeii skeleton found
Mount Etna's spectacular volcanic eruption
What is at the centre of the Earth?
QUICK QUIZ
Near which city was the carriage found?
What was it made from?
When did Mount Vesuvius erupt and bury the carriage?
How would the carriage have been used?
What would have pulled the carriage?
LISTEN TO THIS STORY
CLASSROOM ACTIVITIES
1. Sketch an Ancient Carriage
Draw a sketch incorporating elements from the carriage uncovered in Pompeii and your own thoughts on what the full carriage may have looked like.
Use the same materials as the one described in the article and the same detail but sketch the whole carriage as it may have looked in ancient times.
How does this discovery enhance our understanding of the ancient world?
Time: allow 30 minutes to complete this activity
Curriculum Links: Visual Arts, History
2. Extension
The following sites are UNESCO World Heritage sites in Australia:
Great Barrier Reef
Kakadu National Park
Willandra Lakes Region
Lord Howe Island Group
Tasmanian Wilderness
Gondwana Rainforests of Australia 2
Uluru-Kata Tjuta National Park 3
Wet Tropics of Queensland
Shark Bay, Western Australia
Fraser Island
Australian Fossil Mammal Sites (Riversleigh/Naracoorte)
Heard and McDonald Islands
Macquarie Island
Greater Blue Mountains Area
Purnululu National Park
Royal Exhibition Building and Carlton Gardens
Sydney Opera House
Australian Convict Sites
Ningaloo Coast
Budj Bim Cultural Landscape
Choose 3 of these and describe their significance to Australian heritage.
Time: allow 20 minutes to complete this activity
Curriculum Links: English, History
VCOP ACTIVITY
Adjectives
An adjective is a describing word. They are often found describing a noun. To start with look at the words before the nouns.
Search for all the adjectives you can find in the article
Did you find any repeat adjectives or are they all different?
Extension: Pick three of your favourite adjectives from the text and put them in your own sentences to show other ways to use them.
Have you used any in your writing?
HAVE YOUR SAY: What would you like to uncover at Pompeii?
No one-word answers. Use full sentences to explain your thinking. No comments will be published until approved by editors.