Philip Owen Ayton was 25 years old and working on the Sydney tramways when he enlisted* in the 1st Field Company of Engineers soon after World War I was declared. He took part in the Gallipoli landing and later fought on the Western Front, all described in vivid* detail in a diary of about 106,000 words. His diary entries in five notebooks have now been published for the first time.
On Saturday, April 24, 1915 Ayton was on the transport ship Ionian where final preparations were underway for the Gallipoli landing the next day. In his diary he describes the mood on board. Some soldiers were cheerful, others quiet. The equipment they were ready to carry was very heavy but he wrote he was "in great spirits".
His diary entry of the Gallipoli landing of Sunday, April 25, 1915 is a detailed description of the rush, chaos, noise and the death and injuries of his fellow soldiers.
On that first day he made his way though heavy gunfire, leaving the ship and getting into the smaller landing boat. He waded through water that was, at first, above his waist and ran up the beach to the scrubby bush and up the hillside to the trenches of the Turkish soldiers. He wasn't injured, though his backpack had a bullet hole through it and his mate's knuckles were chipped by a bullet.
Then the engineers including Ayton were ordered back down to the beach after the initial landing to get their orders. One of their main jobs was to dig trenches to give the soldiers some protection.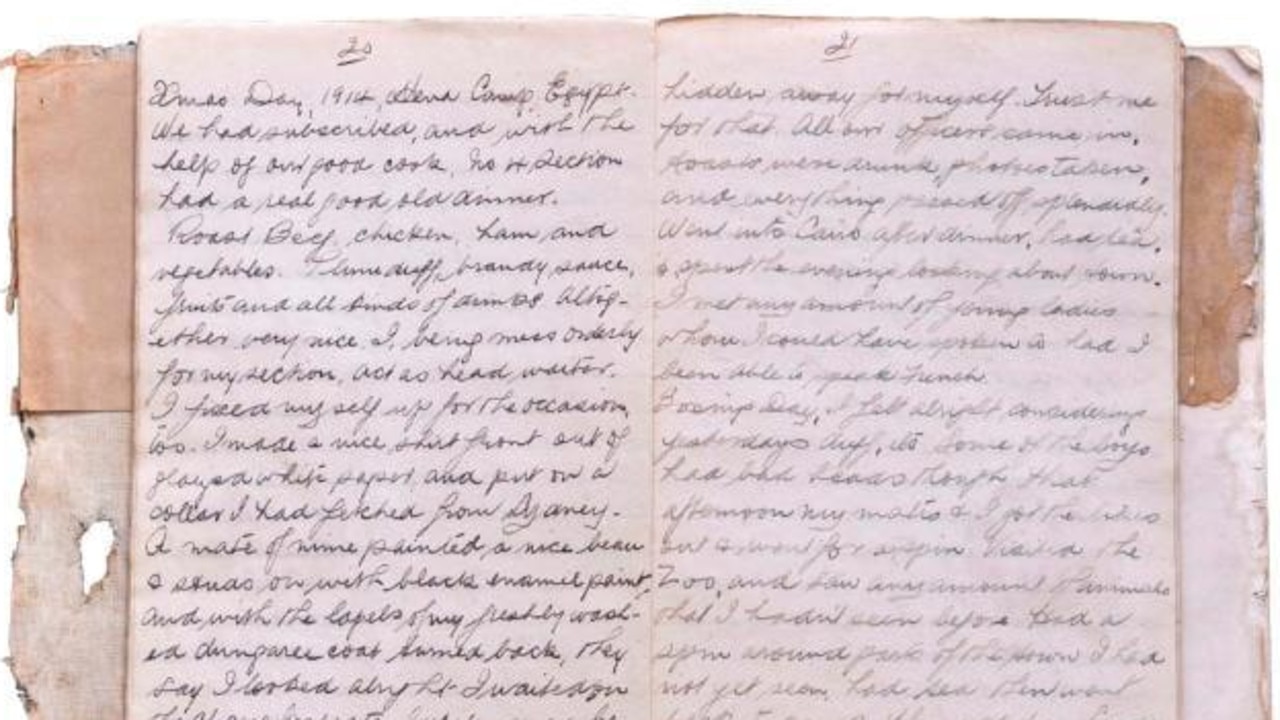 Below you can read part of Ayton's diary, beginning April 26, 1915
Monday, April 26 — my 26th birthday
At day break the enemy started to pour shrapnel* into us and sent heavy shells* out to sea at the ships. Nearly all that day a terrible cannonade* raged. The noise was beyond description. I had a most awful headache from the row* and want of sleep and was almost exhausted for want of rest. We had a short rest in the afternoon and I fell asleep on top of my shovel. Most of my mates were the same. All the shells and bullets in the world couldn't have kept us awake. After that we worked on till dark, having, by that time, some decent trenches dug, which the New Zealanders immediately occupied. We dug ourselves in and went to sleep, completely knocked out. I felt like a new man next morning after the good sleep and a feed.
We were ordered back to the beach then, so we collected our gear and tools, went back and worked all day making dugouts for ourselves on the side of the hill. All day the enemy shelled us and I had several narrow escapes while working.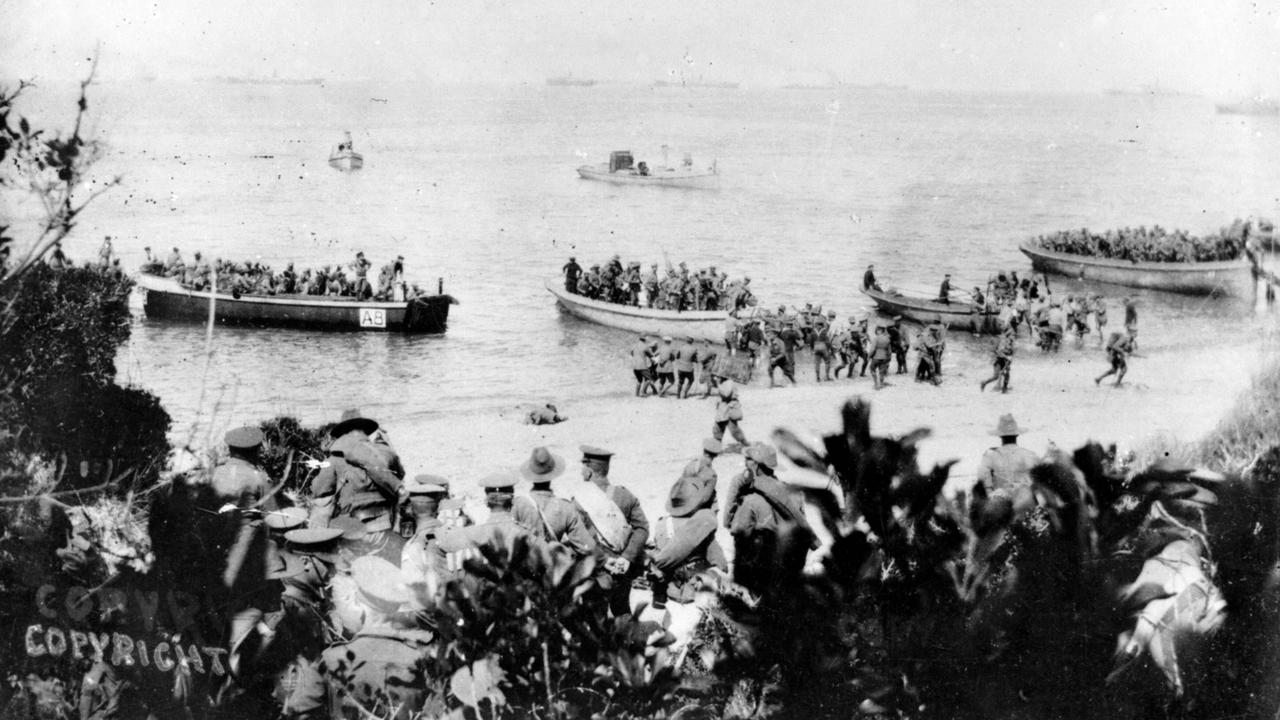 Before going into action I had been told that men nearly die of fright when they first get under fire. I don't believe it, because I can honestly say that I was not the least bit nervous and plenty of others say the same. In the excitement a man does not think of the danger and several times I have been spoken to for running unnecessary risks. Others are the same. Our dugouts were under constant fire night and day yet we used to sit about and talk as if we were at home. It may seem hard to believe, but it is true.
On Friday 30th I was sent with a party up to the front fire trench, to cut a dugout and erect overhead cover for the 3rd Brigade headquarters. That afternoon the Turks made a determined attack on our trenches. They came rushing through the scrub in thousands. Our field artillery poured the shrapnel into them and as each shell burst I could see the Turks fall in dozens. Our gunners were timing the shells splendidly and they were bursting with terrible effect among the enemy at about 1000 yards (914m). Still they came on and some got to within 50 yards (45m) of our trenches before they went down before our rifle and machine gun fire. What was left of them fell back on their own lines. The scrub and the barley field were full of dead. That satisfied me that the Turks can fight and face certain death too. The way they came on that day was marvellous. I have read in the papers that they are poor fighters, and easily disheartened*. I don't think so after what I have seen.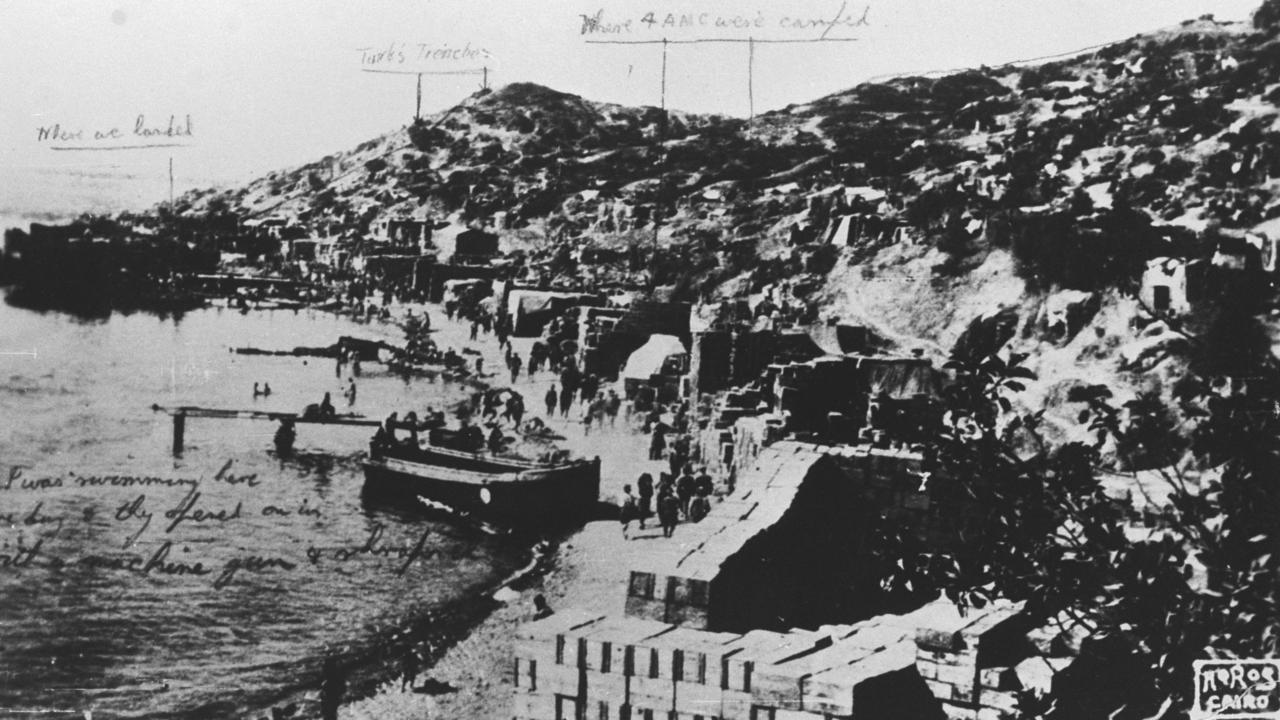 My mate Roy Denning and I had a cosy little home in the hillside and lived quite snug and happy together. It was nearly blown up two or three times, but up till the time I left, it was still there. Life in the dugouts is not at all bad. Roy and I had ours cut into the hillside, and was about 4ft (1.2m) deep and 4ft broad by 6ft (1.8m) long. We put on a roof with some props and smashed up biscuit boxes, and covered it with earth. It wasn't bomb proof of course, but it kept off shrapnel pellets, rain and the hot sun. We used to sleep in our overcoats on our waterproof sheets. It was infernally* cold the first couple of weeks and we could hardly sleep, but our blankets arrived at last. I used to cadge* candles off the blue jackets (British navy men), so we used to lie back and read, quite comfortably, the latest news from papers a month old also ­procured* from the 'Tars' (seamen). I used to get all sorts of little delicacies such as bread, tinned milk and jam from the 'Tars' off the warships, in exchange for Turkish shells, rifles, etc. They wanted them as souvenirs, to take home. We had plenty of tea, so that made up for a lot of deficiencies. The Australian soldier likes his quart* of tea in the trenches.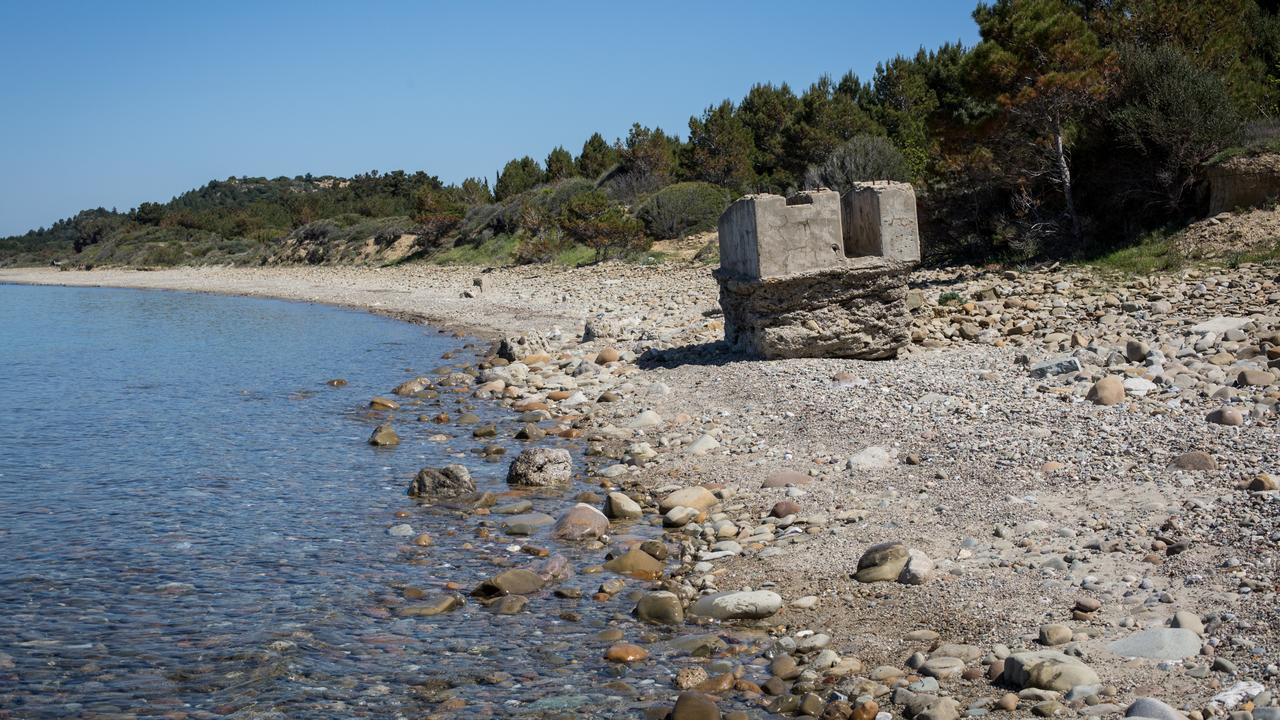 On Friday May 14 we were busy working when the enemy began to shell us with shrapnel and explosives. For nearly an hour they gave us hell, shell after shell exploding all round us. It was impossible to work and we had to take shelter behind our sandbag wall. Some of our artillery* opened on the enemy and at last they gave us a spell. We were then broken off to get our midday rations and went to our dugouts. I forgot my water bottle and went back to get it when I heard a distant boom and the scream of a shell. I knew that it was from the same direction as before. There was no cover, only the bank of a road and that was 20ft (6m) off, on the left. I dived for it, but the next I knew was an explosion and I was pitched forward and rolled over and over. There was dust and smoke everywhere and hissing pellets tore up the dirt all round. I felt a blow on my leg and it was paining. I looked and saw blood running. I had been hit. Well, I hopped off to the Casualty Tent which was only 100 yards (91m) off and they dressed it up alright. It didn't look much, but they said that it would give me trouble as the pellets had gone through the sinews under the knee. My mate Roy brought down my pack and I was sent out to the Seang Choon* with a lot of other wounded.
Everything seemed so quiet and peaceful as there was no bursting shrapnel and hissing bullets flying about. After being 20 days in action and under fire all the time, I was now out of the danger zone. I was transhipped* on to the Galeka bound for Alexandria and we arrived on May 28. The wounded were taken out to a hospital on the beach called Glymenopoulo Hospital No. 2.
My leg was soon straightened out and started to heal. The hospital surroundings were lovely and all our wants were attended to. Everything helped to make us get well quickly as well as to pass away the time, which hangs heavily when one is idle.
Sunday, June 6
This brings my notes up (to) the present time. I am still in the hospital but am nearly better and hope to be discharged, fit and well, in a few days. I want to get back to the boys at the front and see how things are going out there.
After the war Philip Ayton returned to Sydney and married Nellie Clarke, with whom he had two sons and two daughters. He died in 1946 at the age of 57.
Edited extract from Hell of a Time — an Australian ­Soldier's Diary of the Great War by Philip Owen Ayton, edited by Elvala Ayton, introduction by Ross McMullin.
VIDEO: An Australian visitor gives his impression of Anzac Cove 100 years after the landing
GLOSSARY
enlisted: signed up
vivid: clear and alive
shrapnel: small pieces of metal
shells: ammunition used by artillery
cannonade: a period of continuous and heavy gunfire
row: fight
disheartened: lost enthusiasm or hope
infernally: irritatingly
cadge: borrow or beg for
procured: got hold of
quart: a quantity of liquid just more than a litre
artillery: a type of heavy weapons
Seang Choon: the name of a ship used to carry soldiers
transhipped: transported by ship
EXTRA READING
Battle remembered with Anzac biscuits and Waltzing Matilda
Anzac diary sheds new light on WWI
WWI museum pays tribute to Aussie soldiers
Eddie's Anzac Day battle to honour a war hero
QUICK QUIZ
Who did he live with in the hillside dugout?
How many days after his Gallipoli landing was he injured?
What was he going back to get when he was injured?
What was his hospital experience like?
Did Philip Ayton come home from the war?
LISTEN TO THIS STORY
CLASSROOM ACTIVITIES
1. Design a Display
Imagine you have been asked to design a special display that will help kids understand the ANZAC landing at Gallipoli. Use the information in Philip Ayton's diary to help you create a plan and instructions for your display. Your display can include posters, suggestions for items used by the ANZACS, words, sounds, images, technology … anything you like!
Time: allow 60 minutes to complete this activity
Curriculum Links: History, Visual Communication Design, Design and Technology, Visual Arts, English
2. Extension
Did you know that, at the time, people thought that World War I was 'the war to end all wars'? We know that this isn't true. Write a reflection, or a thoughtful piece of writing, on the reasons why you think that wars have taken place since then. Include some things that you think people and governments could do to help stop wars.
Time: allow 30 minutes to complete this activity
Curriculum Links: Civics and Citizenship, Personal and Social Capability, English
VCOP ACTIVITY
The glossary of terms helps you to understand and learn the ambitious vocabulary being used in the article. Can you use the words outlined in the glossary to create new sentences? Challenge yourself to include other VCOP (vocabulary, connectives, openers and punctuation) elements in your sentence/s. Have another look through the article, can you find any other Wow Words not outlined in the glossary?
HAVE YOUR SAY: What did you find most interesting about Philip Ayton's diary? What about his experiences would you like to know more about?
No one-word answers. Use full sentences to explain your thinking. No comments will be published until approved by editors.