Three million free sandwiches stop students going hungry at school
Eating a good lunch is key to being your best in the classroom, but not all kids have a full lunch box. Enter food charity Eat Up, which just delivered its three millionth free sandwich to schools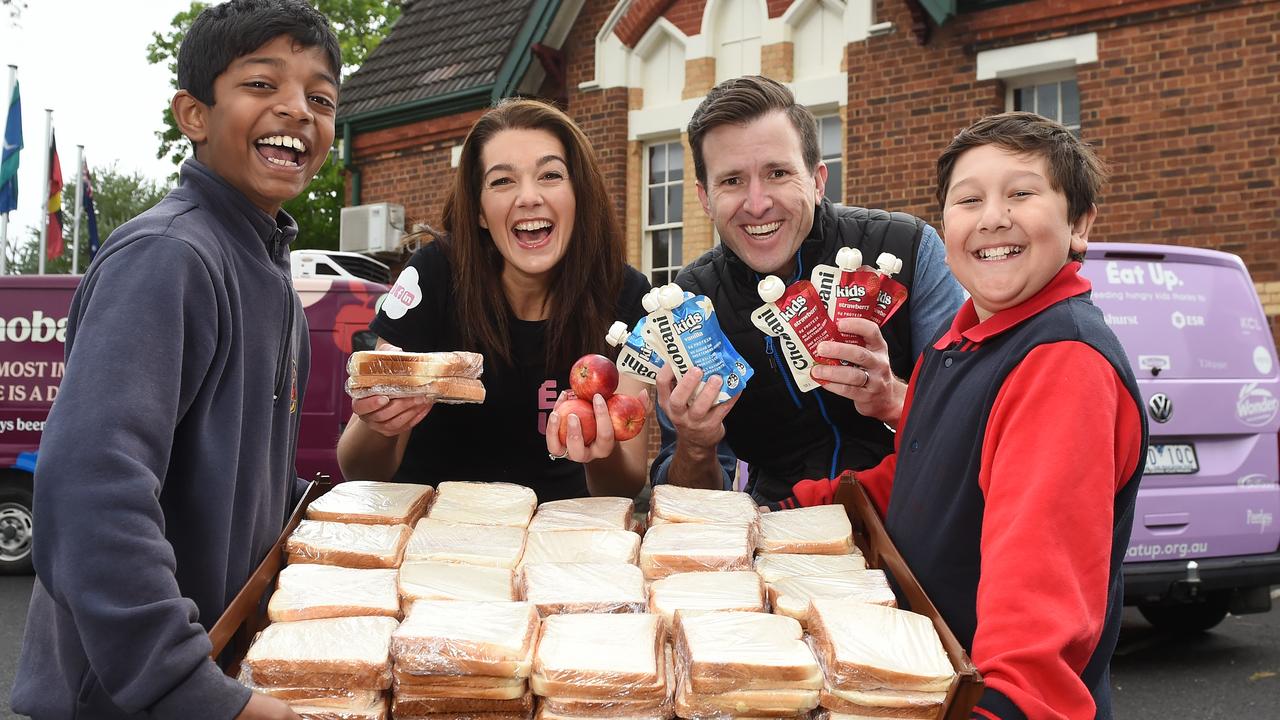 Eat Up CEO Elise Cook and Chobani General Manager Tim Browne (both in centre) celebrate the delivery of the charity's three millionth free sandwich to schools with Dandenong Primary School students Ved (left) and Luka (right).
Eating a nutritious* lunch is essential* for being your best in the classroom. But a growing number of Aussie children are coming to school with an empty lunch box.
Food charity Eat Up provides more than 20,000 free lunches to hungry students in more than 720 schools around Australia every week and has just delivered its three millionth sandwich.
The number of students and schools that need its lunches is on the rise as the soaring cost of living* makes it harder for families to buy food and pay their bills.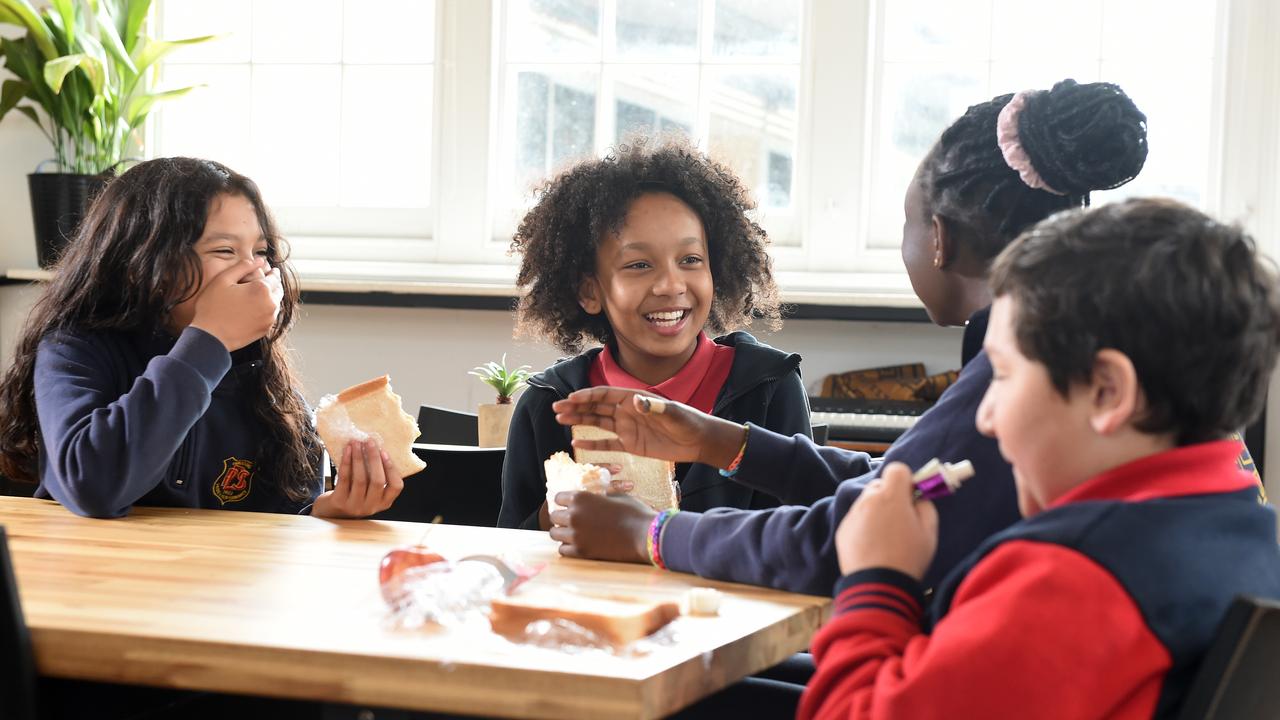 Dandenong Primary School students (from left to right) Issabelle, 11, Sunny, 11, Hetaa, 12, and Luka, 10, enjoy an Eat Up sandwich for lunch.
Dietitian*, nutritionist* and Eat Up ambassador* Lyndi Cohen said kids need food in their tummy to fuel their brain.
"It's hard to be your best self when you're hungry and this is especially true for kids," Ms Cohen said.
"Good nutrition is most important while young bodies are growing and learning. We know from research that kids are more likely to have a hard time concentrating and participating to their best ability when they are hungry."
Ms Cohen said Eat Up lunches – typically a cheese sandwich, Chobani yoghurt pouch and piece of fruit – provided the carbohydrates* and protein* essential for learning.
"These basic nutrients*, that they can't always depend on getting from home, can help them absorb the information they need," she said.
Dietitian, nutritionist and Eat Up ambassador Lyndi Cohen.
"What kids really need is carbohydrates to fuel their brain. Carbohydrates are the body's preferred energy source."
Schools using Eat Up's free lunch program have reported a 95 per cent increase in their students' concentration levels, a 71 per cent increase in classroom participation, and a 68 per cent increase in academic performance.
Eat Up chief executive Elise Cook said delivering the three millionth sandwich was a "huge milestone*" but also "bittersweet*" for the charity, which started in the regional Victorian town of Shepparton in 2013.
"I feel really proud that we've been able to deliver three million sandwiches and have a positive impact, but so sad that this problem exists and that there are that many lunches needed and that many kids out there who need our support," she said.
Ms Cook said Eat Up expected a 32 per cent increase in demand for its lunches over the next eight months.
Eat Up has delivered its three millionth cheese sandwich to schools.
"It's a huge time of need," said Tim Browne from Chobani, which has donated about 90,000 yoghurt pouches for Eat Up lunches so far this year.
"I think it's vital that corporations like Chobani play a role in alleviating* that need. For us, it's about making a difference and using food as a force for good."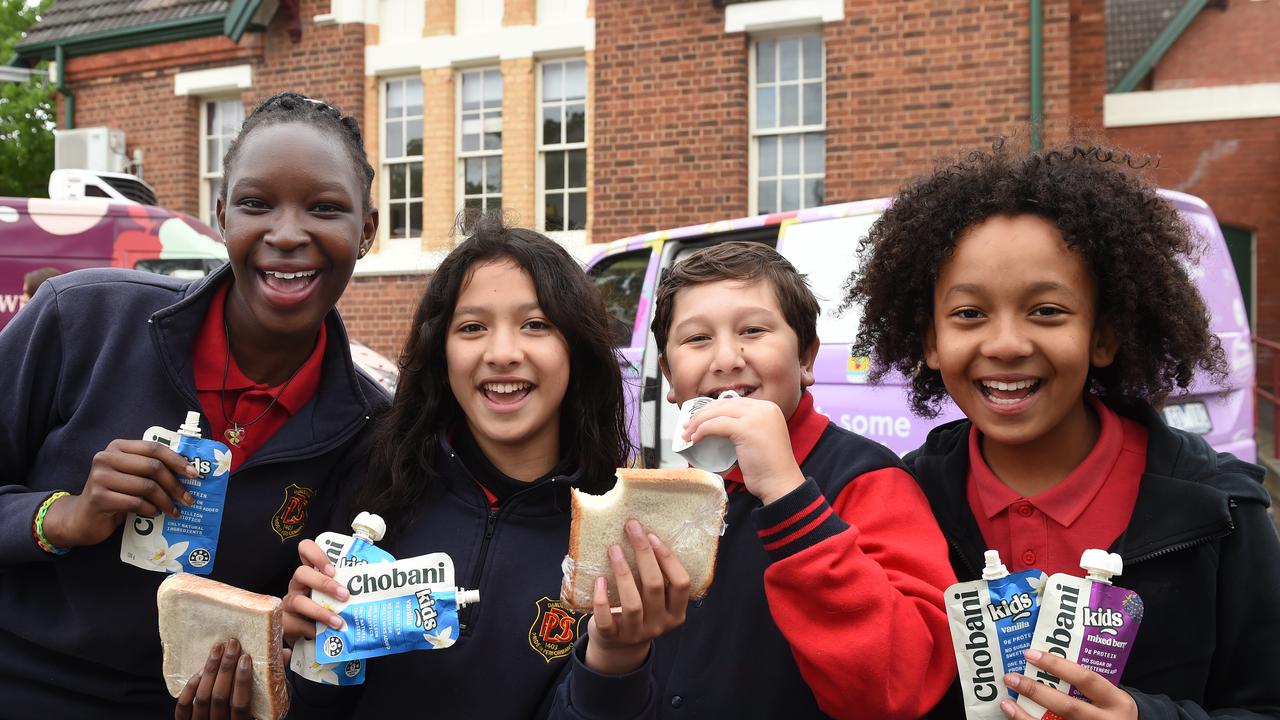 Hetta, Issabelle, Luka and Sunny from Dandenong Primary School with sandwiches and Chobani yoghurt delivered by Eat Up.
Dandenong Primary School principal Daniel Riley said daily Eat Up lunches, including the delivery of the three millionth sandwich on October 26, were having a big impact on students.
"They come to school feeling safe and not having to worry about where their next meal is coming from," Mr Riley said. "And we know that if you're well fed and well nourished*, you're going to have the energy levels to get through the school day and maximise your learning."
Grade 5 student Luka, 10, helped with last week's sandwich delivery and knows the benefit of a good lunch.
"If I've had a good lunch then I'm not hungry. When I'm hungry and doing schoolwork, I usually get tired and can't really concentrate when I try to learn," he said.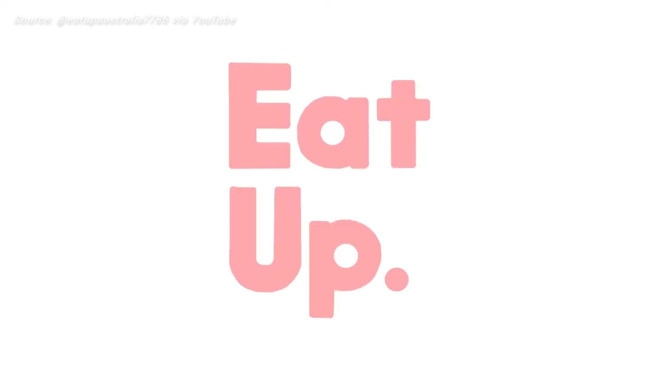 POLL
GLOSSARY
nutritious: containing substances that help the body function and be healthy
essential: very important
cost of living: a measurement of how expensive it is to buy essential items like food, electricity, petrol and clothes
dietitian: an expert on what we eat
nutritionist: an expert on the food needed for health and growth
ambassador: a person who represents or speaks for a group or organisation
carbohydrates: a substance, or nutrient, found in food and drink, and which is needed by the body
protein: another important substance, or nutrient, found in food
nutrients: substances found in food and drink that are needed for body function and health
kale: a type of leafy green vegetable
milestone: an important event in the development or history of something
bittersweet: when something makes you feel happy and sad at the same time
alleviating: making something less of a problem
nourished: have the food and nutrients necessary for good health
EXTRA READING
Push for lunches to be provided by schools
Primary kids on lunch box clock
High price of healthy lunch
QUICK QUIZ
1. How many free lunches does Eat Up provide to students each week?
2. What milestone did Eat Up achieve last week?
3. What nutrient is the body's preferred source of energy?
4. What is typically in an Eat Up lunch?
5. How much better were students' concentration levels in schools using the Eat Up lunch program?
LISTEN TO THIS STORY
CLASSROOM ACTIVITIES
1. The perfect sandwich
Create a recipe for the perfect sandwich. Then, write a description of how your sandwich tastes and what it is like to eat it. Your reader should understand exactly how delicious and amazing your sandwich is to eat!
Time: allow 30 minutes to complete this activity
Curriculum Links: English, Health and Physical Education, Design and Technology
2. Extension
Why do you think that Eat Up expects " … a 32 per cent increase in demand for its lunches over the next eight months"? Write a list of possible reasons.
Time: allow 15 minutes to complete this activity
Curriculum Links: English, Personal and Social Capability
VCOP ACTIVITY
1. Opener up-level it
Make a list of all the openers in the article. Pick three that repeat and see if you can replace them with another word, or shuffle the order of the sentence to bring a new opener to the front.
Don't forget to re-read the sentence to make sure it still makes sense, and that it actually sounds better.