Schools called to review reporting, recovery after student concussions
Falls and sports account for most childhood concussions and new landmark research suggests school processes should better support student recovery for their health and education outcomes
With one in eight children experiencing a concussion* before they are 18 years old, experts have called on schools to better monitor students post-concussion, saying recovery can take longer than expected.
The new research, led by Dr Reidar Lystad from Macquarie University, analysed the results of thousands of Australian students who had been to hospital with concussion.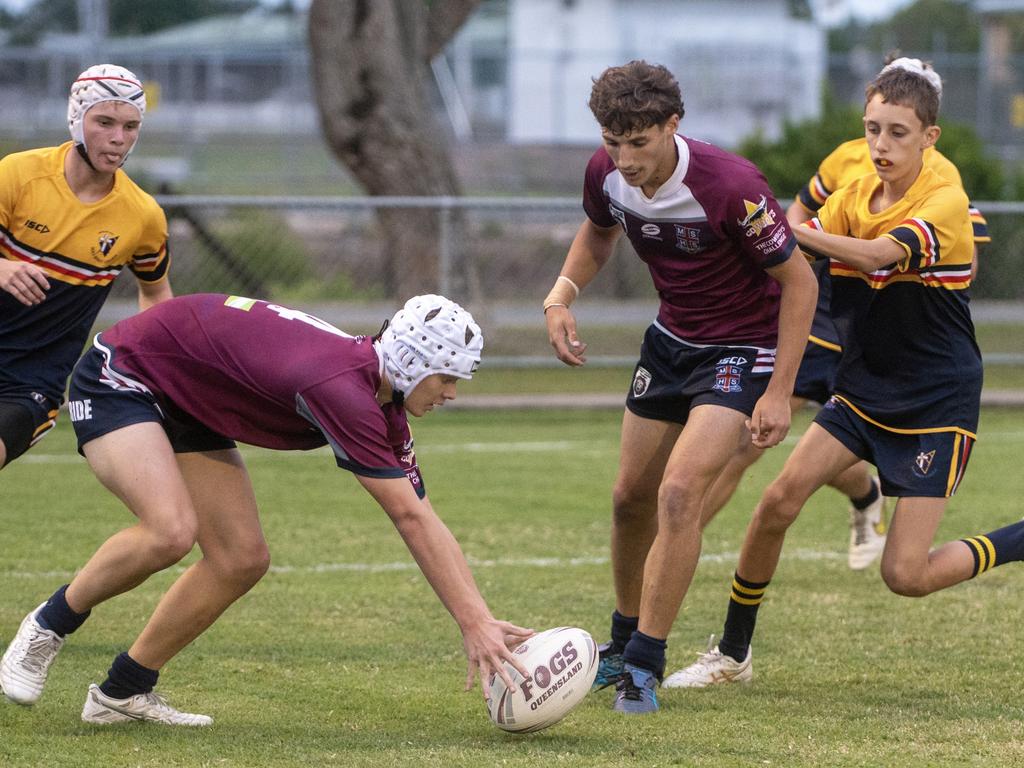 The new research is led by Macquarie University's Dr Reidar Lystad. Picture: Michaela Harlow
Dr Lystad said lower literacy*, numeracy* and completion* outcomes for those hospitalised with concussion were due, in part, to cognitive* and behavioural* changes that negatively impact their ability to learn.
"These changes can also last for a longer period of time than many people might expect, meaning support is required for an extended period of time," he said.
In about a third of children who have had a concussion, effects such as headaches, sleep problems, poor concentration and low mood can last longer than four weeks, leading to difficulties at school.
"We also know that poor school performance or leaving school early can also lead to difficulties … in later life," Dr Lystad said.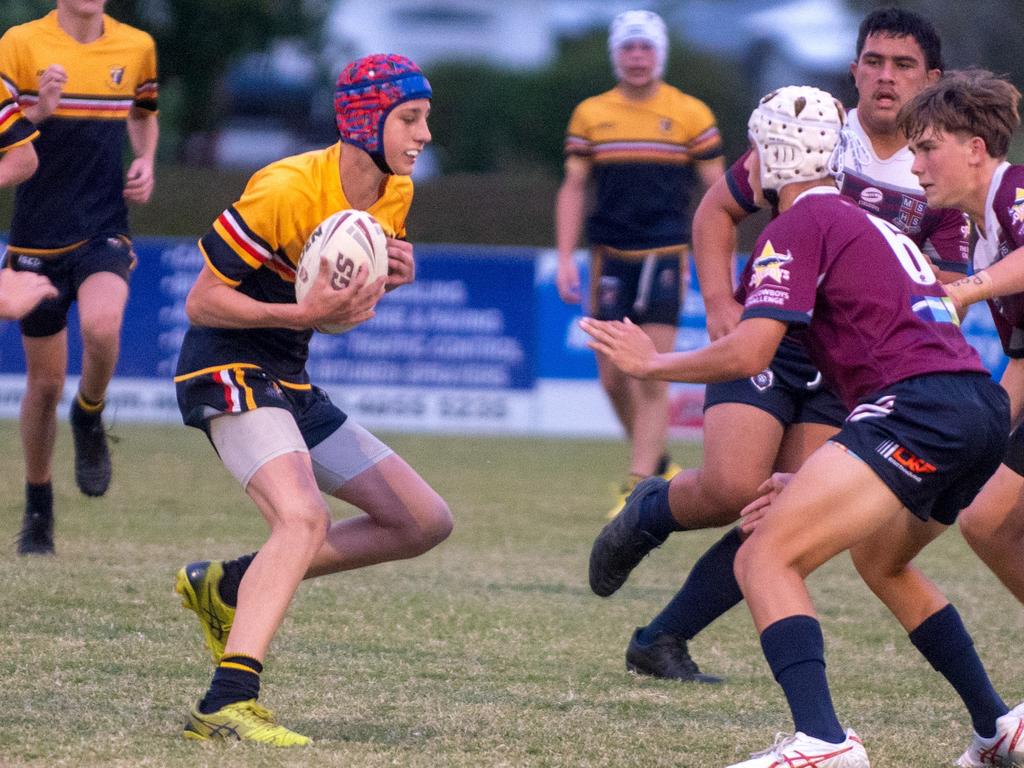 Falls and sport were the main causes for concussion in the under-18 age bracket. Picture: Michaela Harlow
Dr Lystad said falls and sport were the main cause of concussion injury in this age bracket.
He said there had also been an "increasing trend" of parents pulling their kids out of sport due to the risk of concussion.
"We don't want children to stop playing sport or being adventurous, but there is a need to ensure that young people with concussion have access to multidisciplinary* healthcare services," he said.
Dr Lystad said the systems for recognising and reporting concussions in schools need improvement, as injuries can happen outside school hours during school sports.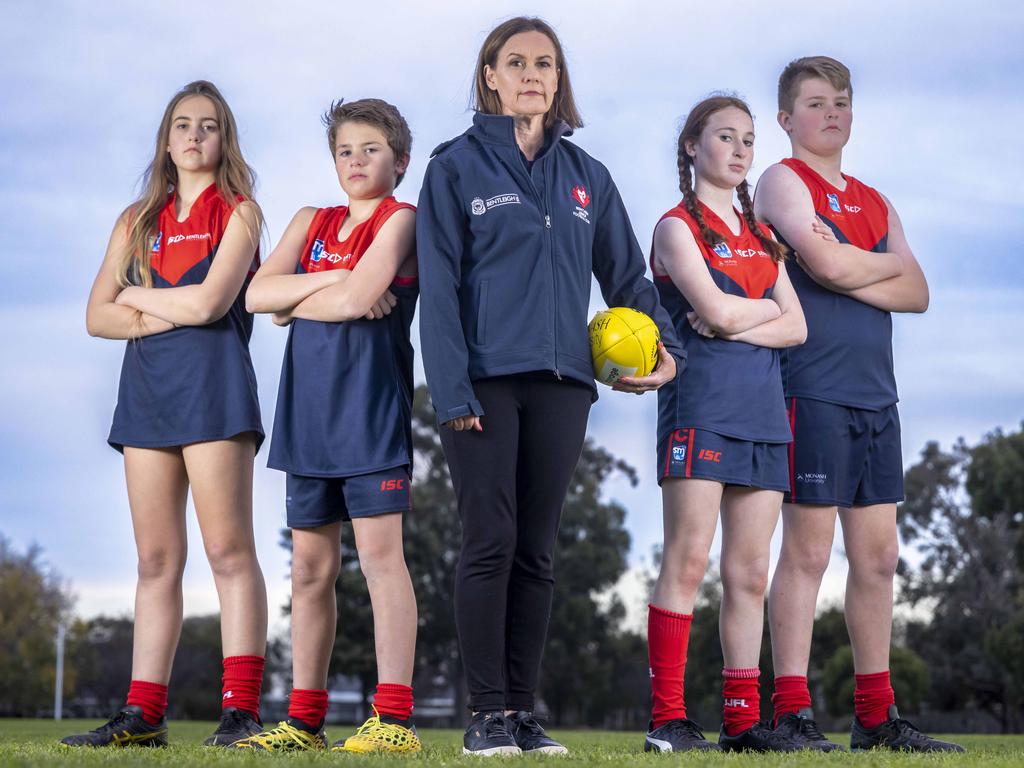 Players from Bentleigh Junior Football Club are pictured with Genine Arvanitakis, a club parent of two children and a member of the South Metro Junior Football League's Concussion Management and Injury Prevention working group. Picture: Wayne Taylor
Genine Arvanitakis has two children who play at Bentleigh Junior Football Club in Melbourne and said concussion management and prevention was extremely important in contact sport.
Ms Arvanitakis is also a member of the South Metro Junior Football League's Concussion Management and Injury Prevention* working party.
"As training co-ordinator at the club, I know we have strict concussion policies*," she said.
"We have a 12-day rule where players who get concussed are not allowed to play. They have complete rest for 48 hours and then after a couple of days we see how they go with walking, running and light training.
"We've also developed a relationship with the schools in the area. They tell us if kids have been hurt at school, and we tell them which kids have been hurt during training."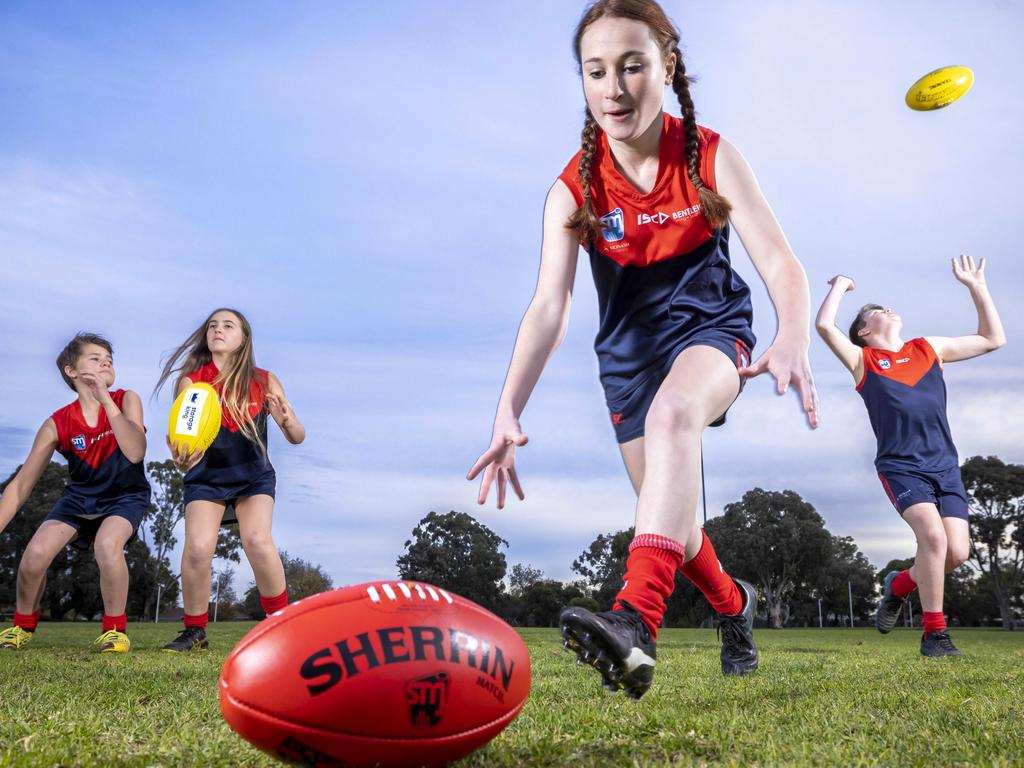 Lead researcher Dr Lystad said, "We don't want children to stop playing sport or being adventurous" but called for improvement in school reporting systems. Picture: Wayne Taylor
WHAT ARE THE RULES?
Victoria's Department of Education requires all schools to plan for the first aid needs of students and staff and ensure that appropriately trained first aid officers are available to respond to incidents and injuries.
"Schools are provided with detailed guidance in how to respond to a student displaying signs or symptoms of concussion – including how to support their re-engagement* following a concussion," a spokesperson said.
The NSW state government's School Sport Unit has a detailed concussion management procedure for schools that includes timelines for minimum recovery and duty of care* obligations*.
Queensland Representative School Sport offers guidelines across 11 sporting codes and South Australia's Department for Education site confirms head injury first aid must be followed if head injury occurs, with more information available via SA's Education Standards Board.
For more information, visit state and territory state education department websites.
Additional reporting by Kids News
POLL
GLOSSARY
concussion: sudden impairment in brain function due to injury or head trauma, a concussion is temporary and often gets better by itself but can include loss of consciousness and a variety of other symptoms
literacy: the ability to read and write, but also to speak, listen and create in a way that allows us to communicate with others and make sense of the world
numeracy: the ability to understand and work with numbers in order to apply maths to a wide range of situations both in learning environments and the real world
completion: reaching the end high school by completing final year exams
behavioural: relating to the behaviour of a person or animal
multidisciplinary: combining or involving several disciplines or fields of study
prevention: stopping something from happening
policies: official sets of ideas used as the basis for making many different decisions
re-engagement: becoming involved, active or interested in something again after a break
duty of care: legal and/or moral responsibility to protect the safety and wellbeing of others
obligations: things that people must do, either as individuals or within groups and organisations
EXTRA READING
Hi-tech mouthguards to help tackle concussion
Full marks for their fabulous feat
Gaming and sport could restore maths mojo
Golden chance for jobs in sport
QUICK QUIZ
1. What proportion of children will experience a concussion before they are 18 years old?
2. The new research found that kids hospitalised with concussion had lower education outcomes in which three areas?
3. About a third of concussed children can still experience what negative effects after four weeks?
4. What are the main causes of concussion in the under-18 age group?
5. What is Bentleigh Junior Football Club's 12-day rule?
LISTEN TO THIS STORY
CLASSROOM ACTIVITIES
1. Concussion protocols
Develop a system between schools, parents and sports clubs that will notify each other of an injury to a child, including concussions or anything that the other party should know.
Your form of communication should be easy to use, notify all parties involved, and include all sporting organisations.
Time: allow 20 minutes to complete this activity
Curriculum Links: English; Health and Physical Education; Digital Technologies; Critical and Creative Thinking
2. Extension
What ideas or suggestions do you have to minimise the amount and severity of concussions in children this age?
What do you think sporting codes should do to minimise the risk of concussion in their sport?
Time: allow 15 minutes to complete this activity
Curriculum Links: English; Health and Physical Education; Critical and Creative Thinking
VCOP ACTIVITY
1. School safety
Imagine you are a student who recently experienced a concussion. Write a letter to your school principal expressing your concerns about the need for better concussion monitoring and support in schools. Use the language featured in the article to support your points.
In your letter, consider the following:
• Describe your personal experience with concussion and how it has affected your ability to learn.
• Explain the cognitive and behavioural changes you have noticed and how they have impacted your school performance.
• Discuss the potential long-term consequences of not properly addressing concussions in schools.
• Express your concern about the lack of recognition and reporting systems for concussions in schools.
• Suggest ways in which the school can improve concussion management, prevention, and support for students.
Remember to use persuasive language, provide specific examples, and express your thoughts and feelings about the issue. Use the information from the article to support your arguments and ideas.