KIDS who buy food at school are being given little incentive* to buy healthy food at their canteen when, in many cases, an apple costs more than a packet of chips.
The first Australia-wide study of pricing in school canteens has discovered most charged more for healthier lunches.
Deakin and Monash University research comparing the prices of foods sold at 200 primary and secondary schools found healthier options cost on average 89 cents to $1.25 more than less nutritious options.
Dietitian* Natassja Billich said they compared foods grouped together using the traffic light system.
Healthy 'green' items, such as salad sandwiches, vegetable stir frys and fruit, were compared with nutrient-poor 'amber' and 'red' foods, which include hotdogs, meatpies and potato chips.
"Three quarters of primary schools were selling 'red' foods like meat pies and hotdogs cheaper than 'green' foods such as salad sandwiches," Ms Billich said.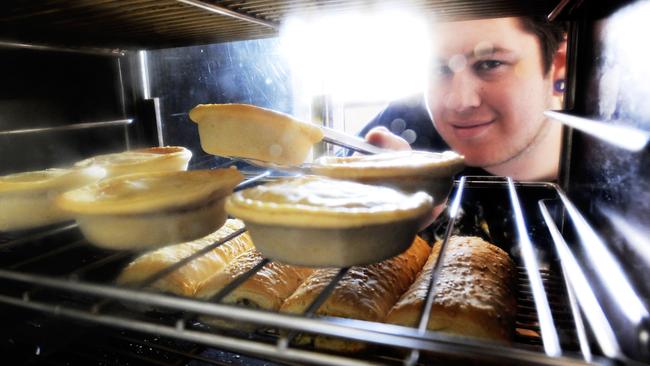 The situation was slightly better in secondary schools, but almost 60 per cent still sold less healthy lunches cheaper.
Ms Billich will present the findings on the food price gap at the Dietitians Association of Australia National Conference in Hobart on Friday June 19.
"Children are influenced* by the price of food and school canteens are a really visible and accessible part of the school environment," she said.
"If they are selling unhealthy foods that are cheap, it's sending the wrong message to children about what they should be eating."
Part of the problem may be the time involved in preparing healthier options, the cost of ingredients, or the fact that some canteens are outsourced* so the external company sets the price.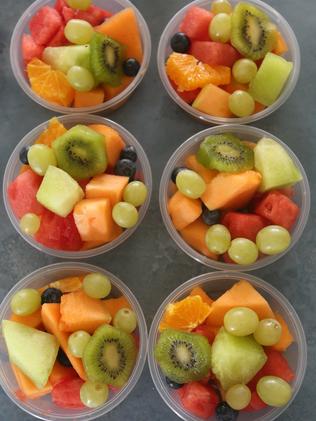 "The price of ingredients may also be a factor, for instance a hot dog and bun may be cheaper to buy than a wholegrain roll, cheese and salad ingredients," she said.
Potential solutions may include restricting foods, such as pies, doughnuts and soft drinks and increasing the availability of healthy foods or offering nutritious meal deals.
GLOSSARY
incentive: reason
influenced: affected
outsourced: controlled by people not from within the school or community
LISTEN TO TODAY'S STORY
CLASSROOM ACTIVITIES
Activity 1.
Read the article carefully.
Write sentences that explain what Natassja Billich says is a problem with school canteens.
Give examples from the story.
Think about what you think could help solve this problem.
Write sentences explaining your solution.
Give reasons why you think your solutions would work.
Extension:
Imagine that you are Natassja Billich.
Create your presentation about the problem in school canteens with your (Natassja's) solutions. You can create a PowerPoint presentation, make posters or write a speech.
Time: allow 65 minutes to complete this activity
Curriculum links: English, Health and Physical Education
Activity 2.
Do you agree that unhealthy foods should be restricted in school canteens?
Write down as many reasons for and against doing this as you can think of.
Extension:
Create a dream canteen for your school.
Your canteen should serve a balance of healthy food that the kids in your school will want to buy.
Design a menu or leaflet with all the foods and drinks that you would serve.
Create an advertisement for your canteen.
Your advertisement could be a poster, short video or anything that you think will grab everyone's attention!
Time: allow 80 minutes to complete this activity
Curriculum links: Critical and Creative Thinking, Health and Physical Education, Visual Communication Design
VCOP ACTIVITY
(Vocabulary, Connectives, Openers, Punctuation)
Using a deck of cards, play with a partner and a small group. You will need cards numbered one to 10.
Odd cards = for
Even cards = against
When you flip a card, the other players will have 30 seconds to formulate an argument for or against why students should be eating healthy at school.
They need to come up with a reason why they agree or disagree with the statement.
After the player has given their reason, swap roles and continue until all cards have been flipped.
You do not need to write anything down, instead focus on saying it to your partner.
Extension:
Within that 30 seconds, can you give some supporting evidence to back up your reason or argument?
Time: allow 15 minutes to complete this activity
Curriculum links: English, Big Write, VCOP
EXTRA RESOURCES
HOW OUR CLASSROOMS HAVE CHANGED
DRIVE TO PROVIDE FAIRSHARE OF FOOD
IN A SENTENCE, SHARE YOUR THOUGHTS ON TODAY'S STORY
Kids News loves reading your best grammar, vocabulary and spelling.
We publish the best comments.