Australians have been told to stay home as much as possible as new shutdown rules on non-essential* travel and social gatherings kick in to limit the spread of the coronavirus.
Prime Minister Scott Morrison last night announced the stage one restrictions* on Australian life to try and slow the number of cases of Covid-19.
After a National Cabinet meeting with federal* and state leaders and leading health officials, Mr Morrison said the moves were necessary as many Australians ignored the advice on social distancing* at the weekend and gathered in large numbers on beaches, in bars, restaurants and clubs.
"Social distancing is our biggest weapon in fighting this virus," Mr Morrison said, as he urged Australians to take it seriously.
The new measures announced yesterday included:
All non-essential businesses such as restaurants, cafes, pubs, clubs, places of worship, entertainment venues, inside sporting venues, cinemas, and gyms, have been ordered to close by midday on Monday. Takeaway services from restaurants and cafes are allowed.
Essential businesses such as supermarkets, pharmacies, petrol stations, banks, medical centres, convenience stores, retail shops, and home delivery services will remain open as normal.
Tasmania, SA, WA, Queensland and NT are restricting their borders to interstate travellers and a 14-day self-isolation* rule applies to anyone travelling into these states and territories.
The PM has urged Australians to cancel all non-essential travel between states.
Victoria has brought forward school holidays to Tuesday. NSW has asked parents to keep students home but schools will remain open for those families who need to send pupils to school so their parents can work. Other states are expected to make announcements on schools soon.
The AFL has postponed the men's season until May 31 and brought the AFLW season to a close with no premiership to be awarded in 2020.
The NRL decided on Monday to suspend its season. The A-League followed that move and postponed its season on Tuesday.
The International Olympic Committee revealed it is considering postponing the Tokyo Olympics, probably until 2021.
Mr Morrison announced a second stimulus* package, adding $66 billion in new measures in an effort to help businesses survive the crisis and continue to pay employees. Australians who lose one-fifth of their salary will be able to access their superannuation* funds early to help pay their bills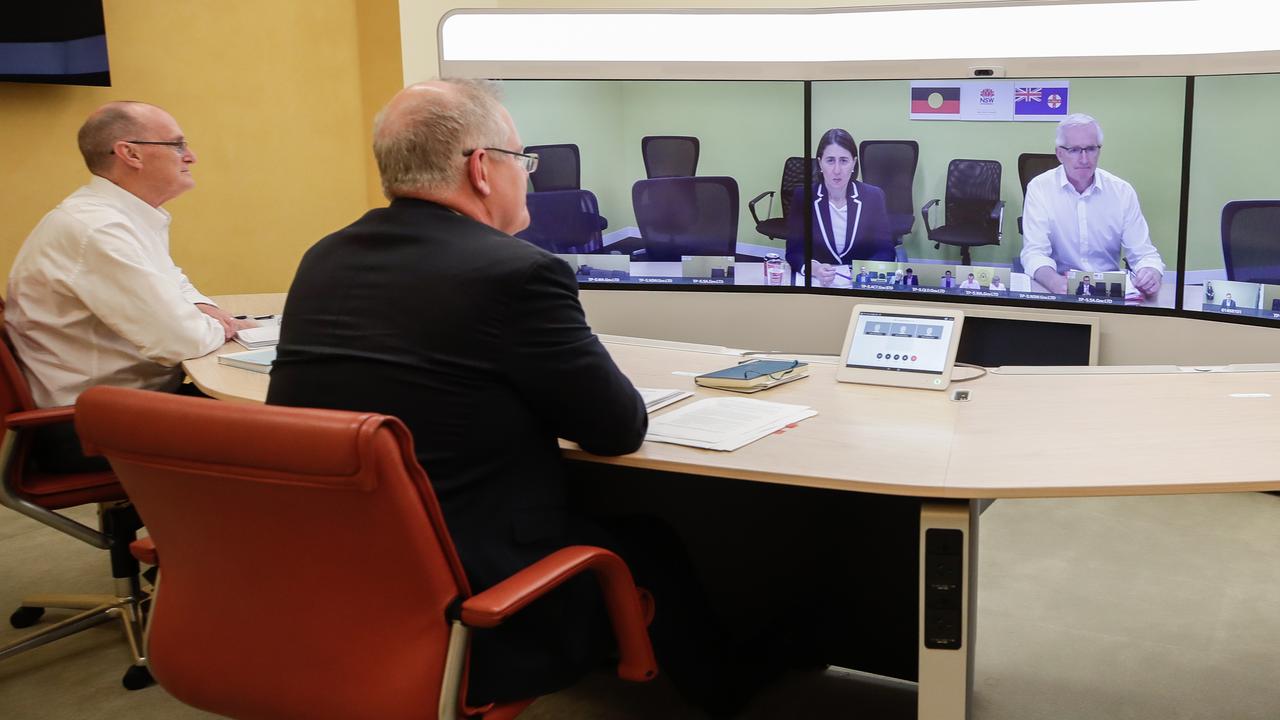 As of Monday morning, Australia has 1354 cases of Covid-19 and seven deaths.
Mr Morrison said Australians would need to prepare themselves to live with shutdowns and social distancing for months to come to protect people's health.
However, he also said it was still acceptable to go to the shops for food and that going for a walk was also still allowed.
"If you're not ill and if you're not in self-isolation, then you can obviously get about your life in that way," he said.
"But when it comes to piling all the kids in the car and taking them four hours away, or getting on a plane and flying to the other side of the country, then no — we're saying that should not be done."
VIDEO: Moments that made us smile during the pandemic
Moments that made us smile during the coronavirus pandemic
GLOSSARY
non-essential: not necessary or vital
restrictions: limits
federal: national
social distancing: keeping 1.5m from other people
self-isolation: keeping yourself home and away from others
stimulus: a boost to encourage people to spend money
superannuation: a fund to pay for people to live in the future after they finish work
EXTRA READING
Aussies want mass light salute on Anzac Day
Protect yourselves, we're living in strange times
QUICK QUIZ
What does the PM say is our greatest weapon against Covid-19?
Which essential businesses will stay open?
Name the states that have restricted travel across their borders.
When will the AFL men's season resume?
What did the PM dedicate $66 billion towards?
LISTEN TO THIS STORY


CLASSROOM ACTIVITIES
1. Word cloud
Thinking about the coronavirus situation in Australia evokes many thoughts and feelings. Capture some of your own thoughts and feelings in a word cloud.
Write the word CORONAVIRUS in the centre of a piece of paper and write all the words you associate with it on the paper around it.
Some examples of words you might consider could be: distance, sanitiser, health, spread, social distancing etc.
Time: allow 15 minutes for this activity
Curriculum Links: English, Civics, Personal and Social Capability
2. Extension
What are some of the positives?
Changing the way we live in Australia due to Covid-19 has brought out the best in some people and reminded us of what's important in life.
List as many positive outcomes that have resulted from the changed living conditions so far in Australia. An example could be: spending more time with family or school holidays starting early.
Time: allow 20 minutes for this activity
Curriculum Links: English, Personal and Social Capability

VCOP ACTIVITY
After reading the article, with a partner, highlight as many pieces of punctuation as you can find in green. Discuss how these are being used, where and how often. What level of the punctuation pyramid is the journalist using in this article?

HAVE YOUR SAY: Tell us what you think and feel after reading this coronavirus story.
No one-word answers. Use full sentences to explain your thinking. No comments will show until approved by editors.