The Australian Government has limited public gatherings of people during the coronavirus* shutdown to just two people.
The strict new measures to drastically* limit people gathering in groups were decided by the National Cabinet* on Sunday after thousands of people continued to disobey existing social distance rules by flocking to public beaches and parks at the weekend.
Prime Minister Scott Morrison said the new rules were for people who do not live in the same household, meaning families and housemates can still gather in a group.
"Your household can be together inside your home and outside your home," Mr Morrison said.
From Monday all outdoor public playgrounds, gyms and skate parks will be closed. The limit for weddings remains at five people, while funerals can still have up to 10.
Mr Morrison also strongly recommended that all people over the age of 70, people with a chronic illness aged 60 or over, and indigenous Australians older than 50 should stay home as much as possible.
Last night's measures came less than a week after Mr Morrison placed stage 2 limits on Australian life warning people they must stay at home to fight the spread of coronavirus.
The Prime Minister said every Australian now must stay home except for essential shopping, work or school that cannot be done remotely, seeking medical services or exercising outdoors with no more than one other person.
"When you are going out for shopping, you should be going for just stuff you need and do it and get home," he said.
Australia's lockdown* to lower the infection rate of Covid-19* was tightened last week to include food courts, auction rooms, real-estate auctions, open house inspections and beauty salons.
Hairdressers remain open but with limited appointment times.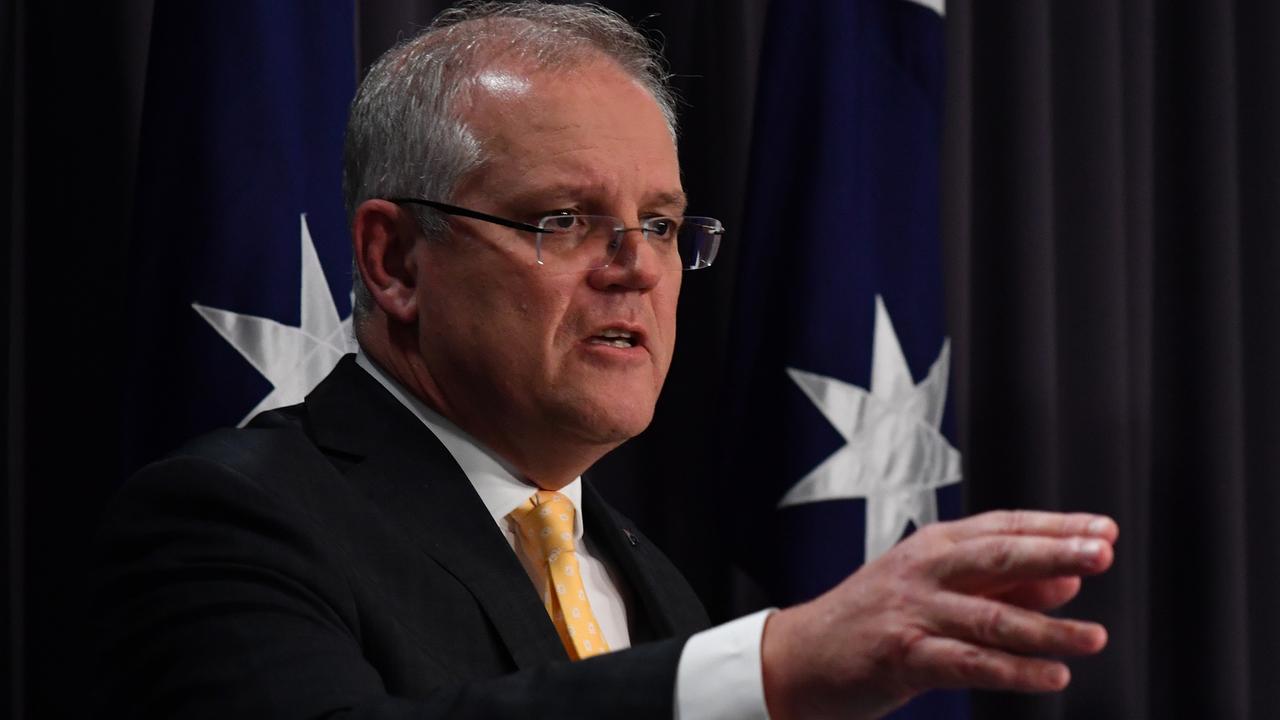 Galleries, museums, libraries, swimming pools, children's play centres and other community facilities have now closed.
Australia's "do not travel" advice has now become a strict ban on overseas trips.
Australians coming home from overseas are being quarantined in hotels for two weeks to make sure they follow the self-isolation rules.
Cafes will continue to provide takeaway food and drinks only and food courts have been shut except for takeaway meals.
Boot camps and personal training sessions are now limited to a maximum of two people with strict social distancing rules observed.
Mr Morrison said schools would remain open with state and territory governments determining whether students would be encouraged to stay home.
Mr Morrison warned Australians to use common sense and limit family gatherings for barbecues, birthdays and parties.
"Gathering together, even around a large family table in the family home, when all the siblings get together and bring the kids, these are not things we can do now. All of these things present risks," he said.
"Visits to your premises, to your house, to your residence, should be kept to a minimum and with very small numbers of guests," Mr Morrison said.
Coronavirus: Scott Morrison announces Australia's new lockdown rules
GLOSSARY
coronavirus: a virus that causes illness in humans and animals
drastically: extremely or in a big way
National Cabinet: a group consisting of the PM and state and territory leaders
limits: bans
restrictions: limits
lockdown: limiting life activities
Covid-19: the newest coronavirus that causes breathing issues
EXTRA READING
All your Covid-19 questions answered
Learning At Home with Kids News
QUICK QUIZ
What stage of restrictions is Australia now under?
Name the only five reasons people should leave home.
Can Australians now travel overseas?
How many people can now gather outside (excluding family members)?
Which official group decided to limit the public gatherings?
LISTEN TO THIS STORY


CLASSROOM ACTIVITIES
1. Living at home
With Australians being urged to stay home and not go out unless it is "absolutely necessary", it could feel like we are missing out on parts of our normal life.
But what if you could bring those parts of life into your home?
Create a table with two columns. In the left column place the heading ACTIVITY and list five activities you would normally do outside the house such as playing sport or going out for breakfast.
In the right column, place the heading NEW APPROACH. Under this column, consider how you could still do your normal activity, or adjust that activity, to be able to do it at home.
For example, cooking brunch on Sundays for your family similar to a cafe meal, or creating a netball activity course in the backyard with throwing drills and shooting practice.
Time: allow 25 minutes for this activity
Curriculum Links: English, Personal and Social Responsibility

2. Extension
Write a letter to someone in your life that you may not see for some time because of the Covid-19 closures. It could be your sports coach, your teacher, or a family friend.
Tell them how you are feeling and why it will be so good to see them and resume normal life with them when the coronavirus situation is over.
Time: allow 20 minutes for this activity
Curriculum Links: English, Personal and Social Responsibility

VCOP ACTIVITY
Up-Level It
Scan through the article and see if you can locate three words that you consider to be basic, or low level. Words we use all the time and they can be replaced by more sophisticated words, words like good and said are examples of overused words.
Once you have found them, see if you can up-level them. Think of synonyms you could use instead of these basic words, but make sure they still fit into the context of the article.
Re-read the article with your new words. Did it make it better? Why/Why not?

HAVE YOUR SAY: Do you think everyday Australians are taking the Covid-19 situation seriously enough?
No one-word answers. Use full sentences to explain your thinking. No comments will show until approved by editors.