New public health campaign aims to tackle vaping across Australia
A new public health campaign is asking Australians to 'see through the haze' and learn more about the dangers of vaping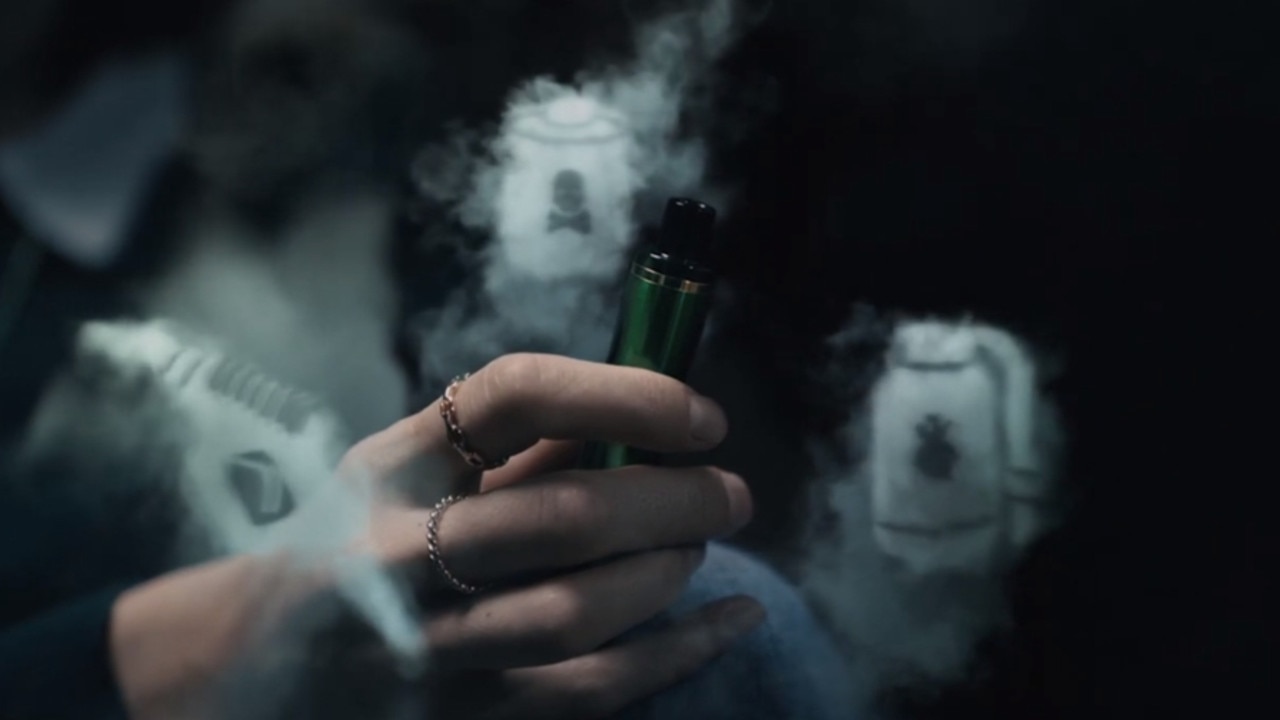 A public health campaign has been launched to highlight the risks to both adults and teenagers.
Australia has launched its largest public health campaign to tackle vaping*.
The campaign, which starts in Victoria, will highlight the risks of vaping for adults and teenagers and urge them to "see through the haze*" and to "get the facts on vaping".
It follows alarming new research released last week by Cancer Council Victoria's Centre for Behavioural Research in Cancer showing many people still don't believe vapes, which are also called e-cigarettes, are harmful or they think the risks have been exaggerated.
Quit program director Matthew Scanlon said this is despite many e-cigarette liquids containing more than 200 chemicals with some, such as arsenic and formaldehyde, known to cause cancer.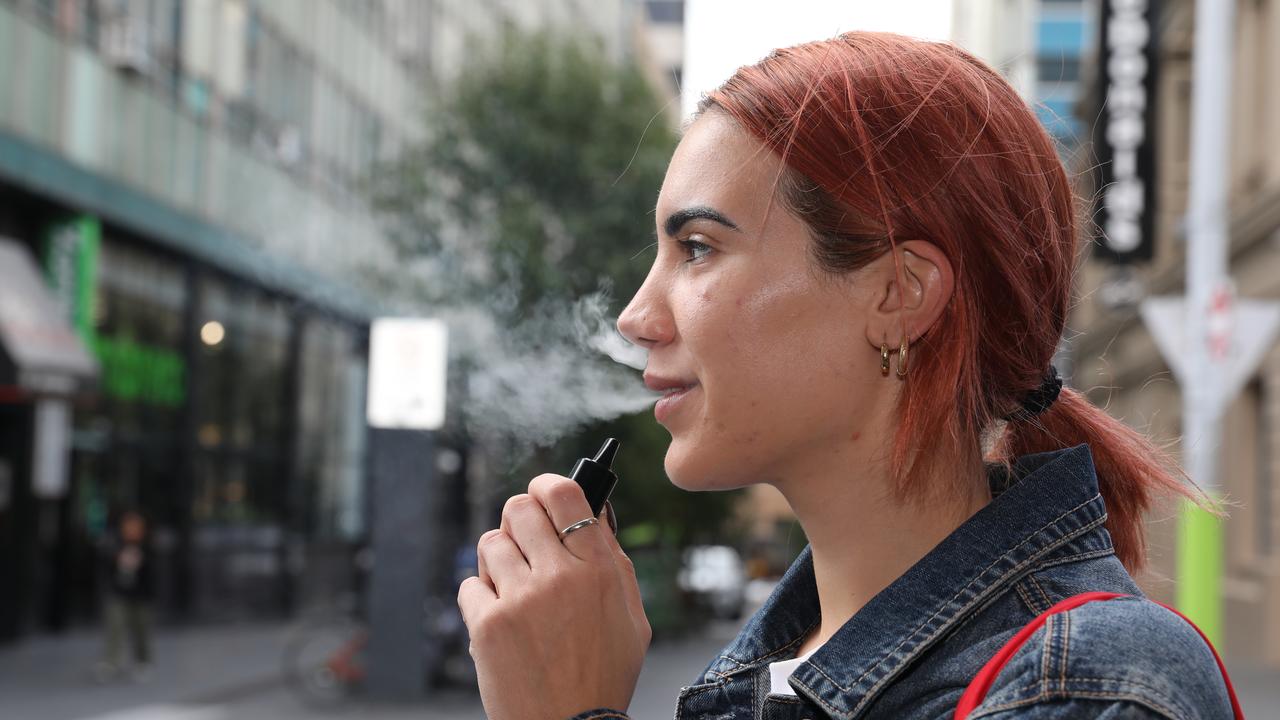 A new campaign aims to teach Australians that vaping is not harmless. Picture Dean Martin
Recent lab tests in Queensland found disposable* vapes with flavours such as Strawberry Watermelon Ice and Apple Surge contained metals including lead.
"I asked the Health and Environment Committee to look at this issue and these results are staggering*," Queensland Premier Annastacia Palaszczuk said.
"There are people who might think vaping is safer than smoking or, indeed, harmless.
"These test results should make those people think again."
Victoria's campaign, run by Quit in partnership with VicHealth and the Department of Health, will be the first in a series of state and national awareness campaigns.
Cancer Council Victoria chief executive Todd Harper said the use of e-cigarettes was a growing public health emergency that required action.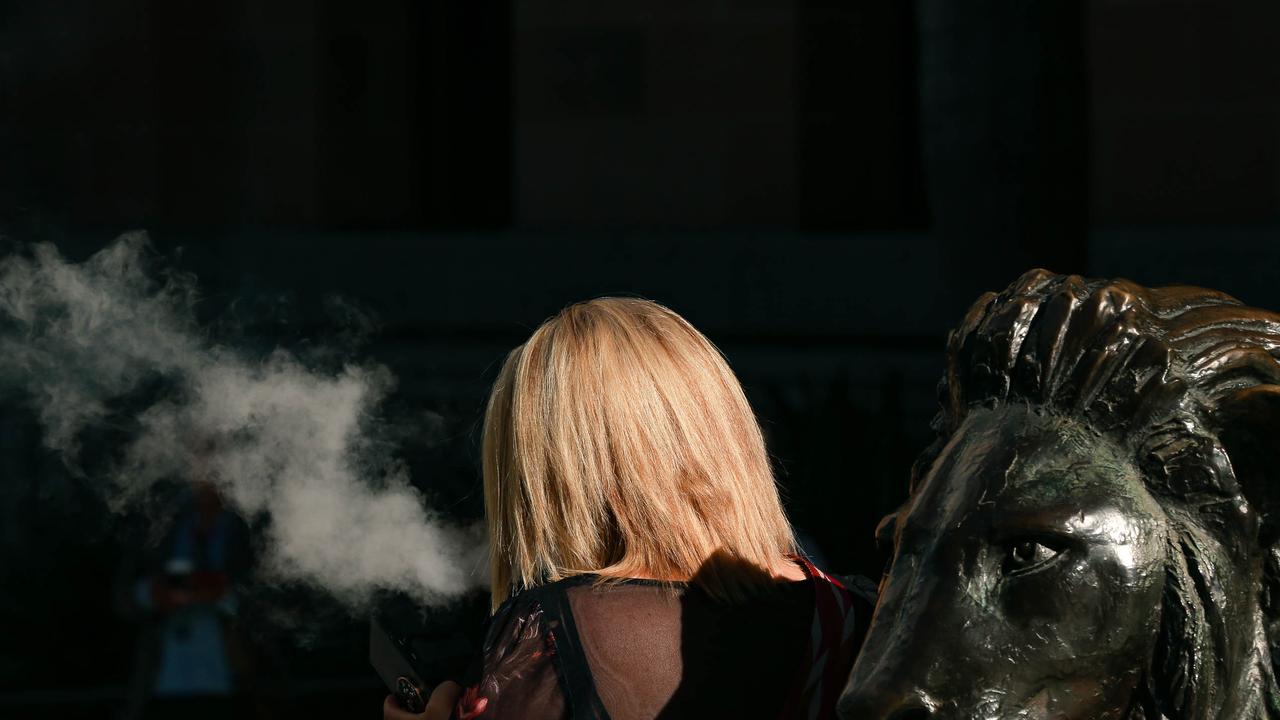 A young woman vaping in Brisbane. Picture: Glenn Campbell
He said the lack of community awareness about the many poisonous chemicals in e-cigarettes, along with a big increase in the number of people who are vaping, shows there is an urgent need for public health campaigns.
"There has been significant take-up of e-cigarettes by young people who have been lured* by bright packaging and flavours such as chocolate milk, cola ice and fairy floss," Mr Harper said.
"If we keep doing campaigns such as this and supporting parents and teachers in their engagement with teenagers; if we get the laws and information right, then we can turn around this problem."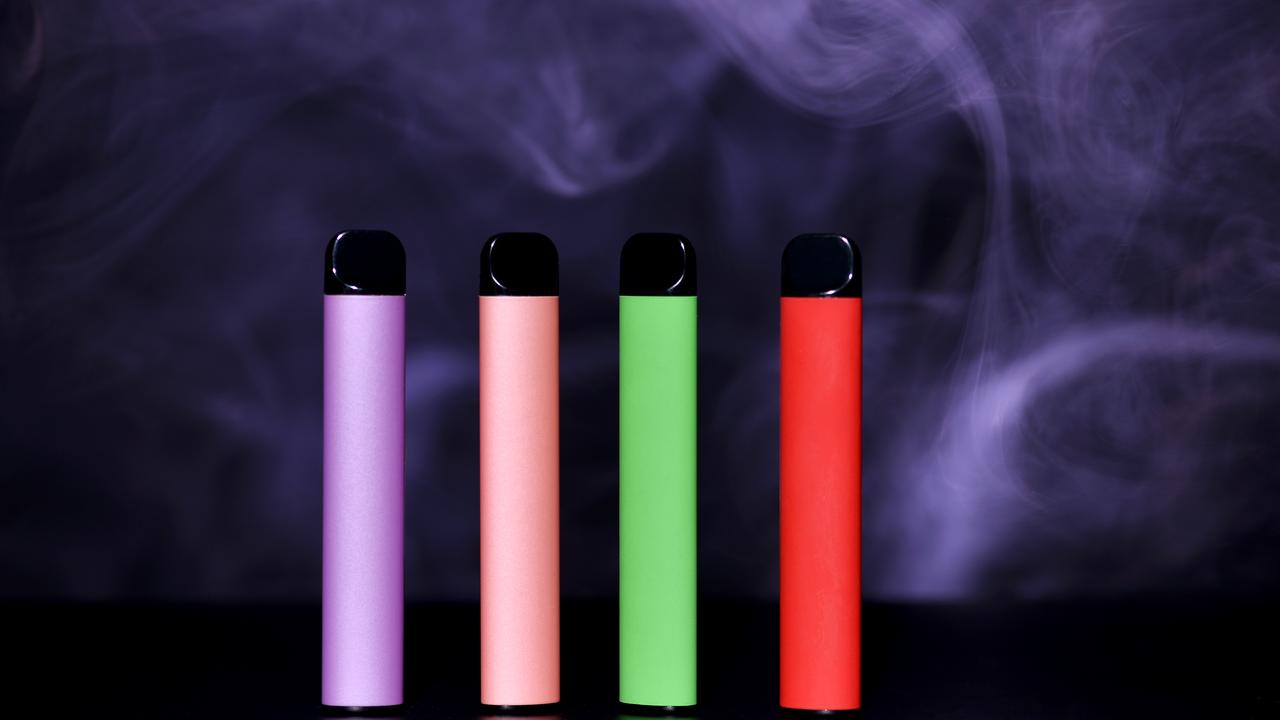 Set of colorful disposable e-cigarettes.
In early May, Federal Health Minister Mark Butler said vaping has become "the number one behavioural issue in high schools".
"Vaping has become the number one behavioural issue in high schools. And it's becoming widespread in primary schools."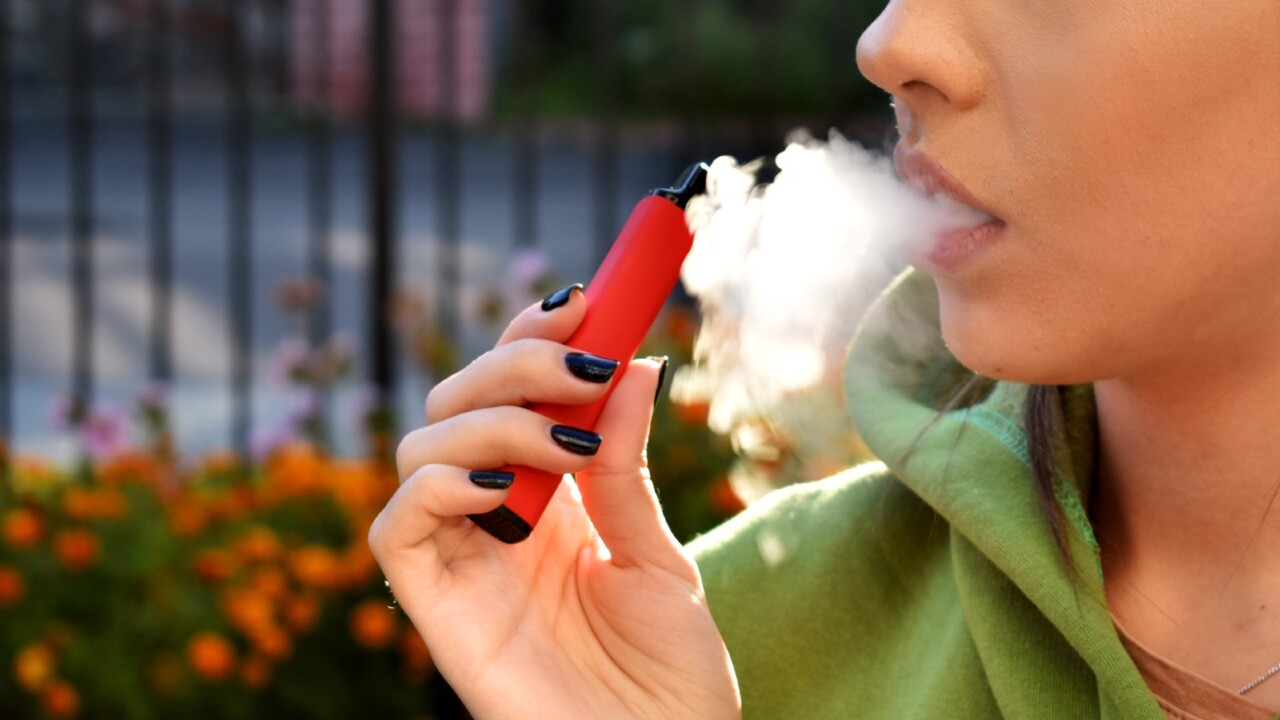 A University of Sydney study found one in three teens had vaped with 10 per cent typically using vapes on six or more days a month.
Of the 721 surveyed, more than half of those trying a vape for the first time were under 16.
CEO of VicHealth Dr Sandro Demaio hoped the campaign would encourage young people to think about the vaping habit.
"Vaping is both highly addictive* and harmful – the toxic chemicals found in e-cigarettes don't belong in our lungs," he said.
GLOSSARY
vaping: the inhaling of small liquid particles turned into smoke by an electronic cigarette (e-cigarette)
haze: smoke, fine dust or vapor
disposable: can be thrown away
staggering: hard to believe
lured: drawn to something
addictive: something that is difficult to control or stop
EXTRA READING
Call to turn off engines to protect kids' health
Bushfires: Sydney's hazardous air quality
Schools ban Prime energy drink
QUICK QUIZ
1. What two things is the campaign urging Australians to do?
2. How many chemicals are found in some vapes?
3. Name two cancer-causing chemicals found in lab tests on vapes.
4. In the recent study what percentage of teens had vaped?
5. Who believes vaping is the No. 1 behavioural issue in high schools?
LISTEN TO THIS STORY
CLASSROOM ACTIVITIES
1. The risks of vaping
After reading the Kids News article, list the key dangers associated with vaping and e-cigarettes:
—
—
—
—
—
—
Time: allow 20 minutes to complete this activity
Curriculum Links: English; Science; Health and Physical Education; Critical and Creative Thinking
2. Extension
Why do you think kids in primary school or high school may be attracted to or may have tried vaping? Do you think their reasons are correct?
Time: allow 15 minutes to complete this activity
Curriculum Links: English; Science; Health and Physical Education; Critical and Creative Thinking
VCOP ACTIVITY
1. Say no to vaping
Imagine your friend has a vape and has just asked you if you wanted to try it. They may use peer pressure saying things such as "Come on, it's really cool", or "Don't be a baby, just try it!"
A 'friend' should not put that kind of pressure on you, so we hope this never happens. But just in case, you should be prepared. How will you respond to your friend?
Convince your friend that vaping is a terrible idea. Use facts and information from the article to help give reasons and evidence for why you won't be trying it an why they should stop.
Read over your argument to check it is clear, and has sound reasons with evidence. We hope you feel confident now saying no to vaping as it's far from cool.