Conjoined twins Nima and Dawa Pelden will have separation surgery on Friday (November 9) knowing they have the support of hundreds of Australian children.
Up to 30 Royal Children's Hospital medical specialists will be involved in the tricky operation to give the 15-month-old Bhutanese sisters individual lives.
Having waited more than a year for help, their mother Bhumchu Zangmo said she was relieved* when told surgery was just days away, but anxious* about what lies ahead.
She was then overjoyed by a surprise delivery of more than 350 heartfelt messages of hope and support from children across Australia who have followed their story on kidsnews.com.au.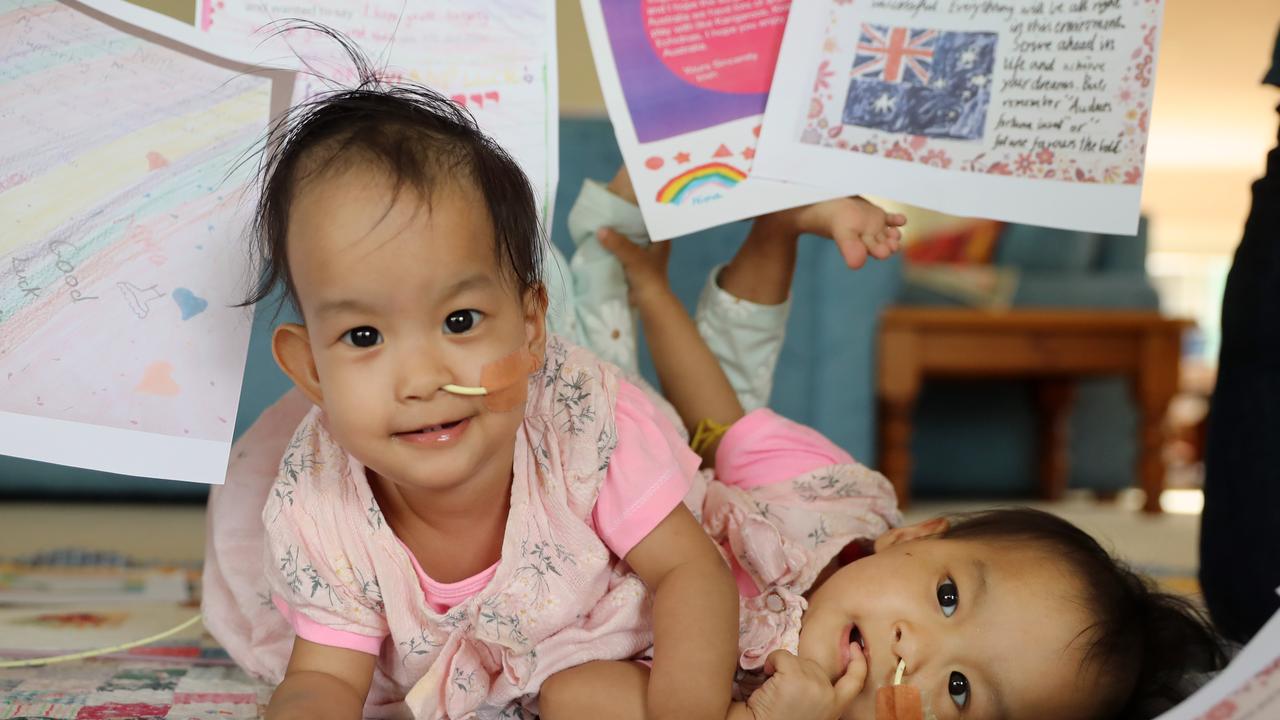 "I am so happy that so many people have good feelings and prayers for my twins' surgery," Ms Zangmo said, speaking with the help of a translator*.
"I will take all these letters to Bhutan and when the girls grow up and are able to read I will ask them to read them all."
Schoolchildren from every state urged the twins to be strong and brave and told them how courageous and beautiful they were, including Alana, 9, from Deer Park who wrote:
"I have been through eight surgeries before. It was scary for me because I didn't know what life would be like. But don't worry, I'm right beside you," Alana wrote.
Finn, 12, said he knew the girls were strong and would come out on top.
"You are an inspiration* to us and we should follow you with great pride and joy," he wrote.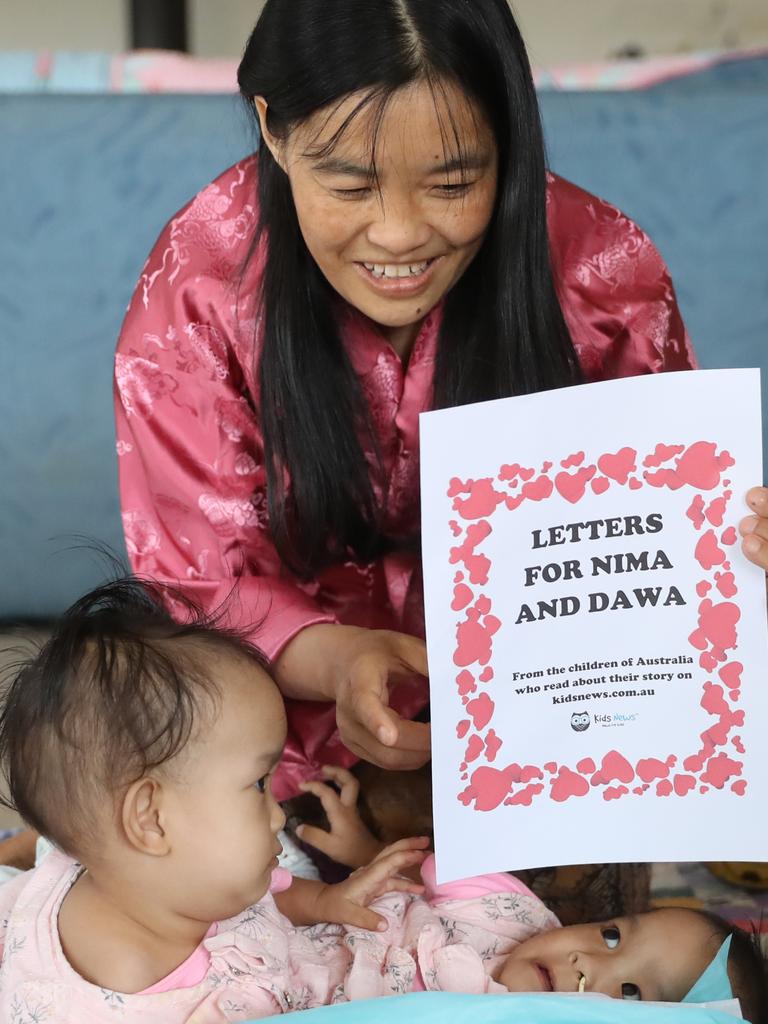 The surgery was originally planned to take place on October 12, but had to be postponed to allow the girls to build strength and overcome illness. The sisters' health has improved in recent weeks as they have received around the clock nutritional* support at Children First Foundation's Miracle Smiles retreat in Kilmore in central Victoria.
RCH head of paediatric surgery Dr Joe Crameri yesterday announced a team of 18 surgeons and other specialists would be inside the operating theatre tomorrow.
He said the team was confident.
"We haven't done any further testing with regard to surgery, we feel confident we have all the information we need," he said.
"We are hoping it will be straightforward*, that is what the imaging suggests to us."
Dr Crameri said telling Ms Zangmo the surgery had been postponed* last month was one of the hardest things he has ever had to do.
"I know she was disappointed. But I know she is excited now we have the potential to go ahead and do this."
Ms Zangmo told Kids News she had mixed emotions approaching tomorrow's surgery but she was desperate for Nima and Dawa to be given a shot at separation.
"At times I am very happy it is now going ahead but, at the same time, I am a bit worried about whether everything will go as planned," she said.
"Looking back, I think it was a wise decision by the doctors to delay the surgery. They have put on weight and got used to the environment here," she said.
EXTRA READING
GLOSSARY
relieved: pleased or grateful
anxious: worried and nervous
translator: person who translates from one language into another
nutritional: providing or obtaining the food necessary for health and growth
straightforward: not complicated
postponed: delayed
LISTEN TO TODAY'S STORY
QUICK QUIZ
How many medical specialists will operate on Nima and Dawa?
Where is the operation happening?
How old are the twins?
Why was the original operation delayed?
Where have the twins been staying as their health improves?
CLASSROOM ACTIVITIES
1. Your message
Imagine you had the chance to speak to the team of doctors, nurses and other medical staff that are performing this amazing and life changing operation. What message would you give them to let them know how you feel about what they are doing for Nima and Dawa and how would you encourage them in their work?
Time: Allow 20 minutes.
Curriculum Links: English, Personal and Social Capability
2. Extension: Kids across Australia have shown their support for the twins and their family. What do you think we can do to help the family after the operation? List some things that you think that the twins and their family might need once separated.
Time: Allow 20 minutes
Curriculum Links: English, Personal and Social Capability
VCOP ACTIVITY
With a partner see if you can you identify all the doing words/verbs in this text. Highlight them in yellow and then make a list of them all down your page. Now see if you and your partner can come up with a synonym for the chosen verb. Make sure it still makes sense in the context it was taken from.
Try to replace some of the original verbs with your synonyms and discuss if any are better and why.
Curriculum Links: English, Big Write and VCOP
HAVE YOUR SAY: Imagine if you were conjoined with your brother or sister, or even your best friend. Do you think you would like that? Why or why not?
No one-word answers. Use full sentences to explain your thinking.